A certain player happens to have completed more successful crosses in the past three seasons than anyone else in the Premier League; he is the top-flight's 5th-most successful chance-creator over the past seven seasons, and the only one of that top five to not be in a Champions League side over the duration (the other four being the world-famous quartet of Fabregas, Gerrard, Lampard and Giggs). His club's Player of the Year, he is someone who has regularly registered in excess of ten assists a season throughout his career, with as many as 14 in 2006/07, and is capable of getting double-figures in goals (he did so in 2007/08, and was just one shy of last season). All this, and on average fit to play in all but three games a season over the past five years. (Stats courtesy of Opta Joe.)
But Stewart Downing is 'rubbish', a 'waste of space'. He's apparently not fit to wear the shirt. Despite that previous paragraph, which proves to the contrary, he's 'crap'.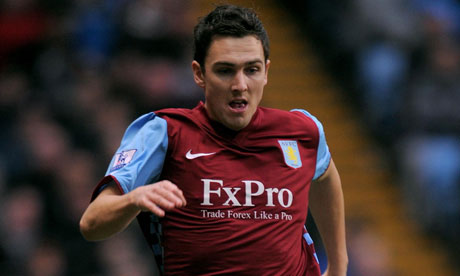 There have been several good articles in the past few days explaining why Liverpool have been interested in signing Stewart Downing, at a time when many of the fan-base (at least the vocal ones on Twitter) seem appalled by the idea. Several of these articles focus on one particular Moneyball element, at a time when the casual observer seems to think that Liverpool are doing the exact opposite: paying crazy money for mediocrity.
First, Barney Ronay captured many of the elements in the Guardian:
Despite this Downing is still seen as a peculiarly depressing figure. Why is this? Undoubtedly he has a terrible name. Stewart Downing. Downing. Down. Ing. If only he could have been called Stewart Davis or Steve Dawning or Stanley Devastating he might have sounded more like a compelling athletic force and less like a travelling paperclip salesman or the pale boy at school who used to be sick a lot and cry in PE.

It isn't the name, though. Downing is a player cursed by association with the failings of others. At this point it is time to broach another subject. We need to talk about Steve McClaren. It's time. Those years, McLaren's England interlude, still seem hazy and smudged, a buried shame. There are players who have never quite recovered, the ones who emerged in a trickle to augment the wretched "Golden Generation" and who have since lost their way or remain burdened by the memories. We might even call these players the Ginger Generation."
There's no doubt that Downing is guilty by association; I know I held that view for a few years, too. But it's important to not get mired in such beliefs, and to allow the evidence to gradually seep in, until your opinion is more in line with the current facts.
TTT subscriber and occasional contributor Raffael Fernandes made this point: "Let's imagine an unknown Brazilian player had exactly the same stats and playing style as Downing – chances are people would be much more excited about him because, well (a) he's Brazilian and (b) he's unknown and therefore fires up the imagination of what he might be able to do (even if he never does it)" It's a fair point.
On Football365, Nick Miller gets to the true aspect of Moneyball purchasing:
In some respects, Downing is a 'Moneyball' signing. Those of you that have read Michael Lewis's book will know that this approach is based on statistical objectivity, rather than subjective gut feelings or opinions. Instead of looking at a player's physical attributes, Billy Beane – the man around whom the book is based – would pay more attention to his statistics. Indeed, Beane would sometimes select players who his scouts actively advised against, as long as their numbers stacked up.
I'm terms of meaningful statistics, Downing seems to fit the people. People need to accept that he is also improving, and becoming more of a leader on the pitch. Ronay again:
Downing is the most undervalued of English footballers: intelligent, scuttlingly forceful and with some refined touches in his versatile left foot. He is an unusual English footballer in other ways too. Mainly because he seems to be getting better rather than worse with age, and fitter rather than more raddled with booze and knee‑snap.
Here's what Alex McLeish said last week:
"He had a magnificent season last year and really came to full maturity as a top player. I understand why there are teams interested in him and that is what happens when you play well consistently."
While I'm at it, I'll even quote myself from last week:
Downing has improved from the overawed young player who did little for England, and is what I'd call a 'sensible' winger: not all about pace, tricks and 'skilz' in his wending way down blind alleys – just no-nonsense end-product. He won't dazzle, he'll just rack up assists and deliver a few goals too.
As I've noted before, it makes sense to overpay to fill gaps, and Liverpool have needed a left-winger for some time.
With Andy Carroll in the side, delivery for him to attack is vital, although it doesn't mean that Liverpool will be looking to just find his head for 90 minutes; the Reds played cultured football under Dalglish last season, and the Manchester City game remains the example of a (nearly-) fit Carroll at his best, and the team playing with variety.
While Downing can get to the byline, and while he can beat a man, he's someone who will often cross from deeper positions without even taking on his opponent, in the style of David Beckham; just curl it around the defender and into the danger zone. I was informed that Andy Carroll scored just one goal for Newcastle from someone getting the byline to cross; most of his headed goals were from set-pieces or balls delivered from precisely the kind of area from which Raul Meireles supplied the successful cross for the third goal against City.
But Downing is versatile too. His familiarity with centre midfield means that if he drifts infield, Luis Suarez can pull out wide, where he likes to receive the ball and attack inwards.
A tougher thing for fans (or statisticians) to measure, but which Liverpool's scouts look into, is the player's mentality. For example, Downing is not as exciting as Charles N'Zogbia with the ball at his feet, but he's proven to be more reliable over the years, and less temperamental. I like both as players, but one has a reputation for dressing room unrest, and the other is more likely to be a true team player (and team spirit is vital to this regime). Downing came through some trials as a youngster (getting booed by England fans simply when warming up), and now appears to have the psychological makeup needed to succeed at a big club.
Like any transfer, it can go wrong for myriad reasons, but at least the logic is there. If you compare it with Manchester City's lessons of the past two years, then you see that they spent £25m (£32m CTPP) on a striker (Adebayor) who failed to fit in with his peers, and is surplus to requirements on a contract of around £180,000 a week for five years. That's over £9m a season and almost £50m over the course of his contract, if he were to sit it out. By contrast, Liverpool's summer signings, whatever the transfer fee, will be on peanuts. And none are going to be problem children.
To me, Liverpool's purchasing this summer is unlikely to make the Reds Premier League contenders – jumping from 6th to 1st is unheard of in the modern game, no matter who you buy – but the squad looks ever more likely to challenge for the top four, and after two seasons of exclusion, that has to be the priority.
Raffael Fernandes also alerted me to the following, too: "According to Opta stats – Stewart Downing, Charlie Adam and Jordan Henderson created 239 goal scoring chances between them last season – 56% of what the entire Liverpool team did in 2010/11."
While you cannot expect all three to match their figures – after all, these may have been the go-to men in their teams, and set-piece takers, and some weeks they might not even be in the Liverpool XI, let alone taking the corners – it does show an interest in players who make things happen. In a better side, with superior strikers and improved movement around them, one or two of them might create even more chances.
One very interesting fact came from this TTT piece by Andrew Beasley. While the stats showed that Liverpool's passing success rates overall were the pretty much the same under Roy Hodgson and Kenny Dalglish, Andrew went into the figures and looked at six areas of the pitch, with each half divided into three equal sections (as seen in the Guardian Chalkboards, from which the data was sourced).
It found that Hodgson's Liverpool kept the ball better in some deeper areas, but that the final third – or in this case, the final third of the attacking half – the Reds were far more successful after the managerial change.
Now read this from Simon Kuper's recent piece on stats in football:
In recent years, after many false starts, the number-crunchers at big English clubs have begun to unearth the player stats that truly matter. For instance, said Fleig, "The top four teams consistently have a higher percentage of pass completion in the final third of the pitch. Since the recruitment of Carlos Tévez, David Silva, Adam Johnson and Yaya Touré to our football team, in the last six months alone, our ability to keep the ball in the final third has grown by 7.7 per cent."
Once Dalglish took over, Liverpool's passing in the final sixth – basically, from the distance of the edge of the box to the goalline, including the flanks – improved from 45.29% to 52.67%.
If 7.38% doesn't seem a lot, refer back to the Manchester City statistic above. As no team, even Barcelona, will be good enough to get even close to 100%, and no team will be so bad as to register 0%, then we're talking about mid-shades of grey here; and 7.38% is a big swing in that context. It may explain why Liverpool scored 0.74 more goals per game, and won all those extra points, after January. And it was done with a lot of senior players absent.
If Liverpool can continue to find each other in and around the opposition area, then improvement beckons. And as that – telling passes – appears to be what the transfer policy is geared towards, why all the panic?