Jordan Henderson has yet to kick a football for Liverpool – even in training – and many are already writing him off.
If playing poorly – or rather, failing to shine as expected – for England at any level is an indicator, John Barnes and Steven Gerrard would have been totally worthless for Liverpool; little matter that they are two of the club's top five players ever. Hell, even Lionel Messi hasn't been even half as good for Argentina as he has for Barcelona, and Argentina actually pass the ball.
Thankfully Dalglish's Liverpool won't be playing the same football as England, who still seem obsessed, at every level, with long diagonal balls from the back if teammates are even remotely marked; whereas footballing sides a) know how to make more space for themselves, and b) trust a marked player. Good teams don't panic and launch long at the first sign of pressing. Players like Luis Suarez will be easier to pick out with a pass than anyone Henderson played with in the U21s.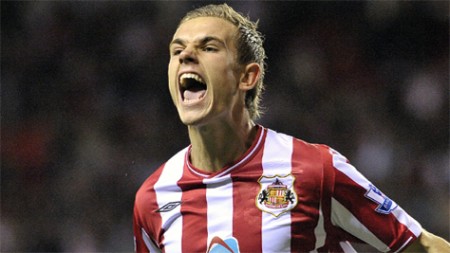 That said, Henderson proved a big success in the Premier League last season by creating far more chances for his team than anyone else, and by ranking in the top three in the entire division for key passes. At 20, in a mid-table side, that's really good going.
Apparently "£20m" (even thought it's £16m) is an outrageous price to pay for a young full England international who started 37 out of 38 Premier League games last season, but Man United paying £16m (rising to £20m) for an uncapped even younger player – a defender, at that, with their lower average price tag – is "clever business".
Why can't both transfers work out? Yes, there's an 'English premium' put on the pair, but with various rules in place and further quotas mooted, it makes perfect sense to pay more to ensure that the criteria are met. (At least until Liverpool's ever-improving Academy, which now has a staggering 25 youth internationals, delivers a stream of players into the first team; but as many are 16 or 17 right now, it could be two or three years before that happens.)
With Jamie Carragher now 33 and Steven Gerrard 31, and with both missing large chunks of last season, it's essential to bring in some more English blood, even if the club are clearly scouting elsewhere too. (As seen with Luis Suarez). It's not Henderson's fault that he has to be labelled with the extra expense.
Both Henderson and Jones look very good young players. However, Jones won't be the last braveheart defender to come out of an England tournament as one of the few successes due to last-ditch tackles, and Henderson – like Gerrard and Lampard – won't be the last midfielder to find himself struggling as the English fear of possession takes hold. Judging players this way makes no sense when you look at how they perform for their clubs.
Indeed, Lampard provides an interesting comparison. In 2001 Chelsea paid £15m (in 2011 money) to West Ham, for a player who first played for England at 21, a full year older than Henderson. It took Lampard a good few years to become a regular for his country, not to mention being one of those players people – including myself – often wrongly wrote off as unremarkable.
Whatever you think of Lampard, he has had an incredible seven years at Chelsea, after a slowish start. What are his qualities? Well, he's quite tall and strong, and has a phenomenal engine that drives him box to box in a Mondeo-style manner Alan Partridge would masturbate over. Without being an absolute visionary, he's a fine passer, and has flourished with the right players around him, in a system that suits him.
Then look at Shaun-Wright Phillips. He was seen as an altogether more exciting talent when he moved from Manchester City to Chelsea; I lost count of the amount of times Liverpool fans told me we should buy him back in 2004 or 2005.
I often use him as an example of a player who leaves a 'safe' environment where he'd developed in steady incremental stages without too much pressure, to suddenly have to deliver instant 'superstar' play at a big club. Some just don't make the transition. (But then again, nor did a fully-established world-class import in the case of Shevchenko; there is no guarantee for success, no secret formula.)
Henderson now has that same pressure, and I fear for him, given that he is not viewed as a 'sexy' footballer, but people see him priced as one. But in today's money, Wright-Phillips' fee equates to a mind-boggling £48.8m and, while making comparisons, Michael Carrick's to £41.2m when moving from Spurs to United. This is because these deals were so much higher than the average fee being paid in the seasons they switched clubs.
When these two players moved, the average price of a Premier League footballer was around £2m; right now, it's £5m. So Henderson's fee should be viewed in this light, as prices have more than doubled since 2005. (For more on this, see www.transferpriceindex.com and/or see this piece about the English premium.)
Manchester United have also just paid £15m-£17m for Ashley Young, even though the player had only one year left on his contract; a situation that usually (roughly) halves the fee. So you cannot compare the two deals without noting that Young, in truth, is a £30m player attained on the cheap due to the Bosman ruling. (And it also shows why Stewart Downing may have a higher transfer fee than his more-coveted Villa teammate.)
Young is of course far more proven than Henderson, and right now a better player. But had he been in full contract at Aston Villa, his fee would have been much higher. While very different players, Young first played for England at the age of 22, so it's fair to say Henderson got to that milestone well before him.
Also, I'd imagine that, given his age and experience, Young will be on close to £100,000 a week at United. I'd be surprised if Henderson is on much more than £50,000 at Liverpool. While transfer fees are a very influential factor in the success of teams, as noted by all our work on the Transfer Price Index, you can't be too focused on the fee of one individual, because of the different sets of circumstances behind each and every signing. On the whole, clubs get a few bargains, a few fair-priced deals and overpay a few times, too. On average, it tends to even out.
What I will say is that, in this case, Henderson may earn £12.5m over five years compared with £25m paid to Young. Wages count too. Right now, United will be a preferred destination for many players because of their ability to balance a larger wage bill, their status as champions and their participation in the Champions League. Liverpool remains a very fashionable and esteemed club, but it may take a year or two to attract the top continental stars, or the most established Brits.
Like Manchester City, when buying the likes of Lescott, Barry and Milner, Liverpool have to find players to supplement their big stars, and help get them into the top four before focusing on those who can challenge for the title. (Liverpool just have to do the same without the £200,000-a-week pay deals and quite so many £20m+ signings.)
If Henderson gets a pay rise in a year or two, then that's to reward his success, and will have been earned. In terms of wages he's therefore a low-risk purchase. Liverpool are currently committed to paying almost £20m over four years to Joe Cole and roughly £13m to Milan Jovanovic over three. Both were free transfers, and given they are in the last few years of their careers, both have little market value in transfer terms. Looked at like that, Henderson is not that big a gamble.
Then there's the goalscoring potential of the young Wearsider. Frank Lampard scored roughly 15 goals in his first 110 games, which was nowhere near as prolific as he became (not sure if that includes penalties, but if so, that's a great way to boost tallies). Steven Gerrard was also a slow developer in this sense, averaging six goals a season until Rafa Benítez arrived in 2004, yet they have been the top-scoring central-midfielders of recent times. From the way he gets forward, Henderson has the look of someone with the potential to become a lot more prolific.
Terry McDermott, speaking to LFC Weekly, sees a kindred spirit:
"I never scored many for Newcastle and if you look at my record you'll see I didn't get many in the first few seasons at Liverpool. I think it's definitely something you can learn to do. You adapt as you get older and you become a wiser footballer. You learn about what you can and can't do … I began to realise what I needed to do to score more often. I was good at getting forward and knew that I could score more goals. The coaches at the club encouraged me to do it and that helped too. All of a sudden I was getting 15 to 20 goals a season. I think if Jordan works on that side of his game, there's no reason why he can't get double figures too. He's definitely capable of it. I think he has shown that with the goals he has scored for Sunderland."
So yes, potential costs money. So does being English, but for very good reason (quotas, etc). But even if Henderson does not become a world-beater, he can still prove to be excellent value for money with his ability to make quick first-time passes, allied to his humility and determination to succeed – so long as he can overcome those who expect too much too soon.