By pro-qualified referee, Simon Fear.
Liverpool faced a full schedule in April with matches against WBA (A) Manchester City (H) Arsenal (A) and finally Birmingham City (H).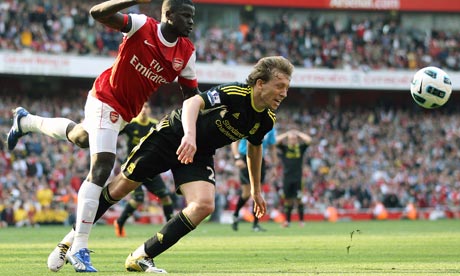 WBA (A) – Martin Atkinson.
This was a match that saw Liverpool reacquainted with ex-manager Roy Hodgson as well as referee Marin Atkinson.  Now in my opinion there are two separate issues to judge Mr Atkinson on. The first is his handling of WBA's clear policy to manhandle Andy Carroll, the second is to judge his decision-making on the big calls in this game. The game started with an ominous example of the leniency Mr Atkinson was going to allow Olsson, Meite and Scharner in challenging Andy Carroll. Each had been penalised for fouling Carroll within 25 minutes yet each had also committed a foul on Carroll that had gone unpunished. Every time a ball was played up to Carroll it appeared that any one of the three would clatter into Carroll with impunity.
There were a number of challenges where Carroll was looking to play the ball and was challenged from behind, often with an opponent jumping and leading with either a knee or forearm. However these fouls went unpunished. Olsson was particularly guilty of persistently fouling Carroll and could have been cautioned for a number of challenges against Carroll which went either unpunished or only punished with a free kick.
Carroll himself was the first Liverpool player cautioned after 27 minutes when he was late in a challenge on Steven Reid. The challenge was worthy of a free kick but no more, the fact that Mr Atkinson had cautioned Scharner only a minute earlier seemed to affect this decision as Carroll had not been penalised for anything significant prior to this.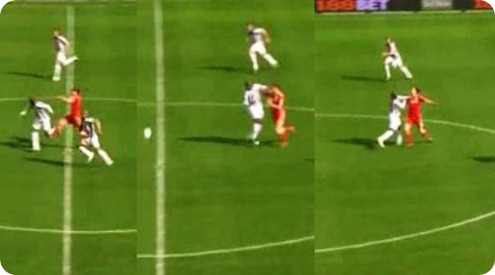 Liverpool were fortunate that Mr Atkinson did not dismiss Carroll after he again tangled with Meite in the 29th minute. Meireles cleared a ball from the Liverpool penalty area, both Carroll and Meite were looking to pick up possession however as the ball cleared both, Meite clearly pushed his hand into Carroll's shoulder / neck area to prevent him from running onto the ball. As Carroll starts to chase the ball, Meite commits a second foul as he pushes his forearm into Carrolls face, he clearly blocks the Liverpool forward and should be penalised. Mr Atkinson failed to penalise Meite who then runs for the ball and is deliberately tripped by Carroll who is clearly frustrated. The WBA player then waves the imaginary yellow card at Mr Atkinson, however despite the crowd howling for Carroll to be dismissed Mr Atkinson gives him a severe lecture.
Finally, we have the bizarre issue of Mr Atkinson saying to Carroll "You're a centre forward" after he tangled with Olsson. In watching the video, Mr Atkinson laughs as he reminds Carroll of his position on the field and as he jogs away Carroll spreads his arm wide in utter disbelief. My opinion of Mr Atkinson is that he is an old school referee who feels forwards are overprotected in the modern game. I can recall his failure to protect Torres in the Carling Cup game against Reading and more recently Rooney in the last match against Chelsea where he was frequently fouled from behind by Luiz and Terry. The strange anomaly is that every time Carroll attempted to challenge a WBA defender he was penalised almost before anything had occurred.
There were two penalties given against Liverpool and both were correctly awarded. The first caused some angst amongst Liverpool fans who felt that Kyriakos had played the ball when he challenged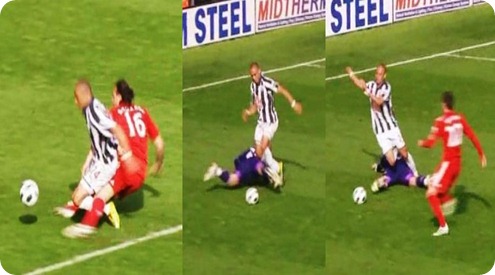 Odemwingie in the Liverpool penalty area. Kyrgiakos attempts to tackle Odemwingie from behind, he pokes the ball with his right leg, but to reach the ball he hits Odemwingie's knee with his right leg, itself a foul, and then follows through sweeping his left leg through Odemwingie causing his left knee to buckle and him to collapse. Whilst Kyrgiakos clearly touches the ball first, this is a foul and a clear penalty under Law 12 –  as Kyrgiakos trips an opponent. The winning of the ball, immediately prior to or as part of a challenge that 'fouls' an opponent, is correctly penalised. The tackle from behind has been highlighted for many years and is largely outlawed and this was a fairly simple decision for Mr Atkinson.
The second penalty was again a simple decision, WBA cleared the ball and both Odemwingie and Kyrgiakos were running towards the Liverpool goal looking upwards as the ball dropped, the two tangled, causing Kyrgiakos to trip. This was accidental as both players were solely looking at the ball. Odemwingie controls the dropping ball and moves into the penalty area. Reina comes off his line and tries to block Odemwingie, Odemwingie cuts back inside, and as Reina goes to ground, Odemwingie knocks the ball past him and is clearly tripped by Reina moments before Danny Wilson clears the ball.
Mr Atkinson has a clear view and initially starts to signal for a corner, raises his right arm and points in the direction of the corner flag. However the assistant referee correctly signals for a foul and a penalty, which in turn leads to Mr Atkinson pointing to the spot. Mr Atkinson then cautions Reina for unsporting behaviour.
Overall I thought Mr Atkinson had a dreadful match, his game management was poor, he allowed WBA to physically batter Carroll with impunity and astonishingly penalised and cautioned Carroll for a foul that compared to the treatment he received was almost insignificant.  He then showed some leniency totally out of character in not issuing Carroll a second caution for his trip on Meite. Mr Atkinson then got the second penalty decision wrong, and only corrected himself when informed of his error by his assistant.
Manchester City (H) – Mark Halsey.
The rest of this post is for Subscribers only.
[ttt-subscribe-article]