Even though I spent November and December 2010 pushing for Kenny Dalglish to be given the caretaker's role – using what little influence I may have had after meeting John W Henry – I didn't think it would happen. And when it did happen, months later, I didn't think it would turn out this well.
In October, when I was fortunate enough to meet the new owner, I still wasn't certain that Kenny was the solution. At that stage, Dalglish was a peripheral figure at the club, with some ex-LFC executives apparently advising that he was a yesterday's man, not even worth speaking to, let alone appointing.
Whether or not he still had the managerial midas touch, he had to be spoken to. Here was a man who knew the club, and what had been going on behind its walls, having returned in 2009. But I can imagine that it wasn't easy for Henry and co., given the contradictory advice they were receiving. It wasn't until the 8th of December that a meeting in a restaurant took place.
Back in October, I was still thinking of permanent solutions. I found it hard to say who the manager should be, but based on what I was seeing, I could say who it shouldn't: Roy Hodgson. Liverpool managers just don't go to places like Manchester City saying that "I hope we don't get beat 6-0".
I liked the look of Roberto Di Matteo at West Brom, although irony of ironies, his exciting side started to fade, and it later took expert relegation-saver Roy Hodgson to rescue them (it's just a shame Hodgson treated Liverpool like the relegation candidates he turned them into.)
Hoffenheim's Ralf Rangnick was recommended to me by a European expert. Having quit the German club when they sold one of their best players without his knowledge, he later oversaw perhaps the most dramatic result in Europe this season, with the mid-table Shalke team he inherited winning 5-1 at Inter Milan. But his star lost some of its shine when Manchester United took apart a side clearly out of its depth.
And of course, no-one could fail to be impressed by the backstory and results of Andre Villas Boas, whose Porto side were not just unbeaten, but winning 90% of matches. Perhaps he was too young, at just 33, but what an impression he was making; and since then, his charges continue to brush aside all-comers, at home and in the Europa League.
After I met Henry, results started to pick up for the Reds. Chelsea were beaten a few days later, and the feeling I got was that Hodgson was now expected to turn things around; or at the very least, see out the season. But by November, performances and results had dipped once more. The blip turned out to be the few good results.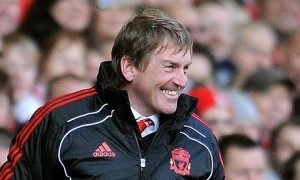 I have always thought it is dangerous to live in the past where Liverpool FC is concerned. Such was the success of the halcyon days, and such is the golden haze of nostalgia, that living up to what went before could always be a hindrance. Last summer, when his name was first mentioned, I feared that Dalglish would cause fans to dream too much, beyond realistic levels; and therefore he could never succeed. We couldn't just close our eyes and return to 1987/88. Even when Liverpool had their best season in terms of points won since then (86), too many people accused Rafa Benítez of 'blowing' the league in 2009.
But by November 2010, it was crying out for Kenny the Caretaker. It needed someone of his stature and diplomacy to unite the team, and perhaps just as importantly, unite a fan-base that had been put through the ringer in recent seasons.
But I could see why Fenway Sports Group didn't want to start sacking managers, and appointing part-time replacements who may themselves need removing come the summer. If they had to weigh up the pros of appointing a legend, they had to also consider the outcome of it going wrong.
Had everyone known for certain how things would pan out, I expect that the change would have been made in the autumn. Hindsight is 20-20. But no-one could have foreseen quite the levels of improvement witnessed since the King returned. It's been little short of remarkable. But of course, we can all think 'if only…'.
Whatever his merits as a manager, Roy Hodgson was not right for Liverpool. That was clear from his signings, his muddled press conferences, and the performances and results the team were delivering. More than anything, he had to go; he was a lame duck, overseeing lame efforts. By November it had passed the tipping point.
Perhaps I complained too much about Hodgson – and possibly embarrassed FSG in the process – but I feared the damage that would be caused by keeping him, given how unhappy many of the best players were. And the Kop weren't going to suddenly warm to someone who'd offended them at the outset.
My only real concern with Dalglish – in terms of his ability, rather than what he represented – was what kind of tactical level he'd be at, having spent a decade away from the dugout. But as he himself later said, he still watched more matches than almost anyone out there. You don't lose the kind of gravitas he possesses, nor the ability to relate to footballers, even if they're a bit more pampered these days. You don't lose the ability to read the game. But while I never thought he'd pitch up and try and set his team up like it was 1990 again, it was simply a case of not knowing.
But even a horribly tactically outdated Dalglish who'd spent the past decade on Mars would have been preferable to what we were seeing. As he kept telling us, Hodgson's 4-4-2 had been serving him well for 35 years, without winning anything of note.
The appointment of Steve Clarke assuaged any fears about tactics; here was a man who'd been at the coalface in recent seasons, and been vital in Chelsea's success under Jose Mourinho. Between them, the Reds would have two canny thinkers. It's easy to give all the credit to Dalglish, but all the best managers have notable sidekicks, and Clarke fits the bill.
With the Reds floundering in the bottom half of the table, Liverpool needed inspiration, but not a false boost that would die off after six or seven games. The appointment had to be right. (People are now saying that Liverpool have not been playing under any pressure, but being in the bottom half of the table meant that a lot of work was required just to rescue some respectability.)
Above all else, the club needed someone who would not think of mediocre results as 'utopia', or run-of-the-mill victories as 'historic'. It needed someone who either understood Liverpool FC, or understood what it is to manage a big club with healthy expectations. Dalglish was perfect in that sense, and so too was Clarke.
Following on from Hodgson's 35% league win rate, the Reds have gone on to win 62% since the changeover, and turned a -3 goal difference into one of +18. Just as Hodgson seems to now fit West Brom – fair play to him, he's had a massive impact there – Dalglish fits Liverpool. But it's more than just him being an icon from our past.
What people must remember is that Kenny won the league at another club, too, and overtook Manchester United in the process. And he didn't buy the title at Blackburn. All he did was pay the kinds of fees that United had been paying since around 1988, and bring Rovers' team up to the same level of expense. (See Pay As You Play for a comparison, and proof of the excellent job he did there.)
At Liverpool he'll have a struggle to spend enough to bring the Reds in line with Chelsea and Manchester City, but he may get closer to the spending seen at Old Trafford, where success has been maintained. And just as Alex Ferguson continues to succeed based on stability and the faith and goodwill of the club and its fans, Liverpool may be able to match that (in a way that Chelsea and City, with their less patient approaches and managerial turnovers, may struggle).
If FSG can invest enough in the Reds – millions, but not necessarily billions – the formula may be complete. Inspiration and intelligence: Liverpool appear to have that in spades right now.