It was fitting that it should be at the former home of the erstwhile excellent Fulham manager (and subsequently awful Liverpool manager) that Luis Suarez should encapsulate everything that was wrong about Roy Hodgson's approach between August 2010 and January 2011.
While Hodgson did not possess the mercurial, magical Uruguayan, he did have other players who could 'play between the lines'. It was a phrase that was a mantra to the previous Liverpool manager, Rafa Benítez, who looked to players like Luis Garcia, Yossi Benayoun, Dirk Kuyt and, most successfully, Steven Gerrard, to occupy the spaces where it's harder to be marked, and to link with the adjoining midfield.
There are different ways of playing in modern football. But two 'flat' strikers is almost as out of date – certainly at top clubs – as a cigarette and snifter at halftime. And yet Roy Hodgson persisted with the chalk and chalk of Torres and Ngog, and direct football from a back four shorn of its more technical ability. Players who were stationed wide tucked in, but there was little movement beyond that no; no interchanging and switching, no marauding full-backs, to pull defences apart. No wonder the Reds scored so few goals. It was half a season of plodding.
(And as we were playing Fulham, this was another chance for people to tell me that Hodgson was poorly treated by Liverpool fans, that we would have had the same upturn in results had he stayed, and so on. The day he does a really good job at a big club, and not just ones with lower expectations, come and let me know. He's been superb at West Brom, but that doesn't alter the myriad mistakes he made at Anfield.)
As soon as Kenny Dalglish and Steve Clarke arrived, the Hodgson blueprint went out the window, and performances improved; and then, after a couple of early setbacks, results improved too. A -3 goal difference would soon become +18. The Reds went from relegation form to accruing more points than anyone else.
In the first game, Gerrard was back in the hole, although he was sent off after 30 minutes at Old Trafford, obviating that plan before it had a chance to take hold. Raul Meireles was next in line to occupy the position, and before long he was popping up in all kinds of clever areas, and banging in a few goals, too.
Both of these options were open to Hodgson, but rarely turned to. And after just six goals in 21 games under Hodgson, even Torres was back to his old scoring habits, with three in five; showing that he needs someone to feed the ball through, rather than another body right up alongside him, getting in his way. (Maybe true at Chelsea too, given that neither he nor Drogba has scored when on the pitch together, although he now has a big price tag and a new team to settle into.)
Even with a whole host of senior players out injured (Gerrard, Carroll, Kelly, Agger, Aurelio and more), the side functions based on clever passing and movement from 'canny' players like Maxi, Meireles and Kuyt, all of whom were at the club in the first half of the season, without really impressing too much.
I'm sure Hodgson would have liked a new striker. But would he have plumped for someone like Suarez? It doesn't matter; Dalglish, Clarke and Comolli did. And Liverpool have not looked back.
Yes, the new regime helped unite a fractured dressing room, but they also stopped Liverpool playing like a team whose ambitions were simply to avoid relegation or hoping to not get beat 6-0 at Manchester City (quote Roy Hodgson, 2nd game of the season).
So, what of Suarez's performances? Well, they have been a masterclass of movement, technique, tenacity and finishing. At times he shows uncanny awareness for others, although there's no denying that he's not afraid to ignore everyone else and have a pop himself. (If he has a weakness, it's been that some of his shooting has been a bit wild, but usually when he's purely speculating out of nothing; when faced with a good goalscoring chance, he tends to choose the right option.)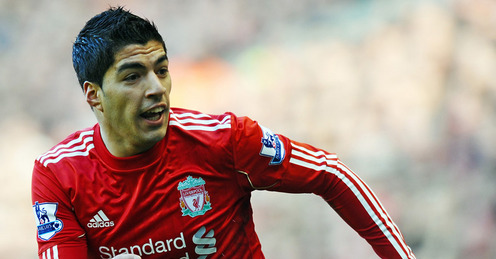 Before the last two games, in both of which he scored, I was trying to work out how many goals he'd been involved in. By this, I don't mean just by scoring or directly assisting, but also by making a telling touch in the build-up to a goal.
He scored on his debut as a sub against Stoke, but lacking match-fitness after more than a month without playing in Holland, he was eased in gently over the next few games. It wasn't really until Mid-February that he got going, especially as he wasn't eligible for the Europa League. As it stands, he's only made ten starts for the club, and one appearance from the bench.
But it was against Manchester United at the start of March that he truly arrived: a jinking run as fine as any individual contribution made by Torres at his best, to set the opening goal on a plate for Kuyt and help us move on from the departed no.9. He was also the last Liverpool player to touch the ball before both of Kuyt's next two goals, with a cross (albeit headed to Kuyt by Nani) and then a shot that Van der Sar could not hold.
At Sunderland Suarez scored from the most ridiculous of angles, after yet another clever turn inside the box. At West Ham he put another ball on a plate for a simple tap-in, this time for Glen Johnson, after – you guessed it – giving a defender twisted blood in the box.
Four of the goals against Birmingham owed something to his contribution. The first goal came after a shot of his was blocked (though the goal came in the second phase). The second goal came after his clever running took him clean through on goal, with Kuyt tucking away the rebound after Suarez's shot was brilliantly saved. The third goal came from his spin in behind the right-back, showing that he can be as dangerous on either flank, with the finish coming as he floated a pin-point cross for Maxi to tuck away. And he also set up Maxi to shoot for the Argentine's hat-trick, even if the midfielder needed a second bite to tuck it away after the keeper parried it.
As well as scoring against Newcastle, Suarez won a penalty, again by getting tight to a defender and then spinning him to distraction. While he may exaggerate when falling, he draws foul after foul after foul.
And then last night, as well as another expertly taken goal, he created Maxi's first, again with a run down the inside-left channel followed by a clever ball across goal, even if Fulham contrived to divert it into Maxi's path. (Also, he won – in the eyes of everyone but Lee Mason – a clear penalty, that was also a definite red card for the hapless Hangeland. Given what Mason sent off Degen for last season, you have to laugh.)
Ten starts, four goals, three direct assists and a penalty won. But a total involvement in now fewer than twelve goals. What's more, all of his assists have been teed up to almost unmissable degrees. Add a quite phenomenal work-rate, and it's no wonder that Ajax fans rated him more highly than Wesley Sneijder.
As Liverpool fans, this season we've experienced a lot of things we'd rather forget. But thankfully, we now have a few things to remember, and to look forward to. And of Luis Suarez, we just can't get enough.