This old chestnut is revived thanks to David Anderson of the Daily Mirror, who wrote a peach of a piece this week; taking nonsense to new heights. After all, wasn't it about time someone wrote a piece criticing Rafa Benítez, for no apparent reason?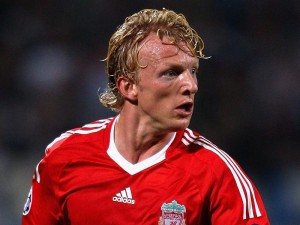 Here he tells us of the folly of playing Dirk Kuyt out on the wing, after he scored a great goal playing … out on the wing.
When Dalglish returned to the Liverpool dug-out in January and was faced with the dilemma of who to play up front with Luis Suarez while Andy Carroll was injured, he did the obvious thing.

He didn't try and play 4-5-1 or push Steven Gerrard into the hole.
The sheer craziness of putting Gerrard in the hole. After all, in 2008/09 he won the Footballer of the Year playing there, and scored a whopping 24 goals. Crazy!
And when Liverpool won 4-1 at Old Trafford, where was Gerrard playing?
Dalglish believes in the simplicity of putting round pegs in round holes and so he moved Dirk Kuyt in from the right, where Rafa Benitez had spent most of his reign trying to turn him into a winger, to his natural position up front.

The transformation in Kuyt happened almost overnight and he went from a game, hard-working, but slow right winger, to a striker who scored goals again.
Kuyt has never once failed to make double figures in five seasons. He is versatile, and happy to play anywhere. He has duly been rewarded with a contract extension, and given his phenomenal fitness, rightly so.
Well done to Kenny for getting things back on track at the club. But it was the mess of Hodgson, not Benítez, that he was trying to undo. Under Benítez, Liverpool had fewer problems, as did Dirk Kuyt, who was a big fan of the Spaniard (and who also remarked that Hodgson's methods didn't work.)
The Dutch international netted in Dalglish's first home game back in the Merseyside derby against Everton and hasn't looked back.

Any striker will tell you that goals breed confidence and with each strike, Kuyt has grown in stature.

His hat-trick against Manchester United showed that and he would never have made it into the penalty area, let alone the six-yard box, under Benitez.
Eh? How did he score 14, 11, 15 and 11 goals under Benítez, then?
Let's also remember that Benítez bought Kuyt, but also Torres.
Torres was the best striker in the world during Rafa's time at Liverpool. Why would you want Kuyt up front when you have Torres? And why would you want Kuyt up front with Torres when Gerrard was outstanding in the hole, and when the pair of them had an almost telepathic understanding?
Where Dalglish has really worked his magic is that he has kept Kuyt scoring after moving him back out wide to accommodate Carroll.
What, putting a square peg in a round hole? I thought Dalglish didn't do that?
Against City, central midfielder Raul Meireles was on the left-wing. What craziness! So on the right wing was a centre-forward and the left-winger was really a central midfielder. And two holding midfielders, in Lucas and Spearing, who never get into the box. Madness!
This is no criticism of Kenny, because his methods have worked wonders. But surely this undermines the whole point of the (rather pointless) article, which was to have a dig at Benítez for being crazy and foreign?
He has given Kuyt the confidence to come inside and try his luck whenever he sees fit and he just would not have done that under Benitez.
What baseless nonsense. Kuyt scored a hell of a lot of important goals under Benítez from the right wing, often in really big games.
Suddenly in the space of three short months, Liverpool, who spent most of the last two seasons relying too heavily on Fernando Torres, have three potent goalscorers in Kuyt, Suarez and Carroll.
In 2008/09, six Liverpool players got into double figures, Kuyt included. In 2008/09, Gerrard got 24 goals from that silly 'hole' position. In 2008/09, Liverpool were the top scorers in the Premier League, and had the best goal difference, at +50.
What Dalglish has done is get Liverpool back closer to where they were a couple of years ago; without yet matching Rafa's best figures (or his own great ones from the '80s), he is exactly matching the Spaniard's averages.
Liverpool always had a healthy goal difference under Benítez, and have one again under Dalglish: +10 from his 12 games, or +32 pro rata over a full season; coincidentally, the precise average of all of Benítez's seasons.
Under Hodgson it was -3 after 20 games; perhaps the most damning statistic of his tenure. The side Hodgson inherited had finished with +26, and not since the +11 of the Spaniard's first season (where most of the outstanding displays were in the energy-sapping Champions League) had it been below +25. Hodgson was on course for -5.
Kenny's current win % in the league is 58%, a fraction above Benítez's, but miles ahead of Hodgson's 35%.
Then there are the points averages. Per game, over his six seasons, Benítez averaged 1.89 points. Right now, Dalglish is averaging 1.92: almost identical to the Spaniard. (If reducing it to one decimal place, they'd both be 1.9.)
In between, Hodgson managed only 1.25 points per game, along with the awful goal difference. Now that was the problem.
Hopefully Kuyt will continue in his current vein of scoring, wherever he plays. He's also notched six goals for Holland this season.
Liverpool have more striking options now, but only due to getting £50m for Torres. Then again, who bought Torres?