Humiliated in the manner of their League Cup final defeat, and given an awe-inspiring runaround in Barcelona, it seems that Arsenal's long wait for a trophy will endure. And yet, despite the heartbreak their fans must have suffered of late, as a Liverpool fan I remain envious.
At least they will be in next year's Champions League. And even though they will probably bail out of the Premier League race before May – as has been their custom in recent times – they've given it a go. (That's not to totally write them off, but United have the experience.)
While I'm more than happy with the way Liverpool are now headed, after the disaster of Roy Hodgson (read this piece for a laugh), Arsenal's current season reminds me of the middle period of Rafa Benítez's tenure: in the running for trophies, and experiencing massive European nights.
A lot is made of winning trophies, but as highlighted in Pay As You Play, financial resources play a massive part in securing league titles. The same applies to the Champions League, although to a slightly lesser degree; knockout competitions give the underdogs a chance – as Northampton proved at Anfield in September. Being competitive is all you can realistically ask for when you don't have über-wealth. You can win certain games, just not league titles.
I always maintained that under Benítez, Liverpool won the Champions League final they didn't deserve to and lost the one in which they were clearly the better side. But that period does indeed seem like a golden era; and even though nothing was won in 2007, 2008 or 2009, those three seasons were still full of incident, drama and magnitude.
The less said about 2009/10 the better, although even then, the club was only an away goal from another European final. But even had the Reds won that trophy, it wouldn't have felt quite right. Silverware would not have disguised the fact that Liverpool were not as good as they were between 2007 and 2009, when winning nothing.
Liverpool FC 'exists to win trophies'. But football has changed; and now, with global satellite television and the internet, being in the Champions League puts you at the heart of the world game. If I put myself in the shoes of a top player, what would I prefer – to win a trophy like the League Cup, or to simply play at the World Cup?
In all honesty, I think I'd plump for the latter. And now, with its exposure, the Champions League feels like an alternative, winter World Cup. As much as the branding nauseates, the rich clubs dominate and the safety net of the group stage brings a few meaningless fixtures, it is, on the whole, a festival of football. Not as colourful and vibrant as the World Cup, but with us for the majority of each season, every single year.
I look back on Liverpool's tussles with Chelsea in the Champions League as this proof of special seasons; of being part of the big time, and not just there to make up the numbers. The feeling of Liverpool mattering was tangible. That's before even getting on to winning in Madrid, Barcelona, Milan and on the soil of other major European outfits in that period.
And yet I barely care to recall 2002/03, a quite horrid season, even though it included beating Manchester United in the League Cup final. Yes, there was silverware, but Liverpool felt like a poor side, going nowhere; and the following season backed that up. Winning the league or the European Cup remain great achievements, but other silverware just doesn't have the same cachet. It can of course help breed confidence, and lead to greater success down the line, but that's not a given.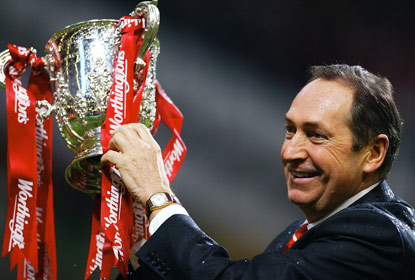 In many ways, being in the Champions League is now akin to being in an elite division above the Premier League. If you're not in it, it's almost like being in the second tier of football.
While the optimism is back at Anfield, the Champions League will not make its return; not before the autumn of 2012 at least. Next season it's likely that there will be at least six teams with a realistic chance of finishing in the top four, with the Reds almost certain to strengthen further in the summer. Spurs may falter slightly, but are unlikely to fade away, and since the recent heyday of the 'big four' of Chelsea, United, Arsenal and Liverpool, there's a new superpower around, in the shape of Manchester City. Places open to English teams may also drop from four to three at some stage, making it even more of a scramble.
The panic to be part of it feels just as strong as the fear of falling from the Premier League by those in the bottom half of the table. (But now that Hodgson has gone, we can at least exclude ourselves from that particular nightmare scenario.)
So, Arsenal may have just gone out of two competitions in which they were poised to prosper, but they remain a competitive side under Wenger, and regular Champions League participants. And that's still something to envy, for the time being at least.