With all the talk this week of Suso, Conor Coady and, in particular, Raheem Sterling, I thought I'd look back and create my own Liverpool FC 'prodigy' XI, comprised of the particularly youthful talent that has made a mark at the club during my time as a supporter.
Goalkeeper
Goalkeeper is perhaps the position in football where experience (and the stature it brings) counts the most. No-one's mistakes are highlighted quite as much as a keeper's, and therefore it takes maturity to handle the craziness of the situations they find themselves in.
To my mind, David James was a young keeper when he made his Reds' debut in 1992, but the truth was that he was already 22; still youthful for a keeper, but not quite prodigiously so.
By contrast, Ray Clemence always struck me as an old keeper, because to me, as a kid at the time, he was. But he made his Liverpool debut at the age of 20, and like James, became a regular at 22. (As an aside, in researching Clem's age, I noticed that his middle name is Neal – the same spelling as another member of the Reds' legendary '70s defence.)
A third 22-year old at the time he took the no.1 jersey, and my choice, is Pepe Reina (though regarding the jersey, it's no.25 in his case). My hunch is that he's a better keeper than Clemence; I didn't see enough of the latter – who left for Spurs when I was ten – to say for sure, but I get the impression that Reina has a better all-round game (and, of course, hasn't had the luxury of such an incredibly dominant outfield 10 in front of him).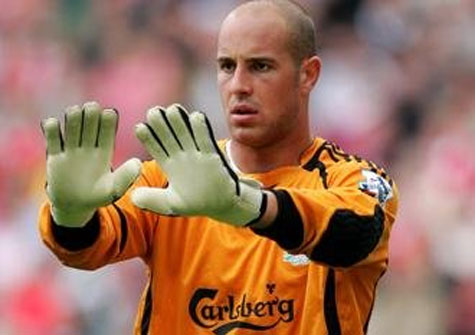 Perhaps Reina deserves the nomination as he was a true goalkeeping prodigy – between the sticks at the mighty Barcelona at the age of just 18. I was lucky enough to be present when Gary McAllister put a penalty past him in the 2001 Uefa Cup semi-final at Anfield, although of course, his identity didn't register (he was just another unknown overseas player at the time) until he signed in 2005, and I was reminded of the fact.
Reina is still only 28, and all being well, has at least a decade left at the very top of the game. With just five matches to go until he reaches 300 appearances (and even fewer until he reaches 500 club games), he could theoretically go on to become Liverpool's top appearance maker.
Back Four
This post is for Subscribers only.
[ttt-subscribe-article]