Yesterday marked the third time Kenny Dalglish has broken the English transfer record for a Geordie striker. On the previous two occasions it worked out pretty well.
In 1987, Peter Beardsley arrived for £1.9m, and Liverpool turned into arguably the finest English club side seen to date (certainly few have bettered that red vintage). The Reds won the league that season, and in a three year spell were one win away from completing the league and cup double each time.
In 1992, Dalglish paid £3.3m (£22m Current Transfer Purchase Price/CTPP) for Alan Shearer, and within three years Blackburn were English champions. Dalglish stepped down, and a year later Shearer was sold to Newcastle for a new British record fee, £15m (£39m CTPP). When he was signed by Dalglish, Shearer, 22, had scored just 20 league goals since his debut five years earlier; but at Blackburn he reached that figure within months.
So if that offers no guarantee of a repeating pattern, it does show that Dalglish can spot a good striker, especially if they're from the north-east.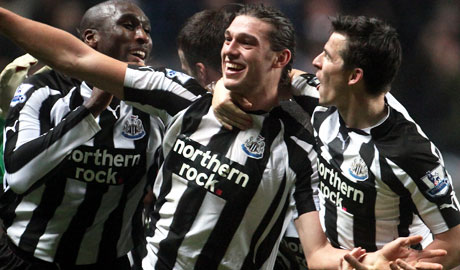 It's fair to say that Liverpool have paid a premium for Andy Carroll; indeed, several, based on a number of factors that need taking into account.
But what a player is worth is subjective. It's worth he's worth to the selling club, and what he's worth to the buying club, and where they meet in the middle. Then there's the fact that a player's worth after the move can't be determined until he proves it, one way or the other.
When Chelsea paid £30m for Shevchenko (£53m CTPP), everyone thought they were getting a world-class striker. Instead they got some confused Ukrainian bumbling around with roughly the same scoring rate as his freebie fellow countryman, Voronin (less the divine ponytail, more the bovine ponytail). Within a few years, it was Shevchenko who was the free transfer.
Why the extra on Carroll?
For starters, Newcastle may have been happy to cash in, but were not desperate to sell. They also had another interested party, in Spurs, but the player chose Liverpool. A number of interested parties can keep a price high, or drive it up further.
Then there's the fact that he's English. This means that he will qualify for home-grown quotas, and it also means that he understands the league; it doesn't mean he will definitely adapt to the pressure at Liverpool, or the style of play, but it does mean that he won't be shellshocked at the pace or physicality of the game. If anything, he is perfect for it.
Next, there's his age: 22 last month. People are making comparisons with other big-money deals, saying that David Villa, for example, cost only £34m, and of course he's a better player. But Valencia were cash-strapped and desperate, and Villa was 28. Barcelona, with their incredible team, don't need to worry about the fact that in two years' time his value will have halved (our research for Pay As You Play backs this up with clear data), and in three years' time, at 31, you're talking 'nominal fee'. (Also, had David Villa been available this January for £34m and willing to come to England, he still might have been considered. Who knows? Fact is, he wasn't.)
But of course, while Carroll will be on £80,000 a week, Villa will cost Barcelona several million more each season in terms of wages, on top of massive depreciation. Just look closer at home, to Yaya Toure. He'll set back Manchester City £5m more per season than Carroll will cost Liverpool. So yes, it was a high fee initially, but it didn't come with ludicrous wage demands that will harm the balance books for seasons to come.
Fenway Sports Group also had to show that they mean business. They weren't going to spend for spending's sake, or to impress the fans, but they had to make a statement of intent, ahead of the summer, by which time other star players may be questioning their ability to buy big. The insistence on £50m cash for Torres showed a refusal to be bullied.
Losing Torres was a body blow, and some kind of replacement was necessary; with Suarez already on board (who himself could prove to be worth £40m if he repeats his Ajax and Uruguay form), it was essential to get someone who could complement him. If Suarez and Carroll exceed the sum of their parts, they'll prove great value for money.
Next, there's the fact that this was the last transfer window amnesty with regard to the Financial Fair Play Rules. Spending £35m on Carroll (or anyone else) in the summer would not make as much business sense as doing so now. This explains Chelsea's desperation to sign Torres, and due to the lateness of their bid, Liverpool were forced to pay a deadline day premium to end the window with a strengthened rather than a weakened squad.
And of course, even before taking the chaos of deadline day into account, mid-season windows come with their own premium. But with a star striker leaving, and his planned partner having already just signed, there was a big hole in the forward line (which has been short in terms of numbers for a while now). Carroll fills that big hole.
Talking of which, here's a quote from 'Mind Games: How the Boston Red Sox Got Smart, Won a World Series, and created a New Blue Print for Winning.'
"If there was a mission statement for the Red Sox of the future, it was this: be the Yankees, but smarter… Fill holes above market prices when necessary."
Look at it like this. If Arsene Wenger had spent £40m on one of the world's best keepers by now, Arsenal may be top of the league table. It's hypothetical, but it shows that one area of weakness can do more damage than paying over the odds would cause to fix it.
Moneyballs
The Moneyball theory is often misused and misquoted. Sabermetrics is bandied about regarding John W Henry as if everything from baseball will apply to football. He knows that's not the case.
In this excellent piece, Fulham fan and TTT contributor/subscriber Rich Allen nails a lot of the issues, in a way that many mainstream journalists have failed to grasp regarding the policy.
Moneyball?  I think you'd define it as making decisions for a reason. They [Red Sox] bought in a number of good, undervalued players, but realised that this alone isn't enough to win things, so supplemented these core parts with superstar talents like Curt Schilling.

…

Let's bring this back to Liverpool. One of the issues NESV had with the current squad, and also Roy Hodgson's signings, is that the players are all relatively old. This is generally when a player is over-valued:  they have built up big contracts but are probably past their peak; they are trading on their fame now, not necessarily the ability that earned this fame in the first place. So there'll be a big emphasis on young talent, talent coming into its peak and which might then be usefully sold on in due course. (The Torres deal is terrific for them, too: a player who was briefly great, but has since only been good, but who still commands the fee of a great player).
Liverpool have replaced a striker about to turn 27 with two who average out at 23. As I said in yesterday's piece, the club have bought a strike-force. Torres missed a lot of games in the past two and a half seasons; and with just one of him, he was being paid while the team was shorn of his talents. Carroll may not be as good as Torres, but if he's fit more often, and if his attitude is better, he'll be of more use.
Big Buys
In terms of transfer fees, Carroll's move may rank as the 9th-highest in the world right now, but none of this takes into account inflation. By doing just that (England, Premier League era only) it wouldn't even rank in the top 10, even before Torres' £50m fee is inserted into 2nd position. (Carlos Tevez's fee is taken as the £25m originally reported, not the £47m some later claimed, which I'd guess includes wages over the length of his contract.)
Now, Jose Antonio Reyes' inclusion does not appear in Pay As You Play at the price below, but rather the fee that was eventually paid (£21.2m CTPP). However, the £17m (in 2003/04) that could have been paid, had all clauses been met, would now equate to £35.6m. Even more surprising is that Shaun Wright-Phillips cost Chelsea £38.3m in today's money.
| | | | |
| --- | --- | --- | --- |
| 1 | Chelsea | Shevchenko A | £53,524,884 |
| 2 | Man Utd | Rooney W | £49,119,283 |
| 3 | Man Utd | Ferdinand R | £48,409,013 |
| 4 | Chelsea | Essien M | £47,443,584 |
| 5 | Chelsea | Drogba D | £43,661,585 |
| 6 | N'castle | Shearer A | £39,683,045 |
| 7 | Chelsea | Wright-Phillips | £38,319,818 |
| 8 | Man Utd | Veron J | £36,829,602 |
| 9 | Chelsea | Carvalho R | £36,111,770 |
| 10 | Arsenal | Reyes J | £35,567,844 |
| 11 | Chelsea | Duff D | £34,355,304 |
| 12 | Chelsea | Crespo H | £33,951,124 |
| 13 | Man Utd | Carrick M | £32,323,469 |
| 14 | Leeds | Ferdinand R | £32,037,760 |
| 15 | Chelsea | Mutu A | £31,930,223 |
| 16 | N'castle | Owen M | £31,020,805 |
| 17 | Man Utd | Yorke D | £30,864,726 |
| 18 | Chelsea | Makelele C | £28,090,513 |
| 19 | Chelsea | Cole A | £27,805,135 |
| 20 | Chelsea | Hasselbaink J | £26,698,133 |
| 21 | Man Utd | Cole AA | £26,520,170 |
| 22 | Man Utd | Saha L | £25,968,568 |
| 23 | Liverpool | Cisse D | £25,833,105 |
| 24 | Liverpool | Heskey E | £25,813,374 |
| 25 | Man Utd | Stam J | £25,720,605 |
Ultimately, a club is buying what a player will hopefully do for them, not what he did for someone else. At £31m CTPP, Michael Owen was a world star when Newcastle bought him; something that cannot be said for Andy Carroll.
But Owen was 26, lacking that extra yard of pace that made him so famous, and dogged by injuries for a fair few years. His reputation was better than the reality. When he was fit he did well enough. But he scored just 26 league goals in four injury-ravaged years and left on a free transfer. £31m, plus all those wages, for very little return. A megastar of English football, who delivered terrible value for money, and whose contract expired at a point when he'd have been worth precious little, had he still been tied down on a longer deal.
Now of course, no-one knows how a transfer will pan out. So only time will tell if Liverpool overpaid for Carroll. What I do know is that, even at that money, all the Newcastle fans I've spoken to are sad to see him go. And if Liverpool improve as a result of replacing Torres with Carroll and Suarez, then at more-or-less break-even, that's good enough for me.