Roy Hodgson is a good manager. His relative success at certain clubs and his durability over 35 years proves that. However, he was never the right man for Liverpool Football Club.
If that seemed obvious to many of the club's followers in the summer, it became unavoidable with his comments and tactics, both of which smacked of low expectations and mid-table mediocrity. If he remains a good manager, he proved that he is not a particularly adaptable one. And therefore, allied to his low win percentage in his three biggest jobs and lack of trophies at any of them, he's not a great manager. Far from it, in fact.
This is a man who said in 2002 that he doesn't believe in innovation (although perhaps he meant change for change's sake), and who has proudly stuck to roughly the same methods for 35 years. Those methods – including a very British 4-4-2 formation – work well at clubs full of journeymen who need to be organised into a fighting unit and snatch the occasional victory, but as shown at Blackburn and Liverpool (and also Inter Milan), rather than see his results prosper, he seems to win the exact same percentage of games even when he steps up a level or two.
Maybe he would have adapted with time, but it's unlikely. It's baffling how someone with so much experience could make so many 'rookie errors' in every area of his performance; and at 63, and not a popular appointment to start with, how much time did he have? He managed to insult the fans, popular former managers and alienate supporters (with his words and his football) to the point where 10,000 empty seats for a New Year's Day fixture told its own story.
Scott Murray sums up Hodgson beautifully in The Guardian, and Dion Fanning once again hits the nail squarely on the head here. It almost doesn't need me to add to either of those pieces, but as ever, there are some small details to focus on.
Upon his appointment, Hodgson claimed that he'd get more than his predecessor out of this group of players. Indeed, that was his line in the job interview. Unfortunately, those interviewing him – as non-football men – didn't know what they were doing.
Hodgson immediately offloaded some skilful ball-players and brought in some mediocre plodders and has-beens. He left out talented individuals like Agger (at the start of the season when everyone was fit) and played his only good signing on the right of midfield, where he performed like a fish out of water. Even after ending Meireles' torrid time out there, and seeing the Portuguese find his feet – and the team its balance – in the centre, he was inexplicably stuck out there again at home to Wolves, when the last vestiges of hope died in a quite dire display. With the players at his disposal (including five he brought in), he made a right mess.
In returning to the dugout, Kenny Dalglish doesn't have to prove himself a tactical master; these things are more vital when all is going well, and you need to eke out something extra. Right now, so long as he is sufficiently positive in his approach, and surrounded by the right lieutenants, the key is lifting a black cloud.
Hodgson was our Eyjafjallajökull, smothering us and stopping us getting off the ground.
Reality, Not Romanticism
While it may seem to fans of other clubs that we are living in the past, this is not about romanticism. It's about uniting the club behind one man. It's about finding a manager that the players – for 18 months a split group – will get behind.
Last season, Benítez lost the support of some key personnel from as early as the first week of the campaign, while Hodgson never really had the support of others – and almost certainly lost the faith of some of those who were open minded until they encountered his methods. But it's hard to see anyone objecting to Dalglish.
It's also about exciting the Kop to produce its full motivational power, rather than finding increasing gaps around the stadium where fans (who had always turned up, even when losing) started to refuse to spend their time and money watching Liverpool play without style or ambition. You can excuse bad games and defeats – you get them in any season – but it was uninspiring, overly cautious stuff from the moment Hodgson arrived.
Let's not feel sorry for the departed boss. He dug himself into a hole too deep to get out of. Nothing was going to work, because all faith had been lost.
It got to the point where even acknowledging and amending the error of his ways was not going to win over a public who'd seen and heard too much. Even Phil Thompson admitted that he'd not seen the team play particularly well at all this season. Last season was horribly inconsistent, and that 'did' for Rafa Benítez, but at least Liverpool won some games with style and something to spare, including victories against Everton and Manchester United. The team were scoring a lot more goals than now, even though it was generally a poor season. That tells you how bad this has been.
As expected, managers are queuing up to say what a travesty the removal of Roy is, with Gérard Houllier saying that it's now "brutal" and that managers are in the firing line after "losing a couple of games". The trouble is, in the league, Hodgson lost nine and won only seven, as well as overseeing the worst domestic cup defeat since before Shankly's time.
Hodgson was appointed under previous owners, by a since-deposed chief executive who began to think himself a football guru. Hodgson made the mistake of trusting that chief executive with regard to player assessments, and between them they messed up the summer's transfer business. Hodgson seemed to side with Purslow rather than the fans.
Some of the criticism of Hodgson was daft, such as the outrage when he smiled when passing Alex Ferguson on his way to a seat at the JJB last weekend. And some of it got far too personal, as did the attacks on the owners from a few lunatics for not yet having sacked him. Ludicrous stuff.
But when Hodgson should have been putting Liverpool FC before his friendship with Ferguson back in the autumn – when Torres was first called a cheat by the United manager, and then linked with a move to United – he failed to do so. Sometimes diplomacy ends up upsetting someone regardless, because sitting on the fence can imply acceptance of a situation that needs to be spoken out against. (If you refuse to say that your wife is pretty when someone asks, you've just insulted her.)
Arsene Wenger said that Hodgson is a 'great manager', but how many Arsenal fans would have wanted him to replace the Frenchman this summer if the Gunners had performed badly last season? Seriously, can anyone see that as a sensible approach?
And before people get too snotty and say Arsenal were/are light years ahead of Liverpool, remember that Benítez won a trophy more recently than Wenger, finished in the top two far more recently, reached a Champions League Final more recently, and did so at a club far less stable behind the scenes.
And that's coming from a huge fan of Wenger, too … Which is precisely the reason why I couldn't see Arsenal ever appointing someone like Hodgson, or wanting to change from their sensible continental approach 'for the sake of it'. The knee-jerking at Liverpool was in the summer, in terms of the direction of the club, rather than from the fans or NESV. The knee-jerking was in thinking that because things had gone stale under Benítez, everything about him (or Spanish football) was wrong. Instead of choosing Manuel Pellegrini, the board consciously and deliberately went 'English'. English manager, more English players. I said in the summer that this was a daft way to go about things.
A lot of mocking supporters of rival clubs seem to think that Liverpool have become the new Newcastle by appointing Kenny Dalglish, after the enmity shown towards Roy Hodgson from the Kop.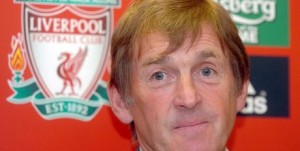 The problem was, Liverpool became the new Newcastle in the summer, by doing the classic 'baby out with the bath water' 180º u-turn. Undoing that was never going to be straightforward. Hodgson's position became untenable – the atmosphere surrounding the club was getting unbearable – and in order to buy some time ahead of a permanent summer appointment, there needed to be the best possible kind of release of the building pressure.
Dalglish oversaw arguably the finest football Liverpool (or any other British team) have ever produced, winning the title three times in his five and a half years; and then, by spending money in line with (but not in excess of) Manchester United – see Pay As You Play for evidence – took the title to Blackburn in 1995. It was a long time ago, but it involved some absolutely fantastic signings, and a winning mentality. Even his short-lived time at Newcastle left them with Didi Hamann (sold for a big profit to Liverpool, whom he served with distinction), Shay Given, Gary Speed and Nolberto Solano. (Jon Dahl Tomasson, just a kid at the time, went on to prove what a great player he is over the next decade; it was just too early for him.)
Speaking on LFC TV, The Times' Tony Barrett mentioned how Fernando Torres was nervous to simply kick a ball in the street with Kenny (following some promotional interviews the legends were doing), such is the awe in which he is held. If Kenny has the right people around him, then that respect, allied to the deep understanding of the game he possesses, can overcome any possibly issues of rustiness.
Modern Thinking
Two years spent at the Academy working with the ex-Barcelona FC gurus Borrell and Segura – where the tactics are far more modern than any Hodgson was implementing – will have brought Dalglish up to date, as will his conversations with Rafa Benítez, of whom Dalglish was a fan.
Indeed, anyone who has been following the youth team since Rafa overhauled the Academy in 2009 will know how much talent there is below the first team squad, and how progressive the approach is. On Saturday, the Reds tore apart a talented Crystal Palace side (top of their Southern league group, I believe, and victors over Arsenal 3-0) in the most one-sided game I've seen all season. It ended 3-1 to the Reds, but could have been a cricket score.
It was a beautiful exhibition of football – 4-2-3-1, passing and movement not so different from that of Barcelona – which revolved around the Spaniard wunderkind Suso (the side's Messi), drifting in from wide areas. (Not saying Suso – who, thanks to Benítez chose Liverpool over Real Madrid – is, or ever will be, as good as Messi, just that, at this level, against boys up to 18 months older, he was on a different planet. Also, see this video clip from last year when, aged just 16, he was showing his talent against senior sides in pre-season friendlies.)
While Hodgson was happy to play some kids in his 'B' team, he rarely even picked the likes of Kelly and Pacheco for the bench in the Premier League, even though they are a year older than when they made their debuts last season. Dalglish is very much in touch with the up-and-coming talent on the books, and can link each section of the club. The comparisons with Keegan's return at Newcastle are especially daft because while Keegan – an inferior manager – was noted for not even following football during his time out of the game, Dalglish has been following it closely.
And while Liverpool lost to Manchester United in Dalglish's return, it was courtesy of a Howard Webb gift (Agger stuck out a leg but quickly withdrew it) and a moment of madness from Gerrard that left the Reds with ten men. (However committed Gerrard is in big games, he has to learn to stop diving in like that.)
The pleasing thing was that, as I'd expected, Dalglish set up in a modern 4-2-3-1, as opposed to Hodgson's rigid 4-4-2. The Reds pressed higher up the pitch, even with just ten men, and showed greater movement. The side looked balanced, and everyone was looking to pass the ball. Agger strode confidently out from the back, and although Reina was the busier keeper, Liverpool came out of the game with their pride intact.
So, if Dalglish is a case of 'going back to the past', then it was mostly reminiscent of the Liverpool of 2008/09 that won 25 of its 38 league games and lost only two (as opposed to Hodgson's antiquated, inhibited approach).
Above all else, Dalglish knows what Liverpool fans expect to see. When the Reds were 2-0 down at Manchester City earlier in the season, Hodgson didn't make a change until the 80th minute, and in other games he left his substitutions very late (because he has never really had a Plan B). At Old Trafford, Kenny made two positive substitutions on 60 minutes.
Will it last beyond the summer? Quite possibly not. But if it goes better than expected, and the right people are brought in around him (Steve Clarke?) – as well as getting on well with Damien Comolli – then the Reds could do worse. After all, and much to our great pain, we've just spent the past six months witnessing just that.