For the first couple of seasons at Liverpool, Fernando Torres was the most complete striker I'd ever seen at the club; Ian Rush's pace and finishing prowess, but with the ability to also beat defenders with skill and hit a wider variety of strikes. He seemed humble, hard-working and devoted to the club. He was perfect.
While his goalscoring remained impressive last season, in spite of injuries and the team's struggles, his attitude had changed from that of someone grateful to be at the club to that of someone who often looked moody and disinterested, and far too concerned with getting into verbal spats with opposition players. He'd explode into life, but also descend into sulks, as was noted many times. Being managed by Roy Hodgson only deepened his visible depression.
Maybe I'm getting a bit longer in the tooth, but I can't get too upset about this news. My stomach will turn when I see him in a Chelsea shirt, but I've seen similar departures before.
Kevin Keegan left before my time (I was just six), but Ian Rush and Robbie Fowler were similarly idolised. In the case of Keegan and Rush, the team actually improved after their exit. In the case of Keegan, Bob Paisley bought a better player in Dalglish; in the case of Rush, Dalglish reinvested the money to completely revamp the entire attacking quartet.
Fowler joined Leeds in 2001 when they, along with Arsenal, Manchester United and Liverpool, were seen as title challengers. But Leeds weren't viewed as cynically by Reds as Chelsea are these days. Keegan and Rush, like Owen, Alonso and McManaman, went abroad, where you could wish them well from a safe distance. Fowler was the only one to go to a rival, but there was a sense that he was past his best; at the very least, he was no longer first choice at Liverpool. And in his case, he was forced out of the club, so fans retained their respect.
In today's money (see Transfer Price Index), Torres cost only marginally more than the £20m paid in 2007 (£22.5m), given that both inflation and deflation have taken place in the market in the past three years. In today's money, Emile Heskey and Djibril Cissé (both £25m) cost more.
(In Pay As You Play, our experts estimated that the combined values for Mascherano, Babel and Torres were £76m, which is precisely what they will have been sold for. Benayoun's fee of £6m was more than the £5.3m Liverpool paid for him in 2010 money. All of Benítez's 2007 signings – bar Lucas – have now left the club, for a profit of more than £21m at 2010 prices. Note: 2011 prices will only be calculated after all of this season's deals are concluded.)
As noted in my previous piece, Torres will be 27 soon. His contract expires in 2013, so unless he signs a new deal, this summer is the final time he will be at full value. Ideally, this would have all taken place in July, when there would be ample time to find suitable replacements. But he wasn't prepared to wait.
With their first transfer window, FSG have found themselves in the middle of an absolute clusterfuck of activity. They could be forgiven for thinking what the hell they bought into, with the inheritance of a manager out of his depth, and soon after, the club's most bankable asset looking to join a rival. To use the parlance of their beloved baseball, they've already been thrown a few curveballs.
Despite a return to goals since the departure of the morale-sapping Hodgson, Torres has not been running at full pelt; a bit like Owen after one too many hamstring injuries, where 5th gear is avoided for fear of muscle failure. His worth is at its optimum now, but you cannot deny doubts about his fitness and how many games you will get for your money.
While players tend to peak in their late 20s as a rule, attackers who rely on explosive pace – strikers, wingers – often see their best days behind them well before then. There's no hard and fast rule, but injury niggles can seem to accumulate. Yes, good players can compensate in other ways, but it's tough if you lose one of your main strengths.
I think Chelsea are getting a striker who is almost certainly past his best, given the sheer number of injury problems and the fact that he's already spent a full decade as a first team player (by comparison, Didier Drogba was a late bloomer). But all the same, while superstardom may have seen his attitude go awry, Torres remains a top-class striker. There's no denying that.
I recently mentioned the rebuilt 1987/88 team after the departure of Rush, but more recently, Inter Milan sold Ibrahimovich and reshaped their attack. Within twelve months they'd won everything in sight.
Now, that won't happen because Liverpool are not at Inter's level before they lost their star striker, but it does show what can be achieved when someone pays over the odds for your main asset. And again, as mentioned in my Suarez piece, Spurs have risen in the league by selling their best players, and buying new best players before anyone realised they could be their new best players. Or something.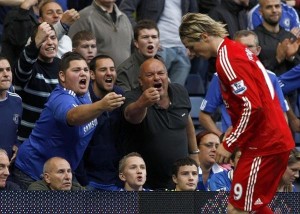 While I'm disappointed in Torres' actions, it's all part of football; it's how we acquire players, and how players are lost. I don't think he's a 'Judas'. But he will lose the devotion of a set of supporters who idolised him.
As Kenny Dalglish so succinctly put it, "The most important people at Liverpool Football Club are the people who want to be here." A Torres whose heart is no longer at the club is not worth £50m to Liverpool, so in that sense, it's a chance to move on, into an era where everyone's heart is in the job.
Whatever we may think, Chelsea are clearly better equipped at this moment in time to challenge for trophies than Liverpool, but are an aging side, with all but one or two of their best players in their 30s. (Drogba, Lampard, Cole, Anelka, Terry, Malouda, Alex and Benayoun are all in their 30s, as is Ferreira; Cech and Essien are 28.) You can win things with an aging team, but from the outside they feel like a side at the end of its cycle; the core of the side were part of the youngest Premier League-winning XI (to date) in 2005, and the oldest in 2010.
Enter Andy Carroll
So to Liverpool's search for reinforcements, with Newcastle's Andy Carroll set to join for an eye-popping £35m.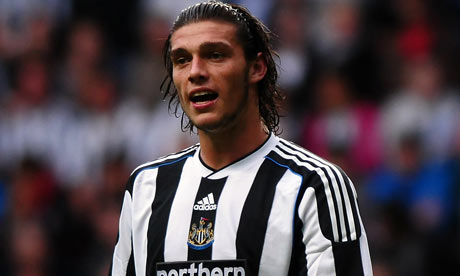 He's one of those paradoxically 'unfashionable' and yet simultaneously 'overhyped' players. But at just 22 (earlier this month) he is blossoming very nicely; if he can get his act together off the pitch, he'll only improve on it. If Darren Bent seemed overpriced, that's the English premium in play, but Bent is 27, and likely to be worth only a third of his fee (if that) in three years' time.
Carroll represents value for money in the sense that he's at the right age; if he's a success, then in five years' time he could still fetch a high fee for buyers unconcerned about their own sell-on options further down the line. At 22, he's the same age at which Torres, Mascherano, Reina and Alonso were signed.
With home-grown players required to meet the rulings (Carragher is now 33 and Joe Cole could be joining Konchesky is on his way out this summer), at least some of the extra fee makes sense.
The fee is a lot, but some comparisons are wayward. In today's prices, Shevchenko cost £53m, but was 30 years old and left for nothing. With inflation, Rooney cost United £49m (a good buy) and Ferdinand was £48m. At £43m, Drogba looks a bargain, but was in relative obscurity at Carroll's age.
Carroll is at least used to playing for a 'goldfish bowl' club, so that will help; although Liverpool is a step up in terms of pressure and expectation, and now he has a big fee to justify. So it's not without concerns. He won't have to adapt to English football (a bonus) but he will have to adapt to Liverpool.
As often happens with young strikers who have to adjust to first-team defences, he scored just four goals in his first 41 games, but beefed up and wised up, he then notched 30 in his next 50 (admittedly he got into the swing of things in the Championship, but he's carried that on at the top level).
He's big, and absolutely outstanding in the air – Kevin Keegan describes him as one of the three best headers of a ball he's ever seen – but also technically gifted. Ian Holloway said he was the best striker he'd seen this season. And when all is said and done, he's played better than Torres in 2010/11, so at least he has that on his side. There's no comparison with Torres circa 2008, but then that Torres, to Liverpool at least, is a mere memory.
Perhaps more importantly, Liverpool could be better served with the balance as a pairing that Carroll and Suarez would provide as opposed to a sulking Torres; two young up-and-coming players for the price of one in his mid-to-late-20s, hampered by a succession of injuries in the past 24 months. Had the Uruguayan not signed, then Carroll on his own would prove more of a worry, but Liverpool have purchased an exciting young strike-force.
Suarez was purchased to play off or alongside Torres. Once Torres asked to leave, then that plan went up in smoke. And yet potentially, Suarez could prove a bargain at £22m, for a player with such an excellent goalscoring record and incredible desire to win; he could easily be valued at £40m in a year's time. But Suarez isn't a spearhead striker, and therefore his own impact will be lessened without one alongside him.
If Carroll could provide a focal link to the attack and bring Suarez, Gerrard and others into the game, then he'd be worth the money; after all, it's about what he adds to the team, not what he's worth in abstract isolation. Carroll could play up front with Suarez just behind, or he could be the focal point of a three-man attack, with Suarez one side and Gerrard, Kuyt or Maxi the other.
Then there's the possible addition of Charlie Adam, a gifted left-footed attacking midfielder, who could easily play as the left option in a front three. Whereas Carroll can only play as a centre-forward, Adam and Suarez are versatile talents. At 25 (last month), Adam is the oldest of the three, and has incredible set-piece delivery – which in itself can be worth several points a season (even more with a powerful header of the ball!).
If all three are signed, adapt and settle, then the team will be in better shape than it was with Torres and Babel, whose departures effectively mean that FSG have spent less than £10m. They will be keen to invest a lot more money in the summer – new centre-back, pacy winger – so in that sense, it bodes well for the future.