I've always attempted to see the bigger picture with Liverpool FC, and never liked short-term thinking. However, before we could focus on Fenway Sports Group's long-term vision, we had a massive obstacle obscuring our view.
If we were setting off on a long journey with our new American owners – accepting that it would take time to get where we wanted to go – then we were still entitled to scream Stop! when the driver they inherited was in danger of taking us off the road and over a cliff. (If that's a little too dramatic, then perhaps it was simply a case of heading in the wrong direction, or down a cul-de-sac.)
In football, the here-and-now determines a lot of what happens further down the road. It's great that FSG have that long-term plan, but equally, when there are 10,000 empty seats for what is traditionally one of the best-attended fixtures (New Year's Day), the danger of serious  and time-delaying short-term damage is clear to all to see. Those fans didn't get together to boycott the game; but most must have decided, individually, that there were better ways to spend their time and money. That says it all.
Disillusioned fans affect the club as a whole. Empty seats harms the atmosphere, and hits the club in the coffers. Suddenly, getting out of first gear becomes a problem. Getting from A to Z becomes much harder if you can't even make it to B without breaking down. Before we moved into the future, we had to deal with the obstacle in our path.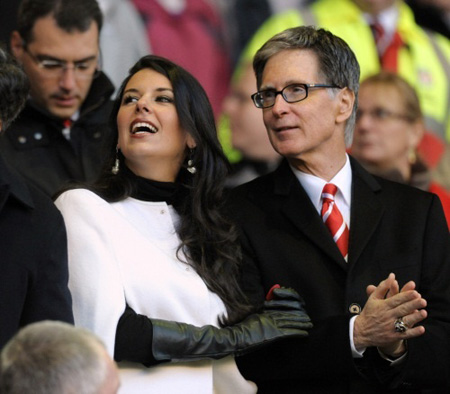 Lame Duck
It's fair to say that Fenway Sports Group (FSG/NESV) got more than they bargained for when they bought the club, in terms of fan reaction to the incumbent manager. I admit was as critical as any (hopefully) right-minded Liverpool fan, but crucially, I was also as critical as pretty much every Liverpool fan.
Ian Holloway said the following about the situation:
"I think it's very easy to blame Roy Hodgson for the problems at Liverpool. Internally, there has been a lot of turmoil and unrest for the last couple of years. Rafa tried saying that in the press and lost his job. Indeed, most fans didn't want Rafa to go. I think Roy is the scapegoat in all this".
He's right in that the unrest didn't help anyone, although there was more stability at the club once FSG arrived early in the season. How many fans wanted a change last summer is open to debate; This Is Anfield's poll suggested a 50/50 split. But how many fans wanted Roy out is much more clear cut: in every poll I saw, including on that same site, it hovered around 95%.
I don't think Roy Hodgson lost his job because of resentment over what happened to Rafa; personally speaking, I was expecting a change in the summer and had resigned myself to that. However, I, like a lot of others, expected a suitable replacement (all the time accepting that we were never going to get the crème de la crème). I wanted Manuel Pellegrini, who was available, or failing that, there was a lot to be said for appointing Dalglish back then, as opposed to Hodgson. But Hodgson was very much a political appointment.
Somehow he was deemed to 'deserve the chance', as if the job was a reward. It's the same as the concept of players 'deserving' to be in the England team, based on their form, irrespective of whether they suit the system (and therefore, potentially harming the team's chances). Liverpool was Hodgson's 'reward', but what did Liverpool fans do to deserve him?
The problem with Hodgson will always come back to tactics, or rather, the more broad, all-encompassing 'approach to the game'. Hodgson's approach was completely and utterly wrong for this particular club. Many expected him to tailor his methods, but he just never did. That was his prerogative, of course, but it was also ours to think 'more time passes, and still no adjustment'.
It's like appointing the leader of the Conservatives to run the Labour Party, or vice versa. You sense trouble at the outset. But if the transition proves acceptable, you unite. However, if policies which don't match your beliefs are then foist onto you, you rebel. The Kop, as one, knew that something was very wrong with the style of play; it didn't need people like me to point it out. It was instinctive.
Why aren't we trying to pass from the back? Why are we conceding possession too readily? Why are we defending so deep? Why is there a lack of creative talent in the side? Why are we scoring so few goals?
It also didn't need me to point out that Roy seemed terrified of the expectations. Now, at Liverpool expectations can exceed realistic aims, but you have to try and get as close as possible. Hodgson spoke of losing to newly-promoted or bottom-placed teams at Anfield as some kind of fact of life we had to accept; yet it hadn't happened at all under the previous manager, even when the wheels were supposedly coming off.
Get this straight: this was not some Paisleyesque dream from the late '70s we were clinging to; this was the standard set by the man who was deemed not good enough by many outside the club, and some within. When Benítez promised a top four finish last season, however misguided, it was because he refused to settle for less.
Dalglish gets this vital fact. Like Hodgson and Benítez, he warned against ideas that we could win every game; but like Benítez, and unlike Hodgson, he refused to rule it out – a vital distinction. At least try to be positive.
What Liverpool fans rebelled against, more than anything else, was the mid-table football (too defensive, too rigid, too predictable) and the mid-table ambition. We didn't expect to be the champions, or even necessarily in the Champions League next season. But we always expect the club to be on the front foot – aiming higher than Hodgson, whose targets were often below what we saw as acceptable, even for a club in difficult times.
Winners
In Dalglish, Liverpool have a winner. But he might not be the long-term solution. It's only fair that he's assessed for his suitability for the job beyond the summer as he goes about his business from now until May, but equally, it's only fit and proper that other avenues are also explored. If there is a truly outstanding candidate from elsewhere, then he cannot be ignored; and I'm sure Kenny feels the same. In fact, I believe that's how he felt in the summer, when only the paucity of candidature forced him to offer his services.
Damien Comolli stated that the candidate must have "Competence, someone who will fit into the club and playing philosophy and huge on man-management – the three things most important to the club."
Dalglish certainly ticks the last two boxes. The only unknown is his ability after years out of the game, but even if his powers have diminished (we can't know either way just yet), that can be overcome by surrounding himself with the right people (such as Steve Clarke).
While he also ticks two out of the three (as far as I'm concerned) it would also discount a return for Rafa, because of the perceived problems with his man-management.
As for Hodgson, he may have been perceived as a good man-manager, but his competency was found wanting in terms of what was required at a big club, and he thoroughly failed to "fit into the club and playing philosophy". At best, he only ticked one of the boxes, and even his man-management wasn't appreciated by several players (but of course, you will always have your disgruntled pros in a big squad).
In some ways it could be argued that FSG have made a rod for their own backs by appointing someone who the fans won't take kindly to being replaced, but it just means that they need to find someone who is particularly good if they do opt for change.
German Ralf Rangnick seemed an interesting option, having built up a reputation by assembling a young, exciting team at Hoffenheim, and possessing better English language skills than many British managers. However, despite taking them a long way (from the third tier to lead the Bundesliga at the halfway stage a couple of years back), they still didn't land a trophy, and his man-management has been called into question; and as such, that would appear to count against him. As he's available now, the fact that he was not appointed appears to rule him out.
For me, big club experience is vital; or at the very least, a vision and playing style befitting of one.
One thing the new manager might also need is silverware on his CV, if for nothing else other than to placate the doubters. The best up-and-coming managers might not have had the time or the resources to realistically achieve that (Rangnick, for example). Trophies aren't everything in assessing a manager; after all, Arsene Wenger hasn't won a thing since 2005, but he's still doing a good job of keeping Arsenal competitive. That said, I sense that a lot of Liverpool fans will be wary of appointing a manager having a lean spell, or a bare trophy cabinet, because of the struggles with Hodgson.
Bright Red Future
For all the current ills, Liverpool retains a bright future, for a number of reasons. While the financial rules kick in at just the wrong time for FSG, inasmuch as they can't blow £200m in the summer on players without it counting against the club (not that this is their style), it will benefit them further down the line. The better the club is run, the more the rules will prove of benefit; after all, they are designed to curb the outlay of those who spend wildly, and help those who spend sensibly. (I believe I'm right in saying that this is the last transfer window where clubs can splurge the cash and not have it count against them, so maybe, purely as a guess, this window will see one major signing.)
Liverpool have a lot of natural revenue streams open to them, due to global appeal, that don't exist in the same way for Manchester City and Chelsea. But of course, if the club fail to qualify for Europe this season, that will perhaps put off some players from signing (even though being in the Europa League seems more of a drag than a draw). Liverpool retains a great name, but players will want reassurance that the club is not still in 'crisis'.
Youth
The good news is that the youth team is more exciting than it's ever been. I'd urge anyone who thinks Benítez left a poor legacy to study the talent now at the Academy; if the first team started to flounder, the youth set-up was definitely on the right tracks after his 2009 overhaul. Rafa gets criticised for not bringing through enough local talent, but he could only pick from what he was given; and for the most part, that wasn't a lot. His key decision was to install the two Barcelona gurus, Borrell and Segura, who can develop a strong footballing ethos at grass roots level; taking the best of the Catalan approach and blending it with the Liverpool way.
Last season Liverpool paid a sizable fee for 15-year-old QPR prodigy Raheem Sterling, a small, highly skilful and ultra-fast winger. But the coup de grâce was Benítez personally persuading the Spanish wunderkind Suso to opt for Liverpool ahead of Real Madrid and Barcelona; at just 16, he was already head and shoulders above those in his age group, and now, aged 17, he looks capable of being fast-tracked to the first team. (Click on the link to see him, and the rest of the U18s, against Crystal Palace last weekend.)
Another English signing, Michael Ngoo, 18, has the proverbial great feet for a big man, as does Kristjan Gauti Emilsson. Portuguese winger Toni Silva (17) also seems to have a bright future, as does Hungarian striker, Krisztian Adorjan (17).
And at last there's a collection of local boys – Conor Coady (17), Jack Robinson (17), John Flanagan (18) – who might just have what it takes. As ever, not all of these boys will make the grade; after all, there's just not space in the team, even if all developed at their current rate. But as well as playing exceptionally as a team, the U18 side also has those standout individuals that are even more crucial. The Reds remain strong at reserve team level, too, where some of these kids are already flourishing. (Edit: this is without even mentioning Daniel Ayala, Danny Pacheco, Jonjo Shelvey and Martin Kelly, all 20 or under, who haven't looked out of place when given first team chances.)
With Gillett and Hicks having done their best to run the club into the ground, it might take a year or two simply to get back to where we were a couple of years back, and longer still to exceed those levels (if possible).
But with intelligent owners who aren't afraid to make big signings, a knowledgeable Director of Football, the spectre of Hodgson behind us, and some potential stars of tomorrow already on the books, the club is anything but rotten to the core. The first team may have fallen short of expected standards in the past 18 months, and dramatically so this season, but the club seems well placed to begin – slowly but surely – clawing its way back towards the top.