There's only one thing at Liverpool that, on the evidence so far, Roy Hodgson indubitably got right: the purchase of Raul Meireles. Whether or not it was led by (now ex-) chief scout and fellow Iberian, Eduardo Macia, is somewhat moot: the transfer has Hodgson's name on it, in the same way that managers get the credit or blame in deals recommended to them by those paid to do so.
But Meireles is also Hodgson's grand folly – when it came to playing him on the right wing. I'm not a stickler for players playing 'in their true position' because many footballers are adaptable, and it's about getting the balance right; sometimes you need players 'out of position', especially if they can do the job better than an inferior specialist. The problem comes when they are both out of their comfort zone and the team balance is all wrong.
Meireles has shown that he can be effective in the final third, but not once did he look at all comfortable at right-midfield, and almost all of Liverpool's nightmare results (see the breakdown at the end of this piece) came with him there. To make matters worse, with fewer attack-minded players in the XI, he only added to a lack of adventure, particularly at home. The one game where it did work – Chelsea at Anfield – was courtesy of a deserved early lead, which meant that he was actually quite handy in the massed-ranks defence that was the second-half.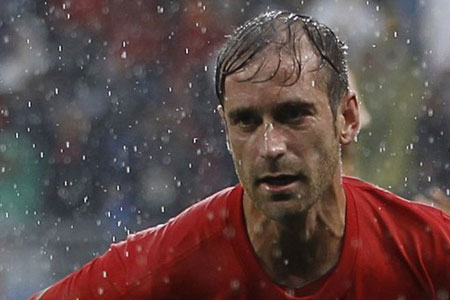 A big part of the problem was Hodgson's dogmatic preference for 4-4-2, which meant that Gerrard had to drop into the centre of midfield, and in order to find a place for the £11.5m signing along with the outstanding Lucas, the midfield was left looking somewhat lopsided. Given a more direct approach that too often bypassed midfield, Meireles wasn't getting enough touches of the ball to get into the game, and unlike a winger who is comfortable running the ball, when he did receive possession he was likely to pass infield – his comfort zone – rather than go outside his man or deliver a cross.
As a Portuguese-speaking central pair, Meireles and Lucas were on the same wavelength and winning quite a few plaudits before Hodgson broke up the partnership to reintroduce Gerrard to Andy Gray's favourite position for him. (Gray's favourite position for women, I assume, is tied to the kitchen sink.)
It's no accident that Meireles is shining under Kenny Dalglish, now that possession is being cherished rather than squandered in percentage punts to two target-men (neither of whom was a natural target man).
The key now is just where Gerrard fits in, given that he is finally free from suspension. It's never a simple argument, because he can play so well in so many areas of the pitch (I was privileged to see him play left-back at Villa Park and right-back vs Everton more than a decade ago); but it's never about getting the best from him at the expense of the best result for Liverpool – it's better to get 80% from a great player if it means the team works better as a whole.
I'd expect Meireles to drop back alongside Lucas, and anchor the midfield in the way Xabi Alonso did. (Meireles is not quite that good at passing, and nowhere near as brave in the tackle, but he's a bit more mobile, and certainly at home there.)
Gerrard would return to playing just off Torres, where he has more freedom to go forward and link with the Spaniard without worrying about his own well-known tactical indiscipline. As good as Meireles has been further forward, Gerrard won the Footballer of the Year in the role, and was deployed there in Kenny's first game. (It was actually in dropping deep into the midfield melee where Gerrard's poor decision-making when it comes to tackling was highlighted; another reason to try and keep him further up the field.)
Yes, he's excellent bombing forward from a standard central midfield role, and loves to be in the thick of the action, but ultimately it depends on who else plays, and where they are deployed. Vitally, if Liverpool play the ball on the deck, all kinds of permutations could lead to success. Most importantly, the clever movement between Maxi, Meireles, Kuyt and Torres in recent games suggests a flexibility that was woefully absent under Hodgson, where a total lack of play 'between the lines' made for a rigid, predictable and incredibly dull side. Gerrard would fit nicely into the new picture, as the front players switch a la Barnes, Beardsley, Houghton and Aldridge.
To conclude, the following is from data analyst Dan75 (@DanKennett), who has looked at where Meireles has played and the results achieved; obviously there are more factors at work, but the evidence seems pretty conclusive.
This is based on 23 games so far. I've used the benchmark of Meireles playing at least an hour to count towards the stats (this means the Wigan game isn't counted as he only played 45 mins)

Meireles not involved = 7

Arsenal

Man City

West Brom

Birmingham

Wigan

Bolton (H)

Blackburn (A)

LFC record = W2 D3 L2, Points Per Game = 1.29

Meireles playing Right Midfield = 6

Sunderland

Blackpool (H)

Everton (A)

Chelsea

Stoke

Wolves (H)

LFC record = W1 D1 L4, PPG = 0.67

Meireles contributions = 1 assist (v Chelsea), 0 goals

Meireles playing either CM or CAM = 10

I thought it was easiest to do this rather than debate where he was and where Gerrard was in, say, the Blackburn (H) and Bolton (A) games

Man Utd

Blackburn (H)

Bolton (A)

West Ham

Spurs

Villa

Newcastle

Blackpool (A)

Everton (H)

Wolves (A)

LFC record = W5 D1 L4, PPG = 1.6

Meireles contributions = 2 assists (v West Ham, Wolves), 2 goals (v Everton, Wolves)

I should logically this up with a summary of our results with/without Gerrard or Gerrard playing in his "proper" position versus anywhere else but that's for another time