It took Kenny Dalglish just two away games to do what Roy Hodgson failed to achieve in 10: win convincingly away from home in the Premier League. Indeed, as is well known, the Reds only managed a single away victory under Hodgson in the league, and that was via a barely-deserved late winner at Bolton.
Dalglish lost two and drew one of his first three games (this time around, at least), and yet optimism remained high.
It wasn't an easy start: three games in eight days, beginning at Old Trafford and ending with the ferocity of a Merseyside derby. But our optimism wasn't a form of nostalgia; it was that, after the quite horrible playing style implemented by his predecessor, he was getting back to what we want – and expect – to see: Liverpool, in some form or other, passing and moving. Sooner or later, good football turns into good results.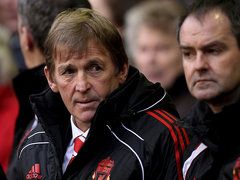 The way that's achieved might have changed over the years, from the 4-4-2/4-4-1-1 of yore, through the 3-5-2 of the Evans' era (not a triumphant time, but enterprising and almost successful) to the 4-2-3-1 of Benítez's best sides with the rich passing talent of Agger, Aurélio, Gerrard and, of course, Alonso. But bypassing the midfield on a regular basis was never the Liverpool way.
Hodgson took over in the summer, and had months to make changes and influence the way the side was set up. He did so, and did so badly.
By contrast, Dalglish came in mid-season, with confidence rock bottom, and in contrast to the way half-a-dozen players were brought in by Hodgson, has yet to have the luxury of signing anyone to fit his template. And yet somehow – just as many of us said was possible – the same players have reverted to playing pass-and-move football that was beyond them for the previous six months. On top of that, Dalglish has re-engineered the team spirit that appeared to dissolve over the past 18 months.
'King Kenny' (as Rafa calls him) immediately restored the 4-2-3-1 preferred by the Spaniard, and the high-pressing system beloved of the European Cup-winning boss, but made his own tweaks. Even the much-maligned Christian Poulsen has looked okay, when removed from a four-man midfield that often saw him outnumbered and easily outrun.
The key has been the return to the passing football demanded at big clubs; not for purely aesthetic desires and vanity, but because it's almost exclusively the route to success.
As Dirk Kuyt said of the 'new' approach: "It comes close to the Dutch style. Playing with early pressure on the opponents and a passing game with the ball low on the ground. Not all those long balls anymore."
Kuyt added: "Under Clarke we now do totally different training sessions. We do a lot of positional play in small spaces." The beautiful 31-pass move which led to the third goal yesterday, and which involved 10 players (including Pepe Reina passing rather than booting long for two centre-forwards), summed up the ethos brilliantly. If ever there was a moment that defined what is possible, that was it.
The same set of players, but told to play a different way, and instantly providing startling results. Trust each other; take chances by passing to team-mates rather than passing the buck; offer the goalkeeper angles and play from the back; movement, rather than rigid positions; and so on.
Kuyt had previously said that Hodgson gave it his very best, but that "he had his way of playing". Clearly, it wasn't ours. And it wasn't the way of so many of the players clearly baffled by the ex-manager's methods.
Some pundits won't admit it, but I remained adamant that the main problem Fernando Torres was having was being asked to play like Bobby Zamora, in a system that resembled Fulham's 4-4-2; both of which were right for them, but wrong for Liverpool.
Failing to see that, and failing to encourage passing in all areas of the pitch, meant that Hodgson was undermining his prize asset's confidence and starving him of quality openings. In so doing, he was damaging the team's chances. Results were poor, morale dropped and everyone looked fed up.
By not pressing high up the pitch, Torres was not getting as many of those opportunities where just one tackle can put him in on goal; by not passing from the back, he was fighting for possession, rather than being handed it on a plate.
The striker had two injury-dogged campaigns under Benítez, but always came back with goals, even when half-fit, so I don't buy the injury excuse, certainly beyond the rusty first few games of this season. Hodgson had the striker to select in all but one game, yet still only managed a below-average return by the Spaniard's standards. So far, with the goals returning under Dalglish, the only blip in Torres' Liverpool career coincides with Hodgson and his tactics. (There are simply too many coincidences with all areas of Hodgson's stats to suggest that this is anything but strong circumstantial evidence.)
Until Dalglish took over, Torres was a passenger – but a passenger in the sense that he had no chance of stepping onto a train that went whizzing past him, or a plane that flew over his head. Now the goals-per-game rate is back up to where it was under Benítez. Now he's happy, and he's back.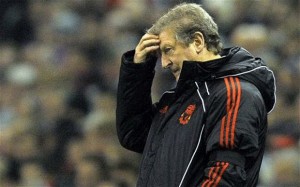 Damage Limitation
I frequently questioned myself as to whether I was too critical of Hodgson, but my firm belief was always that he was a totally wrong fit, and in danger of doing both short- and long-term damage to the team. I don't enjoy criticising anything to do with Liverpool FC, but sometimes it has to be done.
Good players were in danger of jumping a ship he was supposed to be steadying, but was instead causing to sink. With the exception of Raul Meireles, he bought and sold badly in the summer; said all the wrong things; played the 'wrong' kind of football, which led to definitely the wrong kind of results; and his approach led to fans staying away.
It wasn't entirely Hodgson's fault, in that he should never have been appointed in the first place by Christian Purslow, who also managed to steer the Londoner badly in the transfer market, on top of Hodgson's own glaring errors.
But they were all guilty by association; the entire Gillett, Hicks, Purslow and Hodgson collective will be looked back on as the worst group of people the club has ever possessed at the same time. No wonder the club was sinking fast. In the old days, it was quality from top to bottom; in 2010, it was a bad joke.
No-one seemed remotely qualified to be doing their job: two clueless owners who knew little about football and even less about running a football club; an MD who thought he was David Dein, but was more David Dickinson; and a manager whose methods translated from Halmstads to Malmo to Orebro to Neuchatel Xamax and, of course, Fulham, but were utterly wrong for one of the world's most highly-scrutinised clubs.
So a line simply had to be drawn under that awful time. Now we have Fenway Sports Group, whose reputation in America is as stellar as Hicks' is stinky, and a manager who knows what's required to be Liverpool manager, and won't hide from the expectations. And with at least three game-changing transfers at Spurs (Berbatov, Bale and Modric), plus several other first-team successes, Damien Comolli adds transfer direction where, under the control of Purslow and Hodgson, there was none.
If Roy was the master of the mixed message, Kenny has played a straight bat in front of the cameras and microphones and said all the right things; if his accent is harder to understand, the content certainly isn't. Where Roy failed to grasp the formation the squad was suited to (and forced things), Kenny gets what its strengths and weaknesses are. Football has many layers of complexity, but the fundamentals of Liverpool Football Club are something I no longer worry about.
Optimism
This past week, Dalglish has spoken out about how the squad was far too good to accept being 13th, and, more importantly, took time to offer effusive praise for the job that Rafa did in overhauling the Academy, and the work of Frank McParland, Pep Segura and Rodolfo Borrell.
Having been brought into that arena by Rafa 20 months ago, Kenny could see close up how much was changing for the better. Vitally, the new manager can integrate all aspects of the club into one cohesive whole, and that includes the promising starlets. Whereas Hodgson saw the Europa League as ideal for his B-team policy – and that meant those who were less experienced were not really trusted in the league – Dalglish has already put his faith in younger players like Kelly and Shelvey.
Again, the clues were there in Hodgson's stats, as I've noted previously. Almost everything about his approach could be foreseen: his tactics; his caution and low goal-difference tallies (he's perfect if you want eight men behind the ball); his low career win percentage and atrocious away record; through to his preference for fielding relatively elderly teams. (He once noted that younger players only get you relegated.)
The average age of the Liverpool XI across a full season had never exceeded 26.5 in the Premier League era, but jumped to 28 in Hodgson's 21 league games. (Yes, players get a year older each year, but that's why pruning is essential; in six years under Benítez, it ranged from 26 in 2004/05 to its highest, 26.5, four seasons later.)
Hodgson's own signings averaged 30 years of age, and that also happens to be the average age of the Fulham side he bequeathed Mark Hughes. What was the average age of the side Kenny put out against Wolves? – 26.3.
These stats may seem insignificant, but I don't believe that they are. Yes, Carragher and Gerrard are currently out, but there were older players, like Kyrgiakos, who Hodgson preferred over younger, more talented ones like Agger; ditto Kelly in the side ahead of Konchesky.
Balance
The XI selected at Wolves had a lot of fans complaining before kick-off, but for me, the vital fact was how the criminally underrated Lucas could anchor the midfield with Poulsen, and allow Maxi, Kuyt and Meireles more freedom to support Torres.
Speaking on Match of the Day last night, Alan Hansen seemed to think this was a new idea, even though it very closely mirrored Benítez's approach.
Also, if the away performances were as negative over the past '10 years' as Hansen suggested, why was the club record for most away wins in a league season – 13 – set under Benítez? That said, Dalglish deserves great credit for recognising the way forward with what he inherited, and, even without some of his big names, engineering a victory against a team who are fairly strong at home.
So now we have a mix of input from three managers: Benítez, Hodgson and Dalglish (all of whom I will continue to mention with regard to the way the present day is shaping up).
With any luck, Kenny can continue to take the best of what he found waiting for him, and add a bit more of his own stamp with a foray into the transfer market this week.
With supportive owners and fans, and no power-crazy MD to undermine him, Liverpool are certainly heading in the right direction under Dalglish. A comfortable away win, and a couple of sensational goals – one a wonder-strike, the other the best team move of the Reds' season so far – suggest that there's a lot more to come.