In any season, some 'winnable' games will not be won. You can't win 'em all. Sometimes, shit happens. C'est la vie, as Robbie Nevil put it. But having dropped points at home to Blackpool and Sunderland, and away at Everton, Wigan and Stoke, the fixtures against Newcastle, Wolves, Bolton and Blackburn were supposed to be where the balance was redressed. "We've played the hard teams" was the (semi-valid) excuse at the start of the season, even though performances were often well below acceptable standard, with timid tactics and aimless hoofing.
While not perfect, the Liverpool squad – and especially its strongest XI – should be good enough to do much better than the uninspiring, turgid dross that's being served up. It's so bad that there were 10,000 empty seats at Anfield for the traditionally well-attended New Year's Day fixture – it was the worst weekend attendance at Anfield since 1997, when the Anfield Road end was being redeveloped. And now, for the first time in Premier League history, the Reds' superb travelling support did not take up the full allocation for Ewood Park; one third went unsold (even after that win against Bolton). People are voting with their feet.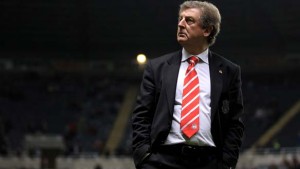 Within three games of last season, just months after Liverpool's best league campaign for two decades, the knives were out for Benítez. (Apologies to those who bristle when I mention the Spaniard, but try as I might, I see no way of writing about this season without comparing it to the recent past. And as the mass media keep blaming him, his name is being brought up by pretty much everyone.)
In the end, he was replaced, after the team finished 7th. Of course, there was more to it than that, but in almost all of the media post-mortems, the league position was deemed unacceptable for the squad at the manager's disposal, and his time had been called in the press and on TV since the autumn of 2009. The same people telling us this were largely those who believed Roy Hodgson was the answer. Well, some of us didn't believe it then, and certainly don't now.
Benítez's football was 'boring'; yet the side never scored so few goals as they are doing under Roy. He 'rotated too much'; yet Roy left out Agger and Aurélio away at Blackburn (as well as Kuyt) in order to bring his favourites into the back four: far less cultured defenders. (And of course, Roy is not juggling the massive undertaking of a Champions League campaign, for which you can't put out the kids and reserves.) Kyrgiakos was bought to be the fourth-choice back-up, not to play ahead of Agger, while Konchesky can neither defend nor attack with any real conviction.
And as a result, both Wolves and Blackburn have claimed they set out to stop Liverpool passing from the back. Why? Perhaps because Hodgson picked only one technically gifted defender (Johnson). Perhaps Agger was tired after the Bolton game, but as he was fit days earlier, he could have played against Wolves and Blackburn and maybe sat out the one in between. Instead, he played just once, with Hodgson insisting he 'rested' the big Greek; and after all, when he was fit at the start of the season, Agger was either left-back or left out.
To make matters worse, Hodgson says the team was too 'offensive' in its approach at Ewood Park. Yes, that's been our problem: too attack-minded.
Konchesky, of course, is simply not Liverpool class. As Hodgson brought him with him from Fulham, he probably gets more criticism than he deserves – blame, by proxy – but he does symbolise all that's wrong about the new manager's methods – it's just so glaringly mid-table. The fact that he thought Konchesky would be good enough, and that he cost around £5m (which, at 29, makes it even more expensive, relatively speaking), says a lot about how ill-prepared he was for the job. Soundings from Christian Purslow didn't help.
At Blackburn, Fulham and Liverpool, Hodgson's league win percentage hovers around (or below) the 35% mark; it seems that he'll get the same results with the second-most expensive squad in the country (Blackburn, 1998/99: see Pay As You Play for details of how this was the most expensive side relegated in the Premier League era), the fifth-most expensive squad (Liverpool, now) or the bargain-basement buckaroos at Fulham. Is it really all a coincidence? Is it really a coincidence that he won only one away game with Fulham last season, the same amount he's won at Liverpool? With the Reds averaging fractionally over a single goal a game, is it a coincidence that Fulham scored only 39 goals in each of his full seasons there, a low total even for a mid-table team?
Hodgson claims he wants to build the team in his image, but the players he has brought in, and those from the squad he favours, go together with his game plan to produce the dullest brand of football possible. His one good signing, Meireles, has been inexplicably stranded on the right wing in several home games where points were dropped. And Hodgson (along with Christian Purslow) let go Aquilani and Insúa, two of the Reds' top assist-makers in the league last season, and players younger than any of Hodgson's own purchases. Cole, who was supposed to replace the clever Benayoun, has had very little impact.
A team in Roy's image, you ask? Well, he took a large chunk of Kenny Dalglish's title-winning Blackburn side, reshaped it, and managed just nine points from the first 14 games of the season they got relegated. Remember, Blackburn's relegated side was by then very much 'Hodgson's team'. He'd bought Kevin Davies (£17m in today's money, aka Current Transfer Purchase Price), Nathan Blake (£10m CTPP), Christian Dailly (£13m CTPP), Callum Davidson (£6m CTPP), and various other overpriced duds. Compare that to how, just a few years earlier, Dalglish spent similar amounts in today's money on Alan Shearer, David Batty, Tim Flowers and Colin Hendry, to take the league title to Ewood Park.
Despite it being 'his' team – and not only that, he had set the tone with the first third of the season – somehow Brian Kidd gets the blame for Hodgson's shortcomings, even though he won 26 points from his 24 games that followed. So, Hodgson escapes the blame retrospectively there, even though he was in charge for the most important part of the season (the start; it's not like he left the summer before, or that Kidd had time to make five signings of his own). On Match of the Day last night, the commentator said that "Hodgson led Blackburn to 6th in his one full season", with no mention of his role in the relegation.
Now at Liverpool, despite making several signings and releasing several others, it's all Rafa's fault? Who is making the team defend so deep and kick so long? Whose job is it to organise and inspire internationals from Spain, Brazil, Argentina, Holland, England and other established, cultured footballing nations? As I've said before, Benítez got his share of the stick last season; he was sacked for doing far better than this, at a time when the divisive ownership issue was still a cloud over all our heads. Hodgson hasn't even got that excuse anymore.
Rafa didn't bequeath a top-three side, partly because Gillett and Hicks turned us into a selling club around the time the club finished 2nd, and partly because he didn't buy as well in his final two seasons (although to my mind, Aquilani was bombed out too easily by Hodgson this summer; imagine if Arsenal kept doing that with all their imports who take a year or two to settle, the latest being Nasri). But even with Hodgson yet to spend fortunes, there's enough top-class talent to do better than 12th in the table in January. A large portion of this squad finished as runners-up 18 months ago.
I actually thought Liverpool were fairly impressive against Bolton, even though their opponents were always in the game, and had chances to add to their goal. But to hear Roy Hodgson speak, you'd think the slip-ups versus Wolves and Newcastle were the exceptions, and us fans were being fickle. Well, with just seven of 20 games won, unfortunately it is victories that are the clear exception.
"If fans are going to expect to [beat the bottom-of the league team] that's very dangerous. If they're going to do that they're going to be in for a lot of disappointments," said Hodgson to reporters after the defeat against Wolves. "I don't think one should be so disrespectful to [Wolves], to say it's unacceptable to lose to another team in the same league."
This is 'respect' gone mad. Liverpool never lost to such teams at home in the previous six seasons. Wolves had the worst away record in the country, and one of the worst records at Anfield of any visiting team.
And yet, in Roy's world, "if we'd beaten Wolves, you [the press] would be asking me about the Champions League".
Yes, he did indeed say that.
A few days later: "If Steven Gerrard had scored that penalty [against Blackburn] we might have salvaged it."
Now, ifs, buts and maybes are something we all call upon from time to time. But in Hodgson's examples, the first 'if' needs to be 'if we had not been completely abject in the first place'. I'll allow an 'if' to people who are unfortunate.
'If' Liverpool hadn't lost nine league games and won only seven, things might be better. But they're not. The Reds currently sit 11 points adrift of the top four, 10 adrift of the top five, and 20 adrift of first place; by contrast, West Ham, at the bottom, are only five points behind.
I keep hearing about 'deadwood' in the squad – apparently (as I can't bear to watch it any more) that was the excuse made for him on The Sunday Supplement at the weekend – but it was very much Rafa's team that beat Bolton, with the best football played when 10 of his signings (plus Gerrard) were on the pitch. (In fairness, Hodgson re-signed Aurélio.)
With Konchesky and Poulsen bombed out, Cole on the bench and Hodgson's one good signing, Meireles, limping off, it was a chance to see what the 'deadwood' could do. (I guess the supposed deadwood includes Maxi, who was inexplicably dropped vs Wolves, in a tactical own goal: defensive midfieder played on the wing in his stead…)
But at Blackburn, it was back to route one. The back four was back to its most basic, brutal form. If you don't put passing players into the team, you will concede too much possession.
To hear Roy speak after the Bolton win, you'd think all the ills of the world had been remedied. But it was still a case of falling six further points behind Spurs over the festive period. The gap to 4th was five points, but it quickly became 11.
After 10 games, I awarded our season's performance three out of 10, in keeping with the number of league victories. After 20 games, there's a slight improvement (seven wins), although as these were easier fixtures on average, you could be even harsher. However you look at it, it's still, on average, a case of winning one out of every three league games, and losing one out of every two. At best under Rafa (two seasons) we won two out of every three; at worst (last season) we won 1.5 out of every three.
Most Liverpool fans sensed Hodgson was wrong to start with. While he didn't get an especially warm welcome, he was afforded enough grace to impress the Kop before its fears were confirmed. It's easy to say that we're 'turning' on him, but he was an appointment driven by the media, many of whom were London-based and therefore not necessarily trusted around Anfield.
Elsewhere, Martin O'Neill isn't being blamed for Gérard Houllier's struggles, despite a similar fall and similarly dull football. No-one was blaming Hodgson when Fulham were in the relegation zone. And as I noted earlier, Hodgson escapes blame for a relegation that was not only his team, but he was behind the failure to win more than two of the first 14 games. He dug the enormous hole, not Kidd.
And when Benítez inherited a squad and a team that in my opinion was worse than the one he left behind (the Reds won fewer league points in Houllier's final season than Rafa's), he reached two cup finals, one of which – the Champions League – was won. And this was from a manager who obviously didn't 'know the league' like Hodgson did; after all, Bolton weren't going to surprise Roy. He'd spent the previous three years working in the Premier League.
Six years ago this month, there was a 'crisis' at Liverpool. The Reds were 5th in the league (more or less where Houllier left them: 5th in 2003, 4th in 2004), 1-0 up in the semi-final of the League Cup (second leg to come) and in the knockout stages of the Champions League. But they lost away at Burnley in the FA Cup. Benítez was castigated for not understanding English football. This will always stick in the mind as a kind of benchmark for how he was perceived and treated, and to what, in the eyes of the media, constitutes a crisis at the club.
When Benítez finished 2nd in 2009, the line was that the league title was 'blown' – even though, based on the cost of the side, the Reds had massively overachieved. Rafa was 'negative', he 'drew too many games' – despite winning 25 and losing only two that season.
This isn't about Benítez, but comparing the way that 'good seasonal performance' in recent times was slated, and 'bad seasonal performance' now is being excused. What's the benchmark? What's acceptable for Liverpool FC right now? Benítez and Hodgson just happen to be the men in question; I can't really talk about managers from 50 years ago.
Last season, 7th was seen as a 'disaster' for the club (and I acknowledged that it wasn't good enough), whereas now, 12th is somehow the fault of the previous manager and the squad he left. Top international players like Reina, Torres, Gerrard, Carragher, Kuyt, Johnson, Maxi, Aquilani, Skrtel, Agger, Mascherano …
But it's not just the league position. It's the agricultural football. It's the defeatist utterings. It's the criticisms aimed at the fans. It's the kowtowing to his mates in the LMA. It's the constant self-protection and self-aggrandisement that saw him lie about the relationship between Benítez and Dalglish, not to mention the way Kenny was dismissed as a candidate for the job in the summer.
Though we've seen little of it, deep at heart Hodgson may well be a decent man. And at the right club, he's more than a decent manager. But at the wrong club – where victories are expected more often than once in every three games – he can be dreadful.
As ever, I will be discussing the article with Subscribers of The Tomkins Times in the comments section.