It's getting ugly. Well, technically it's been getting ugly for a while. But the Wolves debacle was the nadir of a trying season.
I hate it when people say that a performance "was the worst for 10, 20, even 40 years". You can't line them all up and compare at the same time. But really, that quite possibly was the worst home performance for 10, 20, maybe even 40 years. Even in the dark, dark days of Souness, I'm sure I recall us at least trying to pass the ball, even if the players (Dicks, Stewart, Molby, Barnes et al) were generally too tubby to chase after it.
It has to rank up there, not least because, in all my time watching the Reds, I've never seen a game at Anfield where players were so scared to take possession in their own half of the pitch; it's been shook out of Brazilian, Spanish, Portuguese, Argentine and Dutch internationals, as well as two or three of the more technically gifted England stars.
Pass? No – get rid. But not just anywhere: into the floodlights. Into the heavens. And into their half. Wallop!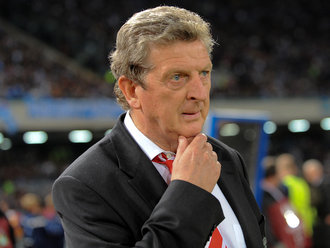 From a total of just two long punts in last season's fixture, Pepe Reina sent an incredible upward of 35 long-range missiles into the Wolves half the other night. So much for Spanish tiki-taka. The players were too scared to take a risk and play football, so the ball kept going back to him, and with coming short to receive the ball now a no-no, it had to go long. It was pathetic. I honestly think the following graphic in itself could constitute a sackable offence.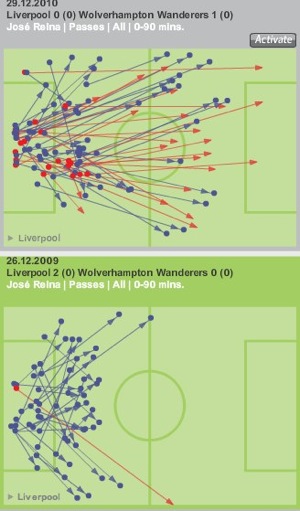 At times, Glen Johnson was just kicking to touch like a rugby player; imagine Arsene Wenger managing a team doing that. Gerrard, back in his favourite central midfield position, was everywhere and nowhere at the same time. Hmmm…
Although Hodgson doesn't have many traditional wingers to chose from, he still opted to leave out Maxi – a cultured, possession-savvy Argentine with three vital goals of late – in favour of playing a defensive midfielder on the wing. Hardly inspiring stuff, given the opposition had the worst away record in all four divisions and were bottom of the table. Hodgson spoke of not disrespecting teams by thinking Liverpool should be beating them; setting his side out to at least try would be nice.
I noted several months ago that there was an obsession with calling a team with two holding midfielders 'negative' (naughty Rafa) and two strikers as 'positive' (brave Roy; see Andy Gray before Manchester City drubbed the Reds 3-0, saying that Liverpool fans will be pleased to see this approach, rather than the one taken at the venue by Benítez, who, though Gray neglected to mention it, had gained four points from the previous two visits to the Eastlands. Er, yes, Andy, we were chuffed to bits to be stuffed 3-0).
But under Benítez – whether Gerrard was in the hole or in midfield – against teams such as Wolves, Liverpool would have two incredibly attack-minded full-backs; not the horribly average Konchesky, and not the quasi-winger Johnson hanging back for fear of a telling off from the sidelines.
If fit, there'd be Agger at centre-back, bringing the ball into midfield to change the dynamic. Kuyt, Gerrard and Torres would all feature – with the captain often in central midfield against the fodder – and basically eight of the ten outfield players had licence to get forward, around the pivot of a holding midfield and one stopper at the back. The only teams to beat Liverpool at Anfield under Benítez in the Premier League were Chelsea, Arsenal, Aston Villa and Manchester United; not the likes of Blackpool and Wolves. [Edit: Liverpool also lost to Birmingham, in November 2004. Just looking at the side that was available to Benítez makes you wonder how the hell Liverpool won the Champions League that season.]
But Hodgson couldn't even gamble with both Maxi and Kuyt on the wings; he had to play a holding midfielder on one side, and switch Kuyt to his unfavoured side. (I know Meireles isn't 'just' a holding midfielder, but then nor is Lucas, and nor was Alonso, but they had the same label.) And it's not like Maxi and Kuyt can't defend, either.
Even with Meireles at right-midfield – a fine passer, but not someone who's going to play like a winger – there was still no scope for Johnson to get forward. Instead of three forward-thinking defenders (Johnson, Agger and Insua), it was just Johnson, albeit now apparently scared of crossing the halfway line.
The obsession with Gerrard in central midfield and two big strikers is Liverpool as if managed by Andy Gray. No wonder he never criticises Hodgson. We've gone from a manager who averaged 75 points a season and racked up four Champions League quarter-finals or better, to one who's on course for … 46 points.
"He didn't beat you, boss" was a line Houllier claimed a player had texted him after Rafa was sacked. Well, Hodgson – whose coaching methods were shared by the Emile Heskey-loving likes of Houllier and Sven Goran Eriksson – has already lost at home to two Premier League teams who were worse than any to win at Anfield between 2004 and 2010; and even though a second-tier team did get the better of Benítez in a domestic cup, this season a 4th-tier team triumphed on the hallowed soil. Progress, eh?
Add to that a negative goal difference, a horrific away record and the worst turn-of-year position for Liverpool since the Reds were last relegated over 50 years ago, and you can conclude that in terms of unenviable achievements, Hodgson has also beaten Benítez. By a country mile.
Style
Liverpool have a group of players who are mostly used to playing between the lines; not in straight lines. While the Reds were no Barcelona in recent years, at least they'd take the game to teams at Anfield, and at least players weren't in regimented formations like a fusball table. In the end, as well as just one forward-thinking defender (Johnson), there were only two forward-thinking midfielders, with Lucas and Meireles unlikely to pop up in the box. Two up front? Well, what good is that if the rest of the team is so negatively constructed?
If you leave out one of your in-form attacking players (Maxi) to play a holding midfielder on the wing, and it doesn't work, you deserve all the criticism you get. If it had been a case of the tactics working but luck against Liverpool, I could have accepted that. I can handle defeat. But the tactics were shocking, and it contributed to an awful display.
At times I find myself feeling sorry for Hodgson. Then he opens his mouth. Or then I watch us play. From a distance, it may seem like he's been harshly treated. But the team's lack of ideas and his lack of understanding about the Liverpool way are 'crimes' against our club. It's also not the Liverpool way to publicly harangue managers, but if he doesn't respect our traditions, then the Kop will struggle to do likewise.
No-one expected Hiddink or Mourinho to pitch up at Anfield this summer. But Pellegrini – fresh from a club-record 96 points at Real Madrid, and, as also seen with his lovely Villarreal side, a purveyor of the kind of pass-and-move football Reds have grown up on – was passed up because the club (key executives and key players) wanted to go English. Quite why, aside from parochialism and xenophobia, is beyond me.
Ah, but Hodgson was a 'continental', too, after such a nomadic career. Except he exported a basic, solid English 1970s approach to Scandinavia at a time when English football was strong in Europe, and he took advantage of an out-of-date fascination with the sweeper system in that part of the world. But once back in England – especially at a big club in the new Millennium – he was in effect now importing ice to the eskimos. And not even good ice at that. Meanwhile, the big clubs had moved on.
Playing like an English team from the 1970s is what plenty of struggling and fair-to-middling teams tend to do in the Premier League; although to their great credit, the likes of Wolves, Bolton, Wigan, West Brom and Blackpool are all playing a far more progressive game than that; and indeed, in the 1970s and '80s, Liverpool themselves were playing a continental passing game, not some basic homespun tripe. The Kop would have hated Hodgson's tactics then, so why accept them now, when the best teams all respect a possession-based game?
If Coyle, Holloway, Di Matteo and Martinez can get humble collections of footballers playing positive, expansive football, then there's no excuse for Hodgson failing with the current crop at Liverpool. No matter that he didn't sign them all (though he did sign five of the first team squad and release Aquilani); it took Owen Coyle next to no time to turn Megson's Hodgsonesque Bolton into something more Shanklyesque. By contrast, Hodgson has a squad full of stars that went to the World Cup, many of them integral to major nations, and has them chasing long balls and shadows.
Hodgson talks of a love of getting he ball quickly to the front men and midfielders then joining; in other words, pretty much the Wimbledon approach. What about passing the ball accurately into the front men having worked the ball upfield? Whatever he did at Fulham, including getting the ball up to Bobby Zamora and winning the LMA award, means nothing at Liverpool. The approach needs to be very different to a mid-table outfit. But Hodgson's whole career has been a 'one size fits all' approach. It fit Fulham brilliantly. Bravo. It fits us like Fatty Arbuckle squeezing into Cheryl Cole's bikini.
Even if he has a target-men more suited to bringing the ball down (get rid of Torres, buy Carlon Cole), being so direct will never be accepted by the Kop. This is Liverpool; this is Anfield. We don't live in the past, and don't expect trophies every season, but certain qualities are part of the club's DNA.
Pass and move is one of those qualities. There are different ways to do it, but style has it been so lacking. Right now, it's like going to a Michelin-starred restaurant, only to be served a Big Mac and charged £100 for the privilege. In Torres, Hodgson has a white truffle; the manager, it seems, would rather make use of a pickled gherkin and a ketchup sachet.
This is not to absolve Torres from blame for his sulking on the pitch, but Jesus Christ, if I'd been brought up in Spain and won every major international honour with my country, and was asked to risk blindness by staring into the floodlights to locate a snow-covered ball  descending out of the haze, I'd be in a strop.
Again, I noted back in the summer that Benítez's high-pressing style got the best out of the Liverpool no.9. In his previous two injury-ravaged seasons he was still getting a goal almost every game, even if just coming back from a six-week layoff; now we're lucky if we get a goal a month.
If Benítez had to go, so be it. I've accepted that; that can't be changed, even though we have clearly traded down.
But the longer the media continue to blame solely him for Liverpool's woes (even though he left a team that finished with more points and more wins than the one he inherited in 2004, and had something like 15 World Cup participants), then the greater the outcry from knowledgeable fans who, whether they liked Rafa or not, know that Hodgson – with his kowtowing to 'Sir Alex', his disregard of the fans, his timid, gutless, artless football – is not the answer to our greatest question. No-one forces Hodgson to get so many men behind the ball, whether winning or losing. No-one forces Hodgson to have the defence sit so deep and hit the ball so long.
Mock us if you want – "they all laugh at us", as the song says – but we know our football, and we know our club. Patrick Barclay, Paul Hayward and their cohorts may know Roy Hodgson and Fulham Football Club better than us, but we know our standards. And if such people told us that 7th place with 63 points fell below the accepted standards – sack Rafa! (they did) – then this is so far below it's almost off the scale. Frankly, it's an insult.
No wonder things began to get ugly on the Kop.