By Andrew Beasley. Following my recent piece comparing Roy Hodgson's stats this season with Rafa Benitez's last season, an idea was posted that I hadn't considered. As Roy was inheriting Rafa's squad, how did Rafa get on in comparison when he inherited Houllier's squad?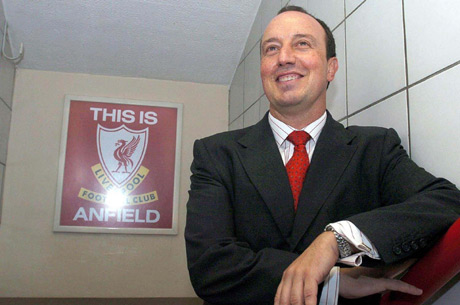 Remember, Liverpool lost 18 games in 2003/04, compared with 16 last season. And Liverpool finished last season with 63 points, to the 60 of Houllier's final season. Houllier's team also never made it as far as a cup semi-final in his final season – and that was with Owen, who left in the summer of 2004 – so there's little to suggest that Houllier left a better collection of players.
The fixtures are actually fairly comparable – two promoted teams at home (West Bromwich Albion and Norwich City for Benitez), two trips to top four sides (Manchester United and Chelsea), with the other games being Tottenham, Bolton and Fulham away, and Manchester City at home to open Rafa's Anfield account. So comparing the two sets of results seems reasonable. Here are the stats:
This post is for Subscribers only.
[ttt-subscribe-article]
Rafa 04/05 – Won 4, Drawn 1, Lost 3, For 14, Against 8, Points 13.
Roy 10/11 – Won 1, Drawn 3, Lost 4, For 7, Against 13, Points 6.
A final point: a lot has changed at Liverpool in the six years that separates these two sets of eight games, with the ownership issue clearly being a cloud over Roy's head that Rafa didn't have to cope with straight away.
That said, Rafa had at that point never managed in this country before (so certainly didn't know what to expect away at Bolton in his third league match – he soon learned!) and had lost both of the previous season's first choice strikers, inheriting a worse squad than Roy did (despite what ex-players and pundits might tell you) and yet he still doubled Roy's points tally from comparable games (as well as going on to take the Reds to the finals of the Carling Cup and the Champions League). Quite an achievement if you ask me.