I'm warming more and more to Roy Hodgson every day; pretty much in the same way I did to Rafa in 2004. I respect and support new managers, but they've also got to remove any doubts I hold.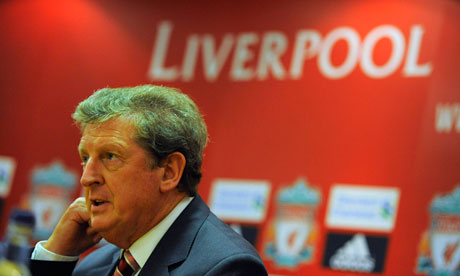 In 2004 I hated zonal marking. Why? Because Liverpool conceded a few goals, and everyone told me it was rubbish. But then someone explained it to me in far better depth than you'd get on Sky, and I was less cynical; and for the next few years, as I made notes on it, the Reds conceded relatively few goals from set-pieces, even having the best record in 2005/06 (with a taller team than in 2009/10).
So I defended the manager's right to use zonal marking.
I'm not sure I was keen on rotation. But when I looked at which clubs rotated, and which ones didn't, I saw the league winners changing team on a regular basis, and teams that hit the wall in March keeping the same XI. (If your squad doesn't have enough depth to rotate, you'll tire anyway.)
So I defended the manager's right to rotate.
Roy has to prove to me that he can lift Liverpool in the same way that he lifted Fulham – it's a different task entirely. So far I can't fault him; two competitive wins (against very poor opposition, but wins all the same), the signing of Joe Cole and talking a lot of sense.
So far so good; and that's all we can go on. While he wasn't my first choice, I promised from the outset to judge him fairly by what he does.
But let's get one thing straight: as manager until just a couple of months ago, Rafa has to be discussed; his stamp is all over the club. Equally, let's accept that it's not me starting the discussion.
Last night, Ray Houghton spent 10 minutes going through the usual claptrap on ITV4 (when the network wasn't randomly cutting to ads, as is its wont).
In response, I made one mention on Twitter about how rotation never seemed to harm all the recent title winners (it was, said Houghton, the reason Rafa messed up Liverpool's chances), and not for the first time I get told "move on, you saddo" and, as has been the case any other time I've mentioned Rafa's name, suffered accusations of being unable to "let him go".
As far as I'm concerned, I try to work on facts; those facts don't change just because it's a few months later.
If Roy Hodgson wins the title without rotating, fair play to him. Hell, yeah!
But Ferguson, Mourinho and Ancelotti needed to do so quite heavily. If that only works with a bigger squad, then look at a smaller squad – Aston Villa – and how, over the past few seasons, O'Neill has rotated little, and seen his teams collapse in the spring. Villa may have done no better had O'Neill rotated his limited squad; but those who won the title needed to keep players fresh. (And even scoring four goals in a single cup game didn't mean players like Tevez made it into the next line-up.)
With the exception of Joe Cole, this is still a collection of players brought to Liverpool by Rafa. Even Jovanovic, Wilson and Shelvey were sourced during his time at the club (obviously scouts were involved, too).
If Roy gets better responses from the players who failed last season because he's more amenable, then great; by all means make that point. But let's not say, ahead of the season, that he's going to right all these wrongs on the basis of a couple of games against really poor opposition. And let's not pretend that all of the ills of last season were present from 2004 to 2010.
Listening to ITV4, you'd think Liverpool never played exciting football under Benítez, or thrashed the likes of Real Madrid and Manchester United, or put four past Arsenal and Chelsea on a couple of occasions; or set the Champions League record for winning margin in a single game in an 8-0 victory over Besiktas. These weren't the weekly norm; but they took some achieving all the same.
As pleasing as the football was on the eye last night, beating part-timers with swagger is now the new benchmark. Seriously?
Last season was hard to defend at times, and I told Rafa this on a couple of occasions.
However, he wasn't the only one at fault. He was also let down by players who refused to take enough responsibility; something Roy Hodgson hinted at this week, when he said players can't keep blaming other people.
Rafa also had an injury crisis, particularly in the early months, which is when the confidence-killing rot set in. How managers react in adversity is vital, and on the whole Rafa coped well; last season his words, for whatever reason, had less effect.
Let's be clear: something had to change. The fact that the season itself had changed – a long summer break to clear heads and set all 20 teams back on level pegging – was always going to help. Some players needed changing and, it seemed, possibly some major stars too – or failing that, the manager himself.
In the end it was the manager, as it so often is. On the evidence of last season, perhaps it was fair enough; on the evidence of all six seasons, maybe not.
(The same as, if based on last season alone, Gerrard's place in the team should have been under threat; however, based on 2004 to 2009, when he lifted the European Cup, FA Cup, played in two more finals, scored almost 100 goals and won the Footballer of the Year award – all with the same management style of Benítez – he was the first name on the teamsheet.)
Critics
I had to laugh at my critics calling me an idiot for continuing to suggest things would turn around last season. But in each of Rafa's five previous seasons he hit a really rocky patch (as most teams do each season), and I kept the faith in the manager, and in under-fire players like Peter Crouch (when he first arrived).
The first time led to Istanbul. The second to FA Cup success and the best points haul for 18 years. The third to another Champions League final, in which the team performed better but this time lost. The fourth to a Champions League semi-final, lost in extra-time. The fifth to a title-race that went into May, and the best points haul in 21 years.
The sixth? Well, in the end that one didn't really turn around. I was wrong. But five out of six ain't bad. My point was that, based on 2004-2009, Rafa had earned the benefit of the doubt.
(One other point: last season I read someone saying that "Tomkins would probably also say Guus Hiddink is a great manager if he was in charge". My response would be, why wouldn't I? Is he not also a great manager? I didn't see Hodgson in that bracket, but he now has his chance to change that perception.)
Roy is not the antithesis of Rafa
In order to judge Roy correctly, can we establish a truth about what Rafa did? Even John Aldridge said that "kids would never get a look in in pre-season like they did this year under Roy".
For starters, Roy had little choice, due to the World Cup; with 12 senior players absent, who else was he going to select? The ladies team?
Second, players like Craig (now at Accrington Stanley) Lindfield and dearly-departed Besian Idrizaj scored goals for the Reds in pre-season games as mere teenagers.
Zak Whitbread and Darren Potter played in Champions League qualifiers as youngsters. None of these are Premier League-standard players now or then, but they had a chance to show what they could so. Neil Mellor had a run of games. He did okay. But he's now found his level.
They were the best of the bunch, but sold before establishing themselves as regulars; hardly blazing a trail to prove Rafa wrong, are they? Stephen Warnock aside (who Rafa immediately gave his debut, at 22), which kid was sold and made the decision look like a big error? Where are all these released Reds ripping into Rafa's judgement with their performances?
Also, Danny Ayala played in the league at 18, as did Jack Hobbs and Danny Pacheco. Martin Kelly made a superb debut at 19 against Lyon in the Champions League. Danny Guthrie played in a few games. And Jack Robinson made his league debut (albeit in a game with little at stake) at just 16.
And in a League Cup quarter-final at White Hart Lane in 2005, players like David Raven, Richie Partridge, Mark Smyth, John Welsh and Darren Potter all featured. Was that not giving (fairly unremarkable) kids a 'chance'? It's not the Champions League final, but equally, it's more than just a pre-season friendly.
The problem is, until players like Suso (16), Sterling (15) and Silva (16) were brought to the club in the past year or so – players who look simply outstanding in their age group – too many of the kids were just not up to scratch.
That's why the Barcelona academy gurus were brought in by Benítez last summer. That's why, at U16 level, the Reds were sensational, beating Manchester United 6-0 at one point. And why the U18s got better as the season went on. That was after the Academy was revamped by Benítez.
Hypocrisy
Last night it seemed that Roy was praised and Rafa criticsed in the same breath, for doing the same things. There was a lot of talk about how great Liverpool's shape will be when not in possession; but no mention of how that was already the case.
Chris Coleman was purring over Roy using inside-out (wrong-footed) wingers and overlapping full-backs, when Rafa doing that was often seen as a waste; where were the natural wide men hugging the touchline?
Coleman said that Hodgson will not rotate; he'll be better as he'll pick his best XI every week, as he did at Fulham. Then later he said he'd rotated his squad brilliantly in the Europa League, and mixed and matched for the first half of the competition.
So which one is it? At Liverpool you can't easily do that, especially in years when in the Champions League; when Rafa mixed and matched in any domestic cup he was slaughtered. When the club made the League Cup final with kids in 2005, he was not given any praise; just criticised for losing at Burnley with what was an even stronger XI. The Reds later won the Champions League. Rotation worked.
I lost count of how many times Clive Tyldesley criticised Benítez in the game last night. There were criticisms over style of play; over rotation; over not trusting Gerrard to not empty the midfield; over his relationship with Gerrard in general; and so on. The one criticism that I agreed with was a general failure with Rafa's wide-midfield/winger purchases, though Garcia and Benayoun were pretty successful, and Kuyt, as with the Dutch, does a great job there.
There were at least five in each half before I lost the desire to count. (Of course, when Rabotnicki nearly scored as an unmarked player breezed in at a late corner, there was no mention of Rafa and his crazy zonal marking.) When Glen Johnson did a backheel, Tyldesley reacted as if he wasn't doing that kind of thing last season. He was.
In 2004, in Rafa's first Champions League game 'proper', Liverpool were fantastic in beating Monaco, finalists just a few months earlier, 2-0. In early home games against Norwich and West Brom – not great, but better than last night's opponents – Luis Garcia and Xabi Alonso wowed us with their skills. And by 2009, Liverpool were often good enough to beat anyone in Europe.
So while I'm encouraged, let's wait and see how Roy's Reds perform against better teams, including Arsenal and Manchester City in the opening weeks of the season – when time and space to make fancy flicks will be at a premium – and then the Rabotnicki display can be put into perspective. If the same kind of football is carried into those games – especially away (Roy's record on the road at Fulham was woeful) – then we might really be onto something.
Finally, the criticism of Rafa remains (such as from Houghton last night) that he didn't deliver the league title. Getting closer than anyone since 1990 was not good enough. Six years in the Champions League, four of them to levels we could only dream about pre-2004, were not enough.
So will Roy be crucified if he doesn't deliver the title?
I hope not. Because that won't be fair. And I'll be on hand to say "hang on, be realistic". Despite the 7th placed finish last season – which I've already described as the perfect shit-storm – if everyone is fit, he has a better squad than Benítez inherited. But as Benítez found, other clubs have been pumping tons of money into their squads in the past few years. Liverpool were being left behind.
If Roy gets to spend a lot of money – but crucially, without selling first ("you can have a new engine, but only if you give us your tyres") – then maybe he should at least challenge for the title.
But as things stand, even with a further £100m (net) invested in the squad, Liverpool's will still not match the cost of those collections at City or Chelsea – or include the experience of winning ingrained at Old Trafford since the '90s, or Stamford Bridge since 2004.
To be honest, if Roy matches Rafa's overall performance in the league, I'll say he's doing a good job. Personally, I'd be more than happy with that.