For years now I've been pointing out the inaccuracies in Alan Hansen's writing. While I respect what he did as a player – he was sublime – as a pundit he just doesn't put the work in. He's lazy, a cardinal sin.
For writers, research is our training, our preparation: the essential, unseen graft you put in behind the scenes that goes into the final work. Instead, Hansen chooses to coast. Indeed, does he even turn up? I love to hear him talk about defending, or handling the pressure of the big occasion, because he did his research on that – 20 years in the game. The rest, however, he phones in.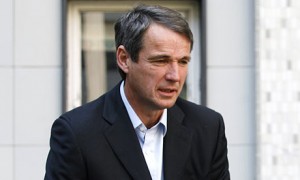 "The painful truth for Liverpool and their supporters is that the new manager at Anfield, whoever he turns out to be, will find a worse squad at his disposal than that which Benítez inherited from Gerard Houllier in 2004."
Yes, how we long for Bruno Cheyrou, Salif Diao, El Hadji Diouf, Djimi Traore, Igor Biscan, Antony Le Tallec and ghostly Harry Kewell. In 2004, Owen was as good as gone, Heskey was sold, and thanks to Houllier, in came Djibril Cissé, the pacy but erratic striker.
How we want to swap Dudek or Kirkland with Reina; Baros or Cissé for Torres; and an aging Hamann with a young Mascherano.
How we want the never-present Harry Kewell over the ever-willing Dirk Kuyt. Give us our Cheyrou, take back your Benayoun. Swap Aquilani for Diao; or Lucas for Diao. Get rid of the exciting Johnson for the dependable Finnan.
Even Babel, for all his faults, knows where the goal is when compared to El Hadji Diouf. While Insua is young and raw, I'd still opt for him ahead of Traore, as at least he has the potential to improve. And I'd take Agger over Henchoz any day of the week; especially an Henchoz who was on the slide. Maxi, meanwhile, trumps almost any wide-man from the 2004 squad.
Baros would get the nod over Ngog as a back-up striker, but that is not to say that Ngog has qualities the Czech lacked, such as the ability to lift his eyes from the floor.
Riise and Aurelio is a close one, but of course, Aurelio is already leaving the club. And let's not forget that in 2004, Stephen Warnock hadn't played a single first team game at Liverpool; so to include him in the thinking would require hindsight, as we look back on, say, Ayala or Wisdom, as a great player who broke through only after the current manager left.
The point remains that Liverpool's squad has got thinner for financial reasons. Houllier never had to sell to buy; since 2007/08, Benítez has.
"And you could even argue that Liverpool are in their worst state since Bill Shankly arrived at the club more than 50 years ago."
What about when your mate Souness took a team full of champions and turned in 6th, 6th and 8th-placed finishes, at a time when the club was still so rich it could break the British transfer record? A 41% league win ratio, compared with Benítez's 55%? One cup final, compared with four? A squad full of overweight losers?
But off the pitch, no arguments. It's not even close. We're in a parlous state. Liverpool now make Newcastle look like a well-run club.
"You could be looking at three to four years before Liverpool get back to where the club should be."
Sounding a bit like Martin Broughton at a Chelsea player of the year function here, Alan.
It could be true. It could take far longer. Whose fault is that? Who put the club into incredible debt? Who pays the salaries of SEVEN world-class players each week (£750,000) – not to players, but to the banks in interest?
"But although Benítez will cite a variety of reasons – the owners, key players losing form, the financial problems – he is the man who has filled a squad that is littered with bad buys."
Er, yes – in large part because of the owners and the financial problems. Christ on a bike, what came first, the financial undermining or the failure to qualify for the Champions League? Yup, it's clear.
"Benítez made too many mistakes with too many players. In recent seasons, he hasn't got any right beyond Fernando Torres, Javier Mascherano and, possibly, Glen Johnson. They were all big-money buys and players of proven quality."
Torres was rated as unproven – doubts were expressed about the fee for a player never to top 13 goals from open play in a season. Mascherano was in West Ham's reserves, struggling to adapt to English football. Johnson was rated as vastly overpriced and unable to defend, and had failed to shine at Chelsea, his previous big club.
In other words, give Rafa the kind of budget rivals operate on, and he can be successful?
In the same time period, Benayoun was also signed; he didn't do too badly. Apparently Chelsea now want him. Maxi has just gone to the World Cup with those pesky minnows, Argentina. Also based on an apparent ability to finally adapt, and the fact that he's just 25, Aquilani could yet be a successful signing. And even Lucas, at just £5m, has started to win over his critics.
And it's one thing for managers of teams with low expectations and no Champions League football to spend their time taking chances on bargains, another to expect a club – with a failing youth system that Benítez only got a chance to start properly overhauling 11 months ago (and so far, so good, for those who want to investigate) – to challenge for the top four, and progress in the demanding Champions League, while failing to invest in the playing staff.
"Benítez has had money to spend, but when he has bought players in the mid-range market of £3-5 million, they just have not been good enough and that is why Liverpool's bench has been so poor in recent months."
a) Ask yourself, why did he have to buy so many cheap players? And for a top club, £3-5m is not mid-range; not when £16m is half of the current transfer record.
b) And those "£3-5m flops"? Rafa signed just THREE in this price range in SIX YEARS! – Cavalieri (sub keeper), Lucas and Benayoun. Lots at £1-2m though, which is peanuts – roughly 5% of the current transfer record. At that price range, it's a lucky dip.
Go check yourself: all Rafa's purchases.
"Regardless of the ownership issue, which clearly needs resolving as quickly as possible, Liverpool need rebuilding on the pitch…"
Woah woah woah woah. Back up there. Regardless?
This is the bit that always gets me. It's almost as if the financial restraints and anarchy at the top of the club were neither here nor there when Benítez had to do his job.
Perhaps things had gone a little stale; clearly morale was low, but that was due to a variety of reasons (I'm sure the ambitious players were fed up at the manager's inability to spend lots of money, and also due to their injury problems). Even if people think it was time for Rafa to go, he doesn't deserve to have such rubbish written about what he did while he was at LFC.
But again, it harks back to the funding; the kind clubs like Manchester City, Spurs and Villa – coincidentally – are injecting while overhauling the Reds. A turnover of top talent is essential to keep a squad improving.
"…he has spent too much money on average players and we are now seeing the fruits of that because Liverpool are a long way short of competing to finish in the top four, never mind fighting to win the big boys' trophies."
Wow, so soon after three Champions League semi-finals, and even more recently – just a year ago – the 'best' 2nd-place finish in English league history? All on a budget far below that of Chelsea and United. It's all very well to talk about "where Liverpool should be" – but with the 5th highest wage bill, and the 5th most expensive squad, where Liverpool should have been was … 5th.
(Of course, that's if everything else at the club is running smoothly. I'm not sure there are studies on how you should perform if the rest of the club is dysfunctional, and you endure an injury crisis.)
So 7th, while below 5th, is not as far adrift from where Liverpool 'should' be, when based not on ancient history but current realities. And remind me, what big boys' trophies did Liverpool contest between 2002 and 2004? Liverpool actually performed better this season than when Houllier's side had when coming 4th in 2004, when they racked up fewer points. The problem is other clubs are on the up, mostly due to not being in terrible debt.
Indeed, the Times' excellent Fink Tank recently ran a piece stating that, based on wage bill (with a hefty one playing a vital role in success: it almost always mean you have a large squad and lots of top players), Liverpool should have been well adrift of Chelsea and United. In truth, they were; and yet it was just a year earlier when Liverpool were genuine title challengers, even into the month of May.
This past season, Chelsea, with the highest wage bill, 'should' have amassed 85 points. They finished with 86; pretty much bang-on. Then come the rest of the teams, with the difference between relative wage bills reflected pro rata in the difference between points.
According to the Times, last season the Reds finished one point below where they 'should' have, based on the resources. Using the same rationale, the Reds finished 21 points better than we had a right to expect in 2008/09. Over the course of the past two seasons, only Alex Ferguson performed better.
From the table that appeared in the Times I created the one below, adding the previous season. The table the Fink Tank published only included teams that had one manager in 2009/10, so the information was slightly limited; therefore there's no Manchester City, whose wage bill is believed to now match Chelsea's.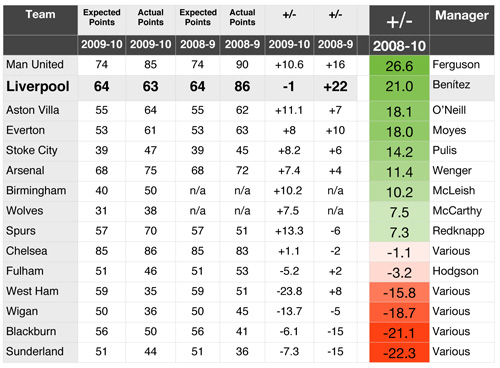 Not that I'd expect Hansen to read it. Or any of our TPI work, that shows Liverpool's downward financial slide compared with their rivals.
It seems research is something Hansen doesn't bother with. By putting almost all of the blame on Benítez's shoulders, and making light of the effect debt had this past season, he is as good as forgiving the chaotic reign of Gillett and Hicks.