"I was born Spanish, I am no longer as thin (the anxiety doesn't help), and yes, sometimes I help serving the dinner."
(Note: I've tidied up the English a little – but only a little.)
This was Rafa Benítez in an email to me after I'd run a piece explaining that senior figures within the media referred to the Liverpool manager as "the fat Spanish waiter".
Just another example of a fine sense of self-deprecating humour, from a man portrayed as almost robotic by many critics.
Following Rafa's invite to meet him at Melwood last October, I maintained a dialogue with the Liverpool manager. Any help with stats or tactical advice, I was free to ask. And in turn, he'd occasionally drop me a line to thank me for an observation here and there. Now that he is sadly no longer manager, I see no harm in bringing this to light, as a way of paying my respects to a much misunderstood man, and manager.
After that meeting in the autumn, I rushed home and wrote 5,000 words on the encounter. The article was circulated widely the day later, and this site melted a couple of times from the traffic. Word spread via Twitter, and a friend of Benítez's family saw the positive reaction to the article.
The next day, I was awoken early as my mobile phone rang. It was Rafa, thanking me for the article; we hadn't met with one in mind, but I had been suitably inspired after four hours of chewing the fat on all things LFC. Word had got back to him, via that friend who'd seen it on Twitter, that there was still a lot of positive feeling towards him. Two days later the Reds deservedly beat Manchester United, 2-0, although the team never really escaped the pressure brought to bear by two defeats in the first three games.
Half asleep that Friday morning, and with Rafa's English harder to discern on an imperfect line, he also wanted to correct me on a small factual error. But he did so in a very polite manner; he just wanted to be clear on the matter. There's no doubt he's a perfectionist, but I saw that as one of those good things that, like almost anything positive in life, also comes with its drawbacks.
Indeed, when people ask me what mistakes he made, or what his faults are, I find it hard, because, as with all managers, attributes are perceived as either strengths or weaknesses depending on recent results.
Too distant with players? Well, isn't that Fabio Capello's style, and wasn't being 'pally' seen as a fault of Steve McLaren? Not a good man manager? Well, Harry Redknapp's famed skills are fine when they work, overlooked when it comes to insulting his own players (Darren Bent) or leaving expensive stars on the bench (Keane). Too negative? Well, was there anything more negative than Jose Mourinho's Inter Milan in Europe this season? Some call it negative, others call it tactical.
Contrary to what some believed – such as Jamie Carragher, when he phoned to take exception to something I'd written (and which I put him clear on) – Rafa wasn't feeding me criticisms of senior players. Frankly, I didn't want them. That was one shitstorm I didn't want to get in the middle of; I was always wary of how Houllier manipulated Chris Bascombe at the Echo, and in fairness to Rafa, he never tried to sway my opinions.
That is not to say that he didn't make observations. He noted how, after the Aston Villa game, he'd had 'problems' with Carragher and Gerrard; but he immediately added that he'd sat down with both and had productive conversations that had pleased him greatly.
Mostly, when talking of players, he spoke of his charges' strengths and weaknesses; but only stuff he'd have already made them aware of. The only player he expressed dissatisfaction with back in October was Albert Riera, whom he felt had let his Spain call-ups go to his head. Subsequent developments bore this out.
But more than anything, Benítez was keen to pass on tactical insights: the deployment of subtly different midfield formations and roles, etc, in different games, when to the untrained eye it looked like the Reds were playing the same system; specific jobs at set-pieces; the united movements of the back four; and so on.
Having said that, at times he did express frustration with how the club was being run (such as when Martin Broughton had been in charge for a week but not been in touch. 'After one week, the new Chairman has not contacted with the Manager, in a Football Club is not normal' said Rafa, via his personal email account). I got the impression he saw the writing on the wall back then.
A lot of the stuff we spoke about in October was along the lines of what he ended up telling the Times' Tony Evans a few weeks later. The problem I had (due to the fact that I'm not a trained journalist) was being unsure of what was confidential and off the record, and not wanting to cause any problems for Rafa – and his ability to get the best results – by divulging anything he'd said that he'd preferred remain private.
In the end, Evans spilled many of those beans. Some of the other stuff Rafa told me I'll continue to keep private (such as his views on certain other managers, some of which were fairly controversial, and one or two other subjects), but certain other things I've managed to gradually feed into my writing, such as transfer targets that got away.
Indeed, even though it was a couple of years on, Rafa was still angry that young players like Walcott, Ramsey and Pato had all been approached well before they ended up moving to other big clubs, and that the two British teenagers had even been in his office for transfer talks. But much to Benítez's chagrin, Rick Parry felt there were better players already at the Academy, and refused to sanction a bid of just £1.5m for Ramsey. A manager is judged on his transfer record, but time and time again Benítez wanted a top player (Simao, Alves), but had to make do with a cheap alternative (Pennant, Arbeloa). Sometimes it worked, sometimes it didn't.
One signing that remains controversial is the acquisition of Alberto Aquilani. In early March, Rafa explained his thinking on the Italian:
"Aquilani wants to improve, but now it is difficult to give him games. Really it depends on him, he has vision for the pass and is dynamic, but still has to adapt to the pace in England, we will see in the next months."
And in the coming months, we did indeed get to see some of that vision and dynamism, but also that the stamina wasn't yet what was required.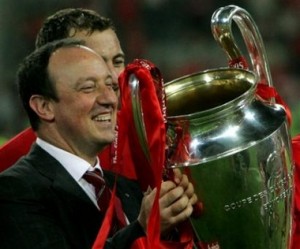 And so, in the main, Rafa did what he's known for – talking football, obsessively. For me, all the books sales and positive feedback I've had since 2005 pales compared to a double La Liga and European Cup-winning manager telling me that he respects my work, and that I have a good understanding of the game and, in particular, his methods.
After all, that was what I saw my role to be: to try and explain the methods of an overseas manager whose English is not perfect, and whose approach to the game is often at odds with the old-fashioned ex-pros in the media.
This sums up Benítez's attitude to my work, and how I will continue to approach writing about Liverpool FC:
"For me it is important that you defend your Manager, not Rafa Benítez."
Finally, in the past year I've spoken to a lot of people who know Rafa and his family on a personal level. They all speak very highly of the Benítezes, and of their great work in the community. These were not casual interlopers, but people who threw themselves into the local culture.
Perhaps Rafa is not the easiest man to work for – his standards are exacting, and probably draining – but then again, plenty of the Valencia players thought Rafa's successors were more warm and welcoming; unfortunately, none have yet been anywhere near as successful.
Nunca Caminarás Solo, Rafa.
Note: there is a space on the Tomkins Times reserved for Subscribers to post messages for Rafa, which I will forward on.