One of the key areas of progress for Liverpool over the coming seasons will be in youth development. It's a weird thing, but there have often been strong signs over the past decade, only for young players to fall short.
I don't believe any young player has left the club in the last decade and gone on to prove that decision wrong, with the possible exception of Stephen Warnock, who only made his debut at the age of 22.
(But even Warnock looked out of his depth at times at Liverpool; he seemed to need to escape from the pressure, where his mistakes were highly scrutinised. For those slating Insua, let's not forget he only recently turned 21.)
Florent Sinama Pongolle was another who would be more than good enough to be in the squad right now, but who, like Warnock, wanted regular football at a time when there were better options already at the club. Sometimes good players are lost that way, and it's part and parcel of football life.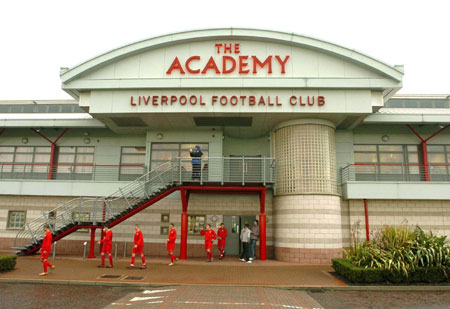 Otherwise, a succession of 'decent' youngsters have, at best, gone to Championship sides. Some will rise to the Premier League in due course, but it's hard to see many making it at a top side.
You cannot criticise Benítez for not giving youth a chance when he gave at least half a dozen games to Darren Potter, Danny Guthrie, Neil Mellor and Jack Hobbs, at a time when each was a long way from being good enough to cement a place in the Liverpool side (if they ever could).
Of the next wave of youngsters, many of whom were brought in and have already excelled in the reserves, it's possible that there are some future Premier League players present. Insua and Nemeth were brought in a few years back, and may well establish themselves in the long-term at Anfield; at the very least, they look like top-division players.
A weird quirk is that, while some decent players have been produced by the Academy, they've almost all looked physically deficient: lots of small players who neither have the blistering pace to compensate (in the way Aaron Lennon and Shaun Wright-Phillips do), nor the exceptional ball skills seen in Iniesta, Xavi and other Barcelona players. (Coincidentally, where Liverpool found their one diminutive-yet-sufficiently-talented technician, Danny Pacheco.)
Bigger, stronger and faster players appear to now be in the system, but not without the sacrifice of footballing ability. Most of these were brought in.
The success of Youth Cup runs in the past five years has obscured the fact that these were good sides full of a strong team spirit, rather than containing the outstanding individual talents of the '90s.
And of course, the gap to youth/reserve football has grown from the time when the English league was full of the best Brits, and a select few others. Now it's an elite, multi-cultural environment, where even the lowest-ranked squad players can be full internationals (see Nabil El Zhar).
I've noted a few times that one of the things that impressed me from my meeting with Rafa Benítez last October was his desire to correct the failing youth system, which had recently fallen under his remit: bringing in Barcelona's famed youth gurus, and overhauling the archaic local scouting network (almost 100 part-time scouts, aged up to 80, replaced with a dozen full-time professionals). I cannot repeat this often enough.
Now, the parlous financial state of the club makes for a grim outlook in many ways. And there's little chance of Liverpool ever winning the league again without the funds to compete at the top end of the transfer market. It's also going to get harder to be part of the top four, although I'm less pessimistic in this sense, obviously because of the greater scope and leeway involved in achieving it.
It's wrong to expect Liverpool to remain a top four side while the spending dwindles and other clubs grow stronger, but there's currently enough good players and coaches to make it possible.
And there's also the correct approach in terms of youth development to make it possible. Until the ownership issue is resolved, the Reds have to make the best use of what resources they have, and what affordable ones can be brought in (such as sports science expert, Peter Brukner).
The drastic improvement in the U18 side – who, like last year's FA Youth Cup Final team, were well below 18 on average – and the hugely impressive form of the U16 side, bodes well for the future; as does the recruitment policy that has brought Jonjo Shelvey to the club, and which may see Danny Wilson join him.
Three of England's best U17 defenders are currently at the Reds' Academy; two – Andre Wisdom and Connor Coady – are currently starring in the European Championships, while the third, Jack Robinson (who misses out due to studies), has already made his Liverpool first-team debut.
With all this is mind, I thought I'd spend the summer (which could be very depressing) picking out those Academy individuals I think might be best suited (in time) to making the step up to the first team ( … but all the while adding the caveat that careers go wrong for a number of reasons.)
And so here is the first instalment:
This series is for Subscribers only.
[ttt-subscribe-article]