If there's one thing that depresses me about the current state of affairs at Liverpool, and about football in general, it seems to be that your club's success does not fully lie at the feet of the man in charge, and indeed, quite literally, the feet of those out on the pitch.
These days, a club's future seems to lie not with its successful building towards the summit over generations, with money earned from winning trophies and, in turn, winning fans who pay through the turnstiles (or in merchandise).
No. Now, it comes mostly down to an arbitrary act: did the individual/s who bought your club turn out to be the good guys or the bad guys?
With no prior connection to or affinity with your club (or even the country), these men (I think they've all been male) buy your beloved institution, and either invest to make it better, or look to make a quick (or not so quick) buck.
If you are fans of Portsmouth, Liverpool, Newcastle or Manchester United, the success (in some cases, relatively speaking) of a century of building a fanbase and a history (now known as 'building a brand') is rewarded by someone buying your club and making a mess of all that's gone before.
In the case of Manchester United, it might not seem too serious yet; although Ferguson has yet to receive all of the money raised by selling Cristiano Ronaldo, he hasn't had to break even in the past three transfer windows, unlike his counterpart at Liverpool, and already had a squad steeped in success.
(The increased fervour of protests at Old Trafford seems to have come as a result of this penny finally dropping. It hasn't affected them on the pitch just yet, but there's a good chance that it will in time, when the older generation of players finally lose their legs. I just wonder why it took this long for them to get fully mobilised.)
But two of the remaining three clubs have been relegated within just a season or two of being strong Premier League sides, and the other, Liverpool, stand on the precipice of relegation from the top four.
If Benítez lacked a striker and another centre-back by the time the season started, it was because he was told at the start of the summer that he had a certain amount to spend, only to be told later on that he had to break even instead. (And as it was, his 'expensive' signings cost little up front: Aquilani was a £5m downpayment, Johnson was bought with £8m owed by Portsmouth, who were running out of money.)
Despite what his critics say, Benítez has balanced the books superbly during his tenure at Liverpool.
His average spend is £20m net per season, which is also his average prize money from the Champions League. He buys a lot of players, but he sells a lot of players, and finally made the Reds a Champions League team for more than just the occasional season, as had been the case for the previous decade and a half. He hasn't put the club into financial peril; others have.
This season the wheels have come off somewhat, but the owners' need to break even, having put the debt of their purchase onto the club in the very way they promised not to, preceded the need to improve the squad to sufficient degrees. If you stand still in football, you are going backwards; especially when others are steaming forwards.
If you are fans of Chelsea or Manchester City – both clubs with noble, if not spectacular histories – then the decision of some random Russian and arbitrary Arab has affected your destiny. Let's face it, you weren't going to win the league or, in City's case, qualify for the Champions League any other way (that's not a snide dig, just a statement of where the clubs were before the gold bullion arrived).
But even then, I'm not sure that I'm that jealous.
These projects appear built on sand (or oil), and may only be financially viable as long as the hugely generous benefactors remain; as we saw at Blackburn, a swift fall can follow their departure (or the drying up of funds), and that wasn't even with the same scale of investment.
As fans, we all love the idea of a rich sugar daddy when it comes to the team – the sugar-rush of new players – but it's not the most secure way forward.
What did Aston Villa do to get so lucky? My granddad played for Villa many moons ago, but I fell in love with Liverpool long before I was aware of this fact. And while my allegiances are unshiftable, I do look at Randy Lerner with a sense of envy. Why didn't we get that American?
They got John Wayne, we got Waldorf and Statler.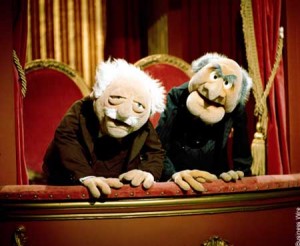 In Lerner, here is a man that actually bought the club with his own money. But rather than pump in obscene amounts (after all, for every £30m player, there's also a £30m five-year deal to commit to), he is aiming towards a stable progression. Villa might not win the league with such relatively moderate investment, but at least they still feel like a football club, and not a rich man's plaything – or a rich man's bank deal.
Now there's talk of the Rhône Group investing in Liverpool; a company known for making money on deals, rather than possessing the necessary benefaction for a football club to thrive. They tend to get in, make a profit, and get out. Plenty of Liverpool fans are already questioning whether this is the way forward.
And it goes to show that there is no easy way out of the situation. What did Rick Parry say about selling the family silver?
I have little doubt that, if fully supported, Benítez is the right man for the job. (What little doubt I have is simply the fact that no-one can guarantee success, especially in an unstable climate. Of course he's not perfect, but then nor was Jose Mourinho at Chelsea once he was undermined by those above him.)
This time last year it was Arsene Wenger being questioned; now he is being feted again, even though Arsenal, despite having a great season, could easily finish 3rd, a position Wenger hasn't bettered since 2005, but which Benítez has.
And if City and Spurs had been as strong this time last year, Arsenal could easily have been under more pressure in the race for 4th, and finished 5th instead. (Just as Liverpool failed to win the league with 86 points, it seems that they could get over 70 points and still miss out on the top five this year.)
Wenger's been relying on his brilliant youth system, which was set up in the '90s. But managers without such long-term benefits need to sell their flops (and they all sign them) as well as their successes who want a new challenge, and reinvest the money in the transfer market.
When I met Benítez in October, he knew that the squad lacked depth. He was under no illusions about the task he faced.
Since then, three of his less-astute signings, Dossena, Voronin and now Riera (if the CSKA deal is finalised) have been sold, bringing in roughly what they cost, but with the money apparently earmarked for debt repayment. In their stead has come Maxi, a canny free-transfer.
So in terms of personnel, three full internationals have moved on since October, and one has arrived. My reading of the situation is that Voronin was only called back because, having had a good season in Germany, and with Benítez having no money to spend, it was either him or two largely untested 20-year-olds (N'Gog and Nemeth).
By contrast, when Spurs sold Carrick, Keane and Berbatov, they spent the money on a whole host of £10m+ players (Bent, Defoe, Crouch, Bentley, Bale, Pavlyuchenko, Modric, Palacios, and Keane once more, while Bassong, Gomes, Woodgate and Corluka weren't cheap either).
They reinvested the money, to improve, rather than to pay off debt that didn't exist before the owners pitched up. The result is a squad that now costs far more (approximately £50m) than Liverpool's; and achieved without Champions League income.
When you're looking on in envy at the way Spurs are being run, you know times have changed.
Site news: The Tomkins Times is evolving from my personal blog into an 'interactive online magazine'.
Due to the quality of the posts of the subscribers, including several published authors, some of these will also be supplying exclusive articles for other subscribers. The aim is increase the content for those who pay £3.50 a month, even though 80% of those who elected to take part in an open survey felt that the site was already excellent value for money.
I also aim to make more of my pieces for subscribers only, with fewer freebies. The piece above, however, felt like something that needed a wider audience.