Rafa Benítez's greatest problem all along has been that people – particularly those in the media – haven't respected his achievements with Liverpool.
For years he's been treated more like a Christian Gross or Steve McLaren than the Champions League/double-La Liga winner (with FA and Uefa Cups to boot, and another Champions League final). If only Rafa could have had the respect afforded to Harry Redknapp…
If you don't value genuine achievement, then you are only going to kick up a storm when standards slip. And from the third game of this season, the Liverpool manager was treated as a 'dead man walking' by many commentators on the game, with his achievements in 2008/09 used as the rope with which he'd be hanged.
My fear for Benítez has always been the lack of respect the majority of those in the media have for him. This season's results would test the patience of most fans, and has rightly provided some harsh headlines. The play has been nervy and disjointed. The same players (more-or-less) who did so well last season are now struggling. That's patently clear.
After those early setbacks – suffered with injuries to many key players – the pressure was ramped up to 11.
But the pressure has been exacerbated by the failure of too many people to value what Benítez had done for the club in the first place; take a dim view of that, and of course you'll think he's an absolute idiot now.
Benítez is being talked about as if he has done nothing of value since 2005. I've read tons about 'but for Istanbul…', as if Rafa is still living on that memory.
Well, after Istanbul the media were saying winning the club its first European Cup for 21 years was "all very well, but doing it over 38 games is where it's at."
Last year? While the Reds didn't win the league, it was without doubt the best effort since 1990. The greatest number of points for 20 years, the fewest league defeats ever, and the league's top scorers. In 2006 he also posted an 80+ season in terms of points. Both of these seasons rank in the top six in the club's history in terms of the amount of available points won in a season.
He did so both times with a wage bill and squad cost that suggested the Reds were punching well above their weight. But it could not match the glories of the past, against which all Liverpool managers are harshly judged; forget the current realities, let's just condemn on the basis of a bygone age.
At the time of last season's excellent title challenge (possibly even exceptional, given the resources and injuries), the Reds were ranked the #1 side in Europe, based on results purely over his time in charge. But Liverpool have only that 2005 trophy to show for it.
But if a trophy went to the best team over a five year period, instead of just who had the best year – which, as it's a greater period of time is therefore more of an achievement – then Liverpool would have been rewarded for a truly outstanding string of results between 2004 and 2009. It doesn't work that way. But it's worth pointing out.
Personally, I take these as the markers of consistency. Nothing was won, but it was a great achievement. It means a million times more to me, in terms of telling me how good a manager is, than, for example, winning the Carling Cup.
It now seems a distant memory. And in some ways it is. But why is it already written out of the history books by so many?
This was Liverpoool's first season of European failure since 2003/04, and it was treated like it was nothing more than a Benítez side deserved; after all, he's not a very good manager, etc, etc..
Apparently, according to the public at large, if he hadn't brought the Reds that amazing success in Istanbul, Benítez would have been sacked long before now.
Well, he did.
Similarly, if Ferguson hadn't won the FA Cup in 1990, he'd have been out of a job, with a CV that read four years at United, no trophies. And we'd have been talking about him now as an utter failure, who spent three of his first four years in the bottom half of the table. Times change, but that's how close to being a disaster he was.
It doesn't mean that Benítez can replicate Ferguson's turnaround, but it does show that getting a massive club to achieve big things after years in the doldrums is a gargantuan task.
If we're going to play the 'what if' card, then say United drew just two games they were fortunate to win last season; off the top of my head, at home to Spurs, when the referee handed them the game on a plate, is one of them.
Now, I accept the flaws of what-ifs (there are millions of permutations you can use for or against any situation), and I'm not saying that United didn't deserve the title; they won it, end of story. But just say they'd fallen a fraction short in a couple of games – not ten, not 20, but two – then Liverpool would have been crowned champions.
It didn't happen, but it isn't stretching the imagination to say that it was possible.
We'd now be talking about Benítez having ended a 21-year wait for the European Cup and the more noted 19-year wait for the league title. He would, without question, be a bona fide legend. He'd have the keys to the city right now. That's how close he was to being up there with the club's legendary managers.
He just happened to have the 'bad luck' of a dominant United machine just pipping his side; some years there are teams who can rack up 90 points, as United did, while other years there are not.
Put it like this: say Alex Ferguson, at United in the early '90s, had to overcome the equivalent to the 2009 version of himself; but instead, he had to overcome Graeme Souness. Now say that last season Benítez had to overcome Graeme Souness as United manager; suddenly it's less daunting.
All of this constant demeaning and devaluing of the good work Benítez has done has led to hysteria, which has led to more pressure, which has led to more hysteria, and so on. A negative cycle. Last season, after thrashing Real Madrid, Liverpool enjoyed a positive cycle. That's football in terms of form and confidence.
The Reds are in some kind of tailspin, and have been ever since losing those games at the start. It was built into a massive deal because, shock horror, Liverpool only lost two games all of last season. (As I've stated before, this was noted, without irony, while ignoring what an achievement that was in the first place.)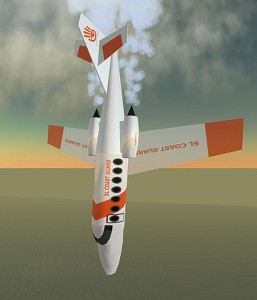 Perhaps tailspin is the correct metaphor. The most dangerous time for a plane? On, or just after take-off.
At 30,000 feet, a plane can suffer any number of problems – failure of all four engines, pilot sucked out the cabin – and still land safely (true stories). At 30,000 feet, you have all that altitude.
At 30,000 feet you can afford to coast; there's nothing to crash into. And if you start plummeting, there's plenty of time to pull the nose up.
But this season, Liverpool never quite got into the air. Most of its engines (or engine-room, if you use the football parlance) were faulty, burnt out or missing. An injury crisis was like serious damage to the wings.
And some truly atrocious refereeing (beach ball goals, at least ten valid penalty shouts waved away, mostly at crucial junctures, so that Liverpool have actually conceded more spot-kicks this season than they've won) has been the equivalent of a technician's faulty wiring. After all, that's one thing that's certainly not the pilot's fault.
Manic pulling at levers saw the plane gain some height, but panic and pressure all around meant that it was never enough. And, dangerously close to the ground, crashing and burning was a warning everyone has had to face up to since take off. It's never left us, since August.
Last season, Liverpool had a similarly duff period during the winter. But at that point the Reds had altitude. There was some panic when drawing too many games at home, but it wasn't "we're all gonna die!" As such, it was easier to get out of.
To complete the metaphor, if Benítez can successfully land the plane (see out the season), then just as form changed dramatically from one season to another, it can do so again. At Valencia his title-winners fell to 5th the following season, 18 points adrift. A year later they won the league again, in greater style than the first time, and also added the Uefa Cup.
But he has such a mountain of negativity against him at Liverpool right now that my greatest fear is that he will never be allowed that chance. I've always maintained that one bad season is excusable, but that two in a row (Houllier) is valid grounds for dismissal. Wenger had a bad season last year, although he pulled it around in the new year.
Rafa has to take some responsibility for the dire run of just six wins in 20 games. That's the way the game works, even if he, like any manager, can be excused for not knowing what's going wrong. (As Steve Coppell said a few weeks ago, sometimes you just don't know what to do next to try and stop the rot. It must take on a life of its own, bad bleeding into bad, so that problems sprout up in so many different areas, as players lose their confidence and form and feel even more pressure with fan unrest.)
But then so too must the players take responsibility, especially the senior ones, such as Carragher and Mascherano, for their form at the start of the campaign, and Gerrard throughout (even if he's partially exempted by his own injury problems). Blaming the more junior players like Insua, Lucas and N'Gog, as some have, is ludicrous.
Carragher has been excellent for months now, but just as Mascherano was looking more settled again he got sent off. Torres has been in and out with injuries, as has Gerrard, who has spent most of the season looking like a kid who dropped his ice cream. Torres has been whinging at refs too much. The only senior player I'd exempt, as I said recently, is Pepe Reina – like Carragher, a true leader.
I'll repeat that the injuries (contrast the sympathy handed out to Moyes for Everton's injuries) and the poor form of some senior players early in the campaign harmed results – as did losing Alonso, and Aquilani taking longer than hoped to get fit – and once results were harmed, getting better results automatically got trickier. That's a negative cycle for you; a tailspin.
Last night, but for 30 minutes after half-time, Liverpool played like a team fearful of crashing and burning. After all, the world appears to be waiting for it to happen.
I felt that the effort was there (as an example, look at how many times Insua bombs up and down the pitch, or how many times Agger strode upfield with the ball), but the final ball wasn't good enough. Aquilani played some lovely passes, and never hid from the ball, while Lucas and Kuyt covered their usual acreage. Carragher gave his all. Even Degen was up and down the pitch for 90 minutes.
But a sure sign of low confidence was that no-one was taking on a shot from 20 yards; instead, looking to pass the ball, and the buck. Perhaps understandably, they look terrified of failing, and Benítez's previously good home record has crumbled in front of dispirited fans, some of whom are set against him.
The future? I still believe Benítez is as good a manager as there is out there. But the entire team is like a striker who's gone ten games without a goal.
I believe in Benítez's long-term aims for the club from top to bottom, but if he was a striker, you'd probably want to see him dropped to the bench to sit out a few games; 'give him a break'. But that doesn't happen with managers. They either stay or go; you can't call upon them again when things have calmed down.
So you must decide if the short-term fix a new manager brings is worth the unsettling of a longer-term vision. As 'Soccernomics' notes, new managers cost money – not least in terms of wanting their own players.
But if Benítez had been backed to the hilt financially this summer, rather than forced to buy last-choice options like Kyrgiakos, maybe he wouldn't have been in this predicament in the first place.
But that's the crazy nature of football.
(Since writing this piece, Torres, Gerrard and Benayoun have all been ruled out for weeks with injury. It never rains, it pours blue ice…)