With very limited amounts of 'Red Race: A New Bastion' left in stock, this was the final chance to order the book. I have now updated this post and stopped selling the book.
– – – – –
The book recently received a very positive review from Neil Jones at Goal.com.
Review from David Gill (great nephew of Bill Shankly) from July 2009 (on RAWK)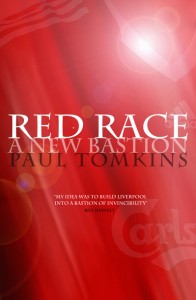 If Paul Tomkins new book Red Race is anything to go by then that's what I'll be calling him from now on. Just like our manager Tomkins has an exemplary work ethic, this being his 8th published book in just five years.
The first thing that grabs you about Red Race: A New Bastion to give it it's full title, which I began reading at 9 O'clock yesterday morning and finished at around 9 O'clock last night, besides the fact it's the first book I've been able to read from start to finish in less than 12 hours since George Orwell's Animal Farm 13 years previous, is how utterly up-to-date it is, including such recent signings as Glen Johnson, the arrival of the two Kings; Aaron and Kenny as well as a young kid who whilst having to live up to being labeled an 'extra-ordinary talent' also comes with the impossibly high expectations of being named Jesus.
Red Race like the game of football it so meticulously analyses (another Benitez trait) comes in two halves. The first as you might expect reviews the season just gone; highlighting important mile stones, marking out specific players for praise and drawing comparisons with other clubs and previous eras, as well as looking to the future and the improvements made recently at the club, but as always just like Mr Benitez and the dirty mac'd one before him (that's Columbo not the Cardiff City manager) Tomkins sticks loyally to the facts.
The second half of the book hypothesises what it is a football club needs to have in place before being able to make significant improvements such as winning the league or loosening the stranglehold of the top four; breaking these achievements into their component parts Tomkins researches the money (transfer values, wages), age and experience aspects of a number of clubs, most tellingly those that have managed to win the league in the last 20 years with very interesting, although not entirely surprising conclusions.
What separates Tomkins from the numerous other writers out there is his ability to remain pragmatic, detached and at times almost emotionless in regards to the clubs fortunes, perhaps this is what angers some fans, although this is in stark contrast to the accusations of Liverpool bias and excuse making levelled at the writer himself. If anything Tomkins is systematically unbiased, constantly checking himself to make sure he's being fair to all concerned, such as when calculating the rotations made by the top four teams over 2008/09 he emphasises Manchester United's final match where Ferguson's fielding of a team of youngsters in the final game of their season, once the league had been wrapped up, skewed the averages for their season, although the point being made in this case was still valid.
It's the final section of Red Race that really captured my imagination and where my main motivation behind the title of this thread came from. As like the underrated Spaniard (in these Isles at least) he is at the forefront of his field, not content with simply analysing the statistics we're normally exposed to by the mainstream media, which are often misleading anyway, Tomkins has scrutinised telling contributions, which often go unnoticed by players but which greatly impact results. Tomkins has devised a system to calculate the normally unquantifiable contributions made by players through out a match.
Just as in Dynasty with his patented Relative Transfer System, Red Race throws up some very interesting revelation for instance through this points system which as Paul himself recognises isn't 100% fool proof, we find that Javier Mascherano has 11 'assists' or rather eleven meaningful contributions in the build up to goals, making him joint 5th alongside our 'razor elbowed' Israeli. Who would have believed that our out and out defensive midfielder could have that much of a say towards our attacking play? Of course these could simply be an interception followed by a short pass which in three moves leads to a goal but this kind of input often goes unnoticed.
Coming out on top (not including goals scored) is one Xabi Alonso, perhaps a perfunctory look at these result tables could convince Real Madrid and/or Barcelona (although after reading this I'd rather they stayed) to pay the asking price of £35mil whilst making Liverpool revise their own appraisal to something closer to the value of Kaka as realistically with 38 assists between them over the season using this system, which I believe is a fairer indication of the value that the player has to the team.
All in all the first half of the book has the unfortunate side-effect of a stiff neck as you'll catch yourself nodding in agreement at almost every point Tomkins makes, whilst the second half of the book (separated into 3 parts) could result in you doing a sterling impression of a venus fly trap as you find yourself open-mouthed at some of the conclusions drawn.