As the 50th anniversary of the great man's appointment looms, I thought I'd cobble together a selection of sample pieces from the book, for those who haven't yet read it.
This is the book's Introduction (essential to read first, as it explains the systems for rating players signed by the managers, and the quality they inherited).
This is LFCHistory's abridged version of the chapter on Bill Shankly.
This is LFCHistory's abridged version of the chapter on Joe Fagan.
This is an abridged version of the chapter on Graeme Souness.
Click here to purchase Dynasty.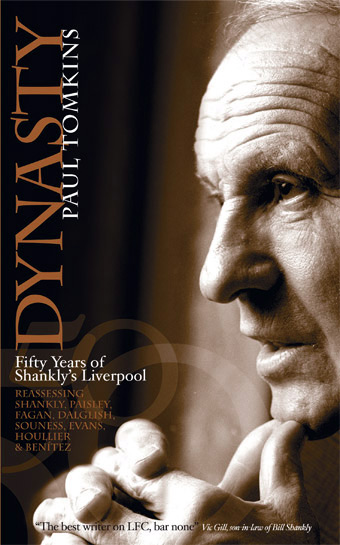 I now have to consider whether or not to reprint the book – sales have obviously been very healthy in the lead up to the anniversary, and after a slow year, sales have now passed my expectations, with reserve stock running very low.
I have been approached with the possibility of an overseas publisher doing a translation, and that made me think I might update the Rafa Benítez and Conclusion chapters. With this in mind, I might make it a special gold cover version, with the updates included (seeing as I will still be writing them in English!)
It's the one book of mine I'd like to keep in print, because seven of the eight chapters will never date (with lines drawn under the tenures of Shankly, Paisley, Fagan, Dalglish, Souness, Evans and Houllier).
If there's interest, I may do a limited number with a similar box to Red Race. However, I don't want to be left with loads of unsold stock, so I will make it very limited; to help give me an idea of numbers, let me know if that's something you'd consider purchasing – leave me a message, either by email or by using the comments box below (if a member).
Praise for Dynasty
"Tomkins not only shows why he is a prolific, talented writer but also cements his status as very knowledgeable and passionate Red. In my opinion this is Tomkins' best work to date; a thoroughly excellent read."
Vic Gill, Shanks' son-in-law and former LFC trainee
"The project that Tomkins has taken on here is highly ambitious: assessing each of Liverpool's managers since Bill Shankly. He does this in his own irrepressible style of analyzing in detail every area that falls within a manager's remit. And whilst Tomkins has a talent for such a task, where he excels here is in approaching each manager without any apparent pre-conceived ideas."
Paul Grech, Squarefootball.net
"A unique analysis of the club's managers, which is no mean feat given the extensive bibliography of the club… informative … another perspective on the last 50 years at Liverpool."
Programme & Football Collectable Monthly
****
FourFourTwo