This is an article written for the Reuters newsletter. (Chris works as a writer for one of the branches of Reuters.) The book is officially released this week.
'From Where I Was Standing' is an eyewitness account and analysis of the Heysel Stadium disaster in Brussels in May 1985. What started out as the usual care-free continental trip ended up in tragedy. A wall in the decrepit stadium collapsed following fighting on the terraces between fans of Liverpool and their opponents Juventus of Turin, and 39 fans lost their lives, most of them Juventus fans.
I wrote these recollections because I wanted to write it out of my system, but mostly because I didn't think the story had been properly told. There was and remains a strong sense that what happened at Heysel is unfinished business.
Then I left it, only adding bits as various items of relevant news followed. Finally, I decided that it might be more use being published than sitting on my computer. In fact it began its life on a typewriter, which sort of dates it.
The book is initially an amusing (hopefully) account of the build-up to the final, and an honest account of what took place thereafter; one which I wrote to set the record straight about an event that tarred all Liverpool fans with the same brush. I do not seek to downplay the role of hooliganism in the tragedy, merely that it could so easily have been denied its stage.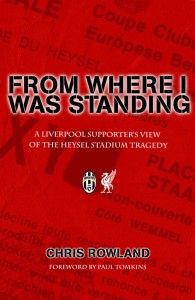 The spur for writing an account of it, apart from the obvious fact that it was a football match where 39 people died, is the sense of injustice I felt at the simplistic, monotone way it was reported, with all the blame laid at the door of Liverpool's fans, and of football fans generally. But what I witnessed didn't tally with what I read and heard over the subsequent days and weeks.
In 1989 I tried to get the book serialised in the Liverpool Echo. I sent samples, they asked me to send the rest. It duly arrived at the newspaper on Saturday April 15th 1989 – the very day that the Hillsborough disaster happened in Sheffield (I was there too, in the Leppings Lane stand where the deaths occurred). Of course in the circumstances the newspaper was no longer interested in Heysel. I had provisionally called the book 'Football's Blackest Day', an echo of a newspaper headline at the time of Heysel. After Hillsborough I had to revise it.
Heysel has remained unfinished business – although to this day rival fans still call Liverpool supporters 'murderers', every single match they play, so we are still taunted and tainted by it. But Heysel became trapped in time, engulfed by the enormity of Hillsborough 4 years later. Hillsborough was more recent, involved our own supporters as victims, was statistically greater and unlike Heysel was emphatically not the result of fan misbehaviour. Hillsborough has also (rightfully) received much airtime, unlike Heysel – until now.
Over the years I revised it and added to it as more information became available, but realised it's no use whatsoever just sitting on my laptop (the first drafts were on a typewriter, so long was the book's gestation period!) The internet and the profusion of Liverpool FC websites offered a new potential outlet, so I contacted a well-known writer on all things Liverpool FC, Paul Tomkins. Paul writes for the official club website, and makes his living from writing and publishing books about the club. I asked Paul whether he knew any website editors who may want to serialise the book. He asked to see the full work, and told me he felt it was an important matter of record that the book should be aired as the 25th anniversary year approaches and Heysel passes through what he described as 'that awkward period between news and history.' He also said that he knew someone who was prepared to publish it – himself! It became the first book he's published that he didn't write himself.
As well as being a diary, the book covers lots of areas – the nature of football supporting as a tribal, quasi-religious experience, the reasons some fans without match tickets will still travel to the match, the nature of individual and collective responsibility, the impact of attendance at such an event on the resumption of normal life. It reports how UEFA, the governing body, ignored Liverpool FC's concerns long before the game about the state of the ground and the allocation of tickets, which placed rival fans dangerously adjacent to each other. It also mentions that the chief of police on duty at Heysel was later charged in Belgium with involuntary manslaughter – a significant charge not widely reported here, but which suggested that someone somewhere knew there was more to this than simply fan violence. Crucially, it makes the point that if the normal precautions – not special ones, just the normal everyday steps that were taken for every single match in England at the time – had been applied, the deaths would not only have been preventable but impossible.
I have tried to write this account not just for Liverpool fans, or even just for football fans, but also hopefully to give any non-football fan who happens to stumble across it a revealing view of what drives a football fan and why they do the things they do. Most of all, I hope it causes readers to question or re-examine what they know of Heysel.
FROM WHERE I WAS STANDING by Chris Rowland – ISBN 978-0955925313 is available from Amazon and various Liverpool FC websites, and from October 20th from book retailers and online retailers, cover price £9.99 (Amazon price £6.99).