This is an excerpt from Above Us Only Sky (2007)  for Premium members. The book was withdrawn from print after I felt I could no longer stand by some of the things said in certain chapters relating to the direction in which the club was heading.
Buenos Aires, Argentina. A port of passion on the South Atlantic with an immense harbour, at which point the Río de la Plata –– the River Plate –– spills out to sea. A strong sense of European culture pervades the city: it is often referred to as the "Paris of South America", and boasts a large immigrant Italian population. It's nearly 200 years since the city broke free of Spain's clutches, with the Spanish Viceroy ousted on 25th May, 1810 –– the date now celebrated as a national holiday: La Revolución de Mayo. It is of course also a date close to the hearts of Liverpool fans: half of Merseyside would also like to declare it a public holiday, following events in Istanbul 195 years later. (In 2005 the situation was reversed somewhat: the Spaniards of Benítez, Alonso, Luis García and co. gaining victory over Argentina's Hernán Crespo.)
The British introduced football to Argentina back in 1867, coinciding with the formation of Buenos Aires Football Club. Club names like Newell's Old Boys and Quilmes Rovers Club (which became Quilmes Atlético Club) clearly reveal the sport's British origins. When looking at the nature and style of Argentine football today, something is readily apparent: technically it bears little resemblance to the English game. In the early part of the 20th Century Italians usurped Brits in the country's teams, and it shows.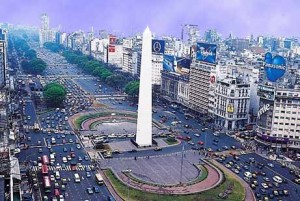 Tim Vickery, South American football correspondent for the BBC and Sports Illustrated, is clearly a man to trust when it comes to assessing the merits of that continent's football. In his column on the BBC website he recently spoke of a belief in Lucas Leiva's ability to succeed at Liverpool, as well as accurately predicting in the summer of 2006 that Gabriel Paletta was making a mistake in leaving for the European stage before he had experienced enough senior foootball in his homeland.
In July 2007 I ask Vickery for his thoughts on Liverpool's recent move into a part of the world that had been previously untapped by the club. Why was Rafa Benítez focusing so much on South America, where he set up an extensive scouting network, when it's not been a continent whose players have transferred well to the English game in general?
[ttt-subscribe-article]
© Paul Tomkins