Career
I originally trained as a graphic designer, gaining a BA (Hons) in 1994. After working at a local council I moved to the Guardian at the end of 1996, to work as the main designer in the company's Ad Planning Department, which dealt with marketing material such as media packs, as well as sales brochures and presentations for ad execs to sell space in the paper.
By 1999 I had become aware that my health, which had been causing problems for about eight years, was continuing to worsen, and that I needed a new strategy after too many visits to disinterested GPs in that time. By 1998, I was needing to sleep for three or four hours immediately after a Sunday League game, and would feel like I had a bad virus for several days after every match.
Within six months, after countless blood tests, I was diagnosed with M.E. (also known as Chronic Fatigue Syndrome, which is a rather unhelpful term, seeing as fatigue is only one of many varied symptoms).
I gave up working at the Guardian in early 2000 on the grounds of ill-health, and moved to live in Leicester with my wife-to-be. Our son was born in 2002, but the marriage ended soon after. However, I stayed in Leicester to be close to my son.
It was in 2000, after leaving the Guardian, that I started writing an independent LFC column, more as a hobby than anything else. Originally interested in writing fiction, which I'd been working on for a few years, writing about football seemed a fairly logical thing to do. I never expected to make a career out of it, despite generally good feedback in those early years.
By 2001 I was supplying pieces to various sites. It wasn't until 2004, after a couple of abortive attempts to get back into work (that faltered on account of the up-and-down nature of my condition), that I thought of writing a football book, as a means to making a living.
This led to 'Golden Past, Red Future', written with the assistance of Jonathan Swain, being self-published in 2005. I did approach one major sports publisher with it on two separate occasions, but on both occasions they never bothered to reply, so I thought 'why not do this myself?'. In the end, the book sold almost ten times what I was told would be possible, although naivety about the workings of the industry and a lack of business experience meant that many of the books were sold at a loss. The important thing, though, was that it was critically acclaimed and spent a long time as the top-selling football book on Amazon.co.uk.
The success of the book led the Official Liverpool FC site to approach me in the August of that year to write a weekly column, which the admitted would be unpaid, but which would provide a platform to plug the book.
Since then, I have written and published Red Revival (2006), The Red Review (2006, with Oliver Anderson), An Anfield Anthology (2006 edition), Above Us Only Sky (2007), An Anfield Anthology (2008 edition), Dynasty: 50 Years of Shankly's Liverpool (2008), Compendium (2008) and Red Race (summer 2009). My writing has also appeared in other books, such as The Asian Liverbird and The Irish Kop, and I wrote the Foreword for Chris Rowland's book, From Where I Was Standing: A Liverpool Supporter's View of the Heysel Stadium Tragedy.
Why Liverpool?
I grew up on the outskirts of west London, with no football clubs on the doorstep – but about 15 that were 15-20 miles away in all directions. There was no sense of 'support your local club', as there were none; it wasn't like growing up in Liverpool, where you automatically choose one of two teams, or Newcastle, where you are bred into life as a Magpie. There was no footballing identity, just loads of kids supporting a myriad different clubs, none of which really spoke to me.
I began supporting Liverpool in the late '70s; my earliest memory is of the 1978 European Cup Final, and Kenny Dalglish leaping over the advertising hoardings at Wembley, which seemed like the most exciting thing ever (and somehow impressed me more than the goal). I was then bought a Liverpool shirt, and it stuck from there. My grandfather, who died when I was a toddler, played for Aston Villa, but I wasn't made aware of this fact until much later in life; by the time I discovered this, I had no affinity with the club.
My dad was more of a football player than supporter, and I grew up loving playing the game rather than being introduced to the culture of match-going. By the age of eight I was playing in the school's under 11 side, and went everywhere with a football.
Having been a county player in my school days, I stopped playing seriously around 15 due to problems with asthma, as well as a general disillusionment with the sport; it was the mid-'80s, and I was getting lumps kicked out of me by giant cloggers in long-ball games; I didn't really have the appetite for it back then (although toughened up later), but it was also not much fun for a skilful player.
After a near-fatal asthma attack in 1990, I was put on to steroid inhalers, and that helped a lot; at the time I had started playing again, for Derby College (now Uni) in the University league, and on my debut scored all four goals in a 4-4 draw with Crewe & Alsager Sports College, playing on the left-wing.
It was at Derby that Howard Wilkinson's son, who was in the same team, kept trying to get me to go to Leeds United for a trial. I knew I wasn't good enough, or tough enough, and wasn't interested in playing that seriously, but it was nice to be asked.
In the mid-'90s, through contacts in a Sunday morning league, I was invited to play semi-professionally. I spent a while at Harefield United, then an ICIS League side, and the oldest club in Middlesex. I struggled at first, but then found my feet and did really well, scoring a few goals and was confident of moving up the non-league divisions; however, a combination of health issues (not helped by a stressful job and a daily commute to east London) and the season ticket at Anfield arriving made it an easy decision to knock it on the head. Within four years I'd have kicked my last ball.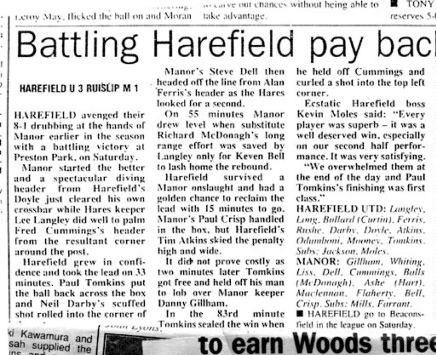 My first Liverpool game was in October 1990, against Derby County. I then started sharing a season ticket at Anfield in 1994, using it when my mate's dad (a Liverpudlian) couldn't go, on the days I wasn't playing, and got my own season ticket a couple of years later. Through this I was introduced to the 'Liverpool way', and before and after every match we'd stop off in Litherland for lunch/tea at my mate's gran's house.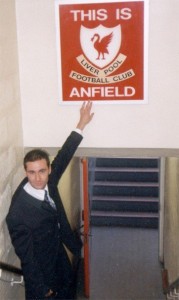 By the time Gérard Houllier's reign had peaked and tailed off, I was struggling more with my health, which meant a lack of money, and having custody of my son on Saturday made going to games increasingly more difficult. I miss the simple days of the '90s, but life moves on; we grow up, gain responsibilities, and have to move with the flow.
My Health, and Why I Discuss It
Suffering from M.E. (Myalgic Encephalomyelitis/ Encephalopathy) is a fairly defining part of my existence. It affects my ability to make a living, and it affects how I support Liverpool. Therefore I make mention of it in my writing from time to time.
Having been a season ticket holder for a number of years, it is important for me to make people understand that I cannot go to games regularly not out of fickleness, or from being a fairweather fan. When I do get to a game, it can take a number of days to fully recover. I am not seriously ill when compared with many other sufferers, but it does affect what I can do on a daily basis.
It means that I cannot hold down a regular job, and therefore have to look for alternative ways to generate an income; this means that I require people to support my ventures, such as writing books or developing this website, if they appreciate what I do. (Over the years this site has grown and now employs several people.)
Also, as a misunderstood condition (a lot of illnesses start out this way, before medical knowledge catches up), it is important that I make people more aware of what it is and how it affects me. I don't seek sympathy in the slightest, but understanding is helpful to anyone who has specific difficulties.