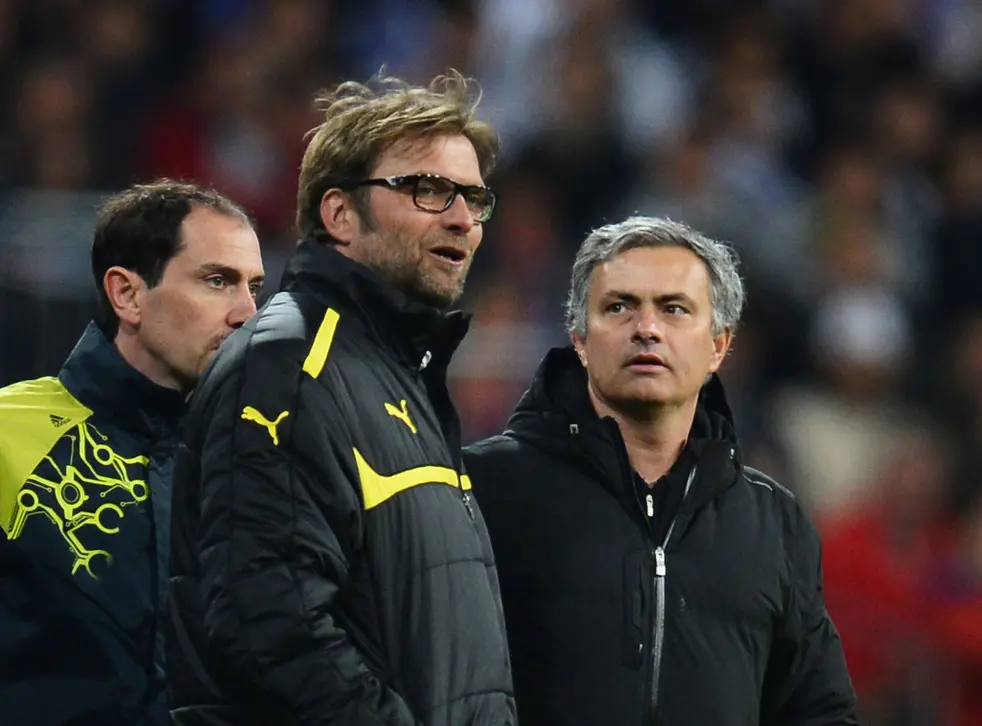 First of all, don't be stupid! Go wash your brain out for thinking that I'd even suggest that.
And so, I jest with the title, of course, given that Jürgen Klopp is a sensational manager at the peak of his powers and Jose Mourinho an old-hat whinge-bag, but there are some comparisons with how managers age, along with some contrasts that separate the two by a country mile.
Klopp has turned around so many mini-crises at Liverpool, in a way that the Portuguese never does; the latter tending to add petrol to any sparks of fire, and disappearing into the night with the orange flames reflecting on his latest trendy jacket.
Indeed, in a weird parallel in 2015, when Klopp joined Liverpool and put Mourinho's Chelsea out of its misery, the London club had started the season "undercooked". Which feels like the Reds in 2022/23.
They got into a downward spiral, but rather than keep calm, Mourinho ordered more and more people to drive busses around Stamford Bridge to throw players under, and then set those busses on fire. That Chelsea team wasn't finished; it won the title two years later, just with a fresher manager. 
If Klopp was "washed up" at Dortmund in 2015, then it's interesting that Mourinho lost the Chelsea job in 2015, too. 
Since when, Klopp has reached three Champions League finals (none for Mourinho), posted three 90-99 points totals (none for Mourinho), and also won the lower-value cups (FA Cup, League Cup, Community Shield) that are now Mourinho's occasional stock-in-trade. 
Klopp has been a Premier League and European Champion since Mourinho joined him in that 2015 washout. Liverpool have been ranked the best team in Europe in 2020 and 2022 on the Club Elo Index.
What made me think of the comparison, however, was that Mourinho's Chelsea in 2004/05 (his best team in the Premier League) were a young side: average age of 25. 
(They averaged out at 25.21 over the course of the season, which I think remains the youngest champions of the Premier League era, albeit with inflation, also the most expensive.) 
He was a young, dynamic manager. The older Mourinho got, the older the players got. 
The other day I noted that it just feels like Liverpool are caught between the past and the future, with the past possibly "past it" (certainly as a collective when too many are in the team together) and the future not quite ready. 
I have almost no questions about anything Klopp ever does, given that he's up there with the very best Liverpool managers, Bill Shankly and Bob Paisley. To me, those three have shaped the club most drastically. (Also periods when I believe the club was being run the best, and had exceptional scouting.) 
But while a mini-crisis is not new, the dynamic perhaps is, given the possible need to oust some established stars in a way he hasn't yet had to at Liverpool, or indeed, make that choice at Dortmund either. 
Klopp wanted Gini Wijnaldum to say. He wanted Sadio Mané to stay. Both top players.
Neither did, of course, but what would the average age be now if they remained? 
Would Harvey Elliott be getting as much game-time? Would Fabio Carvalho have two goals in just a few minutes' football had Mané still been around? Mané is better than Carvalho at this moment in time, of course, but in the next two years, if both play regular football, the younger will overtake the older, injuries notwithstanding.
Klopp seemed to push for long-term deals for Jordan Henderson, Virgil van Dijk and Mo Salah that would take them well into their thirties, which went against the club's previously held ideals. He's kept James Milner every single summer, and I can picture the year 2056, with Milner still leading the rondos at the AXA.
Even with Wijnaldum and Mané gone, the team has been too old at times this season – nearing 30. A lot of that has been beyond Klopp's control, but not all of it.   
Older players are only ever really leaving against Klopp's wishes; he's not really cut the cord with any of them, albeit it's not like all the decisions are solely his. (Adam Lallana was moved on, but he was never a key part of the team once it really hit top gear. Ditto Dejan Lovren, with these types easier to offload as they weren't regular starters when everyone was fit.)  
Is Klopp being dispassionate enough? Is he being too loyal? 
Or is he right to stick with the guys who scaled such heights, and did so again last season – at least in terms of becoming the top-ranked team in the world again, and essentially losing both the Premier League and Champions League by a single goal each time. (One scored or not conceded by Aston Villa; and one to equalise in Paris.)
He lost too many of his best players in their prime at Dortmund, but that was also such a young, fast, dynamic team. 
But they were an outlier. A team generally needs experience, and for that team to gain that experience together; more time together is generally very good, as I often note (including again in my latest book). 
But there is a sweet spot. Cleary.
Liverpool have looked past their physical peak as a team in pretty much every game this season, even if it may be in part down to giving every last drop of energy last season.
Was that the last hurrah? Or just an imbalanced team, due to injuries, lacking a good preseason, and maybe a couple of players who just need a bit of a wake-up call? 
Being outrun in every game this season felt seismic to me, until seeing that the Reds were outrun in two-thirds of their league games last season. 
But they weren't always a goal down early on, and needing to chase, in every sense of the word. I didn't often see players not bothering to run last season when the need to run was there; or looking so off the pace. 
Klopp's final season at Dortmund came not at the hands of a team that was past his best and in decline due to age, but one which had been deprived of its best players, often to their closest rivals, which just widened the gap. Of the 19 most-used outfield players, the average age was just 25.5. Only Sebastian Kehl was in his 30s (and he featured in just over half the league games), and then there was Łukasz Piszczek, at 29. Otherwise everyone was aged 20-28, many aged 20-23. 
The season did involve a costly striker who failed to replace what was lost, but it would be wrong to say the same about Liverpool's summer acquisition after just 175 minutes of league playing time, in which his
"npxG+xA Per 90 minutes" (non-penalty expected goals plus expected assists) is 1.42, which would extrapolate as something crazily good, at twice the next-best figures in the team; but also, you can't extrapolate too much – good or bad – from 175 minutes. 
(You can still note the good, and note the bad. After all, it's not like Darwin Núñez is going to pick up 12 red cards this season, if we're going on pro rata tallies. The touch is loose at times, but the pace, power, height and to add to that, the leap, are all impressive. He's clearly a talented finisher, too, but it can take a younger striker a while to relax into his game, especially after a big-money move.)
Yes, it's the seven-year thing again for Klopp, but Liverpool have had some lower points: the 4-1 away at Spurs that saw people noting that, at that point in 2017, he was no better statistically, two years in, than Brendan Rodgers (a comparison I mocked for the varying contexts, and after which point, Klopp's win percentage rocketed); the six home defeats on the spin in 2021, a few months after the same defence as against Napoli conceded seven at Aston Villa; the 11-point deficit to Man City in January 2022 after a terribly flat display at Leicester, narrowed to just a point. The way the 2020/21 season was turned around with essentially two rookie second-tier centre-backs with zero top-level experience, and one of them aged 19/20, was remarkable.
Klopp lost a couple of key men in their prime early on at Liverpool, most notably Philippe Coutinho. But that proved a blessing, allowing for two more important players to arrive. Once the team settled, it didn't need churn.  
But is there a stagnation, a lack of evolution at Liverpool? 
Part of this is Covid-related, when the club slowed transfer plans in the face of £100m losses and ongoing financial uncertainty (would the next TV deal have to be paid back, too? would crowds be banned again?), and halted most contract renegotiations. 
However, it does feel like Real Madrid – trying to think smarter these days – have moved out a few 30-somethings to refresh their squad, and one of the downsides of success is that you may feel like everyone is still doing a job, but they may age-out together; perhaps all at once. Yet, bar so many injuries, some of Liverpool's older players could – should – now largely be squad players. At the very least, James Milner was not meant to be starting almost every game, and playing as an attacking midfielder and a right-back, aged 36.
Despite some reports, there was apparently money for a midfielder this summer, from what I've heard, but no one could agree on who it should be, once €100m Aurélien Tchouaméni chose Real Madrid, as one of the few remaining clubs above Liverpool in the food chain. Indeed, Liverpool had €100m for Tchouaméni, and could still have afforded Núñez. 
(My choice, as someone who admittedly hasn't seen 99% of the players across Europe, was Ibrahim Sangaré, of PSV. Someone with technique, pace, power, and a few goals in them – and preferably, height too, for both boxes. He's been linked to the Reds again, but I just felt a bit more physicality was required, to help out the little technical magicians. There may be others like him. As Henderson's physical powers fade, a big, strong midfielder who can also play good football seemed a vital option, to me at least.)
You can always argue about whether it's best to wait for the elite, must-have, transformative player (Virgil van Dijk) or accept a compromise (Mo Salah). Both worked out to insanely good degrees.
The counterfactuals are that Liverpool imploded before van Dijk could be signed and he chose to go elsewhere (or Southampton still wouldn't sell him); or the compromises, rather than be like Salah, are more like Ozan Kabak.
Oliver Kay made a really good point in an excellent article on The Athletic:
"If this team doesn't have a few things, like pressing and pace, it loses 50 per cent of its potential. The teams I've coached have always fought to win, or they've won when they've had anger and character."

"We're suffering from a clear drop in determination. We're doing too many things carelessly. We're soft in just about every aspect: pressing, marking, speed. Please don't think it's just a case of getting a few injured players back. We need to rediscover our game and our mentality."

"We're soft and floppy and only become more decisive when we go behind. We're full of fear. At the moment, we're loose cannons. Only a few players are trying to move in tandem with the others. And the chaos overwhelms them."
His twist was that he was quoting not Jürgen Klopp, but Arrigo Sacchi, the late-'80s boss of one of histories greatest sides, his AC Milan.
Keep Them All?
On an individual level you can make a case to keep all the players that Klopp has. Without doubt. 
But even Bill Shankly famously struggled to break up his prized team when it got too old (as did Kenny Dalglish, in the wake of Hillsborough), with only Bob Paisley ruthless enough to cut players before anyone realised they needed cutting – which was also a talent of Arsène Wenger at times, and Alex Ferguson at times. 
Both of those latter managers admitted also let players go a bit too early (Jaap Stam for Ferguson, Patrick Vieira for Wenger), but is that worse than keeping them for too long?  
Shankly took his time, but he got there in the end, to form a second great team, distinct from the first. 
It should not be the end of Klopp's tenure if he needs time to rebuild. Instead, you say: go ahead, rebuild. 
Equally, we have to trust him, trust the recruitment process, and believe that, actually, the owners were prepared to back him, it was just a disagreement on which players to sign. We should also realise that a lot (if not quite all) of what Klopp needs he already has – he just needs the leeway to try new things (and to have a fitter squad to choose from).
Several of the younger players are part of the solution.  
Youth, oh Youth
It can take 2-3 years for a young player to become a regular; and at that, a regular who doesn't just do a very good job, but can become the best version of himself. 
Klopp trusted the 18-year-old Elliott at the start of last season, but otherwise, no kids have become regulars during his seven years, aside from Trent Alexander-Arnold in the pre-glory days of 2017. Curtis Jones has done very well too, but not quite pulled up any trees, in part due to injuries in the last year or so. 
There have been a lot of League Cup games for the kids, but that's been the case for most managers at most clubs. Clubs like Man City and Chelsea were too regularly competitive to throw in kids; then, when it went wrong at Chelsea, Frank Lampard had a period to throw in the kids – and it's happened at United too, in a way that's harder if you're top of the league and you can't afford to drop a single point.
I also don't think Liverpool have produced enough outstanding kids from the Academy in a long time, albeit the current crop looks very impressive. Too often it seems to be full of decent, likeable, hard-working home-grown midfielders who are 5'8", with nice but not world-class technical skills, and who are generally unremarkable in any single way. They all appear set for careers in the second tier or up in Scotland. 
(I loved Ben Woodburn, but he wasn't tall enough, strong enough, fast enough, and not technically elite enough. A good player who I wanted to succeed, but lacked that little extra in each department. I also loved Mike Marsh in the same way: he was the best in training in the early '90s, but training pitches are smaller, and more about touch. Big pitches are different.)
Some exciting young strikers have fallen, year after year, to bad knee injuries, which hasn't helped. 
Caoimhin Kelleher is certainly outstanding, but behind the best keeper in the world.
The club has traded several good "kids" for c.£20m (Rhian Brewster, Dominic Solanke, Neco Williams, Jordon Ibe, Harry Wilson, et al), which has helped buy other, often better players; but a few more who can take the next step from the youth teams would be nice. 
Buying in Elliott and Carvalho for less than half what the Reds got for Ibe is exceptional business. (I do feel like the Reds should send Fulham an additional solidarity payment, or give them 25% off the next Liverpool player they buy. A move for Celtic's Matt O'Riley seems essentially, just to reunite three players from the same Fulham U21 side.) 
It also reduces the pressure on the Academy, even if the latter should have its own options.
It feels to me that Kaide Gordon, Ben Doak and Stefan Bajcetic can all make the grade (as can one or two others), but it also needs luck, and humility on the part of the kids, who must stay grounded in a world where there are more ways to have smoke blown up your arse; as well as the global online culture to have your confidence destroyed. 
(Incidentally, all of this trio were bought from other clubs in the past 18 months.) 
Brewster was right on track at 18, along with his England U17 World Cup-winning peers, but was then very seriously injured. The others were playing regular football while he was laid up. It felt like Brewster, once he finally recovered and was back on track aged 20 with a successful spell at Swansea (10 goals in 20 games), was then too impatient for game-time as soon as he got back to Liverpool, and, well … 
Yet at 22, had things gone differently, he could be in the team right now. Alas, we'll never know, as he's not the player he could have been, due to lost time, and lack of top-level experience. You can't blame Klopp for not backing Brewster, as he did. Nor for other kids who wanted out too quickly, like Rafael Camacho, who jumped ship and is now on loan at the mighty, er, Aris Thessaloniki. Ki-Jana Hoever was interesting at 16, but recently chided at Wolves for not being dedicated enough. He had the talent, but not the hunger.
Equally, as noted, it's harder for managers to integrate kids these days, as kids make mistakes and need time, and you get increasingly less leeway to ride out their growing pains (in addition to those who stop trying as hard when they think they've 'made it'). A young defender on their debut can make one slight error and be written off after ten minutes, to howls of derision on social media – that they really shouldn't be reading (but will be, and will feel destroyed, as reading anything on social media will mess with your head before too long).
Whether or not they should be starting regularly, players like Milner and Henderson set the tone at the club. They bridge the gap between what the coaches can do themselves on a training ground (not much beyond instruct), and what the other players lack in leadership and comportment. 
I still think Roberto Firmino and Joël Matip have lots to offer. But both probably need moving to the bench, when everyone is fit, in order to stop the team, as a whole, getting too old – even if they're not ageing badly.
Firmino, while maybe not as all-action as before, has been in good form of late, and since 2020 Matip has been better than ever; but neither has fresh legs. The team needs some fresh legs, even if the older guys are kept.
Virgil van Dijk was superb last season after a slow start (following a year out), but he may be starting to slow down a bit, and need some pace and unbridled enthusiasm and desire alongside him; while the same seems true of Salah. Konaté's extra recovery pace seemed to suit the high line last season, which is why I was confused that he didn't start the final 'first team' preseason game and Matip did. Maybe Núñez's pace and movement will free up space for Salah. 
In addition to the ageing issue, Klopp also bought Thiago, to add to the older pros. 
Again, it's a shrewd move in isolation, but the team remains too old; partly due to injuries. Even so, right now, you'd play Thiago until he drops, given his intelligence. Thiago is a transformative player. If he only plays 25 games, you make the most of him.
As I noted the other day, Andy Robertson and Fabinho are nearly 29, and playing right now as if they're 37. Either they need a break, or they're burning out. 
I'm attached to all of these players, but the club is caught between the two stools of half-a-dozen superb 16-19-year-olds (and Fabio Carvalho, who just turned 20) and a raft of 30-somethings followed by a few more closing in on 30. 
Calvin Ramsay has been a big miss. Growing pains may be good in some ways in that, even without playing his body is physically developing. (He'll still be growing, and filling out, even if not playing.) He played all his Scottish Premiership football aged 17-18, then turned 19 after joining Liverpool. Like Elliott and Carvalho, he's used to a physically demanding level of football across at least one full season. 
While not yet integrated into team shape, and on the same wavelength, to have a 19-year-old right-back prepared to both run forwards and backwards could be the shock Alexander-Arnold needs (if he's felt as self-important as his body language seems to suggest), or the break, if the no.66 is actually just frazzled and fatigued, as could also be the case. 
I've noted before that, as I see it, Liverpool's full-backs do full-pitch running. The whole damn wing. The midfield – a position where he would only ever convert to (or back to) if a better right-back to come along – as it tends to be set up, at least involves lots of shorter sprints, literally from box to box without ever needing to go into either. 
An attacking full-back has to get to one byline to cross, if possible (or at least to play in triangles), and get back to his own byline to challenge at the corner flag. Alexander-Arnold has lost the desire (or ability) to chase back often enough, as well as grabbing the shoulders or shirt of any attacker who has the temerity to run past him. It's lazy, but it may be down to a mix of exhaustion and not enough match fitness (so that when unfit players play they reach exhaustion points quicker, then play again before their muscles and their mind have recovered). 
Ramsey, close to 6ft and still growing and filling out, looks like he could be a powerful winger-type full-back, and certainly seems to have more tricks to go by players than Alexander-Arnold, with the latter more of a sublime crosser who beats the man with his delivery (albeit Ramsay can cross well, too). Ramsay may not be any better than his English counterpart at defending, but all he has to do right now is at least try to defend. 
Ramsay can solve the temporary right-back problem, until Alexander-Arnold rediscovers his mojo or redefines his role in the team. 
The main issue Ramsay would be coming into a side when he's not had matches to get sharp, and getting up to speed in a faster league. But at the bare minimum, he can provide rest periods for TAA, and hopefully, much more as the season unfolds.
The Awkward Mid-Section
The mid-section of the squad has been improved by the signings of Luis Díaz (a big hit) and Darwin Núñez (too early to tell, but full of pace and potential), following the arrival of Konaté. But Trent Alexander-Arnold, as noted, is currently going backwards, with a quite shocking lack of effort during periods of games, if not necessarily overall. 
Diogo Jota, the club's best goalscorer per-90 minutes (excluding the penalties that take Salah ahead) has had a stop-start career at Liverpool. He's slow to look sharp after injury, but can then score in big bursts.
I'm not sure Jota is injury-prone, as the knee injury in his first season was a collision, like Konaté's this summer (and van Dijk's in 2020), and Portugal caused his hamstring issue this summer. But he could do with being fit more often.
Núñez's first touch can be a worry, but you feel he can improve on that as part of an elite training regimen at the AXA, as he has everything else. He'll never be Thierry Henry in terms of skill but has a lot of his other qualities.
Kostas Tsimikas, 26, has a better cross than Robertson, and a bit more skill, but not the Scot's insane energy. Then again, Robertson doesn't even have Robertson's energy right now. Also 26, Arthur Melo hasn't played in months, and has to adjust to the speed of the game here. He looked like another small, slow player in Naples, but will need time.
You could maybe put any of the 21-to-26-year-olds into the team right now at the expense of the bigger names, but Jota and Arthur are not match-fit, Konaté and Jones are injured, and Núñez is adapting having denied himself almost three and half Premier League games due to a silly red card, which is over half of the season so far. 
(While Alexander-Arnold seems to need removing from the team, if anything, until he finds his old desire; or a midfield rejuvenation.)
Yet maybe some of these players have to come in, whenever possible, to oust the established older players; or at least to get them to up their games, in the final stages of their careers. 
At least Díaz is going from strength-to-strength, with the kind of energy that Mané would surely have struggled to maintain aged 30. 
Then there's Joe Gomez, 25 – a brilliant defender up to 2020, but who has had at least three serious knee injuries. His insane pace appears to be almost back, but not quite back. He had a truly terrible 15 minutes in Naples, and was part of the same back four that conceded seven at Villa. But he was also part of the same back four that barely conceded a goal for months on end, on various occasions. 
Gomez needs time and patience. He's not even at a peak centre-back's age yet, albeit he's just entering the start of that zone (26-31). Like van Dijk, he's been a bit all at sea, but the midfield has left the defence exposed. He needs patience, even if it will be hard for him to get back to the levels of 2019/20.
Final Section – For Paying Subscribers Only
Before the final section that will be for subscribers only (after 4,000 words for free), a reminder that TTT is moving fully to Substack this month. This article will appear both on the WordPress site that is causing so many issues (before we turn the lights out later in September), and on Substack, which will be a more technically reliable home for us.
See this article for some details about the move. It explains most things, but we'll also go into more detail soon in how to navigate Substack, and so on, very soon.
Existing paying TTT subscribers should all now have access to behind the Substack paywall, but let us know if not. (It's based on your email address, and if you used an old email address to subscribe you might not have seen it.)
Anyone who doesn't have an active subscription can sign up to be a paid subscriber on Substack, or just sign up for the free newsletter instead.
[ttt-subscribe-article]