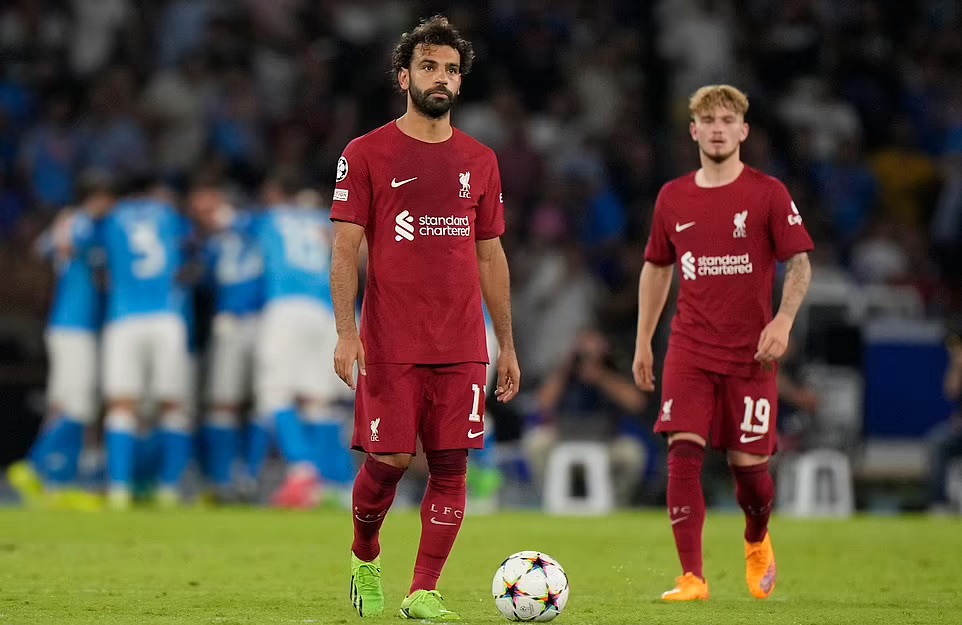 Paul Tomkins, Andrew Beasley, Daniel Rhodes, Chris Rowland and other TTT regulars will give their thoughts on this dreadful match for 24 hours after the game, and there's post-match statistics and videos too.
Post-Match Thoughts
Paul Tomkins
Big. Strong. Fast. Committed. All of the things Napoli were and Liverpool were not.
It felt like a replay of the performance at Old Trafford, with the slowing (but still clever) Roberto Firmino – so good of late on the smaller Anfield pitch, as now basically an expert in smaller spaces – unable to push back a defence on a big pitch (with Mo Salah no longer flying at breakneck speed outside him on the wing), and James Milner the last player you want as the supporting midfielder; with the lively (but not lightning and not physically imposing) teenager Harvey Elliott unable to go beyond the strikers, and a mid-paced midfielder sitting in front of what appears to be a struggling defence. (Plus, neither full-back going on the overlap.)
The lack of pressure on the ball in midfield was alarming, and such is the obviousness of Liverpool's high line that if midfielders don't press the ball, the pass will go, and the later runners will get in behind to break the offside trap, with no one in the midfield quick enough to offer a recovery run.
I said it before the season started, but I found it baffling that Ibrahima Konaté, so fast and so vital to the second half of last season with his recovery pace on the high line, was left out in favour of the excellent but ageing Joel Matip on the eve of the campaign (both then got injured, albeit Konaté's was from an opponent kicking him).
Why was Klopp going for such an old team when it's never been his way? If intensity is the identity, why so many old pros?
It's alarming to see Virgil van Dijk look so sluggish; he got back to his best last season, but this season he's been all over the place. Joe Gomez, lucky to still have a functioning knee after so many operations, was having a good game (and a good recent run) until he lost his composure in a chastening 15 minutes with three bad mistakes. I love his attitude, and was absolutely elite before his last injury (and he's still only 25), but this was a bad night.
Liverpool look undercooked, under-strength, under-par and being both undertaken and overtaken.
Injuries have made it tougher, as has the shortened preseason. The challenges that I outlined in this piece this week still stand, and this game was obviously one of the warnings in a crazily tough schedule; albeit while I thought it might be a difficult night, I didn't expect Liverpool to border on abject. But for Alisson it could have been six or seven, although at least this was Napoli and not Aston Villa or Stoke City.
The team is just so horribly unbalanced. It partly feels like Bill Shankly's Liverpool against Watford in 1970 and the 1991 team that Kenny Dalglish bequeathed, in terms of passing a point where the old guard can be relied upon, and some serious surgery required. In this day and age, it can often come from the squad, and there are excellent younger/youngish players already at the club. Almost none of the long-established players have done anything this season, bar a cameo here and there. If they're mentally exhausted, then rest them. Why is Jürgen Klopp retreating to the supposed safety of experience at the expensive of energy?
[EDIT: and just to add, having seen Klopp's brutally honest press conference, it's hard to argue with his stated need for some reinvention. To me, it's not so much this defeat, as the nature of large portions of most games this season, even if there were good periods in most games, too, before this match. I'm just someone who can point things out, without having the talent to actually fix anything.]
For all the extenuating circumstances, it's hard to fathom why only two players looked physically ready for this match; one, Luis Díaz, who scored one and could have had another, and the other, Thiago, who has barely trained. Everyone else was running in treacle.
Elliott is young and learning; still 19, and a big part of the future (but this felt like a game too far in this sequence, after his excellent displays of late). As is 25-year-old Díaz. Young Fabio Carvalho has been a big bright spark. These represent the future (as should Darwin Núñez, if he settles in).
Yet of the older players, only Thiago looked like he had any energy tonight, and Andy Robertson is reprising his dreadful start to last season (which he turned around, and which lots of players need to do now). Trent Alexander-Arnold is neither defending well nor attacking well, and is basically now just hitting a mixture of long passes.
Too many players look like they can't be bothered to chase the ball, do the ugly stuff. Again, maybe more fitness work is needed, yet how could Thiago – of all players – look so sharp, having barely trained?
He looked like he wanted to make things happen, and fought for every ball, and was focused on every pass. Yes, he was on as a sub when the game had slowed, but almost everyone else looked like they were dosed up on Mogadon. Why can't this team run anymore?
If you're gonna release an interesting but also self-promoting book called "Intensity", then don't follow it up with "Comatose". A dose of humility is required at the AXA, it seems. Also, if you have a mural, you're still obliged to put in the effort. Release your books when you retire (when they can't come back to bite you in the arse), and don't buy into your own hype. Anything that seems vaguely self-congratulatory sets you up for a fall, even if you're damn talented. This team is often best in adversity, but can also struggle after big wins, as a sign of potential complacency.
Again, I think the Reds can turn it around, as outlined in my Substack piece – the players are there (when fit), the manager and coaching staff are world-class – but it's hard to see the sharpness returning before the World Cup, if there's just the game/rest-day/game cycle and one international break thrown in. And if the team remains full of old guys and complacent regulars, it won't change soon.
Liverpool get back from Italy tomorrow, and then it's Wolves in almost no time at all. I hate the over-use of "must-win", but it's certainly a game where a performance is required, and then some.
There's plenty to build with, but also, plenty to rebalance, as I will get onto below.
The rest of my thoughts and those of the elite TTT crew follow below for subscribers only.  See details below for how to sign up for £5 a month.
[ttt-subscribe-article]