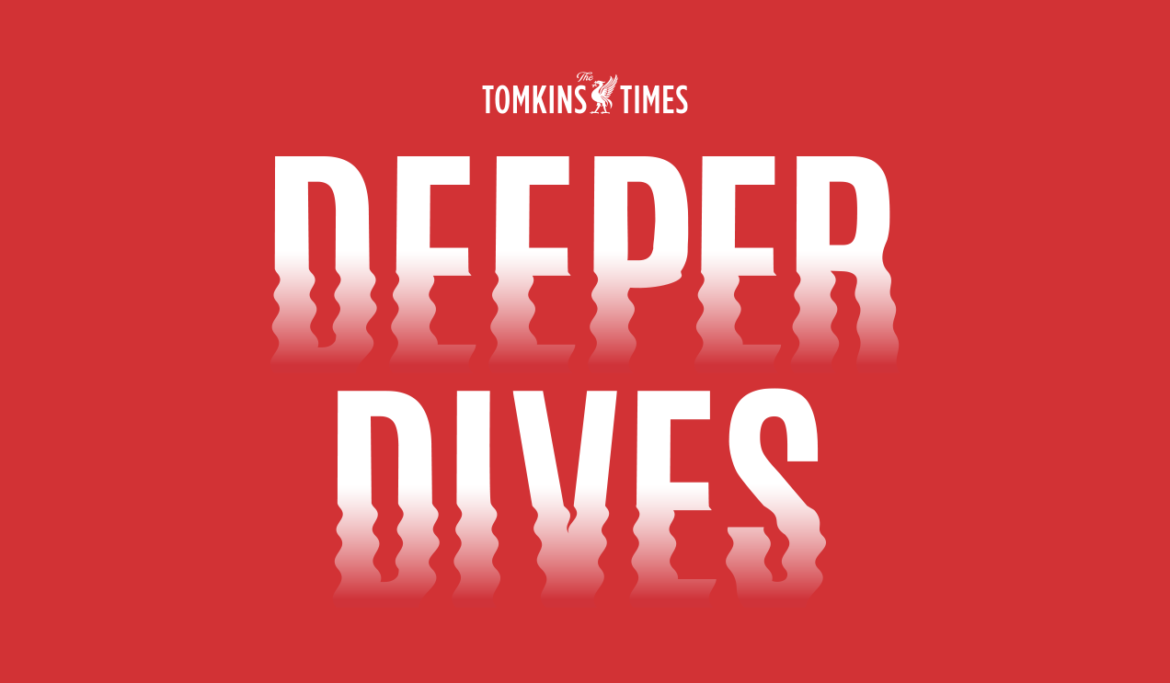 One of the chapters in my new book (which looked at the difficulties of two seasons ago and the resurgence last season) focused on the 'Black Swan' events of 2020/21, and how diagnosing an issue when there are so many variables at play is nigh-on impossible.
Sometimes a whole bunch of things go against you, and each player's failings may be, in part, as a result of another's, with the whole system failing because it's not what it was designed to be.
In 2020/21, there was an emotional, dragged-out season (of great success) followed by a truncated preseason, followed by high-line issues (7-2 at Villa Park), followed by an injury crisis involving ten or more players. Big decisions, like conceding penalties and being done by tight VAR calls, were more prevalent in going against Liverpool in 2020/21 than 2021/22, and already Liverpool have conceded a penalty, had a red card, and seen a goal that would have been disallowed last season given, while opponents have somehow escaped their own red cards, and Liverpool are yet to win a penalty. In 2020/21, Liverpool lacked a lot of their taller players, and were bullied, as the results showed to such a dramatic degree that it cannot be coincidental.
The problem with Liverpool's team against Man United was that it was too old (in parts), too short, too slow, too one-dimensional, and in some cases, too rusty.
There was not on the bench beyond one not-quite-fit world-class holding midfielder and one incredibly promising 19-year-old; good squad players, but not game-changers.
It feels like the kind of issues that, say, the absent 10 players might fix. Or even half the absent 10 players.
Even with the injury crisis not fully over in 2020/21, the Reds got eight wins and two draws in the final ten games, as Klopp turned to the towering Nat Phillips and Rhys Williams, to somehow shore up a defence – even if needed players like Thiago to be fit and sharp again, after months out, to offer enough quality.
Again, it showed me how important height was, with set-pieces so vital at both ends. Liverpool went five months without scoring one with their giants missing, and conceded five in that time, to cost point after point. Just shoving Phillips and Williams in led to six set-piece goals scored for the Reds in the final four games, to land Champions League football.
To address why Liverpool couldn't beat Man United, we have to look at how Man United were different to usual, and also, how the Reds were only essentially able to bring out paper, without scissors or stones.
Liverpool could not match United's energy, but that's in part because United were at home, fighting for their lives, and against a Liverpool side lacking so many vital dimensions. (If Liveprool looked one-dimensional, it's because the other dimensions were unavailable. Take the wings off a plane and suddenly it looks more like a toboggan.)
I was warning all week that United would fight back; and I've been saying for a year – indeed, even before he arrived (having written about "the toxic rot of the ageing superstar" a few years ago) – that Ronaldo was plonked into a fast, improving side, and killed their mojo. Ronaldo is just too much of a sideshow.
He was not part of a promising preseason this year, then he returned and they got beat 4-0 at Brentford. It's all about him, always. Ronaldo and Harry Maguire being absent (as well as another egotist, Paul Pogba, back in Italy) allowed Man United to return to the dangerous, if not amazing side that they had when top of the league after three games last season (at which point Ronaldo arrived), on the back of a promising 2nd-placed finish when never really in a title race. Good players up to when Ronaldo arrived are good again.
Freed of Ronaldo's overbearing presence, they played like a team, as I always thought possible. But Liverpool were not able to field an XI to trouble them, in a way that the usual Liverpool side would have. You have to credit Erik ten Hag for United's response, but it wasn't a tactical masterclass given that Jürgen Klopp could not field an optimal, balanced Liverpool side. He could only really field a side that had severe limitations, like a throwing star with its edges filed down.
I found it funny (as did Mo Salah) that United's tiny defenders set out to leave a foot, shoulder or an elbow in, to show how tough they are. They're spiky alright, and eager, and that will help compensate for their incredible tininess; they have a certain shithousery about them that will help. But only to a certain degree.
Do that to most teams in the Premier League (who are not as zen as Liverpool's attackers like Salah and Firmino) and they'll know about it. Liverpool didn't have the kind of strikers who will trouble them: big guys, fast guys, tall guys out wide, as well as power and pace from midfield.
A lot of other teams have those players. Year on year, Liverpool are the nicest team in the league; fewest yellows, no real hotheads until now.
Brentford showed that the same tiny defenders will wilt under physical pressure (and Brentford weren't actually that tall or physical, with their usual giant centre-backs not in the team; they're the 2nd-smallest team in the top division so far this season, but they had one good aerial target, Ivan Toney, who destroyed Lisandro Martinez.)
People talk about pressing in the Premier League overtaking longer-ball football, but with 6'4″ Alexander Isak joining Newcastle (even if he's not a traditional target man), it's just one more giant forward arriving in 2022/23, with Darwin Núñez a mere average 6'2″ compared to Erling Haaland (6'4″), Gianluca Scamacca (6'5″), and Newcastle's Chris Wood and Isak; with umpteen other teams having 6'3″ strikers, as I've listed before.
And the promoted players of Kieffer Moore (6'5″), Forest have Sam Surridge (6'3″) and Fulham have the aerially dangerous Aleksandar Mitrović (6'2″, but also extra-powerful), who already has two headed goals by going up against smaller defenders. I'd like to see Lisandro Martínez go up against some of these guys a few times before people think that, just because he could handle Bobby Firmino dropping deep, he's got the Premier League sussed.
I think I made it that only five teams don't have a giant centre-forward who either starts or comes off the bench. (Chelsea might add Pierre-Emerick Aubameyang, but he's often a tall wide attacker.)
Here's an excerpt from a recent piece, to just highlight the importance of size once more, before going onto some of Liverpool's other issues:
"Spurs have gone bigger across the whole team, with every single signing in 2022 over 6ft: this summer, a 6'1" winger, a 6'1" forward, a 6'0" midfielder and a 6'7" goalkeeper (with centre-back Clément Lenglet, 6'2″, also joining on loan); while Antonio Conte's winter signings were a 6'1" winger and a 6'2" midfielder. They were already a team of six-footers.

It's almost as if he understands English football.

(Harry Winks, 5'10", is up for sale. Tanguy Ndombele, under 6ft, is up for sale. Sergio Reguilón, 5'10", is up for sale. Giovani Lo Celso, 5'10, is up for sale.)

Newcastle's signings so far under Eddie Howe include a 6'7″ centre-back, a 6'5″ centre-back and a 6'3″ centre-forward, and even the midfield playmaker Bruno Guimarães is 6ft. The new left-back is 6ft, and the new goalkeeper is 6'3″. They are interested in Chelsea striker Armando Broja, 6'3″. They are surely going to score a ton of set-piece goals this coming season, with one smaller buy (Kieran Trippier) a set-piece delivery expert."
This was before 6'4″ Isak arrived on Tyneside, and indeed, before the season even started. There are strikers who are 6'6″ and 6'7″ linked with moves to the Premier League right now.
Funnily enough, Liverpool scored a set-piece goal at Old Trafford, but as noted, United have a tiny defence. (The alternative is a giant lumbering oaf, so it's swings and roundabouts.) Still, while they press better and have more pace, they will be absolutely battered in the air at times this season, as seen at Brentford.
Núñez would surely have given them far more trouble, both in the air and with darts in behind, and with his relentless running and his cojones.
But he was suspended, for reacting badly to constant provocation, and hopefully he's using the time to build up determination to atone, rather than to lose his head again. Channel that aggression, and no defender will easily stop him. (Fall prey to the dark arts shown by Bruno Fernandes and Martinez – who appeared to pinch James Milner's face amongst other sly moves – and he'd have got sent off at Old Trafford too.)
The training time will help Núñez, but Firmino and Salah were never going to trouble the tiny United left-side (5'9″ centre-back, 5'7″ left back, both very tenacious and talented but there to be bullied by bigger players). For all I talk about height, the main need is in the heart of the pitch: keeper (obviously), both centre-backs, at least one midfielder (preferably the holder unless elite like Ngolo Kanté), and then maybe one striker, if possible (but this is less essential).
Five really tall players gives you enough to cope at both ends on set-pieces, while Spurs have no-one about 6'2″, but also, no one below 6'0″; as such, it's a spread of height.
Both Martinez and Malacia have pace, and I think both have good qualities. But Núñez would have tested them more. He'd have pulled them out of shape due to his runs in behind, in a way that Firmino couldn't. He would have leapt above Martinez like Toney did.
Maybe it's a sign of United's impending problems that Mo Salah scored a header from a corner, albeit a second-phase. Not only could Núñez have had a field day, but one of Matip or Konaté could have too (Fabinho as well, who had a header from a corner saved, even from an innocuous floaty corner), and as I've noted, the more tall players Liveprool have, the more often van Dijk gets free. (And with several tall players in the team, Roberto Firmino scores a surprising number of set-piece headers; in a smaller Liverpool side, he rarely gets on the end of things.)
Crucially, Núñez and Konaté offer elite pace, height and strength. They are a big dose of Liverpool's "physicality". (As is Matip, the tallest player, who is also the best at breaking the lines and taking the ball into midfield, and sometimes, the best at taking the ball into the final third!)
You can have elite small players (Thiago, Mo Salah), but you need heft, too. You need a balance. Liverpool don't even have all their elite small players fit, either.
Newcastle could test Man City at the weekend because they had giants and therefore physicality, but also, the elite speed of Allan Saint-Maximin. Saint-Maximin with the same skill level but half the pace would trouble no one. As it stood, he could make the pitch bigger, by terrifying the City defence. Without that pace, City had far less to worry about.
Newcastle just don't look like a team who can be bullied anymore, and height plays a role. It's hard to quantify the intimidation factor of playing against bigger, stronger opponents, even if you're the better technicians. Again, I fixate on height, as it's something I can measure; but even allowing for some confirmation bias on my part, it still seems to play a bigger role than people think.
Newcastle are now the 2nd-tallest team in the league (all averages based on the three games so far) after their spending spree of 2022, having been rooted towards the bottom until the end of 2021. Eddie Howe is seen as a modern coach, yet he's buying bloody big bastards, as is Conte at Spurs. Isak will increase the average height. I don't think any team has signed more players between 6'3"-6'7" in a calendar year than Newcastle. They haven't gone for superstars or big names, but big bastards.
By contrast, Chelsea have gone from the 2nd-tallest team in 2021/22 to 16th in 2022/23. They've been done on set-pieces, and lack aerial authority in several areas.
Spurs have risen to rank as the tallest team (virtually every player over 6ft, as noted, including every single senior player signed in 2022), with a new set-piece coach and are winning games and points via corners. They press, they're intense, but their bigness matters.
Height is not everything, as I always say. But it's almost always very important – certainly to a team, if not to every individual within it. Virtually every game I've watched this season has set-piece goals as a big factor.
Leeds ranked 14th for height last season. They were a small, pressing team. This season they rank 2nd for height, and have set-piece goals to show for it, along with points. "Set pieces were practised daily and some sessions devoted to them entirely," the Athletic noted this week, about Jesse Marsch's approach. They still press, but if you can press and win corners with big players, you'll mount pressure on the opposition.
Fulham and Bournemouth, promoted sides, rank 4th and 5th on height (ranking higher than all three relegated sides), with Nottingham Forest 10th. (Bournemouth perhaps lack quality with their height, albeit we'll see at the weekend.)
All three sides are around the height of Watford and Burnley (ranking 7th and 8th last season), who were relegated, but Norwich were one of the smallest teams in the league. So the promoted teams are taller than the relegated teams. All have big, bustling target-men.
Arsenal are 6th on height rank (aided by a young giant centre-back, and the too-small-for-my-liking-at-centre-back Ben White moving to the more sensible position of full-back), with Man City up from 20th to 10th. Crucially, Arsenal have more height in the important areas, especially ahead of a dinky, overly busy keeper (who is talented but needs to calm down and compose himself a bit more).
Liverpool's average height against United on Monday – 181.6cm – would rank 17th this season against the average heights of the rest of the league; United, while shedding a lumbering giant, were still taller, at 183.1cm, and now rank 7th on height, having ranked top (but which didn't help much due to their tall players also being so slow and ponderous, and at times, lazy). Liverpool's XI at United was smaller than 32 of the lineups Klopp fielded in the league last season (the tallest being 184.6cm, and the average being 182.8cm, ranking 9th overall).
While a fraction taller than the height-shorn issues of 2020/21, look at the points per game from that difficult season when the team were below 181cm on average:
To say that it was tall quality players absent is only part of the issue, considering that the addition of two giant rookie centre-backs helped turn things around. With the rest of the 25 selections, Liverpool had title-winning form, no matter if it was van Dijk or Rhys Williams. The 13 smallest selections was clear relegation form, at less than a point per game, and involved a mixture of quality of opponents, home and away. At an empty Anfield, Liverpool got bullied by Burnley, Fulham and Brighton.
Again, it's also not just about height and aerials, but the heft (and longer sprinting power) that can come with height, providing the tall players are athletes and not leaden lumps of meat.
(Albeit I still think United, while still a fairly tall side even without Maguire, Pogba and Ronaldo, as well as Matic, have a dangerously short defence.)
Other Absent Attributes