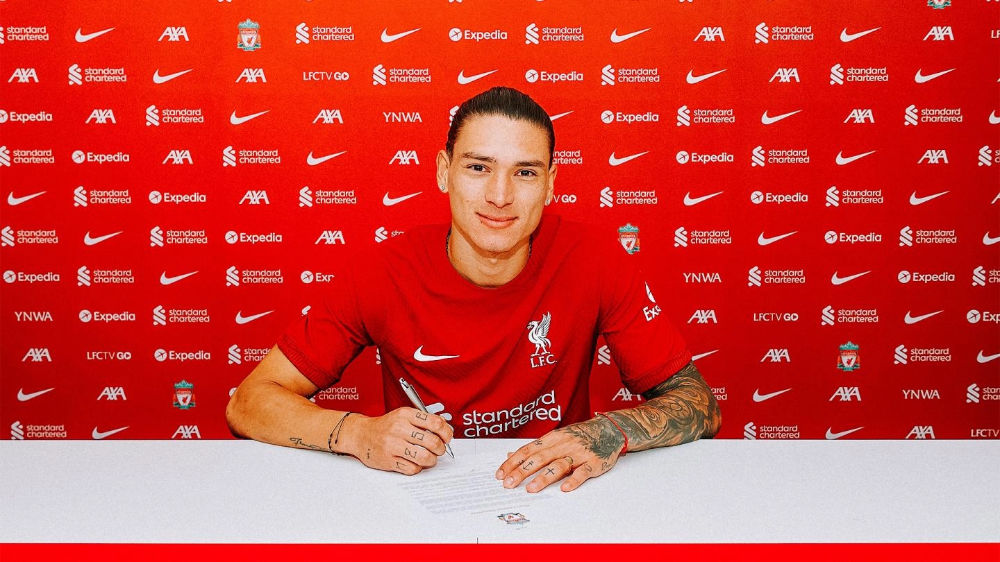 A couple of years ago I was wondering how Manchester City could rebuild with so many ageing players, but in the end, with the help of a lot of money, they managed it with relatively few signings.
Part of the new economy of football, with the aid of smoke and mirrors, is that you can pay a £52m transfer fee and then have to pay a stomach-turning £40m more to a player's agents, family and representatives (that you conveniently overlook when boasting about bargains), and pay the ongoing fortune of £375,000 a week. 
By contrast, Darwin Núñez – set to join Liverpool today – is much cheaper, at far less overall cost (the agents' fees will surely be normal), and a third of the wages. Erling Haaland will cost City almost £20m a year, to Núñez's £7m or so. 
(And as Andrew Beasley noted on our social media account using the inflation-tracking Transfer Price Index I co-created with Graeme Riley, when Klopp said at the time Paul Pogba joined United that he'd never spend €100m on a player, it was a time before a 66% price hike in Premier League transfer fees. Paul Pogba's fee now equates to almost £150m, and in addition to massive wages, has just walked away for free. As such, £64m rising to £85m is not astronomical. Indeed, in the Premier League era, Andy Carroll remains the Reds' most expensive signing in 2022 money, at £135.5m.)
Haaland will apparently go in as City's joint-top earner with Kevin de Bruyne (who might be miffed to be earning no more than a newcomer), whereas Liverpool continue to find hungrier players on relatively humble wages, and bring them in only midway up the sustainable wage structure. The same was true of Virgil van Dijk, whose 2022-adjusted fee is also almost £85m, and who only got a pay-rise to the top bracket once proven (while Alisson's fee works out at £90.1m, due to arriving the next season, in a slightly more depressed market that made him relatively more expensive than the Dutchman). 
It's been noted a few times that Darwin Núñez opted to buy a cheaper phone on a shopping expedition because 'it did what he needed' (phone and message people), eschewing the fancy and unnecessary. Haaland gave out Rolexes to his Dortmund teammates. A sensational talent, I wonder if Haaland is already a bit lost into the world of the hyped-up superstar. But that's City's problem (or their golden goose, if he fulfils his immense promise and isn't too egocentric).
In the space of 12 months, Liverpool have already found several ways to lower the age of the team and the squad, without losing any quality. Harvey Elliott, then 18, returned from loan last summer; Ibrahima Konaté arrived, aged 22; Luis Díaz was successfully dropped right into a very settled side midseason, aged 25; Fábio Carvalho arrived this summer, aged 19; and now there's Darwin Núñez, about to turn 23, after exploding with improvements year on year. 
(Beyond that, there's Ben Doak, 16, a future star having already played for Celtic's first team; and also from Scotland, Calvin Ramsey, 18, who looks set to join from Aberdeen.)
With these players, Liverpool are also adding new dimensions; whilst at the same time being able to keep a core of 30/31-year-old leaders in the team. 
Indeed, few players can feel as unlucky to lose their place as Joël Matip, but Konaté was that good, and crucially, younger, but Matip will obviously remain an important option. At the moment, van Dijk, Thiago and Salah remain elite in their positions; as does Matip, but Konaté gives an opportunity to add fresher, younger and faster legs. 
For years now I've believed that the best squad players, aside from hugely promising youngsters, are excellent first-team players who are gradually usurped by new buys – and who understand the team, and are fighting to get back in – rather than filling the squad with mediocre or less-remarkable players who never get a chance to settle in, and who do not know have years of understanding team patterns. (Even if you may have to add a player or two like that, such as Kostas Tsimikas: a cheap full-back who added little in a forgettable first season, and has never looked likely to displace Andy Robertson, aside from a period where the Scotland captain had a terrible dip in form last autumn/winter, but who became a very useful player in his second season, once fully settled.)
As it stood in the run-in, a couple of the hitherto key 30/31-year-olds were unable to get into the XI (preseason could change that, of course), and another, Sadio Mané, looks set to join Gini Wijnaldum from last year in choosing to leave for mega-wages (and in Wijnaldum's case, the gold-plated PSG bench). 
In this in-depth piece for subscribers, I'll be looking at what Núñez can add, including certain attributes that could make Liverpool stronger than before; as well as how other new additions might change the team in the time of relatively gentle transition, and a potential transfer target I find interesting. 
The majority of this article is for subscribers only. See details below on how to sign up for £5 a month.
[ttt-subscribe-article]