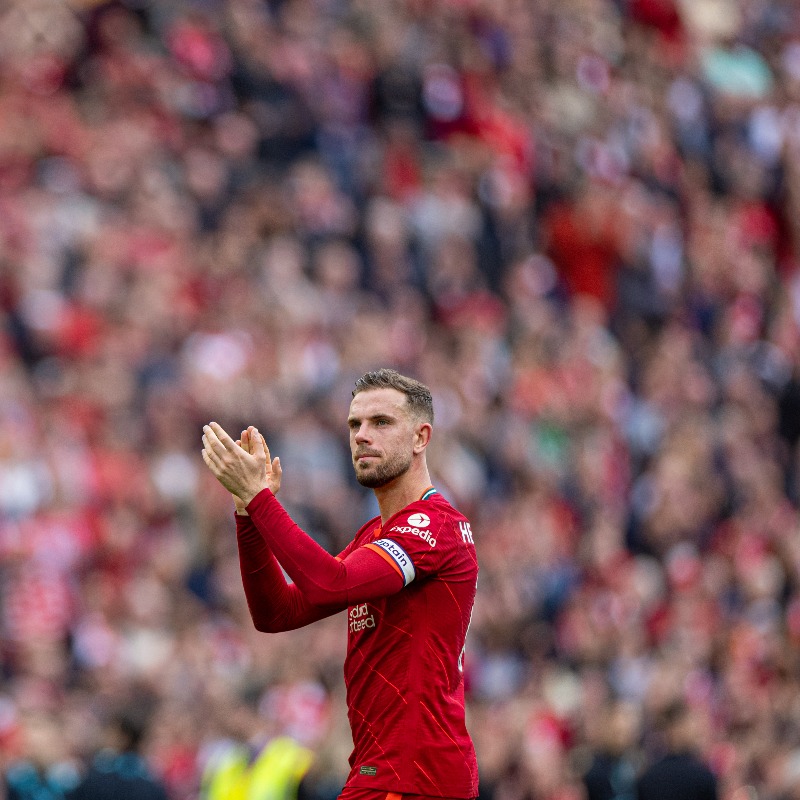 Club Elo rankings going into the final Premier League game today:
2 Man City 2,023
With the results meaning that Liverpool will still be ranked the best team in Europe (having beaten a higher-ranked side than Aston Villa today), and therefore the world. 
Small consolation, of course, but vital context. Congratulations to those at City who merit it.
So, 358 points for Man City since the start of 2018, 357 for Liverpool, on a much lesser budget, with three Champions League finals thrown in (and the chance to win a second). No plastic flags, no tacky flamethrowers, no staged atmosphere, no sportswashing. 
In the week, Barney Ronay of the Guardian, summed up a more-or-less invisible gap between the sides: 
"Let's face it, despite our best attempts to find clear air between them, these are two remarkably well-matched modern juggernauts. Both managers have claimed to be underdogs in recent weeks: Pep Guardiola because everyone supports Liverpool (narrator: everyone doesn't support Liverpool); Klopp because of having to play so many games in all these damn tournaments we keep winning." 
For City to have such a bigger wage bill and much costlier squad cost (even more so when adjusted for football inflation), and to reach only a third of the Champions League finals, is a bit of a damning indictment of City, but only when compared to Liverpool. 
Compared to everyone else, City are obviously exceptional; but their spending a ton of money cleverly, and being managed by a world-class coach, is difficult to overcome, even if other clubs, like Manchester United (and more recently, Everton), spend a ton of money stupidly. 
In terms of finances, Liverpool are a super-middleweight and City are a bona fide heavyweight. Pep Guardiola is an absolutely elite manager, and he has a huge war-chest. It's testament to Jürgen Klopp and the backroom staff at Liverpool that the gap is so minimal (albeit the two domestic cups won this season were also a case of fine margins; some you win, some you lose). 
As TTT stalwart Andrew Beasley wrote in the Liverpool Echo this week, working with the inflation model I created with Graeme Riley in 2010, "It says everything for the Reds' achievement in running the Premier League title  race so close, no matter what happens on Sunday, that Manchester City have  only once fielded a team which cost less than Liverpool's most expensive XI."
City had no games cancelled for Covid, and their injury crises seemed to be a couple of defenders "out for the season" a couple of weeks ago, who were then fit again anyway. As luck would have it, they faced an Aston Villa side likely to tire late on, having played on Thursday. That's life. 
Liverpool's fortunes turned on a nightmare three winter games with Covid absentees that perhaps cost the title (particularly away at Spurs, allied to the truly horrific officiating in that game). Then there was that lack of a penalty that Everton got an apology for, but where a late spot-kick could have seen City drop two points (although I still think Everton would have found a way to miss it, but in general, 80% are scored). It remains a scarcely believable decision that took the mounting pressure off City. I mean, it only hit Rodri's lower arm. 
(And as much as I rate Michael Oliver, he has just again made a mockery of time-added-on, as do most refs. Time-wasting is the way to go, then; even if City were likely to just retain possession anyway. Actual time-accountancy should be paramount, not just making it up, and then blowing early. But hey ho.)
Rodri's handball didn't matter in the relegation race in the end, but it did in the title race (even if we can't say all results would then have followed as identically as they did, with cause and effect at play, but you can say that a last-minute penalty is a game-changing event, if converted). Plus, the early red card West Ham should have had in the Reds' first defeat of the season proved another costly mistake by what is often the same group of officials.
Then there's Liverpool not being able to run up a cricket score against Brighton as the keeper wasn't sent off for about as blatant a red card as you can expect to see, when he leapt into the air to hit Luis Díaz in the face with (just) his hand and knee. That surely would have helped the Reds' goal difference, albeit it wasn't an issue by the 38th game, but might have heaped a bit more pressure on City at the time.  
Unlike one or two recent campaigns, it didn't feel like a season of constant officiating blunders against Liverpool, but there were some big ones that went against the team at key moments in games and at pivotal points of the season. All that said, for once Liverpool rank near the top for penalties won, so that's progress of sorts. 
But even so, Liverpool will yet again (as with every single season under Klopp, and as was the case under Rafa Benítez) rank lower on penalties won than on league position (when for Brendan Rodgers it was always the opposite: ranked higher in penalties won than league position). 
Despite putting up attacking numbers that are off the charts, Liverpool have still won fewer penalties than Man City and Chelsea, and the same as Crystal Palace. At least Liverpool are not ranking mid-table for penalties won, as has often been the case in recent years; ranking 3rd is progress, but still not great when finishing 2nd. 
Liverpool also had three first-team players go to AFCON right after the three-game "slump" (two draws and a defeat in a mad run of three away games: Spurs, Leicester, Chelsea), two of them key players. This was always likely to be the case. Again, that's unfortunate, but also part of the drawback of signing African players; yet signing Mo Salah and Sadio Mané, both of whom scored again today, has been a massive success overall.
While the Reds excelled without them, Salah returned jaded (or lacking confidence), after several periods of extra-time in the African heat. Jürgen Klopp's men then also played every possible cup game this season (one to go), to make for a monumental season. The possibility of the quadruple, while always unlikely, was taken 21 days further than any English team had previously managed. That is a staggering achievement (albeit not all achievements are measured in silver). But maybe it also added to the mental burden; the talk of quadruples tiresome and tiring. 
Thankfully Luis Díaz made a startling impact upon his arrival at the start of February, as the Reds again showed the value of adding quality rather than quantity (so as to make it easier to integrate). What a joy he's been. Ibrahima Konaté, still unbeaten, took time to adapt during a promising start, but by the run-in looked increasingly assured; at least until today, when some nerves got to the young Frenchman – albeit he recovered well, and is surely the best young centre-back in the world right now (and 22 is still pretty young for the role).
The early season defending was an issue, but one that was a hangover from the injuries of last season. As such, Konaté wasn't the solution, as he had only just arrived – and needed time to settle.
When I recently analysed certain defensive metrics for Virgil van Dijk, he was relatively mediocre in the first 15-or-so games. Indeed, as the most consistent elite defender on these metrics since 2016 (every season his figures were almost identical), his figures were suddenly those of a merely average stopper, way below his normal numbers.
Since game 15, based on the metrics I was combining, he's been the best in the Premier League. Liverpool had enough to get past Wolves today without him (as they did in midweek), but a sharper van Dijk earlier in the season would have helped.
And while last season was not just about van Dijk's injury, given that Liverpool were down to their 7th and 8th choice centre-backs (and were still top two months after his injury, before the others also got crocked), obviously an elite-form van Dijk remains the best on the planet. 
Indeed, even at 30, there are signs that he's every bit as good as his best at 27, with his form in the months of 2022 generally his best in England on the metrics I covered. The recovery pace was clearly back in 2022, when it wasn't necessarily present in the autumn of 2021, especially after – crucially – missing the early part of preseason. He was playing catch-up early in the campaign, and the Reds maybe shipped a few too many goals at that point.
(More about van Dijk's resurgence, amongst many other things, in the new Liverpool FC book I'm writing – which I started in January, when the season looked to be falling apart, the Reds well adrift in the league to the point where I called it City's title. The research for the book I was supposed to be writing has been collated for a few years, yet the more interesting this season got, the more focus had to go on that. When the book is released and the final emphasis is obviously dependent on what happens in Paris, but it should prove interesting either way. TTT subscribers can still preorder the special edition of the book.)
Thinking back, Liverpool started the season with great attacking gusto but not quite the right balance, with a new attacking emphasis in midfield (more of a 1-2 midfield, instead of a 2-1), and the defenders taking time to get up to their old speeds after injury. It took a bit of getting used to. The football felt more gung-ho than it had at any point since Klopp's early days: great fun, but a slightly vulnerable centre. 
Indeed, that was how today's game was, until – yet again – that weird atmosphere descended when the entire stadium started celebrating and the Reds, playing Wolves as they had in 2019 when it also happened, suddenly went from all-out attack to nervous (that day was the weirdest I've ever experienced Anfield). It must be very odd for the players, as they usually garner crowd reactions from their own play. Almost instantly it lifted Wolves, and confused Liverpool, who seemed to think "do we still attack?" having just been having about 15 attacks per minute. 
At no point did the Reds go 2-1 up while City were behind or level, and so, it was different to 2019 in that sense; but then, as now, I would always expect a top team, when going behind early at home in a title-decider, to come back, and the away team to eventually wilt. 
I expected it of City today at 1-0, although at 2-0 it felt like City (as at West Ham) were then more likely to draw than win. Of course, Wolves did the same: early goal, then lost 3-1 at Anfield. If Wolves had gone 2-0 up early enough today, I feel that Liverpool would have likely won 3-2.
(It's hard in these circumstances, but it feels like the later goals are scored against the favourite, the better. Scoring too early allows pressure to build as the underdog sits back, and the pace of modern football can make for relentless attacking.)
Back in the autumn, Harvey Elliott was excelling until he got his ankle and leg broken; the balance on the right side rather beautiful up to that point, with Mo Salah and Trent Alexander-Arnold benefiting from the young midfielder's vision and tenacity, playing in glorious triangles, and the Londoner bringing fresh energy to the team. 
Thiago Alcântara then missed all of October (and was not fit enough to start in November in the defeat at West Ham), and then was out again from mid-December through to February, and thus the mini Christmas/New Year slump. 
In some ways it perhaps left him fresher for the run-in, but his control was missed in midfield. Having to play away at a hungry and refreshed Spurs without van Dijk, Jordan Henderson, Thiago and Fabinho, amongst others – and a teenage Tyler Morton anchoring the midfield – meant that, actually, a point was a good result; but City weren't having to play teenage rookies in their toughest away games. (Cole Palmer started one game, at home to Everton.)
And now Thiago is injured again, six days ahead of the Champions League final, with Spain giving their team a two extra days to recover.
The miracle, having been 14 points behind and still facing AFCON absentees and injuries, was to get the gap to just one point going into the final game, whilst winning both domestic cups and reaching the yet-to-be-played Champions League final. Seriously, City nearly blew it. Liverpool have been the better team in 2022, across four competitions. 
City got lucky, blowing that lead and not blowing more thanks to the decision at Everton, but clearly they've made plenty of their own luck by being such a good team (even if the way it is funded is nauseating). 
For them, the situations where they choke tend to be in Europe, at key moments. Even then, the madness of fine margins: had Jack Grealish not been denied twice in incredible circumstances in the last minute when 1-0 up (and 3-1 up on aggregate), they'd have been facing Liverpool in the final, instead of it being Real Madrid. City then threw away two quick goals, then a third; just as they did to Villa today.
You can argue that City are better than Liverpool because they won the league, but pound for pound, and spread across the Champions League as well as the Premier League, you'd have to say that Liverpool have been the better team since 2018. They have achieved more for the money spent, and played the more exciting football. (Not that City's football is dull: I think it's technically excellent, and can be exciting. They have an incredible squad, albeit you can't separate that from the money it cost to assemble.)
Back in 2019, Liverpool became the first English club to reach a Champions League/European Cup final while racking up more than 90 points (38 games). This season they've just done it again, to become the second. It's the third 90+ point finish in just four seasons. City fans can enjoy their success, but this also shows how amazing Liverpool are.
All this is why Liverpool are still ranked as the best team in the world right now (just ahead of City), and have been for a large chunk of 2022. City get to lift the title trophy, and that's life; just as Kepa missing a penalty won Liverpool the League Cup.  
One final thought is that this Liverpool team is almost always at its most dangerous and devastating after disappointment. 
But with just six days until Paris – a nice enough turnaround time if there hadn't already been so many games (and new injuries) – it may be hard to find the energy for one last push. 
Madrid, also with a squad costing much more than Liverpool's, should not allowed to treat the game as plucky underdogs, with more time to prepare, too. 
But whatever Liverpool have left in the tank on Saturday, you'll know they'll give every last drop of it.