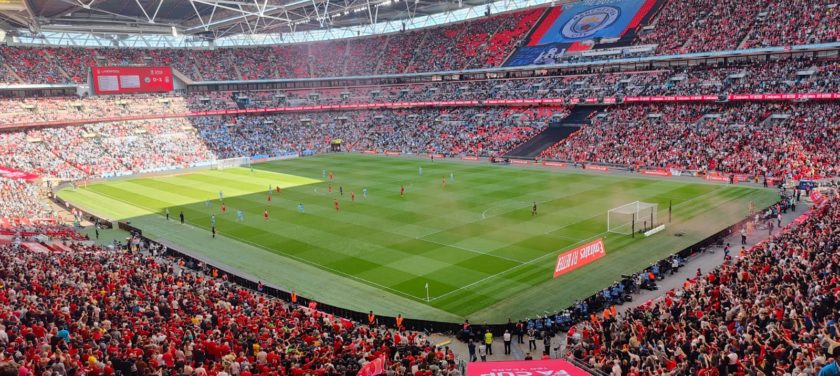 By Jonathan Naylor:
Wembley and Jerusalem
Normally attending a Liverpool match takes up the whole day, given I live in the South East. Unlike for most LFC fans, an Easter semi-final at Wembley is actually pretty convenient. Even more so as last August I had booked tickets for the theatre in London on Saturday evening. I had chosen the dates on the basis Liverpool were due to play away – without realising it was FA Cup semi-final weekend. The 3.30pm kick off was more or less perfect… as long as we didn't have extra time.
Not that rail closures were restricted to just the West Coast Mainline. The line to London from my local station was completely closed, so I drove to another station and set off for London. Suffering a bit from a 10-mile race the previous day, I could have done without the train being standing room only.
In London, I switched to the tube and got to Wembley in good time. After meeting up with my friend, we decided to get out of the sun and enter the stadium. Just as we were resigned to choosing from an uninspiring list of lagers, we spotted a real ale stall at the end of the concourse. Then the City team news dropped. The day was certainly starting to look promising.
The atmosphere in the Liverpool end was superb, especially in the first half. This season Anfield has been a little subdued but this was right up there with some of the loudest games I have experienced. It helps there is now quite a repertoire of songs that have built up in recent years, the "I Feel Fine" ode to Jürgen a welcome and very catchy addition.
Predictably and depressingly, the Hillsborough minute silence was disrupted by some City fans. That was literally the last time I could hear them until the Grealish goal just after half-time. I know I was a long way from the City supporters but our seats were in a similar position to where I was for the League Cup Final – and you could certainly hear the Chelsea supporters in that game.
This article is for Subscribers only.
[ttt-subscribe-article]