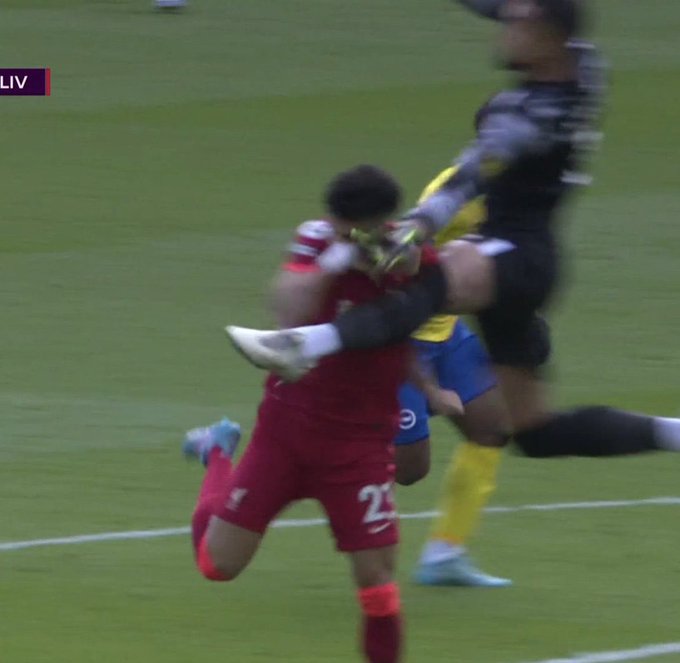 Paul Tomkins, Andrew Beasley, Daniel Rhodes, Chris Rowland and other TTT regulars will give their thoughts for 24 hours after the game, and we'll have the post-match statistics too.
Post-Match Thoughts
Paul Tomkins
Had Robert Sánchez saved Mo Salah's penalty (the first Mike Dean has ever given Liverpool, after two given against the Reds), then one of the worst officiating decisions in English football history would have come back to haunt the Reds, with Dean apparently not to be troubled by looking at the screen (as with other recent VAR debacles) for a sickening foul on Luis Diaz that could have broken his neck.
It looks bad in freeze-frame, but looks even worse in real time.
https://twitter.com/inspiredf1/status/1502633086944792578
I mean, it was only the keeper's knee and his arm that went into the Colombian's upper torso, just below his chin (indeed, his hand smacks into Diaz's nose, but the knee is what could really have caused serious injury). It was ultra-high, ultra-reckless, even if it was a star-jump to try and stop the ball. The thing is, if you do anything high and out of control, and miss the ball, it should be a red. Intent is irrelevant.
As with the nonsense at Goodison for Man City with Chris Kavanagh ignoring a blatant penalty, what Stuart Attwell was doing in the VAR studio may have involved silk blindfolds, given what he appeared unable to see. It defies belief and explanation, as to how one person cannot see what everyone else can, beyond cognitive dissonance or total fear of making a decision.
It's beyond a joke now, but Liverpool keep winning. However, a goal difference advantage of +3 over Man City could possibly have been +7 or +8 had the keeper been rightly sent off early in the match for what Rio Ferdinand, Peter Crouch and Steve McManaman all said was "100% a red card", and also, highly dangerous. The PGMOL continues to make a mockery of officiating.
It's as if referees no longer understand that the red card is to protect the players, not some technicality; just as parking in the outside lane of a motorway is not some minor traffic violation, but a non-violent act that could easily kill someone. It's not the same as parking on a yellow line where no danger exists.
You can add this bizarro decision to a list of a dozen or so major officiating failures going against the Reds this season, but still the machine churns out wins. It just means more energy has to be expended, in amongst a glut of games.
Liverpool now have five outstanding forwards (and at least two very good reserves), but there's a bit of selfishness creeping in, perhaps relating to contracts or trying to win awards or get a place in the team. They need to relax and play for each other (and maybe one could sack his pathetically childish agent), but at least they're also still getting the goals that win games.
It's just not as comfortable as it could be if they got their heads up when someone else is clearly better placed. I'm all for forwards taking the responsibility, and I think passing can be a bad idea a lot of the time when there's a good chance to shoot; but if someone is in a great position and you are not, you need to pass.
Still, what a player Diaz looks; especially with his head still attached to his body.
This article – the rest of my take on the game and the views of the other writers – is for subscribers only. See details below for how to sign up for £5 a month.
[ttt-subscribe-article]