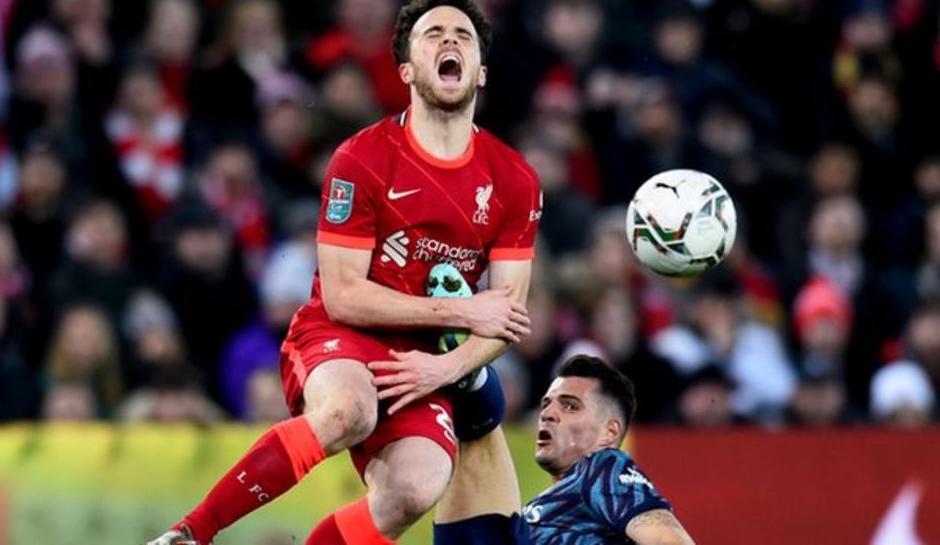 I'm not too bothered about the League Cup these days, but it's never pleasant seeing Liverpool look old, slow and cumbersome – and not as hungry or fit as a 10-man opponent.
The good news is that it perhaps lulls Arsenal into a false sense of security, and enables Liverpool to be the underdogs, which served Arsenal well tonight – having been under the cosh until they went down to 10 men, from which point they upped their game. In some ways, the pressure switches back to Arsenal, especially with their fans having sung that they're on the way to Wembley.
The worry is that Liverpool don't have the pace or fire-power (at this point) to break on them, especially with Divock Origi – quick, and in form when he's had games this season – needed to cover for AFCON, but injured since December.
Injuries, Covid and AFCON hasn't helped either side, but Liverpool started with a one-paced midfield and one-paced attack (and a half-fit right-back after Covid), and played a stodgy "to feet" kind of game on a strangely poor Anfield surface. There were no runners ahead of the ball from midfield, and only the late introduction of Curtis Jones added some youthful zest and quality, as did Neco Williams. The one time Liverpool got in behind, Diogo Jota was totally Xhakad.
It's too soon to say that this is a team that needs breaking up, but the players chosen tonight meant a spine of 30-somethings: two at centre-back, two in central midfield, and the centre-forward. You could maybe get away with that midfield trio with the best front three, and some pace in wide areas. Still, it's not like there were tons of alternatives.
Other than Joel Matip, none of the starters did anything remotely progressive on the ball, and Virgil van Dijk still looks off the pace. A recent study showed how footballers were taking a fairly long time to recover their zip after Covid, so that may explain part of it, for those who were ill.
Liverpool look so slow and lethargic right now (and perhaps, partly rusty), in a performance that mirrored the defeat at Leicester in terms of brain farts and slack passes and lack of invention – lots of slinging balls in aimlessly, and lots of terrible corners that were low and flat, to sum up the display.
It's been a difficult winter so far, after a great late summer and autumn, and like last season, the team is struggling with absentees at the mid-point.
The rest of this article is for subscribers only.
[ttt-subscribe-article]