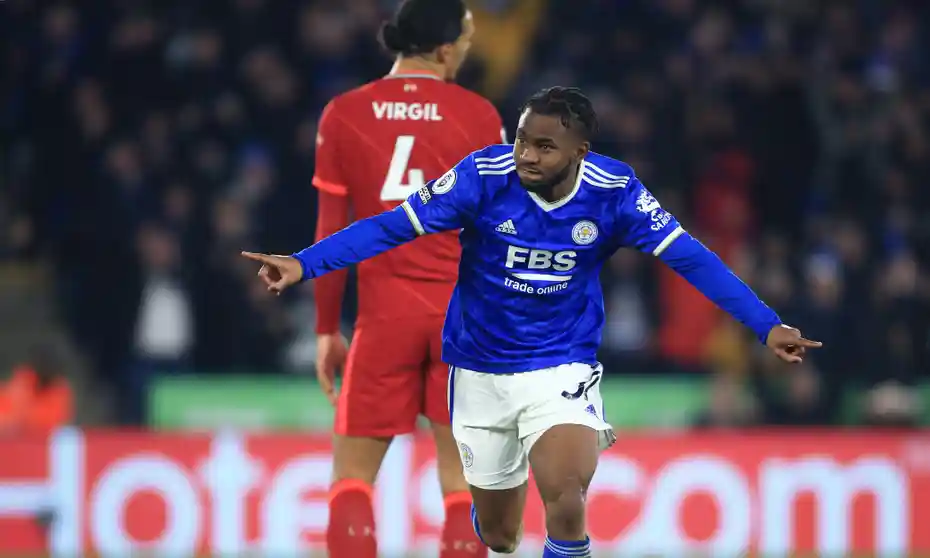 History suggests that the title is heading to Manchester City yet again; along with the underlying numbers and various other measures that are handy predictive tools. 
Kopites can cling to hope, and belief in what I think remains a great – thrilling – Liverpool team; but it now relies on Man City slipping up, from a point where they tend to actually just get better. 
History does not define what happens next; but it's the best guide. You can turn around a 3-0 half-time deficit, but turning around a title race is much harder, as you cannot control what the rival does; and in this case, the one remaining head-to-head is at the Etihad, where Liverpool rarely win. 
City have faced the tougher away fixtures at the halfway point, and have the kind of lead they've yet to ever throw away. A lesser team with a six-point lead at this point would be different.
It Must Have Been Something You Said
It's rare that I'm as disappointed with a Liverpool display, but after the match, Jürgen Klopp – with cutting honesty about his crew – said pretty much everything I'd observed during the match.
"We were just not good enough. We still had enough chances. What we did with the balls was just not right. We played a really bad game, so it was well deserved.

"Our decision-making [was poor], maybe a little bit of luck [was missing]. That's how it is."
Critical Defeat
In the first 10 minutes last night on the Leicester match thread on TTT I noted that something wasn't right. Liverpool were slow, sloppy and lacking tempo. 
In the first half I continued to observe how many touches players were taking – often three – just to get the ball under control and into a passing position. That's always a bad sign. 
Passes were played slowly to feet, rather than zipped to feet, or better still, zipped into the space ahead, to be collected in stride. Players were coming short for passes and the pass was rendered near-pointless and even then, was not accurate. 
Bobbly passes were hit, and while Trent Alexander-Arnold smashed three or four outrageous cross-field volleyed passes, the rest of his game was poor, and the need to volley in the first place was a bad sign. Indeed, as the volley has to be hit quickly, they often came off for him (if not for Jordan Henderson when shooting three times); but with time to cross, he rarely picked out a man in space. Too long was taken to pass, shoot and cross, unless it was instinctive and forced. Sadio Mané had too long to think about his shot, and Mo Salah had too long to think about his penalty. Edginess creeps in with the pressure of time to think, when it really counts. The best effort of the night was Salah's snapshot that was somehow saved. 
Everyone was trying to be too careful, too precise, as if the pressure was telling, after the draw at Spurs (with a makeshift midfield and no Virgil van Dijk), while Man City built up a lead over the last few weeks, having been a little off the pace not so long ago. With Leeds' visit to Anfield – a sure-fire shoeing given their utterly defensive disarray and absent players (and I rarely think a game is ever a sure-fire shoeing) – cancelled, it presented a potential psychological chasm (especially with City scoring sixes and sevens). 
City have already gone to Liverpool, Man United, Spurs and Chelsea, and while they could suffer a slump, they don't tend suffer many once they get ahead at the top of the table. I don't think they've thrown away a lead at this stage under Pep Guardiola. 
Those blips they do experience tend to be for a few games before the halfway point (early season before they hit their stride, or in December). Liverpool are also about to be much harder hit by the African Nations Cup, albeit for just two league games as it stands (but more on that later in the piece). 
Yet the timing of those games is also crucial in the chance it gives City to further open up a lead that kills Liverpool's spirits. City go to a tiring Brentford tonight, and could go nine points clear, with a game extra played. The next time Liverpool play they could be 12 points behind, albeit an in-form Arsenal may present them with a challenge (but Arsenal will have no manager present, with Mikel Arteta isolating).
There is such little leeway now, with teams capable of 95-100-point seasons. Title races have changed in the last few years, aside from the crowd-less Covid season. Chelsea showed in 2016/17 that a sudden mid-season burst can be devastating, and City have followed suit time and again. Liverpool have had their own great runs, but even then, still only won the title once. Title-winning tallies in the last few years, bar the disruption of last season, have been 93 points, 100 points, 98 points and 99 points.
While they could improve, Liverpool are on course for 82, which would be more-or-less in keeping with the best three seasons the Reds had in the Premier League era before Klopp arrived; and 82, 84 and 86 points were not quite good enough in 2002, 2014 and 2009 respectively.
This is a great Liverpool side – so talented, so hard-working, so exciting – but Man City are a machine, oiled and oiled and oiled, with $$$ and $$$ and $$$. 
Their team (adjusted for inflation) tends to cost in excess of 50% more than the Reds', and it tells. Liverpool have done amazingly to outperform them in the league (2019/20) and Europe (most seasons). But these are the days of rare title fights; most soon become processions. 
Indeed, you can lose three Champions League group games, out of just six played, and still qualify, and maybe even win the group; yet you can't generally lose three games in the 38-game title anymore. Draws are also more costly than in the past.
I personally feel (and that's a feeling, not a fact) that the title race is over, but obviously it's never over until it's mathematically over.
It then just comes down to what you believe is realistic as to what will unfold: repeats of recent history, or "anything is possible". I'm not known for pessimism, but my own attitude has always been to focus on realistic aims, and to not just be positive or negative for the sake of it. Just like anyone else's, my calibration may be out, and I'm not a clairvoyant, but I weigh a lot of factors when reaching opinions. (And I expect the manager and players to keep believing, as that's their job; mine is to analyse things. Sportspeople need to have those blind beliefs, even if it doesn't guarantee they'll win – because all of the losers tend to have that belief, too.)
The days of regular nip-and-tuck title races are long gone. You can feel that anything is still possible at the halfway stage (and by all means don't be defeatist!), but the Reds have been the team that falls away (December last year, January-February in 2019) rather than the one that comes from behind. Strong starts have been the Reds' route to two title challenges under Jürgen Klopp.  
In 2018/19 Liverpool were able to go neck-and-neck with City, but at this stage, Liverpool had won 16 and drawn three, having lost none. The Reds had a staggering 51 points (something bettered by a point when winning the title in 2020).
And despite ending 2018/19 with nine straight wins, still finished 2nd. Liverpool are 10 points down on that midpoint tally, and City are three points better off. And still City won the title with 98 points. City are now on course for 94 points, not 82. 
Their underlying attacking numbers are no better than Liverpool's, but their defensive numbers are. They look the better balanced team right now, and while form can change, you'd still go with form, as well as longer periods of recent history, to project into the future. You'd go with the side that defends better if they can still attack equally effectively. Barring an injury crisis at City that takes away from their mega-squad (which allows for more rotation), the title is theirs to lose.
A lot can change in half a season; but the second half of the season just tends to solidify a true pecking order. In late September, the top eight contained Everton, Brighton and Aston Villa. Now the Big Six are suddenly all in the top seven.
Liverpool were in a great position after five games, with a three-point lead over everyone else; now the Reds are six points off the pace, and a massively superior goal difference as of just three games ago (+9 over City) is now lagging behind (-4). That's almost as good as losing another point that was in the bag.
City are still human, but Liverpool likely need a near-perfect second half of the season, and needing such a return makes it even harder. When you have no margin for error it produces those very errors, as perfection is stultifying. To beat City to the title, Liverpool had to blow them away in 2019/20. They blew them away early in 2018/19 as well, and still couldn't get over the line, despite an insane 97 points. City have won titles from the front, and won them coming from behind. Without City's experience, I'd be more optimistic for the Reds.
I noted on here earlier in the season that, after the 2-2 against Brighton and 3-3 against Brentford, it may be that Liverpool are more suited to Europe again this season, in contrast to the 2020 vintage. In the autumn, Liverpool's record in the Champions League was 100% wins, but only from two/three games. 
The style seems more expansive, but not as defensively sound; perhaps in part as the team is ageing, and beyond its hungriest, youngest peak, with some key players still finding their feet after injuries as they enter their 30s, and the injuries this season meaning little midfield consistency.
That prediction of European success may still be valid, especially as the Reds ended up winning all the other group games. That said, it takes just one bad game in the knockout stage to produce elimination. Equally, the same could be said of the margin of error in title races.
In 2019, Liverpool could overturn one really bad result with just one really amazing 90 minutes, to knock out Barcelona. Yet this is not a title race that will be decided by one-off games at a frenzied Anfield, it seems. The big ones are at Stamford Bridge and the Etihad. You'd fancy the Reds to beat anyone under the lights on a big Anfield night, but those are now more likely to occur in Europe this season.  
I'll be happy to call the title race as "back on" if City fail at Brentford and Liverpool win at Chelsea, but should the opposite happen, with AFCON looming, we're getting into dreamland territory to expect success – in the league, at least. Again, it remains a brilliant Liverpool team in so many ways, but the odds, for a 20th title, are now stacked against them.
Outfoxed – Further Thoughts On A Rare Defeat
I wrote my post-match thoughts too late for the subscribers-only post-match thread, so here's what I wrote.
The remainder of this article is for subscribers only.
[ttt-subscribe-article]