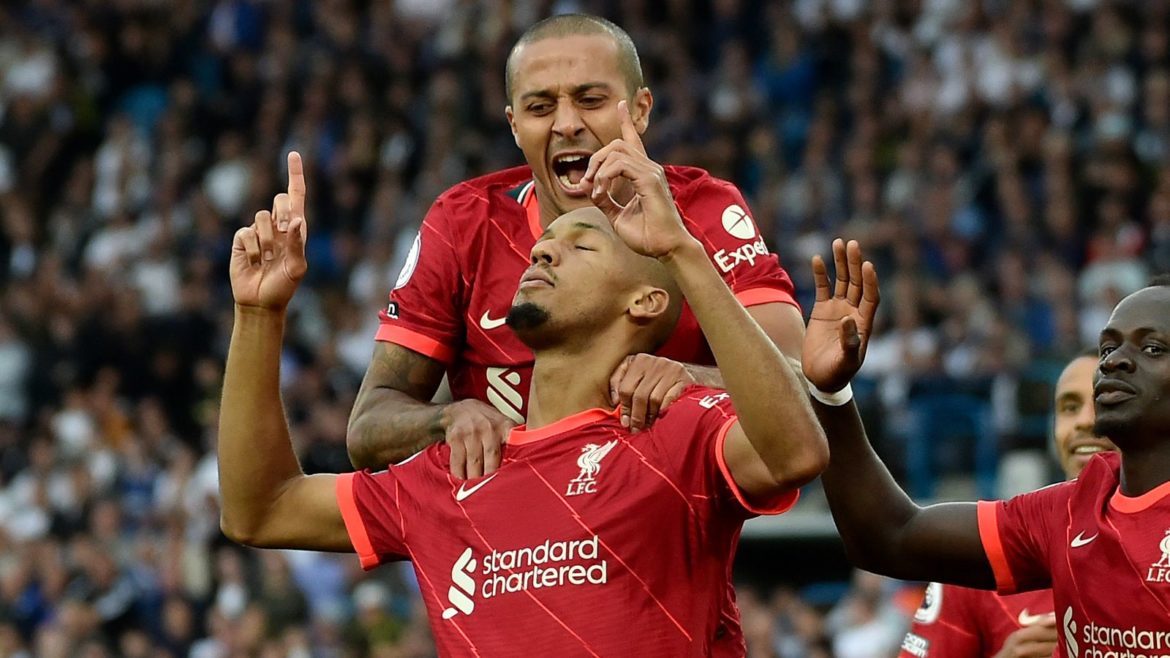 Liverpool's title challenge took a massive hit when Leicester City turned them over in a bizarre game on Tuesday. Currently, the Reds find themselves nine points adrift of the champions and leaders Manchester City (with City having played a game extra, beating Brentford last night). However, Pep Guardiola's men could stretch the lead to 12 points by the time Jurgen Klopp's men next kick a football against Chelsea (albeit the Reds will have two games in hand).
Though the poor show at the King Power Stadium led to only their second league defeat of the season, Liverpool have dropped points in a lot of other games. In total, they have dropped points in seven out of the 19 games (five draws and two defeats). While the defeat count is same as City, the Reds have drawn three more games. It shows that losing two games isn't the biggest problem, it can happen. It is the conversion of draws to wins that needs regularity in the second half of the season.
When we take a closer look at Liverpool, while everyone talks about how important the front three and the fullbacks are, the midfield is an important cog in the machine. The team is setup in a way that the midfield needs to function in protection, creation and pressing.
There is a midfield duo, who when they start together, makes the Reds almost invincible: the Thiago and Fabinho combination. The third midfielder can be anyone, but those two starting games has been and will be vital if this team is to lift any major silverware. So far in the league this season the pair have started seven games together and Liverpool have won them all. They have dropped points in seven of the other 12 games. Win percentage drops from 100 to 41.7. While 100% is not a sustainable number over a long period of time, 41.7% is nowhere near good enough for a sample size of 12 games.
Below, we have a table of stats with overall metrics looking at the differences in performance numbers when Liverpool are playing with or without that midfield duo –
Stark contrast in numbers!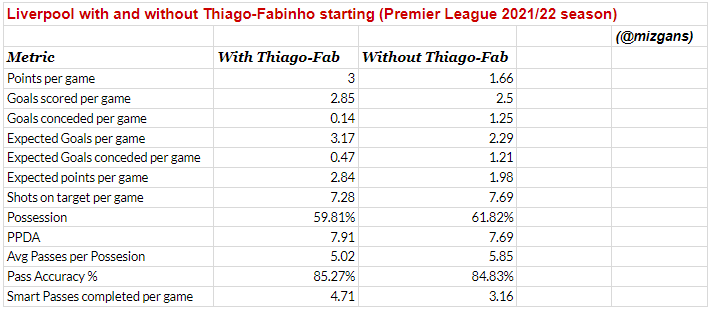 We will go through each metric in detail. With a PPG of 1.66 in 12 games without Thiago and Fabinho, Liverpool would muster 63 points over a 38-game season. That is a poor return, considering the team has been in a healthy state in other positions for most parts of this campaign.
The rest of this article is for subscribers only. 
[ttt-subscribe-article]