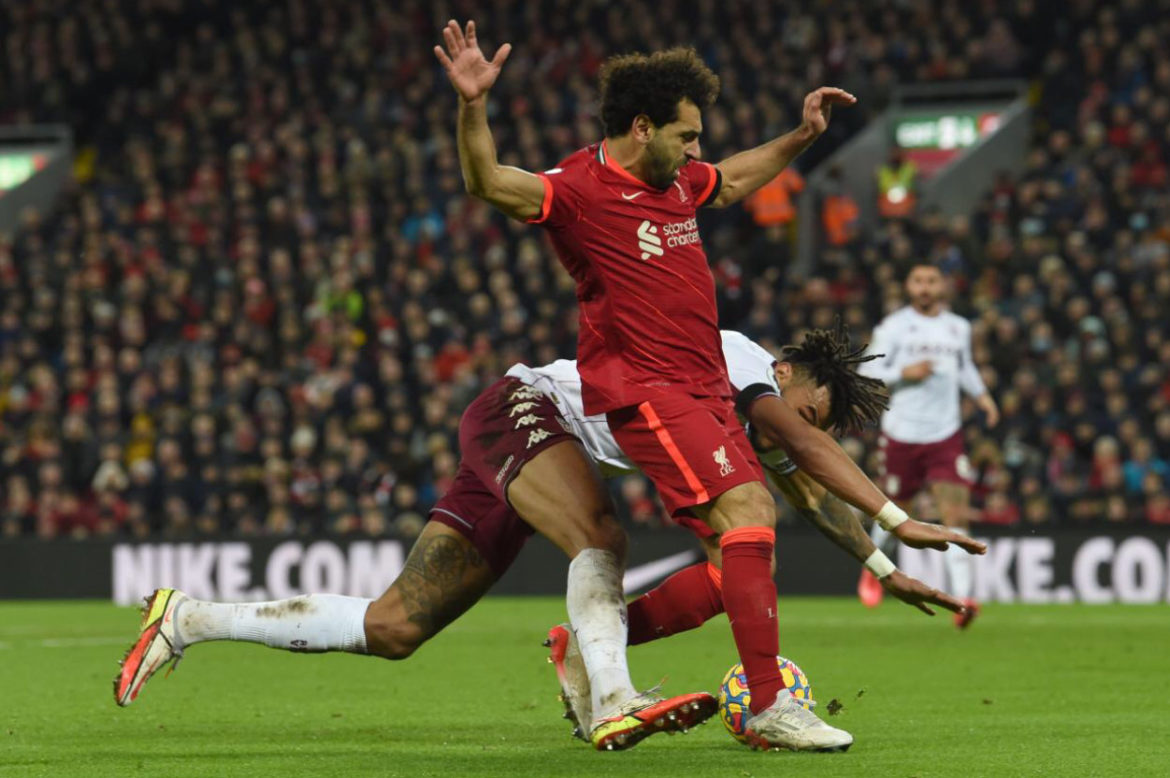 The Narrative Around Salah and Penalties Is Insane
Has an image ever captured a foul quite as clearly?
Tyrone Mings is 6'5″, and presumably 14-15 stone.
He's falling into the back of Mo Salah, who has turned him inside out. Even if he's not intentionally trying to foul Salah, his weight is going towards Salah's left foot, and stopping that left foot from touching the ball.
"For Liverpool's spot kick, Mohamed Salah got the wrong side of Tyrone Mings and there was certainly contact. However, after Euro 2020, the Premier League said that contact alone was not enough for a penalty to be awarded. In this case I do not think the challenge was forceful enough for Salah to go to ground."
The utter fuckwit who is Peter Walton says there was not enough contact for a foul, despite The Times using this very image to illustrate his piece. I'd quite like for 6'5″ 15-stoner to fall into the back of Peter Walton and see how he finds the contact.
How did the foul come about? Salah skinned Mings, and Mings reached out to grab Salah's shoulder, which has never been a legal piece of defending. Virgil van Dijk – in a rare instance of being caught out – conceded a kick and was booked for something similar. Grappling with arms and elbows side-to-side has always been part of a physical battle, but grabbing shoulders is a sure way to slow someone down, often enough so that they lose the ball (see Sadio Mané being fouled in the first half).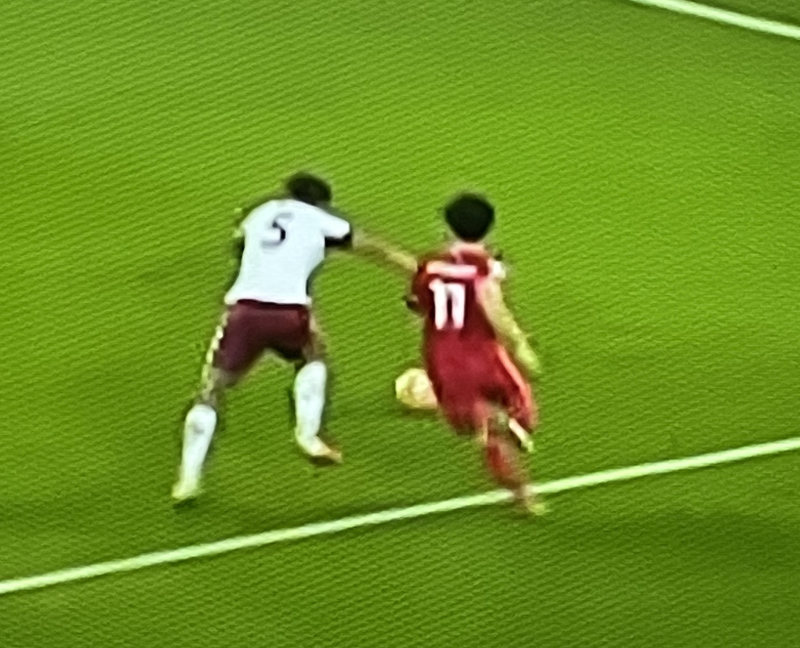 As Walton notes, Mings indeed gets wrong-side. Salah then legally gets his body in front of the ball, moving his left foot across in a natural alignment with the ball, and Mings clatters into him from behind.
Look at the freeze-frame below and tell me that, given that Mings does not get the ball and does contact Salah, it could be anything other than a penalty? It's clumsy, it's wrong-side, it's a foul and therefore it's a penalty.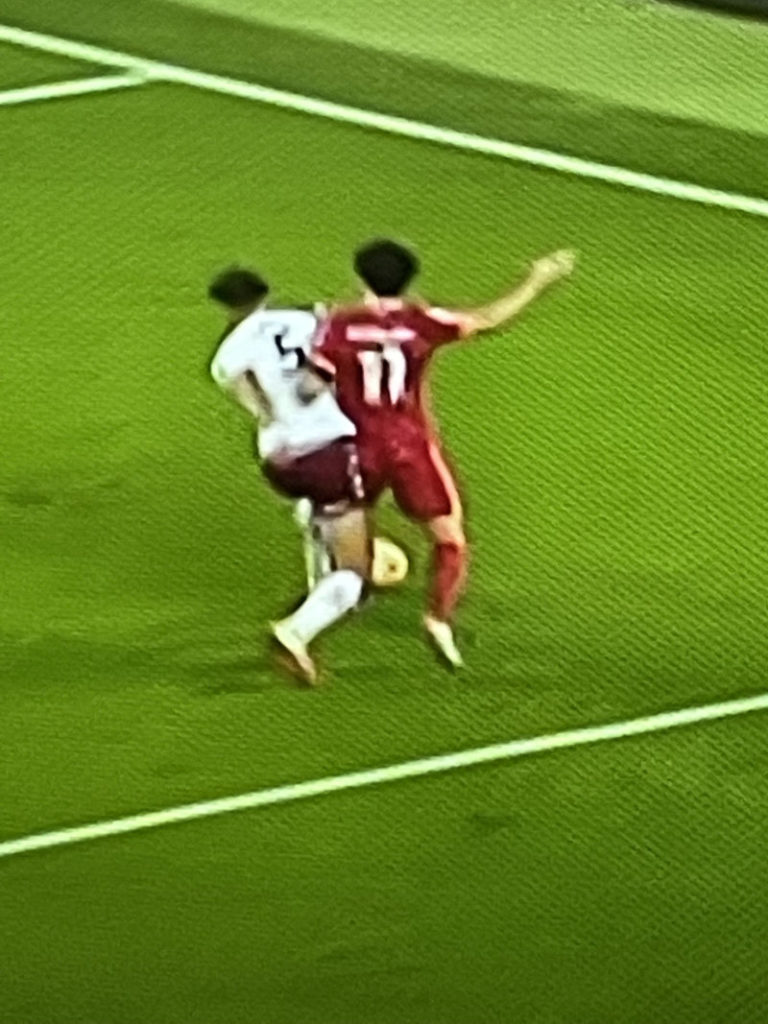 Whether or not Salah could have stayed on his feet, the ball was now lost, stuck behind him.
Meanwhile, James Maddison did that kind of English-style jump-dive-flop before the tackle came in (the Newcastle defender withdrew his leg) and he seemed to get away with it fine across the media, who suggested he maybe went down a little early (oh, so that's okay then) but there was no castigation of a "diver", as English players are rarely accused of being divers by pundits.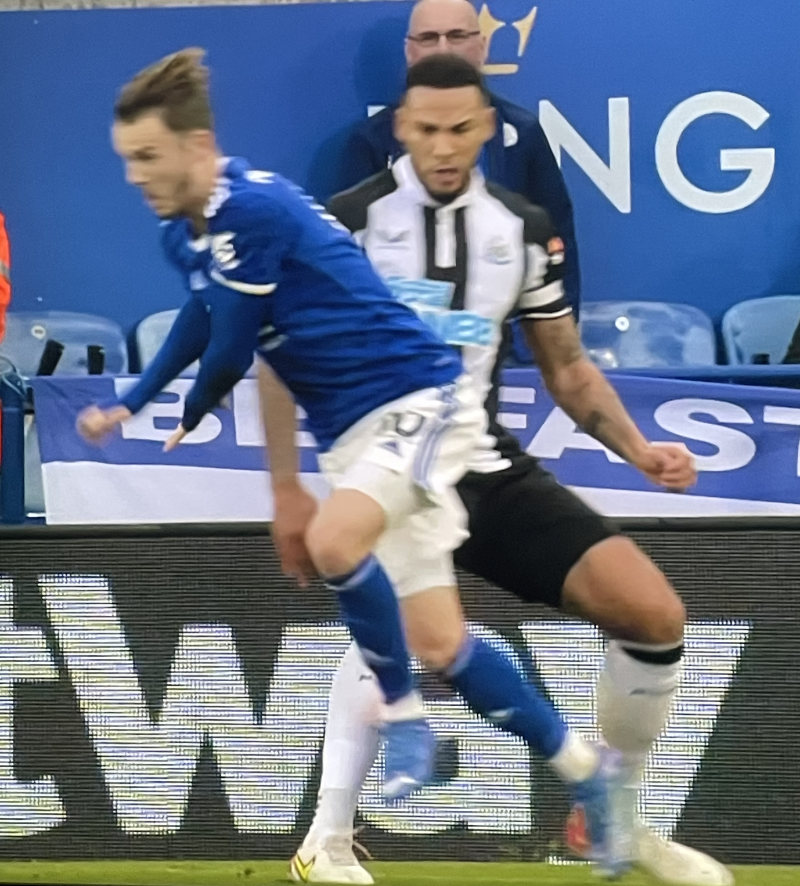 And since when does having to go to ground mean it's a penalty? If someone kicks you in the knee or the back or even the face, and somehow you just stand there, it's still a penalty. Hitting the deck is a way of showing you've been fouled when spineless referees ignore genuine goal-denying fouls to players who stay on their feet. It's very different from diving, which is what Madison does.
Whether contact is enough to go to ground should be irrelevant. The only factor should be if an illegal intervention has slowed the attacker, and unfairly cost him his advantage.
This article is also available via the TTT newsletter.