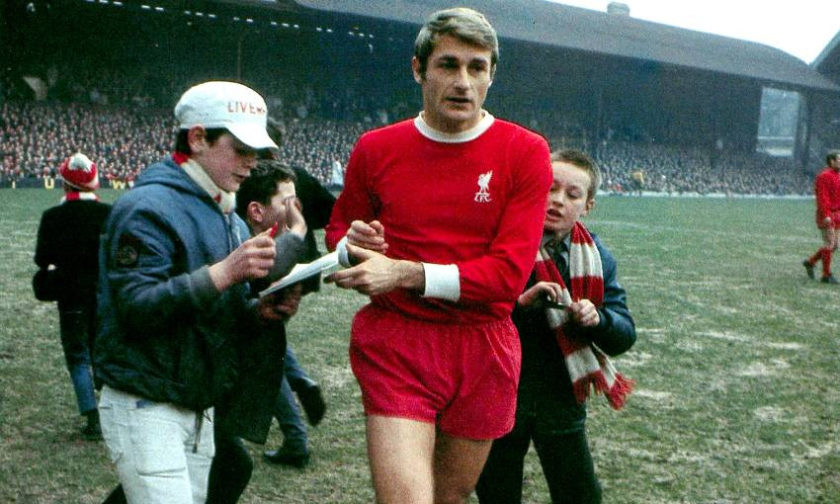 So today we say goodbye to another club legend. Roger Hunt has departed at the age of 83. He died peacefully at home on Monday evening following a long illness.
With his loss, Liverpool lose another of Bill Shankly's mid-1960s team, following the recent loss of Hunt's strike partner Ian St.John, and Tommy Smith.
And it also means another of England's 1966 World Cup winners is no longer with us. Hunt, you will remember, was the man who raised his arms aloft and turned away when Geoff Hurst's shot came down off the bar for England's controversial third goal. For a man with Hunt's goalscoring prowess and instincts, the fact that he didn't follow up for the rebound but instead turned away in celebration is the nearest I can get to conclusive proof that it crossed the line!
Hunt received some criticism from the London-based media and from some English fans because he was perceived as taking the place of their fit-again hero Jimmy Greaves, also sadly departed last week, in the Sir Alf Ramsey's England cup final team. Truth is they were both very good and prolific, if very stylistically different, strikers. And Hunt did score 3 goals in the group stages.
When Shankly arrived at 2nd Division in 1959, Hunt was already there, having joined from nearby amateur team Stockton Heath as a 20-year-old in July 1958. It was the signing of Ian St.John, and the partnership the two strikers forged, that was at the heart of Liverpool's meteoric rise to success and fame. St.John, intelligent, deeper-lying and probing, Hunt the cutting edge, quick, strong, powerful, hard-working, and clinical in front of goal, with a right foot like a sledgehammer. The pair's exploits led Liverpool to promotion, then a title in 1964, their first ever FA Cup (in which the two strikers scored the two goals in the final win over Leeds), then another title in 1966 – and in Hunt's case, a World Cup winners' medal. Shortly before the World Cup, Hunt also scored Liverpool's only goal in their first ever European final, a 2-1 defeat to Borussia Dortmund at Hampden Park in the European Cup Winners' Cup final.
Hunt made his debut in September 1959, against Scunthorpe, and scored, and made his final appearance in December 1969. In between, goal scoring records tumbled and the trophies came, until the latter years of his career, when Liverpool, temporarily left the very high peak they'd been at. Hunt also scored the first ever goal shown on MOTD, against Arsenal back in 1964. And he scored the only goal in my Anfield debut, on April 5th 1969, v Wolves.
Hunt the man was quiet and humble, without ego or arrogance. After his playing career finished he worked in his family transport business, driving an artic – which would place him in great demand today!
He was awarded an MBE in 2000, but he was always Sir Roger to the adoring Kop.  His numbers and achievements speak for themselves, and make him a true all-time club great.
How highly thought of Roger Hunt was by Liverpool's fans is illustrated in the attendance for his testimonial in April 1972, with a 56,000 full house and an estimated 10-15,00 locked out.
Thanks for the memories, Sir Roger.
Meanwhile, some Hunt goals to enjoy – click Watch on YouTube: