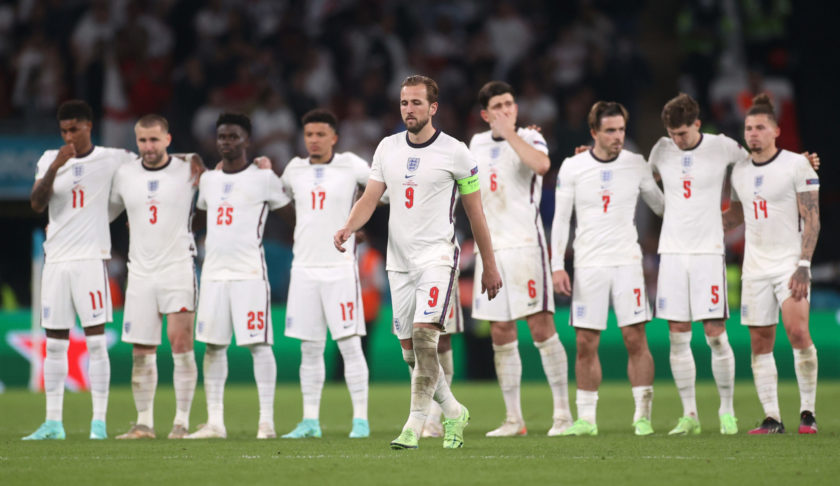 By TTT Subscriber Tony Mc.
England fell just short in the Euros 2020 final. At the end of the game, as a small number of Italian supporters joyfully proclaimed the Azzurri as European champions, tens of thousands of England supporters stood in stunned silence or filed silently towards the exits.
Anyone who has supported Liverpool for longer than two years will have experienced heady victories and depressing defeats and will have known that something was missing for England at the end of the game: a song. England supporters flirted with the Neil Diamond classic "Sweet Caroline" in the early rounds of the tournament and while it is a great feel-good, sing-along song, a chorus including the words "good times never felt so good" is hardly appropriate when you have just lost the final of a major international football tournament on penalties. The ubiquitous "Three Lions" would not have done either when "it" is not "coming home" but is clearly on the way to Italy in the keeping of that fabulously gnarled old warrior Giorgio Chiellini. "Ing-er-land, Ing-er-land, Ing-er-land" doesn't quite have the emotional range that the situation called for. What was needed after the final, and throughout the tournament, was an eloquent, emotional, all-purpose football anthem that epitomises the bond between supporters, coaching staff and players, a bond which strengthened as the team progressed to the final. A song to be sung as a glorious celebration of victory or as an expression of solidarity and defiance in defeat. What song could possibly fit the bill?
There is the obvious one, of course, but the supporters of Liverpool FC got there first in the early 1960s and "You'll Never Walk Alone" is so inextricably associated with Liverpool that, thankfully, the tribal nature of English football ensures that it could never be adopted by England supporters. As all Liverpool supporters know, there is something magical in the way that song unites Liverpool supporters, players and coaching staff, as demonstrated to a spine-chilling degree following the Liverpool v Barcelona Champions League semi final at Anfield on 7 May 2019. Even though it is nearly 60 years since it was adopted by the Kop, whenever the song is played at Anfield shortly before kick off it is still a special occasion, an enthralling piece of performance art, as much a part of the Liverpool home game experience as the vivid red shirts, the attacking football and the refusal of referees to give Liverpool a penalty. Most visiting supporters of English clubs recognise the unique power of "You'll Never Walk Alone" and attempt to drown out the home support (fat chance!) with boos and whistles but on European nights, visiting overseas supporters will often listen respectfully or even join in as Liverpool supporters give it their all.
This article is for TTT Subscribers only. Sign up for just £5 per month.
[ttt-subscribe-article]