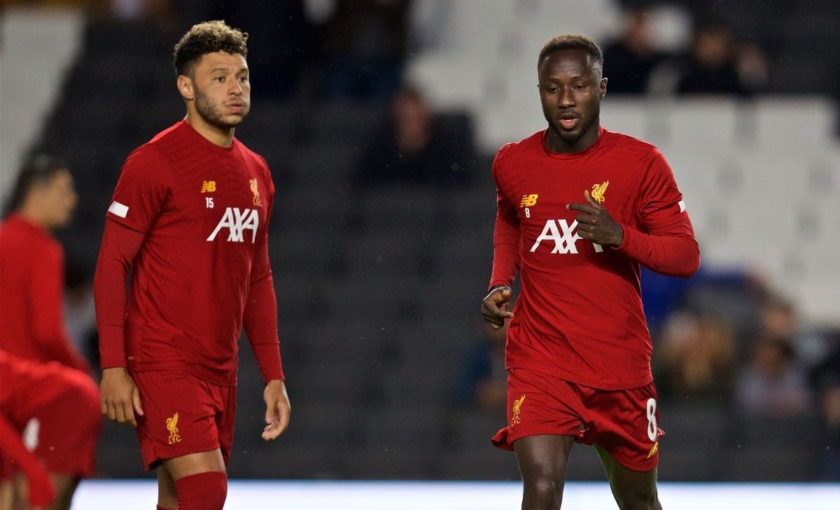 Written by Mizgan Masani
Liverpool's pre-season camp is underway in Austria and squad members, apart from the ones who took part in the Euros and Copa America, are now in preparation for the upcoming season. While this period is a chance for players to sharpen their skills and fitness after a break, it is also an opportunity for players who were not regulars in the team last season or before to make their case with good performances in training sessions and pre-season games.
Midfielders Naby Keita and Alex Oxlade-Chamberlain are two such players. In the last two seasons, the duo have played significantly less football compared to other midfielders in the squad. To be precise, in the last 24 months, the former played 22.92% of the total minutes in all competitions, while the latter amassed 27.8% of the total minutes during that time period.
That is quite a low number for players who were touted to be the thrust Liverpool required in midfield with the energy to make box-to-box runs and make an impact in the final third with passes, runs and shots.
As per the Transfermarkt injury history records, Keita has missed 43 games due to injuries in the last two seasons, with seven different types of injuries (though some in similar areas of the leg), as well as missing a few games due to Covid. Meanwhile Oxlade-Chamberlain has missed 24 games in that period, with four different types of injuries.
With Georginio Wijnaldum leaving the club at the end of last season, the general consensus is that a midfield spot is up for grabs come the start of the season and beyond. So, if either or both of Keita and Oxlade-Chamberlain remain fit and find some consistent game time, they could come in handy for Klopp.
Let's take a look at how the manager could utilise the skills of both of these players tactically. Before moving in that direction, let us take a look at the numbers produced by them over the course of the past two seasons in all competitions.
The rest of this article is for TTT Subscribers only. Sign up for just £5/month.
[ttt-subscribe-article]