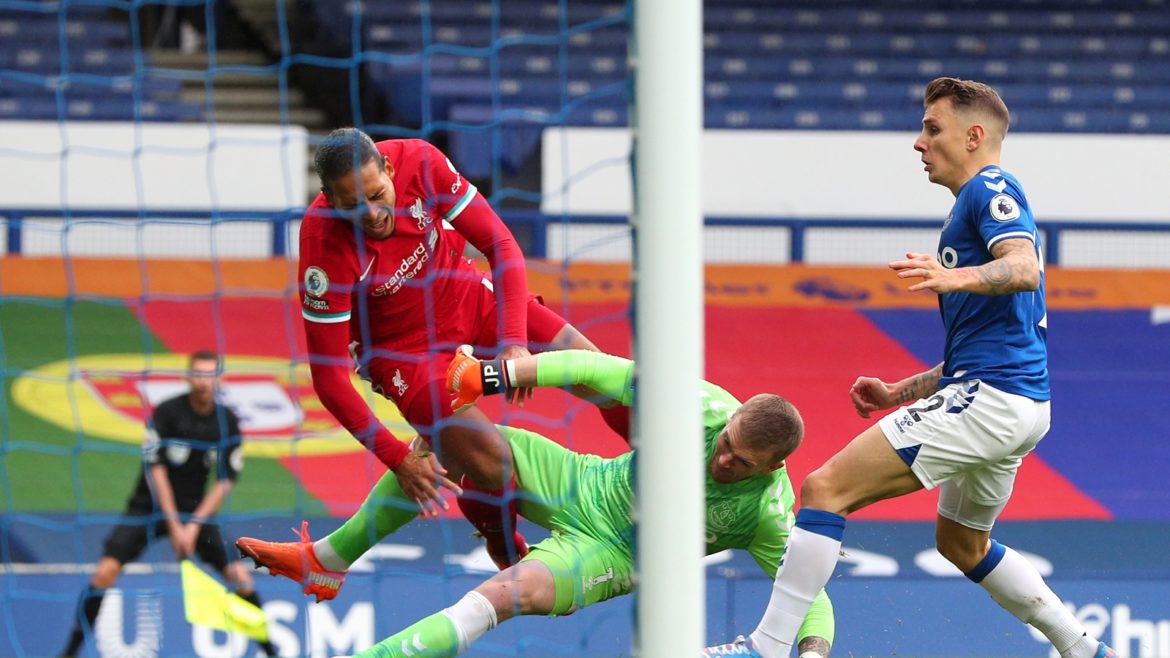 Are you all sitting comftybold two square on your botty? Then I'll begin.
Professor Stanley Unwin's brand of gobbeldygook seems to fill my mind whenever I try to make sense of the 2020/21 season from a Liverpool perspective. You can see that the basic meaning of the sentence, the team you love, is there, but it's clouded in a fog of misdirection and confusing reasoning which make it all so much harder to comprehend.
And this article may not help either. It started off as one thing and veered off in a different direction to become another. As I sit and ponder why the Reds have had such a difficult campaign, one moment stands alone. A sliding doors moment, in many ways.
At approximately 12:35pm on the third Saturday in October, Fabinho played a pass into the Everton box, following a Liverpool corner. The assistant referee spotted several men in red in offside positions, so raised his flag. Michael Oliver whistled, everybody stopped, and Jordan Pickford took the free-kick to get the match back underway.
Except that this is not how the chain of events played out, as you know all too well. And even with what ultimately transpired with the injury to Virgil van Dijk, had a red card been shown to the Everton goalkeeper then the Reds would've been more likely to win.
They might've earned an extra two points which could make the difference between Champions League and Europa League qualification at the end of 2020/21. A short-armed goalkeeper can flap his legs in Goodison Park and at Anfield you get rain instead of sunshine.
But the season unfolded as it has instead. Liverpool have had a worse record with sliding doors than Saunders did in The Living Daylights. Bond's buddy only got chopped in half whereas it feels like Jürgen Klopp and his men have been sliced, diced and pushed hard through a Rap'Tou food processor.
Their woes in the last six months can't all be put down to the absence of the Dutchman, of course, but from this viewpoint his injury feels like the start of the tailspin which has led the club to where it finds itself now. My intention was to try to quantify what the loss of van Dijk has actually meant.
The rest of this article is for subscribers only. Sign up!

[ttt-subscribe-article]