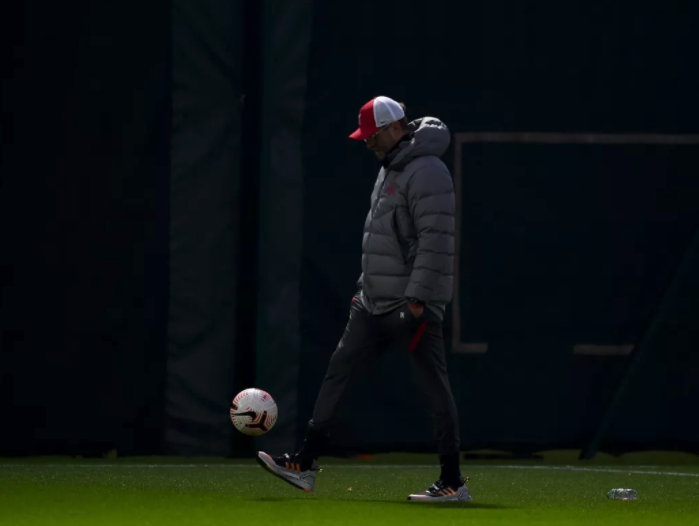 Best posts of the week:
Chosen by Chris Rowland and Daniel Rhodes.
1 – Kloppelotti on Paul's new article (see below) thread, with some facts and figures on transfer spending:
Moving swiftly on to something I came across this evening which is very much connected to this brilliant piece of writing not least taking player procurement and development into consideration …
CIES Football Observatory has released their latest figures analysing the last 10 transfer windows. The figures from CIES are not taking TPI (Transfer Price Index) adjustments into consideration, though the overall net transfer spending throws up some interesting facts for the Premier League and the other Big-4 European football leagues.
Firstly, net transfer spending for the Premier League (figures in Euro):
1. Manchester City = €631M
2. Manchester United = €586M
3. Everton = €346M
4. Aston Villa = €339M
5. Chelsea = €308M
6. Arsenal = €299M
7. Brighton = €259M
8. Tottenham = €250M
9. Wolverhampton = €249M
10. Fulham = €190M
11. West Ham = €171M
12. Leicester = €134M
12. Sheffield United = €134M
14. Liverpool = €129M
15. Leeds = €115M
16. Crystal Palace = €100M
17. Burnley = €82M
18. Newcastle = €77M
19. WBA = €73M
20. Southampton = €50M
So, Liverpool's net spend is significantly lower than all our main competitors. The Manchester clubs are far ahead with clubs like Everton, Aston Villa and Brighton also challenging some of the other so-called Big-6.
So how on earth can we still be competitive? And just not competitive! We have been by far the best team in the league alongside Man City over the recent 5-year period (2016-2021). The two teams have posted the best overall point scores in the EPL history time and again. You would clearly expect City to be up there based on their net spend and overall expenditure, including making a mockery of the FFP rules. Taking all that into account, Liverpool's performance is even more impressive when studying some of the underlying figures.
To my mind, here are some of the reasons why we have done exceptionally well with such a minor net spend on transfers since Klopp arrived:
1. Arguably the best manager and coaching team in the EPL based on results and net spend (not taking TPI into consideration).
2. Arguably the best transfer policies and procedures in the EPL.
3. Arguably the best analytics and scouting team in the EPL.
4. Arguably the best purchase and sales negotiation skills in the EPL.
5. Arguably the most sustainable and transparent business model in the EPL, incorporated by FSG in line with the FFP rules, unfortunately not followed through by the governing body, UEFA.
6. A Youth Academy that yet again (after a barren spell) has started to produce and deliver first team players. TAA, Jones and Kelleher are just three of the more recent success stories with many more seemingly on the way.
7. One of the best commercial departments in the EPL securing competitive sponsorships deals on a wide-reaching global level.
Some of the key people being Klopp, Lijnders, Krawietz, Inglethorpe, Edwards, Graham, Gordon, Hogan, Werner and Henry, only to mention a few. (And for gender balance (and not least for Krish' sake), we should probably include Mrs Pizzuti Henry.) 
So, what about the Big-5 leagues combined?
1. Man City
2. Man Utd
3. Barcelona = €471M
4. PSG = €455M
5. Inter = €386M
6. Everton
7. Aston Villa
8. AC Milan = €311M
9. Chelsea
10. Arsenal
11. Brighton
12. Tottenham
13. Juventus = €249M
13. Wolves
15. Fulham
16. RB Leipzig = €176M
17. Bayern Munich = €171M
17. West Ham
19. Napoli = €165M
20. Parma = €158M
21. Leicester
21. Sheffield United
23. Liverpool
So, Liverpool in 23rd spot! Last years CL winner Bayern Munich in 17th place, joint with the nil and void brigade.
The EPL is exceptionally dominant with 14 teams in the top 23 and 10 in the top 15! This just shows how much money that's floating around in the top league in England. It also clearly shows how much money the broadcasters are investing, monies essentially being raised by the public (genuine football supporters as well as consumers buying into advertisements etc.).
Everton and Aston Villa are both in the top 7 on net transfer spend over a 5-year period, including all the top 5 leagues in Europe! Who would have thought! And Brighton in 11th place. Graham Potter has got a good reputation as a manager, though on this evidence he's also receiving very good backing in the transfer market. Do we hear anything from the pundits in regards to these teams? Not a whisper!
It's also interesting to note the many clubs making a positive net transfer spend. Lille (+€191M), Lyon (+€151M) and Atalanta (+€133M) being the top three in this category.
So, when Liverpool were accused of being a selling club, the three above are in a different category altogether.
Link: https://football-observatory.com/IMG/sites/b5wp/2020/wp324/en/
2 – Yiannis on the same thread:
A brilliant article as ever, Paul. What I appreciate the most about it is that it provides a pretty exhaustive list of context for this whole-flock-of-mega-Black-Swans outlier of a season, for the club, the league and football in general.
What irritates me the most about the small amount of punditry I can stand before I turn it off is that, while some token comments are raised about fans not being present, the majority of the talk and presentation is acting as if this is just another season, with the same banter, same puerile, basic analysis and same short-term, click-chasing sensationalism. Roy Keane may be the current most egregious example – and it would almost be worth the pain, injuries and hospital time to be able to tell him where he can stick his "excuses" – but there is a collective lack of insight and appreciation into the nuance and context of this season. Pundits lacking insight is hardly a new observation on this site, so none of us are perhaps surprised, but it is frustrating when the context is so blindingly obvious – that this season is a spike on the graph so high it goes off the page – and they still seem oblivious.
I would invite the rest of the TTT-verse into a little thought experiment. Imagine the world as a whole twenty years from now, then imagine the world of football at that point. Now imagine looking back at the history of football from that point twenty years in the future. Regardless of what future you imagine for the world, good or bad, hopeful or bleak, this season will stand out as a milestone in the entire history of football.
If your view of the future is pessimistic, some bleak dystopia of increasing divisiveness where large social gatherings are a relic of the past, then this season will mark a clearly delineated start of a new era in football. The old rules will no longer apply – meaning the unwritten rules of how the game is understood and viewed, but maybe the actual rules of the game itself – and, whatever the new rules are, an entire generation will have been brought up under them and accepted them as the new norm.
Alternatively, if your view of the future is more positive, if you believe that humanity will adapt and overcome once again, that vaccines and doctors will defeat the pandemic, as they have defeated so many scourges that plagued our ancestors, that live crowds will return, the pubs, clubs, cinemas, theatres and concert halls will reopen and everyone will go back to how things were before all this craziness, then this season is the outlier of outliers. Every stat, fact and achievement will come with the caveat that it is from "that" season and will be given less weight because of it.
Either way, whether the future is positive or negative, Liverpool fans will look back on this season as an extra outlier, with what will probably (hopefully!) go down as the worst season for injuries in the club's history the icing on the outlier cake.
Whatever happens for the rest of the season, wherever our fortunes find us at the end, don't worry about it. This team, this squad, this group of men, this club will come out the other side and will be stronger for the experience.
3 – Peterneall on Mike Taylor's article thread (see below) on the relationship between team and fans at Anfield:
Ever since I walked through the turnstiles the Kop way back to see Shankly's first team I learned two things about Liverpool that separate us from almost every other team around. First we know, absolutely know, that football is a true team game and second that team has more than just the players on the pitch and on the bench. Jürgen's selection of us at the WBA match, our inclusion in the Barcelona match, to name just two, show we are not just missing some players, we are missing a complete part of who we are. Other teams don't include the fans, they tolerate them, indulge them, patronise them and may sometimes even be a little bit grateful to them. Here we are them, they are us; they are playing as amputees, a part of them is cut away and it is as painful to them as it is to us. We feel because we are in the team! What they have done without us is amazing, to be who they are we need to be together, and we will. Keep singing, one day it will be needed where we belong. Meantime we do what we can, as do the ball playing members of the team. We are Liverpool
Great article Mike! Thank you
If you want to know what happens to the lark, Ralph Vaughan Williams gave us a heads up with 'The Lark Ascending' It will!
4 –  Benjamin assessing the season and the problems Liverpool have faced:
I think we're all on the same page here. We never knew how this season of all season's would pan out before a ball was kicked. A good start was punctuated by two dramatic events, one telling and one fatal: Aston Villa and Everton away.
The Villa game, apart from being momentum stopping and damaging to the goal difference, was a continuation of the theme that Alisson has been an inconsistent appearance maker since the first game of his second season. He's not missed lots of games, but he's had frequent setbacks, a game here and there. It's damaging to him and disruptive to the team, given how exposing it is to have Adrian playing. Kelleher, to his credit, looks an able deputy, but we've never been a club to make sure we have a solid number two, are we? Alisson needs to become more of an ever-present.
The Everton game was cataclysmic in its effect. Not only denied the win by pure injustice, but to lose your absolute main man, the best player in the team and possibly the best defender in the club's history – we all knew by the Sunday evening that this season was heavily, heavily compromised. It took us 30 years to win the league, and to even do that it took for us to craft a season of near perfection. You only get near perfection when every cog in the machine is available, and well oiled. Van Dijk is the club's most powerful cog, most good things start with him, and most bad things end with him. He's utterly irreplaceable. The marquee summer signing's two and a half month and utterly preventable injury that followed was a mere afterthought in comparison. If we could rewind the clock back to 12 o'clock on that Saturday and have things play out differently, even a defeat but with the team in tact, we would. We'd relive the biggest wave of the pandemic again…
What's done is done and looking forward now, I cannot see any of the three centre backs surprising us by making an appearance again this season, I believe the club will use the summer to ensure they're fully fit for the start of the new season. Three new signings coming in, breathing new life into the keeper, the full backs and their team mates in the middle. Fabinho liberated from a stressful season and he can go and be inspector gadget in the middle of the park again. Henderson and Thiago pulling the strings. Arise future Captain Jones as a virtual first choice. Maybe, just maybe, Naby Keita will stay fit. Mané, Jota and Salah all pace and power up top. Maybe a surprise signing to come in and do what Jota did, maybe not. But if you could tell me now that we'd sign no one but those three CBs come back, are at their best and stay injury free, I'd take it all day long. Roll on 21-22…
5 – Jeff on the impossibility of predicting the Reds' misfortune this season:
I have made a living for more than half a century telling people what course of action is prudent and the way they should conduct their business going down the road. Since I worked doing this for so darn long, I think I can say that I have been more right than wrong and even when I was wrong and oh yes I have been wrong any number of times the people who paid me realized that something no one could have foreseen happened.
We can as Paul has done and any number of people on TTT have done chronicle the misfortunes that has beset Liverpool this season but what stands out to me is that no one could have foreseen what has happened which means that it is a classic case of events conspiring to cause endless pain. The simple truth is the foundation of Liverpool is sound and Liverpool are still in the European Club Championship and in contention for a spot in the top 10. Is this perfect? Hell no, but if you look at the misfortune that has stuck Liverpool this season Liverpool are in a far better place than the pundits – Kean- want to acknowledge.
Pundits are paid to get eyes on what they write or get eyes on what they say in any number of broadcast mediums. Should anyone take someone who is just after eyes seriously? I do not but some may and they are in my opinion going down the wrong road.
6 – Mark Cohen ahead of the Leicester game:
Also feel really good about this one, a solid week's break, and definitely think we will see Henderson return to the midfield. This will automatically increase the drive and organisation that has been amiss, and we should see a general improvement from this.
In a strange way today feels almost like the beginning of the next cycle under Klopp which I think he will be able to build far quicker than the first.
I'm excited to see which CB gets the first nod by Kloppo, at last we shall be playing with a fully fit, natural central defender who has spent some time playing this position. This will be good.
Also Leicester have suffered heavy pastings at our hands over the last few, and might have a bit of a mental challenge to overcome against us.
I think we will see a dominant performance, hopefully taking our chances, and moving up the table a notch!
Articles published since last Friday, with excerpts:
Mon. Feb. 8th:
Post-Match Analysis: Liverpool 1-4 Man City, by Daniel Rhodes.
Liverpool didn't lose at Anfield for years and years, and then suddenly three come along at once… For the first seventy minutes of this match both sides had a penalty, both sides had scored a goal and it was fairly even in most of the shot metrics. Then Alisson gifted them two goals and the game is over.
It Was the Worst of Times, It Was the Best of Times, by Mike Taylor.
And most important of all, last year's league triumph was by far the greatest of my lifetime in terms of how deeply I felt it, precisely because it was so long since we'd last done it. I have to be honest, I got sort of bored in the 1980s. It really felt like it was too easy. It was hugely enjoyable, but it didn't necessary mean all that much.
What I'm saying is that it's the hard times that make the good times good. That contrast is what makes the light shine brightly when it arrives. It's walking through the storm — with your head held high, of course — that makes the sweet silver song of the lark sound out so very beautifully.
Like Roy Keane, Are You Too Simple To Understand Liverpool's Situation?, by Paul Tomkins.
Phillips and Williams are unlikely to end up anywhere near as good as van Dijk, because van Dijk is the most complete centre-back of his entire generation. So you can't have a van Dijk in reserve. You can't have a 6'4″ gigantic-leaping, stunning-heading, quarterback-passing, fast-sprinting, goalscoring, ball-nicking winner like that hanging around as 4th or 5th choice. Maybe the next-best players can be 85% as good; then, after that, maybe 60% as good. Go through to the youth team and U23s, and they may be 30% as good at this point.
And if you have two other outstanding centre-backs – 85-90% as good – who are also badly injured, you are going to arrive at ever-worse solutions, through no fault of their own, and no fault of the manager. All resources in football are finite. Liverpool had four centre-backs this season, including Fabinho, and at one point all four were injured.
If Paul McCartney and John Lennon had left the Beatles in 1966, then no one – not even the best from rival bands – could join George Harrison and Ringo Starr to make them as good. There would have been no Sgt Pepper, but whoever joined may still have written some nice tunes. There aren't any spare Virgil van Dijks, just as there was not another Lennon or McCartney.
Wed. Feb. 10th:
January's Goals (Finally) Showcased The Best Of Klopp's Liverpool, by Andrew Beasley.
Counter attacks, crosses, build-ups starting everywhere from the Reds' own box through to the final third, through balls, open goals, half volleys and profiting from errors. For a month which almost had nothing, January had everything.