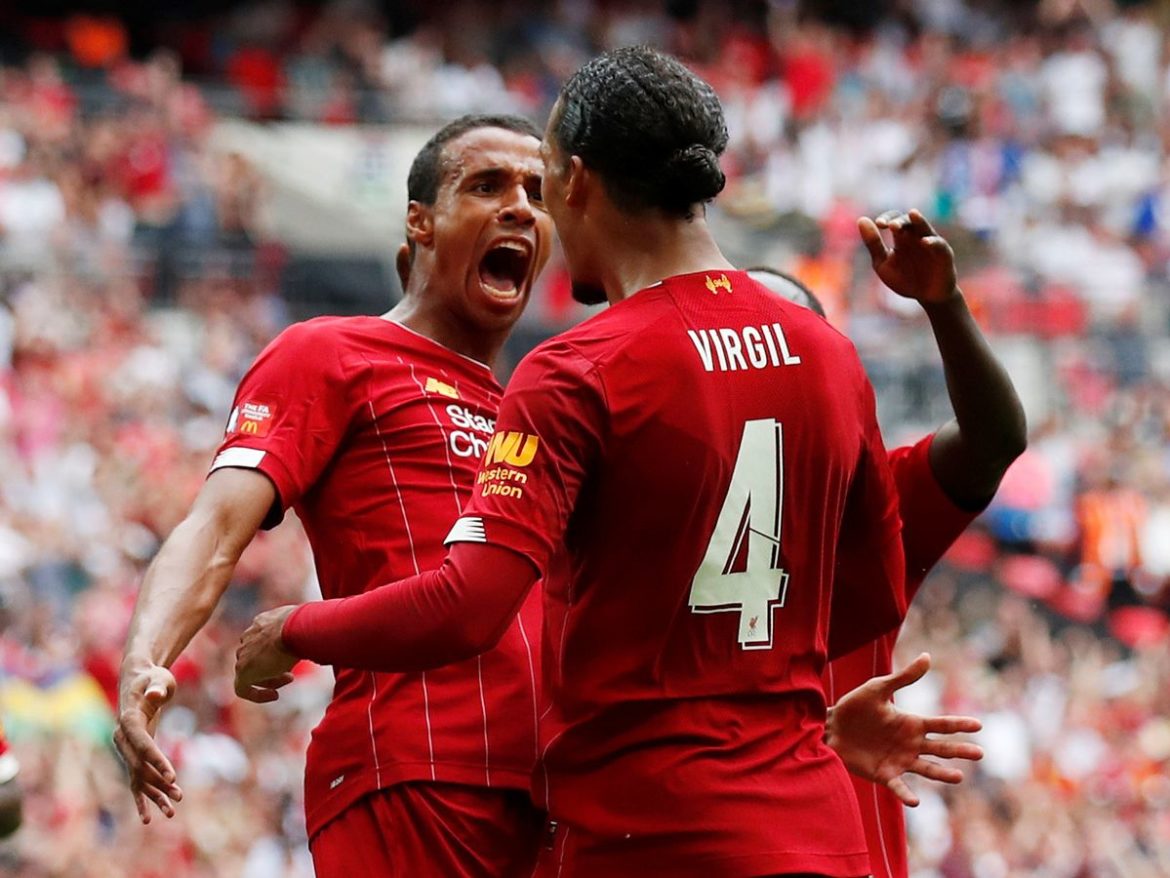 Given the litany of setbacks, it remains remarkable that Liverpool are still in the title race – although it requires a change in form, and indeed fortunes, to stop sliding out of view.
In this multi-sectioned deep-dive of an article – the first chunk of which is free to non-subscribers – I'll be addressing a number of the issues the Reds are facing right now, some of which are beyond anyone's control (you can't force players to be more confident when shooting; "pressure" of any kind is often counterproductive); and also, some shortcomings presented mostly by injuries, which just happen to have fallen in a pattern that has proved lopsided (and which has, in turn, forced other departments of the side to be rearranged). 
But whatever the cause, there are also some issues of players out of form, as well as some, like Fabinho rising to new challenges.
There were many key issues that Jürgen Klopp and Michael Edwards sought to address from 2015 onwards, and they addressed them all with surgical precision, as winning the Champions League and Premier League (after being impressive runners-up in each) proved; but "the best laid plans of mice and men…" and all that, with regards to how much the injuries have taken away very special and unique aspects of the Reds' play (especially pace and aerial dominance), to leave – as happens when you remove world-class players with unique attributes – a more run-of-the-mill side. 
(That said, Klopp is now finally able to introduce Thiago into the equation, after the Spanish magician finally made his Anfield debut for the Reds – but despite his individual brilliance on the ball, he's still adjusting to the new team and working on his stamina and "match legs", while the team around him adjusts to him, too. Results have been poor in the games he's played, but it's stupid to blame him, as it's through no real fault of his own – for instance, Liverpool did not fail to beat Everton because of Thiago, but because of three awful pieces of officiating. Indeed, Richarlison then put Thiago out for months.)
This is the sequence Liverpool fans now need to be mindful of: 3, 2, 2, 2, 2, 2, 6, 2, 3. 
No, not the number of goals Klopp's men are going to score in the next nine games (although that would be nice after the bizarreness of 7, 1, 0, 0, 0 in the league, having been the overall top scorers just a few weeks ago), but the clear days between each fixture, with those games including Manchester United (FA Cup), Spurs, Manchester City, Leicester, Leipzig and Everton (plus, up next, the Burnley Bruisers), up to just February 20th. 
That feels fairly make-or-break: a chance to perhaps return to being the pacesetters, or to remain firmly in the chasing pack, or to fall away to the point where – unlike now – the title has gone. While all outcomes are possible, it seems that the league won't be won in that period, unless the Reds' rivals suffer similar injury crises and a string of bizarre VAR overturns, but it could be lost.
I can't say that I'm especially confident, as this is not the Liverpool of 2018-2020, but a patched-up simulacrum, in a bizarro world of empty stadia and "I don't believe what I'm seeing" VAR and refereeing interference. 
(Latest one: ref who never gives Liverpool anything – now no penalties in 14 games – blowing for half-time six seconds early, in a clear breach of the rules, with Sadio Mané perhaps just three seconds away from taking a clear shot at goal. Also, allowing Manchester United to play on for ages when clearly offside, then, as Liverpool broke, bringing them back to take the free-kick they didn't want and thus served as punishing Klopp's men and break up the play like a tactical fouler; second half, same situation, and United were allowed to continue with their break. Paul Tierney spent the game from about the 20-minute mark breaking up Liverpool's momentum, but not doing the same to United. Don't ask me why. He did at least penalise Luke Shaw for a pathetic foul throw, and I'm all for more refs pulling up players who can't even put the ball behind their head on a throw-in.) 
As I've said a few times lately, Liverpool have been caught in a fitness trap: no proper preseason to give them their usual edge. And finally having four or five players back from injury does not make them match fit.
Players like Gini Wijnaldum, Andy Robertson, Mo Salah, Roberto Firmino and Sadio Mané are at one of the spectrum – having to start every game, even when looking a bit leggy (and in the case of Robertson and the strikers, the new understudies out injured) – and others, like Thiago, Alex Oxlade-Chamberlain and Xherdan Shaqiri, having missed most of the season, and so are "fresh" but not sharp. (Obviously those others who are out for the season are … out for the season.) 
Fitness is a balance between providing maximum stamina and sharpness without going into overload and fatigue. I'm no expert in how it's achieved, because it's a science; but I remember from my own playing days, including time as a semi-pro, how much easier football was when fully sharp, and how much harder it was to play with niggling injuries or insufficient training. When I was a semi-pro in the mid-'90s I played on a Saturday at 3pm then 11am the next day for my Sunday League side, until it was too much for me (although I was starting to suffer post-viral symptoms that were later diagnosed as M.E., as I pushed my body beyond its limits.)
I can see some players who look tired and some players who look rusty. The quantity and nature of the injuries have meant that normal rotation has not been possible, in this abnormal season. In a rare rest for Andy Robertson, Kostas Tsimikas got injured.  
An issue is that there is no decent-level reserve football these days (the U23s is a bit of a joke, with most of the best Premier League players aged 17-23 often loaned out, often to the Championship), and with Covid protocols I assume clubs can't arrange special games or intense warm-weather training camps. 
The issue, as well as the sheer number of injuries – often between six and 12 – is that certain positions for Liverpool have no injuries, and other positions have, or have had, too many injuries. While the loans benefit the younger players – look at how amazingly 17-year-old Harvey Elliott is doing at Blackburn – it does leave the U23 system unsuitable for senior players to play their way back to fitness in the way the old reserve system used to allow, in that the U23 league often actually feels full of U18s, and not even the best U18s, as they might be with the first team or out on loan. (Of course, the Reds' first team has frequently contained three teenagers this season, often out of necessity, while others have also had first-team games in 2020/21.) 
It usually takes players 3-4 games to get fully sharp when a season starts, but if your own season is only essentially starting in January and everyone else is nicely up to speed, you could need 5-6 games, as the game is already super-quick. You're playing catch-up.
That's one of the drawbacks for when Diogo Jota, the club's most ruthless finisher in 2020/21, gets back: he may not hit the ground running. 
However, the sooner he's back the sooner he can start to find his groove again, especially while the current front three – Sadio Mané aside (although even he's also not at his best) – look well below their sharpest. Dan Kennett, a frequent contributor to TTT over the years but now more noted for his AI Under Pressure podcast, noted on Twitter how the front three and Trent Alexander-Arnold were all at their lowest 10-game averages in terms of production levels.  
This was before United. Salah and Mane both at the lowest 10 game productivity of their #lfc careers. Bobby had his career low in November and Trent is lowest since Nov 2018.
The 4 best attacking players last season all at historic low points simultaneously. pic.twitter.com/IhVVIrekFT

— Dan Kennett (@DanKennett) January 17, 2021
Thiago and Shaqiri started brightly against Manchester United, who arrived with no major fitness issues and in better form. Thiago also shone brightly again later on, but more intermittently; both were understandably unable to produce an intense 90 minutes.  
But a big positive, barring further injuries, should be Thiago, Jota, Oxlade-Chamberlain, Shaqiri and Tsimikas being fresher in the second half of the campaign – some as starters, some to offer more options and to allow at least some rotation. 
The month Alexander-Arnold missed may help in the long term, and surprisingly, late on against United, when he might have tired, was actually the first time in ages that he looked more like his old self (at least four sumptuous long-passes or crosses and one run), having had Covid as well. That said, he still seems lacking a bit of strength and power. And obviously any match-time from Virgil van Dijk and (less likely) Joe Gomez would be a huge bonus.
Joel Matip being fit again this week is vital, especially against the giants of Burnley, although he probably won't be starting all those nine games even if he's not injured; he clearly can't be relied upon to play every game, no matter how hard he works at staying fit. 
However, put him in that defence and it suddenly brings or passes the ball out more quickly, and the power moved into the back four – which as a pair has done so well there – can start to move back into the midfield. It also provides one of the best aerial players in the country. As I'll get onto later in the piece, aerial protection was one of the key areas I identified in 2016 as a big weakness, and was something the club addressed. But several players who between them bring special skills in terms of aerial power, pace, ability and vision are missing right now. (Virgil van Dijk has them all.)
Matip, van Dijk and Gomez are particularly brilliant at bringing the ball out of the defence with pace and skill; and van Dijk's passing from deep is up there with the best playmakers. The Reds are keeping clean sheets, but seem less able to attack in numbers, due to the deeper back-line and the lack of the defenders who bring, or zip, the ball into midfield. 
Further forward, Naby Keita and Oxlade-Chamberlain are the best two at taking the ball directly and dynamically from midfield into the danger zones, and both also get goals from midfield. Interestingly, if Liverpool could add a new centre-back, or looking ahead to next season, it could be that Thiago plays more as a no.8 than no.6, as he has the brilliant ability to go past players and play cute passes. But right now he's needed deeper, to help compensate for the lack of van Dijk's central playmaking.  
Goalscoring midfielders or even creators had not been as necessary when the front three were firing on all cylinders and the full-backs delivering constant quality, but right now it's a case of only Sadio Mané looking vaguely dangerous, while the full-backs are not on their A-games. 
And obviously, for all his defensive dominance, Virgil van Dijk is worth at least five goals a season, while Matip can also get goals – but at the very least, occupy the opposition's biggest players to free space up for mid-sized players like Roberto Firmino to head a corner at goal, as he did twice since the autumn (against Leicester and Spurs) before Matip was injured. Since Matip has been out, the Reds' own set-piece threat has atrophied. 
When van Dijk, Matip, Fabinho and Jordan Henderson are all in the team, the Reds become impossible to mark at set-pieces; take van Dijk and Matip away, and it's suddenly far easier.
Also, without these fast line-breaking players at the back and in midfield, the play has been a bit more stodgy at times, and maybe there is a knock-on effect of certain positions in the team being understrength and in need of overcompensation from other areas; certainly Liverpool lost midfield power and height in playing Fabinho and Jordan Henderson at the heart of the defence, but the alternatives were two largely unexperienced guys (neither of whom have much pace) who no one even really expected to get a game this season. While it's been a valuable education for those involved, Liverpool have had to play a lot of kids this season; at times, too many.
Such situations lead to Compromise A or Compromise B. 
Just going out and buying a new centre-back is not as simple with: 
Covid: financial uncertainty in the market, and hundreds of millions of pounds in losses while wage bills are paid in full
Covid again, in terms of players moving freely about the world at the time of a global pandemic limiting travel and, presumably, in-person scouting;

 

Brexit: European players can't just sign for English clubs any more. They need to have high "points" scores, as with many country's immigration rules, in order to move to the Premier League: so, when Liverpool are linked with Éder Militão, 22, of Real Madrid – which may or may not be a legitimate rumour – the deal, should one be pursued, could be scuppered by the rules; he would score highly as a Real Madrid player, as the selling club's stature is taken into account, and would score points for being a full Brazilian international at a young age who has played alongside Liverpool's three Seleção teammates – but counting against him would presumably be that the last of those caps was in 2019, and that he hasn't been playing for Real Madrid, who continue to use the vastly experienced, long-established pairing of Sergio Pig's Heart Ramos and Raphaël Varane;

 

Brexit again: British players will now be overpriced as they are now more valuable as they'll be more in demand, with a need to meet quotas, and the fact that that they don't require a points system;

 

The generally accepted greater difficulty of signing players in January, albeit it's not impossible – but there's no doubt fewer players look to move midseason;

 

And the difficulties of integrating anyone new into a team pattern that can take time to adapt to, with centre-backs often relying on experience and shared understanding (and if from overseas, learning the language and adapting to the pace of the game over here can take up to a year).

 
As Pep Lijnders recently said, the group dynamic has been a big part of the club's success, and therefore it's a risk to disrupt that. You can't just go and pick up another Virgil van Dijk. You can't risk signing dickheads. A great new player could come in and do terribly in the first few months, and that would be worse than Henderson doing a 7/10 job there, although he was 8.5/10 against United. While Henderson has rarely played as a centre-back, Fabinho's record there is outstanding, and the pair do understand each other more than two strangers would.
There's also the uncertainty as to what shape van Dijk and Gomez will be in next season, after terrible injuries, and if the plan needs to be short-term or longer-term; Liverpool wisely waited for van Dijk in 2017, to suffer some short-term pain for long-term gain beginning in early 2018. Fans struggle to be that patient, obviously. 
But Liverpool had some relatively poor centre-backs at the time, who everyone knew had to be offloaded in due course; now, including Fabinho as 4th choice, the Reds have four superb centre-backs – possibly the best four the club has ever had at any one time, given Fabinho's clear, natural ability for the role – but of late, only Fabinho has been fit. You can't just keep adding players to the wage bill, especially when income is so severely slashed. And you can't just offload players, especially in an uncertain market.
Anyway, after that extended free-to-all intro, the majority of this piece follows below, and is for subscribers only. I look at a few of the issues that were addressed by the club so brilliantly in the transfer market over recent years, but where some issue have reappeared due to injuries, and also if the summer will be time for some players to move on, including one or two big names. 
[ttt-subscribe-article]