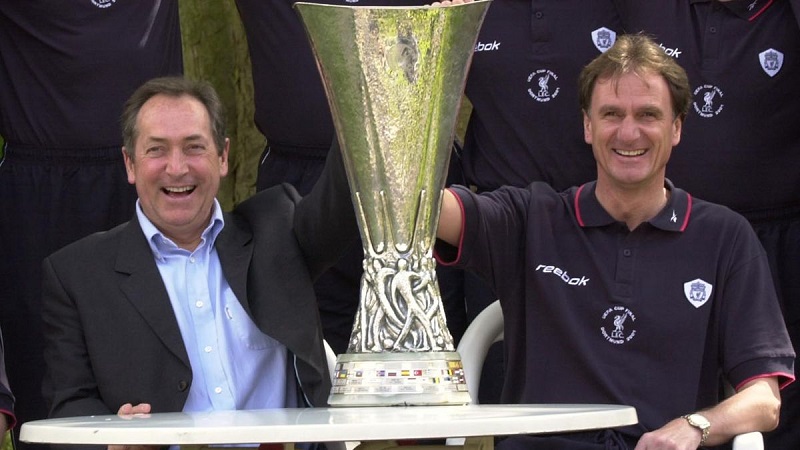 Here we go gathering cups in May ..
By TTT Subscriber Anthony Stanley.
We didn't see this one coming.
In the desert that was the whole of the 90s, it seemed impossible that, as the new decade blossomed, three trophies would be secured in the space of three months. But that's what Houllier's 2000-01 vintage achieved: a unique treble together with a third place finish and the arguably more important promise of re-entry into the rebranded Champions League.
There's a paradox here; a contradiction that goes right to the heart of Gerard Houllier's management and legacy of the Liverpool team. An achievement that will probably never be repeated and yet within a few years the memory had been somewhat soured by a combination of heightened expectations, a damaged aorta and a disastrous 2002 recruitment policy. Moreover, the surreal events of Istanbul and Rafa's impact probably overshadowed the treble season to a degree.  The events of that momentous spring and early summer, the drama, the goals, the heroics, the return to the banqueting table that we see as our right; it could be argued that rather than peer back at them through a rose coloured prism, we have all done the opposite and not given the team, or Houllier, the credit that is deserved.
But this season was a redemptive one, a campaign in which the whole of Europe was forced to sit up and, once again, shiver in fear at the continental rehabilitation of the Reds. Though Roy Evans had given Liverpool fans some great moments with his 5-3-2 that got the most out of the formidable talents of Robbie Fowler and Steve McManaman, though the passing had been a joy and the swashbuckling verve had left us breathless at times, they had, ultimately, flattered to deceive, a 1995 League Cup being the only success in that era. Moreover, European nights had become something of a trial; a club with proud traditions of St. Étienne and Roma in the Italian capital, of back-to-back European Cups, had regressed shockingly in this arena since the Heysel disaster.  Kopites became used to watching forlornly as PSG (emphatically not the PSG of today) hammered three goals past a shoddy defence or the dubious might of Celta Vigo vanquished the Reds.
As the nineties drew to a close, Liverpool Football Club – the doyens of European pedigree – found themselves cast adrift from the elite. This season changed all that; in many ways it laid the foundations for Istanbul. The irony, of course, is that that miraculous night outshone that which made it possible.
Houllier's first season in sole charge had seen the Reds narrowly miss out on Champions League football as they finished the season in fourth. Though there was a large degree of frustration at the toothless and impotent finish to the 1999-2000 season, as Liverpool limped to the finish line, there was still genuine cause for optimism as the new season dawned.  Hyypia and Henchoz, together with the remarkable Hamann, had made the Reds fiendishly hard to score against. Emile Heskey had been signed from Leicester in early 2000 and though he laboured with his new club in his first few months, in 2000-2001 he absolutely excelled. The summer of 2000 saw no fewer than six new arrivals to help Liverpool make the needed step up in quality (another four players would sign during the winter months – this being before windows 'slamming shut' and ghastly Sky Sports deadline day).
Of the new arrivals, two German internationals caught the eye: Christian Ziege signed from Middlesbrough under a cloud of tapping up and Markus Babbel on a free from Bayern Munich.  Though both would ultimately prove disappointing, the latter played a starring role in the club's march to glory (Babbel was later struck down with Guillian-Barre syndrome which effectively ended his Liverpool career).  Ziege, save for a few games, had a torrid time at Anfield and would only make 16 appearances before being shipped out. More successful was Nick Barmby who made the journey across Stanley Park for £6 million. Everton fans took this with their customary grace and good will as Houllier looked on in slight bemusement at the furore. But surely the most important capture – certainly for the season that was to come – was the signing of the veteran Gary McAllister from Coventry City. The canny Scot would, in many ways, act as a catalyst for the success that was to come in late spring and early summer. Igor Biscan, apparently wanted by all of Europe, would sign for £5.5 million in January before, in what appeared a major coup, the club secured the signing of the superstar Jari Litmanen from Barcelona. In the twilight of his career maybe, but he was still capable of the sublime and made a telling contribution, though perhaps the pragmatism of his manager was not conducive to getting the best from his phenomenal abilities.
Eleven players went through the exit doors before and during the season. Of these, the most notable were Brad Friedel who left on a free before seeing his career in England take off, Phil Babb, the less than solid centre back perhaps more noted for colliding with the woodwork than stopping chances, Titi Camara, who briefly became a Kopite cult hero, and Steve Staunton, a title winner under Kenny.
Premier League:
The profound change and transformation in the landscape of English football in the last fifteen years can be illustrated perfectly by even a cursory glance at the final league table in 2001.  Before Russian autocrats and sheikhs with bottomless pockets showed up, this was a world in which Ipswich Town could finish fifth and Leeds United, in the midst of financial roulette, could narrowly avoid successive Champions League qualification. Manchester City finished 18th with a goal difference of -24, Chelsea finished four points above Sunderland, Tottenham managed to garner one more point than Leicester City. Unfortunately, Manchester United were in a different stratosphere to the chasing pack and the campaign as a competition was effectively over by January. The received wisdom was that it was Liverpool, Arsenal, Chelsea and Leeds United fighting for the final two Champions League spots (only three were available at this time).
An ultimately successful league campaign for the Reds began with Heskey announcing the dominant role he would play as a low pile-driver was enough to see off a spirited Bradford City at Anfield. Arsenal in Highbury was next up in a bizarre game that saw the dismissal of both Gary McAllister and Didi Hamann (Patrick Viera also got sent off) as the Gunners won 2-0.  This was Graham Poll at his finest as The Echo opined:
'How three players could receive their marching orders is a question only the mysterious mind of the man in black could answer… all the overzealous Poll succeeded in doing was to strangle the creative potential of two attractive football sides'.
If that was painful, the next game was a reality check as a side full of expensive foreign imports and young bucks who had yet to properly gel (sound familiar?) struggled to keep hold of the ball and squandered a three goal lead; Southampton assaulted Westerveld in the Reds goal with punt after punt and, after Liverpool had been out of sight with 17 minutes left, salvaged a 3-3 draw.  An apoplectic Houllier grimaced that it was 'a time for throwing teacups'.
This was the early season form, up and down, inconsistent, steps forward and steps back. To the infinite frustration of Kopites, United were imperious as we struggled. Houllier talked of 'five year plans' and there was clearly a strategy in place. But before Christmas, as results fluctuated widely in the league, there was an air of resignation. Though Liverpool never looked totally adrift of the top three, many fans questioned whether it was achievable to qualify for the new Grail of Champions League football. For every 4-0 trouncing of Derby County there was a 1-0 Anfield defeat to Leicester (Heskey rested for this game – and the subsequent glee from Marcus Stewart et al. – graphically shows how effective and central the England striker was this season).  We never really knew what to expect and – at this juncture of the season – it was hard to trust the team. A 3-0 capitulation to Chelsea and a 4-3 defeat at Leeds United in which Mark Viduka scored all four goals (after we were 2-0 and then 3-2 ahead) were probably the low points. By the time we visited Old Trafford – scene of many a depressing afternoon over the previous years – a week before Christmas, Liverpool were sixth in the table behind such luminaries as Ipswich Town, Leicester City and Sunderland. United were a whopping thirteen points ahead of us. We feared the worst but the Reds came out fighting and Danny Murphy secured the points with an expertly driven free kick following a spot of basketball by Gary Neville (the forerunner of Di Maria's comical catch in the recent league game at Anfield).  The return game at Anfield would be even better as a never-to-be-forgotten howitzer from Stevie opened the scoring in a 2-0 victory.
It looked a turning point and the day before Christmas Eve, Arsenal were trounced 4-0. As the Echo exclaimed:
'If Liverpool are not to win the Premiership title in 2001 they are certainly determined to do the next best thing and have a large say in who does. Seven days, six points, five goals and two clean sheets. The numbers add up to an extraordinary week for Gérard Houllier's Liverpool and, in all probability, in the fate of this season's championship contest.
The scoreline in the meeting between French heavyweights Houllier and Arsène Wenger flattered the former considerably, but, in the wake of last week's 1-0 victory at Manchester United, Liverpool are rapidly improving and the residual confidence left from that Old Trafford success so tangible it could be bottled and sold over the Christmas perfume counter.'
Alas, in keeping with the pattern of the domestic season thus far, the Reds then went to Middlesbrough and were promptly beaten by a single goal. Liverpool then went on an unbeaten league run that would last until early March when, a few days after tasting glory in Cardiff, they went down 2-0 at Filbert Street to Peter Taylor's dogged Leicester City. But despite a Good Friday defeat at the hands of top three rivals' Leeds (which felt pivotal at the time – there's that déjà vu again), Liverpool's form from March until the end of the season was simply superb. The final seven games produced six wins and a draw. Two highlights stand out: the 3-2 epic against Everton in which Gary McAllister cemented his hero status with a 45 yard disguised free kick in stoppage time and the final day of the season. Needing a win away to Charlton to see off Leeds United and secure third, the Reds were overrun in the first half and were lucky to make it to the break unscathed. Step forward Robbie Fowler as the Kop's darling swept home an impromptu overhead kick/lob that sailed into the net. Nerves were eased and Liverpool romped home 4-0 with Murphy and Owen also scoring while Robbie, rotational frustrations seemingly placed to one side, added another.
Liverpool secured their target of Champions League football with a points total of 69; one below Arsenal and one point ahead of Leeds. The form they showed in the run in – while heavily involved on other fronts – was hugely satisfying and a vindication of Houllier's rotation policy. It gave us belief that we could mount a genuine challenge with a few tweaks the following season and, lest we forget, Liverpool did just that.
The League Cup:
Liverpool began the competition in the third round with a 2-1 extra time victory over Chelsea, Robbie Fowler scoring the winner as penalties beckoned. Stoke were then crushed in a remarkable game in which the Reds scored eight without reply at the Britannia Stadium. Fowler helped himself to a hat-trick against the then Second Division club as he continued his love affair with this competition. In many ways it was a frustrating personal season for the boy from Bootle as he and Owen vied to be Heskey's partner; Robbie frequently found himself left out. But in the cups, Fowler got plenty of joy. However, in the Fifth Round, Fulham managed to frustrate the whole of the Liverpool attack for 90 minutes and it wasn't until the introduction of Owen and Barmby (who both scored) that led to a 3-0 win – all scored in extra time. Onto the semi-final and Crystal Palace were plotting an unlikely victory which after the first leg in Selhurst Park appeared to be a possibility. The Reds missed a host of chances and found themselves 2-0 down before Vladimir Smicer pulled one back. The Eagles' striker, Clinton Morrison, appearing to believe his own propaganda, then ill-advisedly questioned the Red frontline's prowess in front of goal. Perhaps the newly debuted Irish international regretted his impertinence as the Kop drank up every goal in an emphatic 5-0 victory.
Birmingham City were the Reds' opponents in the final at Cardiff's Millennium Stadium – Liverpool's first of several appearances there – a game in which Liverpool seemed to labour under the expectation of the feverish crowd. Robbie's sumptuous volley was a thing of beauty but that was the only real moment of quality and, in truth, the First Division team deserved their 90th minute equaliser which came from a Darren Purse penalty. The match had penalty shoot-out written all over it and a young Andy Johnson was the unlucky man as Westerveld saved his spot kick. Liverpool had secured the first part of an unlikely treble.
The FA Cup:
The Reds began their FA Cup campaign with what appeared – on paper at least – to be a straightforward tie at home to Second Division Rotherham United. Despite winning by 3-0, the home side looked anything but comfortable and it was a result which slightly flattered Liverpool. The newly arrived Igor Biscan was sent off at 1-0 before a goal apiece from Hamann and Heskey settled Kopite nerves. Three days after crushing Palace in the Worthington Cup, there was a much sterner test ahead for the Reds: Leeds United waited in the FA Cup Fourth Round. Robbie Fowler again showed his cup pedigree with an outstanding display that helped Liverpool to the relative ease of a 2-0 victory; Barmby and Heskey securing the win in the last five minutes. The relationship between Robbie – the flawed darling of the Kop – and his autocratic manager had often seemed strained as the season progressed. But here Fowler demonstrated all his formidable footballing gifts as he led the line superbly and with hunger and tenacity. It's worth mentioning a purring Houllier's words following the win:
'In terms of winning the ball, holding the ball and linking he has been much better over the last two games and it looks as if he is going to reach a very good level. If he does the right things we will have a player.'
A few short months later, Robbie Fowler, having failed to convince the powers that be that he could fit the modern Liverpool template, was a Leeds United player.
Litmanen partnered the ubiquitous Heskey in a routine 4-2 win in the next round against Manchester City; Robbie and Owen both had to make do with a place on the bench. The era of rotation was well and truly upon us but it should be noted that the policy was used to perfection in these months. John Aldridge's Tranmere Rovers, who had destroyed Everton 3-0 earlier in the competition, were next up at Prenton Park. Liverpool were made to fight for every kick and finally emerged with a 4-2 win; an excellent professional performance against a team who refused to lie down and accept their fate. Wycombe Wanderers, the story of the cup so far that season, the saviour of its romance and magic according to the hyperbole of the BBC, were now all that stood between Liverpool and another trip to Wales. Lawrie Sanchez, he of no introduction needed, was the manager as the sides pitched up at Villa Park. Though the Reds left it late, eventually Robbie and Heskey broke the deadlock. Cardiff beckoned once more.
Under the obligatory FA Cup Final sun-drenched blue skies, Liverpool sought to exorcize the demons of 1996 and white suits. Arsenal, however, made it uncomfortable viewing for Kopites. Time and again, heroic rearguard action and Henchoz's hands kept the tide at bay, but eventually the brilliance of Pires and Ljungberg combined to put the Gunners ahead in the 72nd minute. Surely there was no way back as a beleaguered Liverpool wearily trotted back to the centre circle. But Michael Owen had other ideas and, despite subsequent events which have slightly sullied his place in Red hearts, he painted himself onto the majestic canvas that is our history. As The Telegraph reported:
'What Arsenal would not have given for a natural finisher like Liverpool's Michael Owen yesterday. On a day when the FA Cup final won back some of its former glory, England's finest present day goal scorer delivered like only he can. Two superb goals – including a left-footer to boot – kept the Merseysiders on course for their cup treble'.
Who can forget the celebrations, Owen's cartwheel and look of almost bewildered ecstasy? Arguably that moment was the epicentre of what was one of the finest weeks in the club's history, a delirious and delicious joyride of magic moments, of heroism and of dogmatic and relentless refusal to lie down. For those few days, the jubilant face and slightly bulging eyes of our manager became imprinted onto our collective consciousness.
For the seventh time, Liverpool were FA Cup winners. And Christ, did it feel good.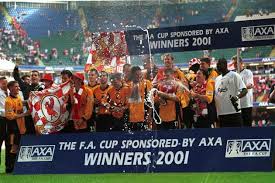 If it's Saturday, it must be Cardiff …
UEFA Cup:
It may not have been the much sought after Champions League but, prior to its metamorphosis into the bloated Europa League, this was a competition that was taken seriously and some of the continent's most illustrious clubs were taking part this season. Liverpool began their assault on the trophy with a 1-0 aggregate win over Rapid Bucharest with Nick Barmby scoring his first goal in a red shirt. Slovan Liberec were then overcome routinely before the first real test as the Reds travelled to Greece to take on a talented Olympiacos side. Barmby and Gerrard helped Liverpool to a credible 2-2 draw before the job was completed in Anfield – that man Barmby again and Heskey securing a 2-0 win. The competition then took a winter hiatus but we were handed a nightmare draw. Roma, league leaders of a pre-betting scandal and still powerful Serie A, were waiting for us in February.  No chance, we thought. Potentially an embarrassment to this fledging team who are still finding their European feet was the consensus of many. Again though, Michael Owen had other ideas and two exquisite finishes rekindled memories of sojourns in the Italian capital when we were at our peak. A team that contained Batistuta, Montella, Candela and Delvecchio were never going to make it easy though and Anfield was a seething mass of nerves as Roma took the lead on the night. The frankly inexplicable refereeing of Garcia-Arunda Encinar then probably let us off the hook as Liverpool were visibly wilting. But the hard work had been done in the Italian's back yard and we were due some good fortune. We marched on to give a consummate away performance in Porto before dismissing them 2-0 in Anfield.
The Barcelona of Overmars, Rivaldo, Kluivert and Guardiola now blocked the way to a first European final since the Belgian tragedy in 1985. In the home of the Catalans, the Houllier blueprint was played to perfection. The purists wailed, Cruyff sulked, but Liverpool emerged with a massive 0-0.  The return was not for the faint-hearted; Patrick Kluivert gave the Reds a lifeline with a frankly ridiculous handball. Gary McAllister, reborn and unleashed at this stage of the season, up there with Owen as our most important player, confidently dispatched the penalty. Forty five minutes of frayed nerves and hearts in mouths and Liverpool were on their way to Dortmund for another final.
We were in the unfamiliar scenario of being the favourites in the final against the little known Spanish side, Alaves. A low scoring game, we said. A display of pragmatism and defensive nous, we said. What did we know? An absolute epic ended 5-4, Liverpool winning the game by the contentious golden goal in extra time (Graeme Riley has kindly supplied some full original reports – see below).
The season ended in glory, in redemption as Liverpool, under the leadership of a manager rapidly acquiring messianic status, did the absurd and achieved something that will probably never again be seen. The excellent John Williams chronicled the season in his book Into the Red and put it succinctly when he wrote:
'Half a million people turn out in Liverpool on Sunday to see the cups brought triumphantly home. Our terrible away form and the frustrations and defeats of November and December now seem like another place. Houllier says the turning point was McAllister's crazy late free kick at Everton: from there he believed we could win the lot…(He) has certainly instilled a discipline and a belief in this squad and a willingness to work hard and battle when matches are coming thick and fast'.
It would be churlish to call this another false dawn, churlish in the extreme. 2000-01 was a bona fide morning where we found nothing above us but the sunny sky. That the clouds reappeared a few years later should not take away from the legacy of this team and its manager. Yes, like any team collecting cups in May, we rode our luck but, equally, Liverpool displayed a formidable resilience and, contrary to myth, a potent and inventive attack. Hyypia emerged as one of the finest defenders in Europe, Gerrard announced himself to the world, Owen showed the match winning brio and nerve that would see him crowned European Footballer of the Year, Heskey – a slave to confidence if ever there was one – terrorised defences, Fowler – the scally, the deity – played his part in what, hindsight tells us, was a poignant swansong.
Perhaps most crucially of all, after years of indifference, Liverpool mattered again.
The season in numbers and top goal scorers (with thanks to LFCHistory.net):
Total games: 63
Games won: 38
Games drawn: 14
Games lost: 11
Clean sheets – league: 14
Clean sheets – overall: 28
Total goals: 127
Average attendance at home – league: 43,698
Average attendance at home – overall: 40,668
Average goals per game – League: 2.11
Average goals per game – Overall: 2.10
Average goal minute – League: 49
Average goal minute – Overall: 52
UEFA Cup Final original match reports (with thanks to Graeme Riley):
https://drive.google.com/file/d/0B2-OwJB0sVvLR2tNQ1F4eVVhQms/view?usp=sharing
https://drive.google.com/file/d/0B2-OwJB0sVvLZGNyVE02OWZ4QVE/view?usp=sharing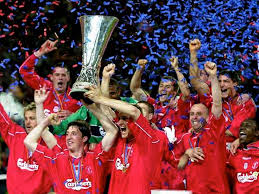 Dortmund, Wednesday …