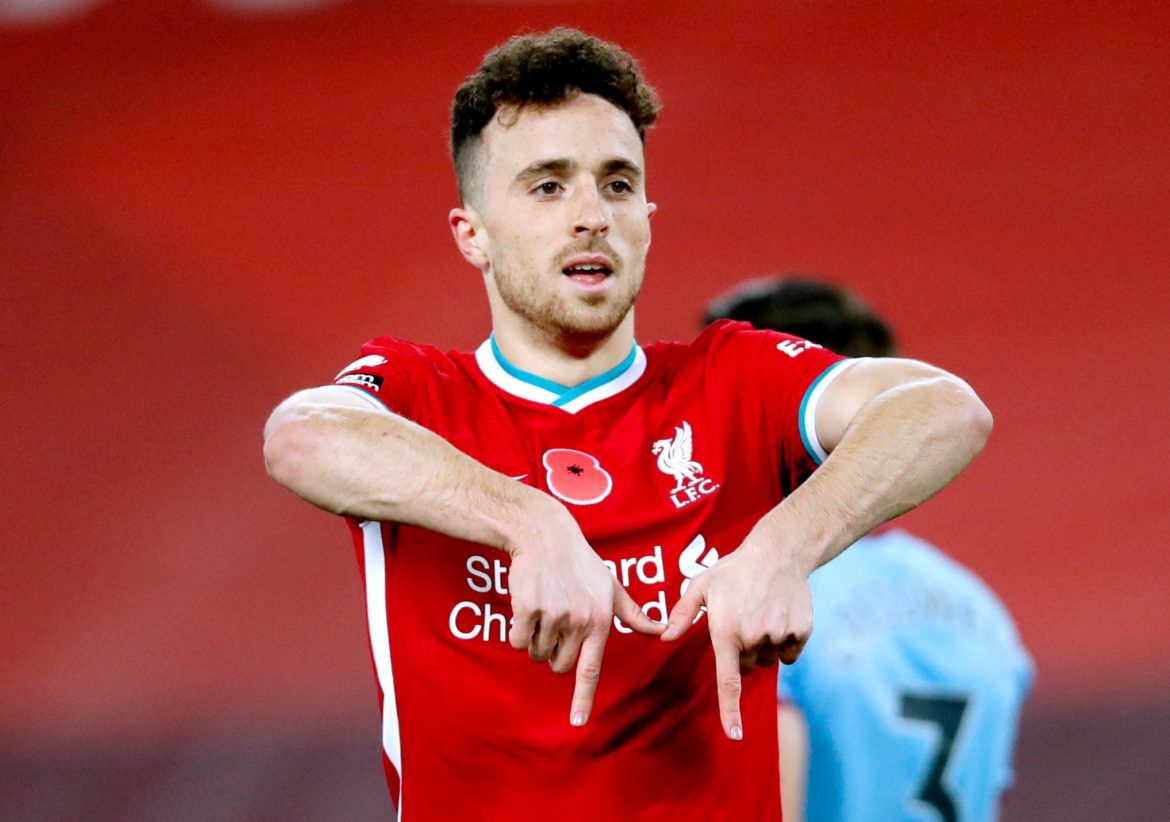 When watching Diogo Jota the other week – so even before the hat-trick tonight in the 5-0 away thumping of fancied Italians Atalanta – the player who sprang to my mind was Fernando Torres, a fellow Iberian who also arrived at Liverpool aged 23, and exploded onto the scene.
While Jota is a couple of inches shorter, there's something of the pace and directness, and a physical sturdiness that they maybe didn't have as teenage prodigies. Torres arrived with more fanfare, as a big hero in Madrid, but their careers have some surprising similarities. Torres was the right age, and it was the right time.
I'm always fascinated by the quietly bubbling-under goalscorer: the player who has incredible stats for his age, in international youth football or maybe at an unfashionable club, or maybe even in the second tier, but then has to take his game to the next level.
The all-round game has to be worked on, and sometimes the goals dry up, especially in a struggling side (even more so if promoted, as both Torres and Jota were early in their careers), unless they are taking penalties and/or are the total focus of the attack. Even then, despite a few doing so in the 1990s, it's now rare for anyone aged 17-19 to bag tons of goals.
Jota is one of those early bloomers who just needed a bit of time to mature into a truly special player.
Remember, just a couple of months ago people were laughing that Liverpool signed the wrong Wolves attacker; now, with seven goals from less than a handful of starts, it seems that – who knew it? – the Liverpool recruitment department knew what they were doing.
Adama Traoré, the player some felt should have been signed, is bigger, stronger and faster, but Jota, a year younger, has already got more goals in just a season-and-a-bit (23) than Traoré has in his entire professional career (22). Traoré is eye-catching, and improving, but Jota scores goals and presses like a demon.
Jota, like Torres at Atlético Madrid, spent a lot of time at a team fighting to finish 6th, and trudging through Europe's lesser competition; and in Wolves' case, they weren't a domineering force, but upstarts. Even so, Jota bagged two hat-tricks in last season's Europa League, which suggested that when Wolves were more evenly matched with their opponents, he could really make a difference.
Between U16 and U19 levels, Torres scored 19 goals in 19 games for Spain, but he scored just one in his first 14 full caps. As a kid, Torres scored just six in his first full season in the second tier (36 games), but even though he became a legend and a talisman for Atléti, he never scored more than 13 non-penalty league goals in a season before signing for Liverpool, aged 23. Suddenly, without taking penalties, he was straight in with 24 Premier League goals, and 33 overall. Better players around him, and in a team aiming higher than 6th, he caught fire. He suddenly scored at a rate not seen since he was in the Spanish youth sides.
Jota also played for Atlético Madrid – or at least, he was with them for two years, both spent out on loan, before he joined Wolves on a permanent basis.
Jota was also prolific at U19 and U21 level, with 13 in 29 games, presumably not as a centre-forward. (Traoré, by contrast, has just one goal in 19 age-group games for Spain.)
But at the age of 18, and what earned the move to Spain, was how Jota scored a fairly incredible 12 league goals in just 31 games with unfashionable Paços de Ferreira (who sound more like a 1970s club singer than a football club). Not many teenagers get into double figures in the league aged 18 in modern football.
By contrast, after a year in Sporting's first team and three full seasons at Manchester United, Cristiano Ronaldo, playing in a strong side, never once got into double figures in the league; Jota's goalscoring stats are far better by comparison.
Of course, this shows how players can sometimes explode as goalscoring phenomena, and few will ever match the rate Ronaldo then started scoring at – but he also had a prolific youth record for Portugal U15s and U17s, if not with their U20s or U21s. As with Torres and Jota, there were clues in the international age-group figures.
If you're quick and score goals at a young age you'll probably get into first teams, but then it's a steep learning curve, as a boy against men. Despite some teenage prodigies arising, the age of 22/23 – as I've been noting for about 15 years now – seems to be fairly magical for when strikers come of age. Both Alan Shearer and Thierry Henry, two of the league's top scorers, both suddenly became prolific at 22/23.
The part of the brain that controls decision-making has only just fully matured at that age, and the physical body usually does too. Then, there's all that valuable learning experience gained in those earlier years, as older, stronger and wilier defenders snuff you out, time and again.
Jota's two goals in a recent game for Portugal against Sweden (to make it three international goals already this season, at the start of his career at that level) – when replacing Covid-struck Ronaldo – cemented in my mind the comparison with Torres. There was something in the balance and the striking of the ball.
Indeed, both were in some way similar to his 2nd goal against Atalanta tonight – a real power and trueness in his strikes that Torres had, and which Mo Salah and Sadio Mané, great finishers as they are, don't quite have. The Reds' African duo are expert "curlers/sliders into the far corner", and of course can score a variety of goals (particularly Salah in his 44-goal season). But true, straight and powerful shots are not as common for them. It's often more instep than laces (although Salah has found a knack of absolutely thumping the ball this season).
Jota's hat-trick goal was also reminiscent of Torres, but the dink for the first wasn't too far from his style, either.
There already feels like something pretty ruthless about Jota, even if he may just be starting on a high, like Salah in 2017/18, in contrast to the slow-burn players who took quite a few months to settle in (Roberto Firmino, Fabinho, Andy Robertson, Alex Oxlade-Chamberlain, et al).
Mané was also quick to impress upon arrival, but such is the development of the team (and the lack of goals in the squad that Jürgen Klopp inherited) that 13 league goals felt really prolific in 2016/17. Remember when we all wondered what the hell would happen when Mané went to the African Nations Cup?
Torres and Salah both burst onto the scene in the way Jota has done, and both remained prolific, if not matching their sensational first seasons. Some strikers start with a couple of goals and then flop (Nigel Clough, El Hadji Diouf), but apart from Ronny Rosenthal in 1989/90, it's hard to remember too many who have bagged seven so quickly and then trailed off badly. That seems quite rare.
Salah had never scored 20 goals in a season (he got 19 the season before he moved to Merseyside), then went straight to 44 – although before this season I stated that while he'd never get such a tally again, he could get 30+, and with nine already (and the Reds finally getting at least some penalties), it may be possible.
Salah isn't even the most natural of finishers – he was given extra practice in his younger days, and still misses quite a high proportion of opportunities – but is exceptional at finding space and working chances, time and time again. He also seems to rely heavily on his left foot, and at times spurns chances by trying to work it onto his favoured side.
So far, Jota looks a bit more like a regular goalscorer, but he may just be running hot. However, the tallies he racked up in his teens were suggestive of a true ability to get goals.
That said, Jota struck me as a Torres clone even when playing on the wing, and getting into those natural striker positions, to finish confidently, but also to poach; including his disallowed goal against West Ham, he has regularly popped up in the right place at the far post like an old-style supreme goalscorer who would get there from a central position, feinting to go near post then going far – except Jota starts wider and heads infield. Different route, but same part of the pitch to score from. And all of his goals have been important, to win points or seal a victory.
Tonight he played as a centre-forward, and bagged a superb hat-trick, as well as forcing some fine saves. While he doesn't look excessively jet-heeled, he's quick enough to run from deep and go past defenders, or beat them by running off them as the last man. He is also deceptively strong – like Salah and Mané, and unlike Traoré, he doesn't look like a rugby player, but seems hard to knock off the ball. (Having great balance helps.)
By contrast, Roberto Firmino is lively (if currently off form), but he's not rapid. Firmino drops deep to make space; Jota does too, but also makes space for the other two by being a third speedster. It's hard for them to know which ones to chase.
It makes it even harder to deal with Liverpool when they break, but Jota is so much more than a last-shoulder attacker; he's a dribbler, and is creative, and makes intelligent runs. Like Mané and Salah, he can play anywhere across the front three.
Mané seems to be more of a consistent goalscorer, who keeps chipping in with 20-25 a season, but his all-round game is arguably the best; his control and skill are quite sensational, and he is getting better with age, like the proverbial fine wine. Yet Jota, at just 23, has the most scope to improve.
But don't write off Firmino, nor the priceless understanding that the existing front three share. In some early games, Jota and the other strikers got in each other's way, and there's more to come from playing and training together. While he may be running hot, his team-mates will start finding his runs more frequently the more time they work together. He may start missing chances, but like Salah, he may then start to a higher quantity of chances.
All that said, Firmino may need to spend some time reverting back to being an attacking midfielder, or on the bench. But with a full season crammed into two fewer months, rest and rotation is essential. The Champions League fixtures are themselves a chance to rest and rotate within games, with the five substitutes, and with so many already out injured (as we patiently await Thiago recovering from Richarlison's assault), the full squad will be required.
In preseason I had expected Rhian Brewster to be the wildcard pacy goalscoring backup this season, but he's clearly a couple of years behind Jota in his development at the same stage of their careers; Brewster is 20, and missed two years with injuries. By age 20, Jota had a lot of Portuguese top-flight experience and quite a few goals.
Jota is now 23, and just far more the finished article, although Brewster, with another incredible international youth goals return, could rejoin the Reds in two or three years' time, as he progresses from boy to man, and adjusts to the top level.
Jota was also described as a "pressing monster" when he signed, and that side of his game mirrors Firmino's, and due to experience the new signing knows how to do so better than Brewster.
Liverpool have so many handy squad players who can do a job – Divock Origi and Xherdan Shaqiri being just two – but who will never become regulars. Jota has already made himself almost impossible to drop, although team patterns, as well as rest and rotation, will mean altered lineups without anyone being "dropped".
It's been a crazy season so far, and there's a long way to go, unless it all gets cancelled. But Thiago, briefly (due to Covid and derby-related injury), and Jota, more substantially, have really added to the Reds' title-winning squad; as has the emergence of younger players, including the mightily impressive Rhys Williams, who belied his tender years in Italy tonight.
Anyway, this is a quick free article, in celebration of a great night (top of the league, top of the Champions League group and almost qualified with three games to go), but also in part to announce the belated creation of a TTT mailing list – sign up below for updates, book news, and have things like our Free Friday digest sent to your inbox:
And while I will retain my social media accounts, I rarely use them these days (a few minutes on Twitter each week is enough for me!), and the mailing list will be my preferred choice of communication beyond this website.