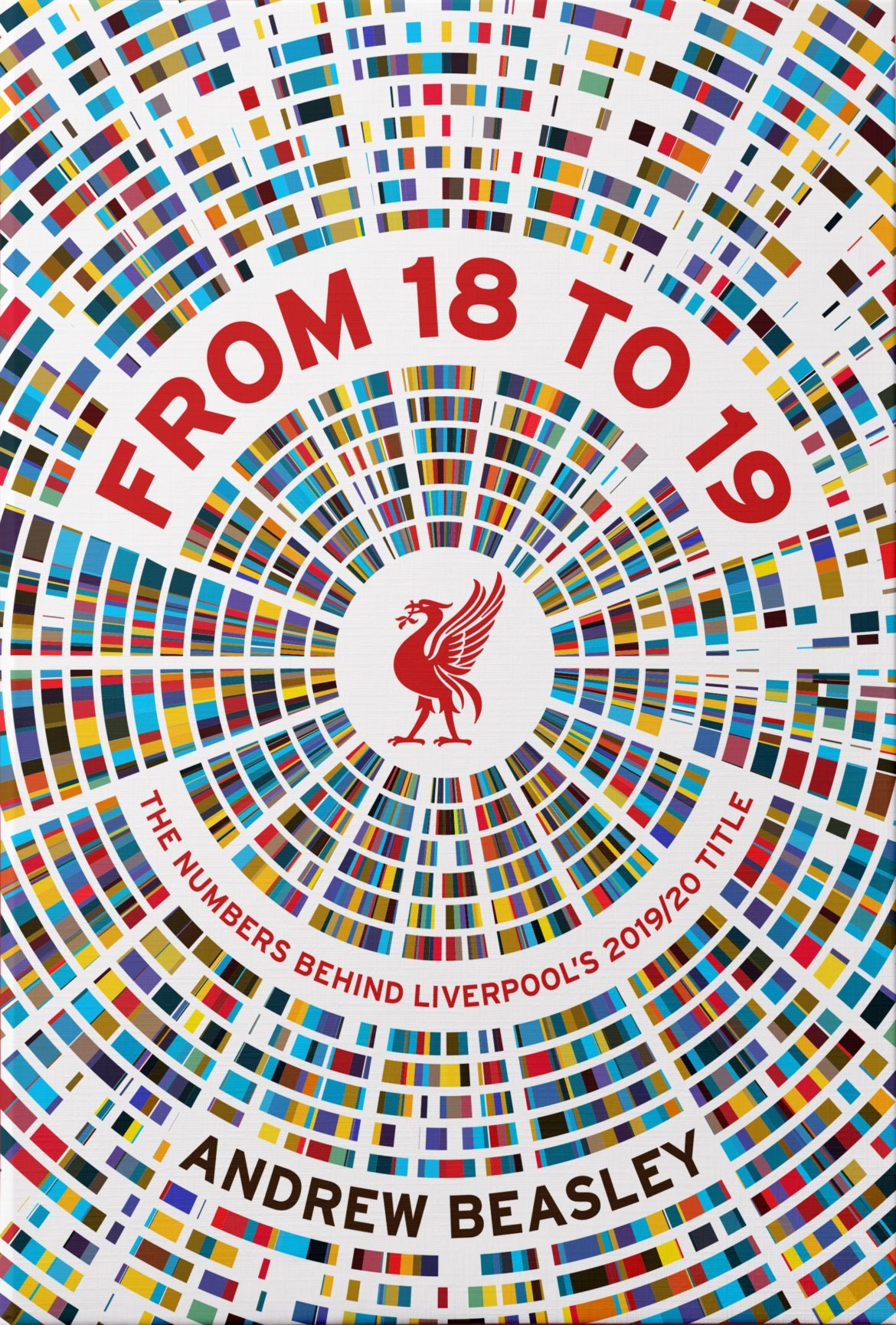 What a beautiful book cover. All hail Dan Marshall.
You can't be part of the Tomkins Times family for over a decade without writing a book, it doesn't work like that. And with Liverpool the reigning champions of England for the first time in three decades, it seemed the perfect time for me to take the plunge.
Confession time, though: I had originally thought about doing this in the spring of 2019, when it looked very possible that the Reds would finally win the Premier League. "Jinx", you may cry – and I get plenty of that on Twitter – but in fact the opposite is true when it comes to the contents of this book.
Ahead of the 2018/19 season, Kristian Walsh approached me and asked if I would like to write a weekly article for the Liverpool Echo (who he was working for at that point). It would take the form of a statistical review and analysis of the latest match, with the aim of prising out a few golden nuggets of information from the game which most people might have missed. A bit of shading for the overall picture of the game, if you like.
I jumped at the opportunity, and began with a 4-0 win over West Ham. Then a 2-1 victory at Selhurst Park, followed by a 1-0 win against Brighton and a… you get the idea. The Echo hired me, and Liverpool have won 65 of their 80 league matches since. Coincidence? I hardly think so. Who's the jinx now, eh?
Anyway, I shelved the idea in 2019 when Liverpool finished second (and I had no columns already written on their successful Champions League run!). But the Reds' title win last season gave me the perfect opportunity to scratch the book itch, by compiling my match analyses from 2019/20. As I've previously stated elsewhere, the book is for me as much as anyone. A souvenir of a fabulous year, and if anyone else wants to mark Liverpool's 19th league title in the geekiest way imaginable, then all the better.
At this point, it would be normal protocol to present an extract from the book. Yet if you read my Echo articles every week throughout last season – and a couple of the matches were even covered directly for TTT, in post-match analysis pieces – then you've read about 98 per cent of the book already.
But you can access a brief preview of 'From 18 to 19' via the embedded link at the bottom of the page, and of course the link is also there for you to purchase a copy for yourself. Here's a little refresher of the sort of things the book contains though. It's fun for me to reminisce, if nothing else.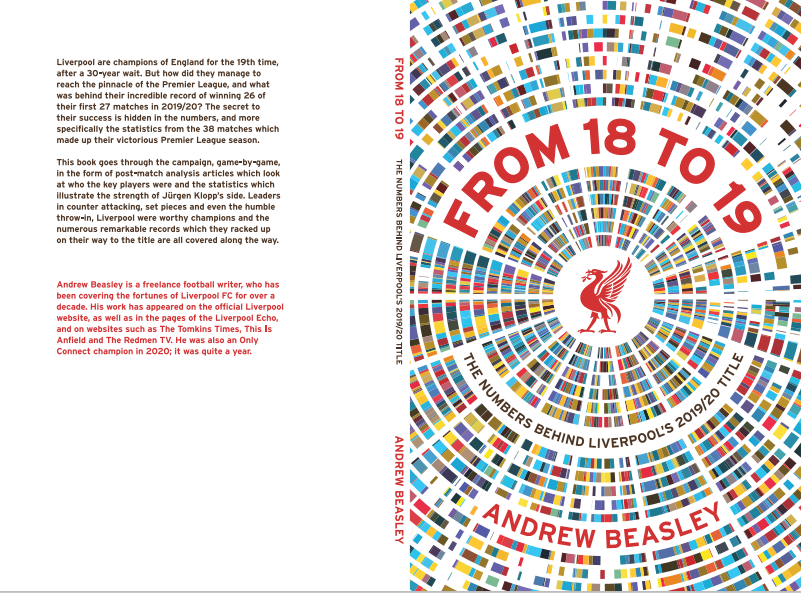 Norwich City, Home: 4 – 1 What linked this match with the unforgettable Champions League win over Barcelona?
Southampton, Away: 2 – 1 What did the Saints achieve that only Chelsea and Barcelona had against Liverpool in 2018/19?
Arsenal, Home: 3 – 1 Virgil van Dijk was finally dribbled past, but there were six other things which occurred once and were actually relevant to the result.
Burnley, Away: 3 – 0 Sadio Mané was annoyed when he was substituted, but how selfish has Mohamed Salah been towards him?
Newcastle United, Home: 3 – 1 "Firmino's second half performance should frankly go down in club legend."
Chelsea, Away: 2 – 1 Two Liverpool players each completed just two dribbles, yet those take-ons proved absolutely crucial to the win.
Sheffield United, Away: 1 – 0 What aspect of this match is something Liverpool only usually do once a season?
Leicester City, Home: 2 – 1 Just how one-sided was this supposedly close match? Well, it was in the top 0.9% of FiveThirtyEight's most one-sided, for starters.
Manchester United, Away: 1 – 1 One decent cross each, one tap-in each, one goal each. Oh, and a referee…
Tottenham Hotspur, Home: 2 – 1 Between 2009/10 and 2013/14, Liverpool only won eight of the league games in which they conceded first. It's safe to say they've improved since.
Aston Villa, Away: 2 – 1 'Five things we learned' is an established format, but how about 'Five headers which determined the match'?
Manchester City, Home: 3 – 1 "Of the eight referees who have taken charge of at least 25 Premier League games for Manchester City, Michael Oliver has awarded them a penalty most often…"
Crystal Palace, Away: 2 – 1 Why was this match similar to the corresponding fixture from 2017/18?
Brighton & Hove Albion, Home: 2 – 1 This was the first league fixture at Anfield for a year in which the established front three didn't… what?
Everton, Home: 5 – 2 DIVOCK ORIGI! There is other analysis, I promise.
Bournemouth, Away: 3 – 0 Liverpool had lots of shots away from home without needing to salvage a result for once, to record their most dominant away game of the Klopp era.
Watford, Home: 2 – 0 19 crosses attempted, none completed. The Reds weren't quite at the races here, but got the job done.
Leicester City, Away: 4 – 0 Perhaps the best performance of 2019/20. Utterly dominant from start to finish. But could Liverpool throw away the title from here, as Newcastle did in 1996?
Wolves, Home: 1 – 0 "The answer to the ultimate question of life, the universe and everything is 42." Why was that quote from The Hitchhiker's Guide to the Galaxy now relevant?
Sheffield United, Home: 2 – 0 Andy Robertson was the creative kingpin here, setting a personal best in the process.
Tottenham Hotspur, Away: 1 – 0 "Some people might try to convince you this was a Jose Mourinho masterclass." It wasn't.
Manchester United, Home: 2 – 0 Alisson Becker ended the season with as many Premier League assists as Raheem Sterling. True story.
Wolves, Away: 2 – 1 Salah was high on shots but low on quality in a match the champions elect were somewhat fortunate to win.
West Ham United, Away: 2 – 0 Jon Moss gave Liverpool a penalty in this match. True story.
Southampton, Home: 4 – 0 The Saints pressed the Reds into one of their worst passing performances of the campaign. But they couldn't stop Liverpool setting a new goal difference record.
Norwich City, Away: 1 – 0 Mané's 75th Liverpool goal was his first in which respect?
West Ham United, Home: 3 – 2 110 points from the last 114 available. ONE HUNDRED AND TEN. Oh, and discover the link between Mané and Peter Cormack.
Watford, Away: 0 – 3 Wow. This was the just the fourth Premier League game in which the Reds conceded three goals without reply in the second half while keeping 11 on the pitch. Wow.
Bournemouth, Home: 2 – 1 A theme from early kick-offs at Anfield unfortunately continued here. No, they didn't all come shortly before a pandemic lockdown. Guess again.
Everton, Away: 0 – 0 And we're back. Carlo Ancelotti can stop the Reds doing something better than every other manager around…
Crystal Palace, Home: 4 – 0 Klopp wasn't wrong when he called this "the best counter-pressing behind closed doors ever," as our correspondent Andrew Beasley explains…
Manchester City, Away: 0 – 4 The champions were battered. But they shouldn't have been.
Aston Villa, Home: 2 – 0 Liverpool won despite taking spectacularly few shots.
Brighton & Hove Albion, Away: 3 – 1 This was arguably the most entertaining Premier League match of the 2019/20 season. Find out why.
Burnley, Home: 1 – 1 Liverpool repeated a certain statistic for the first time since a previous 1-1 draw with Burnley at Anfield.
Arsenal, Away: 1 – 2 A very dominant away performance in a 'big six' match. The result? Oh, don't worry about that.
Chelsea, Home: 5 – 3 "I could tell you at this point that Chelsea arguably deserved to win… But as you've just watched Jordan Henderson lift the Premier League trophy aloft, I doubt you particularly care." Too right.
Newcastle United, Away: 3 – 1 Salah may not have scored, but he joined Roger Hunt and Ian Rush in one particular niche achievement.
It all feels ages ago already, doesn't it? You know what to do if you want to look back over Liverpoool's title-winning campaign in far more detail – buy the book! It's available for Kindle (at £2.99) or as a paperback (£5.99).
As an Amazon Associate I earn from qualifying purchases. Thanks to Paul Tomkins for hosting this promo article on The Tomkins Times, and to Daniel Rhodes for endlessly asking me about the book on the TTT podcast to get my arse in gear to finish it.