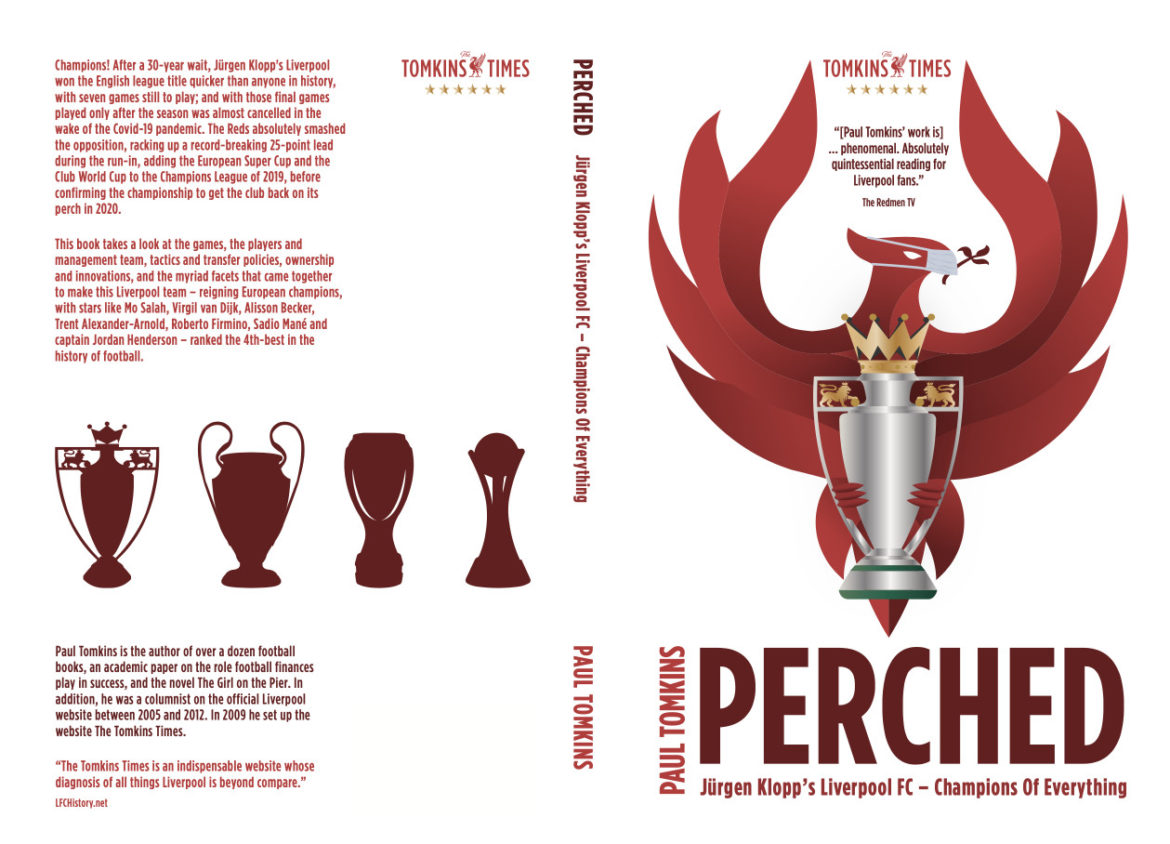 Asshole! AKA: You Can Only Have Good Training With Good Trainers
What follows is an excerpt from my new book, which in some ways covers ground I've gone over before, but offers new insights; and as ever, I'm always looking to expanding on existing ideas and take them further. There is a small amount of duplication from Mentality Monsters, but last year's book focussed a lot more on transfers overall; after all, 2019/20 saw no new first XI players join the club. Perched covers the action on the field, and various types of analysis as to how the remarkable success was achieved.
It also seemed the most apt right now, as it relates to the transfer market, and the types of personality Liverpool seek out; and perhaps, why the standards actually make it harder to buy someone new (as well as Covid-19 putting the kibosh on the club's finances for the time being, in order to maintain the current fairly high wage bill).
And while that does not mean the Reds now only sign fully anointed saints, it's interesting to see players at other clubs constantly flout things like lockdown laws (Jack Grealish appears to be a one-man wrecking machine), quarantine bubbles, and even get into drunken fist fights in far-flung locations that result in 21-month suspended jail sentences.
Anyway, onto the chapter…
Assholes!
There are many ways to make a team exceed the sum of its parts, but this chapter will focus on just a few, including some methods Jürgen Klopp adheres to. Because one thing about Liverpool's meteoric rise under the German is that none of the players arrived as world-class, and by the end of 2019/20, you could say that at least seven or eight now had that standing within the game. While not exactly plucked from obscurity, many of them, just a few years earlier, had barely played Premier League football or represented their countries on more than just a handful of occasions. 
While the recruitment at Liverpool has been sensational (as it was during Klopp's time at Dortmund in a way that it was not before and after), one area where the manager has taken the data and the video analysis provided by smart people at Melwood and made the process more successful is with his insistence – dating back to those jobs in Germany – of signing "no dickheads". By this, a player need not be a total nightmare to be classed a dickhead; but it's a way of weeding out the time-wasters, the bad trainers, the egotists, and those who care only about the match (the end goal) and not the process.
"He showed little mercy when berating co-workers. He seized on their setbacks and scoffed at their maladies. He punched at least two in the head," Noam Scheiber wrote in May 2020 for the New York Times. "The office etiquette in question did not belong to a swashbuckling bond trader or adrenaline-addled bouncer. It belonged to Michael Jordan, a six-time National Basketball Association champion and pop-culture icon widely regarded as the game's best player ever. As Jordan himself said of his teammates in The Last Dance, the 10-part documentary about his career whose last two episodes will be shown Sunday night: 'I'm going to ridicule you until you get on the same level as me. And if you don't get on the same level, then it's going to be hell for you'."
The article also quotes Robert Sutton, the Stanford University management professor, from his 2007 bestseller The No Asshole Rule: "Every organisation needs the 'no-asshole rule' because mean-spirited people do massive damage to victims, bystanders who suffer the ripple effects, organisational performance, and themselves." 
The article continues: "According to the studies Mr. Sutton cites in his book, the problems with toxic workers range from the obvious to the subtle. Their belligerence creates costly distractions. Their treatment of co-workers increases turnover and absenteeism. When the demoralised colleagues do show up, they perform apathetically.
"One classic study of Sears employees in Chicago from the 1970s found that workers with widely disliked supervisors came to work at about the same rate as their colleagues on typical days, but that their attendance dropped significantly during a snowstorm, when they had an excuse to stay home. The study suggested that poor morale tended to destroy the so-called discretionary effort that often abounds in a healthy organisation."
In stark contrast to Mario Balotelli – the perfect example of a problem at Liverpool, because of the uniquely unprofessional way he trained, and issues such as poor timekeeping – Michael Jordan was a perfectionist, who wanted to win so badly, and who trained so hard himself (and reached such incredible heights), that he could not handle others falling short. Will Perdue, one of the players Jordan punched, is quoted in the article as saying "I started to go back at him and Eddie Nealy grabbed me from behind. Then it was abruptly over. We kept practicing." 
Perdue notes that Jordan got the most out of teammates by setting super-high expectations; the implication being that they felt driven towards, or perhaps shamed into, meeting them. However, it's probably not a wise tactic to deploy; and perhaps only someone of Jordan's exceptional gifts could get away with it. Obviously basketball is different from football, in that a star baller comprises 20% of his team's total, due to only five players being on the court at any one time, whereas a star outfield footballer is exactly half that, at 10%, as one of ten on the pitch. You can therefore rely on the asshole elite baller to win you games more than you can the dickhead footballer. 
A genius basketball player can have more influence in a game, but also, due to being 20% of the team, perhaps also be more disruptive. The New York Times articles adds, "Jeff Van Gundy, who coached the New York Knicks during Jordan's last three seasons in Chicago, said most players who doled out such lashings 'would be marked with resentment' … 'You'd have to be that level of great to lead that way,' said Mr. Van Gundy, adding that the approach would probably backfire even for an excellent but not transcendently gifted player."
"… More than 15 years after Jordan retired from professional basketball – for the third time – the mix of power and grace he displayed on the court remains a breathless thrill. But his leadership style, such as it was, feels outdated.
"In the intervening years, a chorus of experts has warned employers, investors and board members against tolerating such cruel or demeaning behaviour. Academics and government officials have used terms like 'toxic worker' or 'superstar harasser' in preaching vigilance against flawed if seemingly talented performers."
Why Klopp Didn't Even Consider Balotelli 
The Athletic's Liverpool FC experts, James Pearce and Simon Hughes, wrote about Mario Balotelli in late 2019, as part of an examination of what went wrong for Brendan Rodgers in his final 15 months at Liverpool: "By Christmas [of his debut season], some of Liverpool's players were shocked to find that Balotelli was still learning the names of some of his team-mates, though whether he was bothering to learn them at all was up for debate. Players who lived close by in Formby initially offered to take turns in giving Balotelli lifts to training after he was banned from driving. One of those tells a story about him not recognising Joe Allen when Balotelli sat in the passenger seat one morning and Allen was in the back even though he'd been at the club for several months.
"[Steven Gerrard] recognised his talent and the potential to be 'world class' [but] he described him as 'unmanageable' because of his mentality and the people around him. He was regularly late for training and always wanting attention […] Though Liverpool's players didn't mind him and sometimes his antics provided light relief in the stresses of a football season, for Gerrard, he simply 'didn't train hard enough – you were always fighting a losing battle. He did too many things wrong'."
As such, even though Liverpool didn't have many striking options when Jürgen Klopp arrived in 2015, and were in the market for attacking options in 2016, the manager barely acknowledged the existence of the Italian striker when he returned from loan at AC Milan. Balotelli wasn't allowed to train with the players, and did not go on the preseason tours. There was simply no point in entertaining the circus that was Balotelli; and instead, Klopp purchased Sadio Mané. Unlike Rodgers, Klopp didn't have the hubris to think he could be the one to finally steer the Italian striker onto the right path; the time, the effort, and the distraction, in addition to the damage failing to correct bad habits would cause, were just antithetical to the ethos he wanted to engender.  
Eden Hazard's move to Real Madrid provides another interesting example of how superstars can do more harm than good. Hazard seemed to spend his entire Chelsea career aching for the chance to go to the La Liga giants, albeit – as arguably the most individually gifted player in the league – he had a habit of taking entire seasons off, and failed to score half the goals of which he appeared capable. Costing up to £150m with clauses, and almost 29, Hazard turned up to Real Madrid in the summer of 2019 seven kilos overweight; an even more startling amount when you consider his short stature. The pictures were shocking; he was carrying more timber than a gang of lumberjacks. 
"If I'm on vacation," he said, "I'm on vacation … I'm someone who puts on weight very quickly but I can lose it fast as well." Various former Chelsea players have stated Hazard often dined on hamburgers and pizzas.
Alas, a year into his stay in Spain (as of July 2020) he'd scored a single league goal, albeit the season had obviously been delayed by Covid-19. He admitted he had been a flop, but that he'd be better in his second season, albeit by then he'd be in his thirties. All of which leads to the conclusion, why not turn up in good shape to start with? 
Neymar is another superstar who has not turned his ability into the sustained success of Lionel Messi and Cristiano Ronaldo; like Hazard, the Brazilian was supposed to be an heir to their thrones, but he has largely wasted his talent in the past few years. While it could be argued that Mo Salah is another heir to the thrones who hasn't pushed on to the levels expected after his frankly ludicrous 2017/18 – when he got 44 goals in the season – it's worth noting that Salah, rather than being the standout star, has become a vital cog in the ultimate machine; and has gone from winning nothing in 2017/18 to winning the Champions League, Club World Cup and Premier League across 2019 and 2020. Thankfully he has swapped simply winning individual awards to winning the biggest team awards, in an age where the individual is still ludicrously fetishised (and individual awards are proliferating to a nauseating degree, to the point where there seems to be an award ceremony each week). In terms of raw ability and even pace, Neymar outstrips Salah. In terms of who had the world at their feet at 21, it was Neymar. In terms of who you'd want in your team – who is not a dickhead – it's Salah.
Now 28, Neymar, in three years in France, has played 20, 17 and 15 league games respectively, albeit with the season prematurely ended in 2019/20; poor "attendance" figures from a player in a team designed to win the Champions League, on account of petrodollar PSG being so financially far ahead of everyone else that they win the French title almost by default. What a great superstar he is, with his entourage, his couture du jour, at the club that claims it wants to turn itself into the most fashionable in the world, due to its location in Paris. But seriously, what a load of utter bollocks. These are the superstars that Liverpool, and Klopp, look to avoid like the plague (a phrase that, alas, hits too close to the bone in 2020).
The BBC reported in February – before Covid-19 had torn through Europe and then his native Brazil – that Neymar had taken to Instagram to declare that, this year, "he would not – repeat NOT – be attending the Rio Carnival."
"Every year, since 2014," they reported, "he has been either unfit or suspended around this time of year – which coincides closely with the carnival and his sister's birthday. This year was to be different. Until the inevitable happened. A second yellow in the 92nd minute of Paris St-Germain's 4-3 win against Bordeaux on Sunday means the Brazilian will now be suspended for Saturday's home game against Dijon.
"In 2015, he was suspended from action for Barcelona, around his sister's birthday in March. In 2016, the same happened. In 2017, he had a muscle issue, which saw him ruled out around his sister's birthday. And in both 2018 and 2019, he was at home, recovering from metatarsal injuries. However, we are not for one moment suggesting Neymar purposefully got himself sidelined so he could attend the carnival.
"There was some speculation last March when he chose to return to Brazil and go to the carnival, rather than recovering in Paris and he responded by saying: 'I do not think that my social life hinders my performance on the pitch'. Either way, this latest incident – a seemingly quite unnecessary second yellow in injury time – has sent the rumour mill into overdrive once again!"
In 2019, the Brazilian national team – for almost a decade built around the Neymar myth – finally won their first Copa América during his career; indeed, the first in 12 years, since two years before he first played for Santos. Perhaps tellingly, however, Neymar was not part of the successful squad. Some guy that the Brazilians don't seem to revere anywhere near as much – some unfashionable oik – was the lynchpin. And that lynchpin spent 2019 and 2020 winning every trophy imaginable, for club and country. 
[Update: After the book was finished, PSG did at least make the Champions League final. But they lost. Neymar's performance was voted as worthy of just 4.3 out of 10 by BBC viewers, while the Independent gave him a 5 out of 10, saying he "failed to impose himself on the game".] 
Bobby Dazzles
Gary Neville, speaking on Sky after the Reds' 1-0 win at Spurs in January, said of Liverpool: "The whole defence is outstanding, the goalkeeper is brilliant. They are doing everything a championship [winning] team should be doing. They're brilliant to watch."
But he singled out Roberto Firmino, adding: "Any manager in the world would have him in their team. I think he's absolutely incredible, Firmino. He's selfless, brilliant, scores goals, sets things up. They can link off him, makes all the right runs, just an outstanding player."
Writing that week in The Guardian, Barney Ronay stated: "Firmino is a relentless presence on days such as these, a monster of the decisive away goal. This was his ninth goal this season, all of them away from Anfield. Five have been winners, a big-game, daddy-goal, title-driving level of efficiency.
"He has never been a poacher. There was some talk last summer that Liverpool might even buy a new star centre-forward, someone to pump up those numbers. But Firmino's lack of starriness disguises the fact he is the perfect part in this team, with the ability to press, to hold possession, to drop deep and sweep the ball either way, a player who has proved almost as revolutionary to the frontline in this Liverpool era as Virgil van Dijk has to the back.
"What is he anyway? Firmino has been described as a false 9, but this doesn't really do justice to it. If you want to go down the numberwang route he's a bit of everything: 9, 10, 8, 11, even 4; a post-modern kind of striker for a disruptive age. Twice here he produced that swooping Capoeira‑style trap, pulling a long pass out of the air. Nobody else does this. It's his move, the Firmino Sweep, his own cross-cultural take on the long-ball flick-on."
Firmino, perhaps more than anyone, represents Kloppian football. Yes, he does the occasional fancy flick and kung-fu kick, but he is defined by his work-rate, his professionalism, his desire.
A couple of years ago I publicly stated that Pep Guardiola would prefer Firmino to Sergio Agüero at City, and while that obviously drew some derision, I feel it remains one of my better assertions based on the passage of time – despite the Argentine's undisputed greatness as a finisher. (Certainly better than my wild assertions that Sean Dundee would eclipse Maradona, that Torben Piechnik was the new Alan Hansen, and that Neil Ruddock would be able to run 10 yards.)
Agüero obviously scores the greater number of goals (although also takes penalties), and in fairness, started to work harder under the Catalan manager after looking like he'd get cast aside, but even so, Firmino works much harder still, and links play in a superior manner. Plus, he's less prone to injury. 
Strangely, Firmino still isn't adored in Brazil, in part because he never played in their top division, moving to Germany in his teens; and so there are few local advocates. But with Firmino up front and Alisson in goal, Brazil won that Copa América, for the first time in a dozen years. For all Neymar's showboating, Firmino gets results. And he doesn't go missing for months on end. And that's all you can ultimately judge any player on. Does the team win when he plays?
It also comes back to how good players are in training, and how they help with the social multiplier effect. In Germany, when interviewing potential new signings, Klopp used to ask strikers if they'd be happy coasting in training as long as they got two goals at the weekend; and if they said yes – as many did (after all, wasn't the point to do it in games?) – they were instantly dismissed as candidates. To me, this sounds a bit like Sergio Agüero. It might be fine for some teams, but not for a Klopp team; and Klopp is all about improving players, and training as hard as you play. And training as hard as you play is the very thing that improves players. After all, after inflation, not one of them arrived at Liverpool for the kind of money Agüero cost City; nor did they have such a stellar reputation. 
When, in 2019, Agüero became the leading overseas scorer in English football, Micah Richards, who was at City when the Argentine first arrived, said: "Looking back now it seems crazy, but when I first trained with Sergio Agüero after he joined Manchester City in 2011, I did not instantly think 'superstar'. Sometimes when a new player arrives at your club, you see him in action with your own eyes and just think 'wow'. That was happening a lot at City at the time, because of the kind of big signings we were making that were transforming the club, but it was not the case with Sergio. When I first saw him, I didn't actually think he was that good … It is not as if I was expecting him to be dribbling past four or five players or anything, but I was marking him a lot of the time and he did not really do anything at all."
You cannot doubt Agüero's finishing, albeit in a team that dominated the league most during in his time in England. But the one thing City have struggled with over the past decade is individual defending, despite spending absolute fortunes on defenders. Perhaps they don't do as much back four work as other clubs, and obviously full-backs these days are required to attack more than defend in the elite teams. Since 2014, City have spent over half a billion pounds (without the adjustment of inflation) on defenders and goalkeepers: João Cancelo, Angeliño, Aymeric Laporte, Danilo, Benjamin Mendy, Kyle Walker, Ederson, John Stones, Oleksandr Zinchenko, Claudio Bravo, Nicolás Otamendi and Eliaquim Mangala.
In 2017/18 money – at the time when Virgil van Dijk cost £75m – Mangala cost an eye-watering £106m, and was still on the staff when Guardiola took charge (Mangala finally left in 2019), even if it wasn't the manager's mistake in the transfer market. But Stones, at £74.3m, was virtually the same price as van Dijk; while Otamendi, at £62.1m, was very expensive too. Then come Cancelo, Laporte, Mendy and Walker, all signed by Guardiola for between £50m-£60m. Laporte aside, who has markedly improved? (Walker has also been a good signing.) 
By contrast, Liverpool's best back four under Klopp cost less than £100m when adjusted to 2017/18 money, the year it was fully assembled; while you could replace Joe Gomez with Joël Matip and shave another few million pounds off.
So why have so many City defenders regressed? Could it be at least partly linked to Agüero being a bit of a lazy trainer? 
In Mentality Monsters I wrote: "In Scotland, Virgil van Dijk used to train on a daily basis against Teemu Pukki and Georgios Samaras, while the top scorers outside Celtic – the strikers he faced on matchday – were Kris Boyd, John Sutton, Billy Mckay, Adam Rooney, Nadir Çiftçi, Anthony Andreu, Greg Stewart and Niall McGinn. It's clear from that list of mostly who the hell are theys that this was hardly the most testing of environments for the giant Dutchman, with such players unlikely to be household names outside of Scotland. (Occasionally van Dijk may have played against a team like Barcelona, but they'd ship seven goals in a serious mismatch – even if, as an individual, he'd win plaudits.)"
Obviously Pukki has gone on to have a pretty good late-blossoming career with Norwich (another who took his time to reach the very top), but he scored just seven goals in his one full season at Celtic in 2013/14. It was a gradual process for van Dijk, improving steadily with every step up in quality he has faced, including only becoming a regular for the Dutch national side shortly before joining Liverpool. Even when he joined the Reds, few in the media thought he was a world-class superstar; indeed, many questioned the fee. With hindsight, everyone agrees that signing him was a no-brainer. (Personally speaking, I was very much behind the signing at the time, having been mightily impressed with his full range of abilities in the cluster of games the Reds played against the Saints in his final year or so on the south coast, including the League Cup semi-finals. His pace, and his reading of the game, stood out, but also his technical skills. But even so, his stature has seemed to exponentially expand.) 
People attribute playing alongside van Dijk as the reason why Gomez, Matip and even Dejan Lovren have improved, and the fear is that it would all collapse if the big Dutchman was out injured. But in that same period of time, Trent Alexander-Arnold has matured, Andy Robertson has improved, and in Alisson and Fabinho, Liverpool added protection in front and behind the centre-backs (Fabinho has even deputised successfully for van Dijk). In addition, all of those players now train on a daily basis – in intensive sessions – against Mo Salah, Sadio Mané, Roberto Firmino and various tricky midfielders; and that will surely improve those defenders more than – to go back to the Reds' options of just a few years earlier – training against Rickie Lambert, who wasn't very mobile (and not that special), and Mario Balotelli, who liked to do things like score own goals in practice matches. 
When I hear players talk about other players improving in training, it's usually framed as a younger player learning from an older one who plays in the same position, often by watching them. This is true, of course, but playing intense training matches against other elite players is perhaps even more of a development tool. A striker can learn from watching Salah in finishing practice (and Salah himself was a notoriously poor finisher as a younger player, who had to spend extra training time focusing on improving), but how much does someone like Gomez or Alexander-Arnold improve by facing Salah, Mané, Firmino et al in fiercely contested encounters at Melwood?
The Flynn effect only made sense to me – as a possible explanation about why so many cheap, low-key signings turned into superstars – after reading about how intense training was under Klopp at Dortmund. As such, I discussed it in Mentality Monsters, but it bears repeating. The Flynn effect dates back to 1998, when James R. Flynn, an Emeritus Professor of Political Studies at the University of Otago, noted that the IQs of certain societies improve due to the way knowledge is shared. (This has essentially become the basis for what's also known as the social multiplier effect.) An example Flynn used in his work related to basketball, and how the sport changed rapidly with the onset of regular televised games. It led to an increase in kids playing the sport, and of course, they would try to emulate what they were seeing on television. Angela Duckworth discussed the Flynn effect in her seminal book Grit: Why Passion And Resilience Are The Secrets To Success: "The kids started trying left-handed layups, crossover dribbles, graceful hook shots, and other skills that were routine for the star players on TV". As each individual improved, so did those they played with and against. They learnt from watching, but then took those skills out onto courts, where everyone had the chance to improve.
In this time of coronavirus, a parallel would be the notion of a dose-dependent contagion: the more of the virus you are exposed to – the more intense the exposure – the more likely it is to seriously affect you; just as a more virulent strain would also have a greater impact than a weaker version. (So, a mixture of time and intensity.) In the case of football training, the better those around you, and the more time you spend in their company during practice (but also, around their general professionalism away from the pitch), the more you can improve – providing you are giving your all in the process, rather than just being passive. If a player just messes around in training, no one improves. Perhaps it could be argued that those on his side during the practice match (or various drills) have to work harder, and exert themselves more to compensate; but certainly the defenders facing Balotelli, if all he was trying to do was score an own goal (and admittedly, this wasn't all he ever did), won't have gained a thing. And so, even if Balotelli was then sensational on match days (which, alas, he largely wasn't, but potentially could be), the entire preparation wouldn't have been as good. The team would not be improving both in its shared wavelengths in an attacking sense and also in the process of testing and improving the defence (and after all, a training exercise is essentially like a scientific experiment – albeit one where the variables can never be identically replicated in the way that you can control for everything in a laboratory – in that the idea is to see if it fails, and where it fails, and why it fails; and if you don't test it properly, you'll never know). 
Another analogy is sparring partner in boxing: if you have someone who just stands there and lets you punch them repeatedly, and never throws a punch back, you may feel good about yourself, but will not be prepared for a proper fight. The better the sparring partner – as long as he doesn't crush you to the point where you are a physical and mental wreck incapable of entering the ring (in which case, he should be the professional boxer) – the better you become. As such, players will learn from watching their teammates; but more pertinently, from testing themselves against them (and again, as long as those training opponents don't crush them to the point where they are physical and mental wrecks; or just go around breaking legs from being too hyped up).
Defender Neven Subotić, talking about training a couple of seasons into Klopp's reign at Dortmund, told Rafael Honigstein for the book Bring The Noise: "Training felt like war. The starting eleven playing v subs. By the middle of the week, you sort of knew the line-ups. You can't imagine how difficult these games were. You were used to having a bit of space and air to breathe but that was all gone. Everyone attacked the ball, everyone defended. Everyone pressed. These games were as hard as the real ones, perhaps even harder."
Legendary Liverpool coach Ronnie Moran used to bemoan "Monday to Friday players", who'd then go missing in the game at the weekend; an understandable gripe. They were excellent in training, but either couldn't handle the occasion of the game, or maybe were more suited to smaller-sided games, around which Liverpool's ethos was built. (As an ex-semi-pro, I have some sympathy: I was always much better at five-a-sides, as I was two-footed, had good touch and a turn of pace with speed off the mark, so could operate in tight areas; but was average in height, and so longer sprints on bigger pitches were harder work, and I was not the strongest or bravest, and was absolutely rubbish in the air. The "not above head-height" rule helped me a lot. Also, in five-a-sides you didn't face studs-up flying tackles – usually just fair block-tackling – so the emphasis was on skill and technique.) 
In the late 1980s and early '90s, Mike Marsh was often highlighted as being the best player in training with Liverpool, almost as a criticism; but looking back he seemed suited to five-a-sides: technically excellent, but not very big and not very fast. Obviously this is not ideal for match days. But perhaps players like Marsh, and others before him, were part of the Flynn effect at Liverpool: almost like sparring partners, who tested the others during the week, even if they themselves, for whatever reason, never quite made the grade on match days (particularly in an era when smaller technical players were not in vogue; someone like Peter Beardsley had to be truly brilliant to succeed, and even then, he sometimes got left out against the brutal teams like Wimbledon). 
By all accounts, training at Manchester City is also pretty intense. Thomas Müller told The Athletic's Raphael Honigstein in February 2020 about what it was like to train under Guardiola at Bayern Munich. "To exert the kind of dominance we had under Guardiola for most of the time, you need to work extremely hard in training. That's the problem. It's incredibly exhausting mentally. You need to repeat things – repeat, repeat, repeat, until they're second nature. For Pep, it was normal to push his players that much. Other coaches have different ways of working […] I understand why some found our extreme dominance under Guardiola boring but that sort of total control can't be reproduced as a carbon copy. You can't say, 'They've learnt all that stuff from Pep. They simply have to keep playing that way.' That's not the issue. You have to work at it every single day."
Under Klopp at Liverpool it's much the same, albeit with more light relief that can make such intense training fun. (Just not the light relief that Balotelli used to provide, that undermined the entire endeavour.) The coaching staff at Liverpool are hard taskmasters; but they can smile, too.
Not only was someone like Agüero lazy (if perhaps less so more recently, once Guardiola got to him), but with his age and injury issues he's probably unable to train at full pace, even if he wanted to. Training is the absolute bedrock of a football team; and in addition to technical and tactical improvements, a player who is fitter can cover more ground, and therefore sprint harder for longer, and more easily appear to be in two places at once. This is another area where Klopp has turned Liverpool from below-average into elite.
Having super-fit players is indeed like fielding 14 or 15 at times, if they are prepared to make the forward runs and also get back. A player who does only one of the two will be less effective for the team overall, unless others seriously compensate for his "half" game. 
Someone like Gini Wijnaldum will burst forward for Liverpool, but in keeping with Klopp's old adage, he will only do so if he knows he can get back again (which, almost always, he does). And of course, this ties in with versatility too: there's less point Wijnaldum bursting forward if he wasn't a player with over 100 career goals to his name, other than to provide passing options. The fact that, if the game calls for it, he'll sprint even further forward, deep into the box, means that Liverpool suddenly have a midfielder who can finish like a forward. Without elite fitness, he cannot make such a run; and if he tried, he'd be unable to get back if the move broke down.
If Wijnaldum sprinted all that way forward but then only walked back, Liverpool's midfield could be more easily overrun. The quicker he gets back to make up the numbers, the harder it is for the opposition to make any brief numerical advantage count. And it's one thing having the desire to do these things (which is essential), but you also need Olympian conditioning. You can then outnumber the opposition when you attack but also outnumber them again if you get back quicker.
There are further examples of problematic issues from training across Manchester, at the red half. In Mark Ogden's detailed ESPN article from December 2019 about what was going wrong at United, there was an interesting insight into how the decline started so rapidly: "It was chaos under David Moyes," one former United player told ESPN FC, about the manager that replaced Alex Ferguson in 2013. Another recalled how the "training was shit in Australia" during the early weeks of the Scot's reign.
"'He told us that he would make us fitter. We had just won the Premier League by 11 points, but we were a group of players who would always strive to be better, so we bought into it,' said a former player. 'But training … was boring and unchallenging. Under Sir Alex [Ferguson], we would warm up in boxes, with one-touch passing, and it was intense and competitive. Under David, it became two-touch and our technique diminished'."
Most importantly, it sounds like it was no longer competitive. If competitive, the technique is honed and the fitness partly takes care of itself.
United's fitness also diminished over the coming seasons, to the point where Jose Mourinho – once a trailblazer – left a team that looked stuck in the past. In December 2018, following the Portuguese's dismissal, The Times ran a piece about how Mourinho's United were simply not as fit as other teams. United ranked 16th out of 20 for total kilometres covered, and 16th again for total sprints. (Or, if they were as fit, they simply weren't showing it.)
Indeed, two players from United's history show the talent myth to be just what it is – a myth. When the work – and desire – required to stay at the top wanes, players can resemble amateurs. Between 1970 and 1971, with George Best approaching his mid-20s, he registered his fifth consecutive season scoring more than 20 goals, although the off-field issues started to arise. He was still making 40 league appearances a season, although he failed to turn up for training for a whole week in January 1972, as he instead spent his time with Miss Great Britain 1971, Carolyn Moore. (And let's face it, which of us delusional straight males hasn't spent a week with a Miss Great Britain at some point? It's a common problem we all face.) 
He stopped training regularly, and went missing – as in genuinely AWOL – in December 1972 to party at various London nightclubs, while the club had no idea where he was. Still only 26, the goals dried up, and he played fewer and fewer games, until he finally left United. His next stops were the Jewish Guild in South Africa, Stockport County, Cork Celtic, Los Angeles Aztecs, Fulham, Fort Lauderdale Strikers, Hibernian, San Jose Earthquakes, Bournemouth, Brisbane Lions and Tobermore United. He was supposed to be one of the most talented British players ever, but without training regularly, and lacking motivation – in addition to the blight of alcoholism – he was washed up before even hitting his potential peak. Mere talent alone got him nowhere, once the hard work stopped.
A decade ago, Ravel Morrison was touted as the most talented player to come through the ranks at United since Best, yet he never played a league game for the club, with Alex Ferguson offloading him, having previously called him the best young player he'd ever seen. Morrison has been at West Ham United, Birmingham City, Queens Park Rangers, Cardiff City, Lazio, Queens Park Rangers again, Atlas, Östersund, Sheffield United and now Middlesbrough. Between 2011 and 2015, Morrison found himself entangled in various legal proceedings relating to acts of abusive behaviour, albeit he was cleared of some of those charges. Having turned 27, Morrison had just 100 league games to his name, across all those clubs, in various countries, often in weak leagues or divisions. 
Back in 2012, when offloading the player to one of his fawning coterie, Ferguson had told West Ham manager Sam Allardyce that Morrison was "A brilliant footballer. Brilliant ability. Top class ability. Needs to get away from Manchester and start a new life."
"The genius of Ravel Morrison," Allardyce drooled, after the player scored against Spurs. "That's a genius goal for me. You'll struggle to see a better goal than that this season." It was one of only three he bagged for the club.
Five years later Allardyce described Morrison as "the biggest waste of talent" he had worked with. Yet even in 2019, Chris Wilder at Sheffield United was prepared to take a punt on him. However, Morrison then left for Middlesbrough on loan, without playing a single game for the South Yorkshire club. So many football people seem in awe of Morrison's 'natural ability' – even now – yet for all the attempts to get the best out of him, he's had a few good games in a decade, that suggest he's now just a myth. Had he not been so fêted in his youth, would anyone care? At the very time he was extolling the virtues of Morrison, Ferguson turned down the chance to sign Jordan Henderson, a player with far less 'natural talent'. 
But talent is not a constant. 
Joe Cole was similar to Morrison, albeit someone who achieved far more in his career. But by the time he turned up at Liverpool he was not physically able to do the things that saw him labelled England's most gifted young player, again by Ferguson. Cole, a fading force, scored just four goals in his final two seasons with Chelsea, and yet in 2010 Liverpool paid him a massive £100,000-a-week to tap into that famed natural ability. But if the body can no longer respond, or the heart isn't there to keep training to elite levels, what good is the talent? The overriding memory of Cole at Liverpool is of a player hunched over, looking like he might puke. (As an aside, he seems a surprisingly good pundit for someone who never seemed very articulate as a player; proof that people can grow more intelligent with time and effort, if in possession of a growth mindset.)
Henderson has eclipsed Morrison to a staggering degree, but also arguably eclipsed Cole at his best, too. Yes, all three are different types of players, but essentially all are midfielders who attack, with all three starting off as wingers or wide midfielders. Henderson has spent a decade as a Premier League player; but crucially, the past few years have seen him training at an elite level, playing at an elite level, and now aged 30, has over 450 club career appearances to his name, and over 50 caps for England. All that physical and mental testing – day after day, game after game, allied to a fantastic attitude – all adds up to the reason why he got better as he approached his thirties. Can you just plug a 'natural talent' like Morrison back into a Premier League team aged 27 and expect them to suddenly find that old magic? No. Because Morrison has lost out on a decade of additional elite education. If talent was all that mattered, it would be possible. Indeed, if talent was a constant, then it would be automatic. But across the world, players with a quarter of Morrison's ability at 19 have developed far greater abilities than him by the age of 27. How good you are at 19 only matters if you continue to work at your game; you have an advantage at that stage, but staying at that level, let alone improving, is not a divine right.
In 2008, Nathan Luscombe was the cocky kid who showboated and lorded it over another young player from the same Premier League academy in the north east on Sky's Soccer Am Skill Skool. (A show that obviously needed avoiding due to its oh-so-cool spelling, but now provides some fascinating reminiscences via YouTube.) Three years later the skinny loser in that battle of free-styling was getting a big-money transfer, while the victor – Luscombe – was released by his club and ended up at Hartlepool United, where he turned up for preseason training several stone overweight; even later describing himself as a "sumo wrestler". He made five starts for Hartlepool, before again returning after preseason grossly out of shape – think Neil Ruddock doubling his daily calorie intake – which left the manager, Neale Cooper, "raging" and "unable to speak to him". By 2012, aged 23, Luscombe was a non-league player. The player who lost that battle of skill, as all the others mocked him (albeit in the name of 'banter'), was Jordan Henderson.
While issues with alcohol, eating and discipline can be due to underlying mental and emotional issues (and even footballers often have things more important than football going on in their lives), it also requires a special kind of mindset to rise to the top and stay at the top. What would psychiatrists say about Hazard turning up to his dream move in terrible shape, as if to self-sabotage? Could you imagine Henderson or Firmino doing the same?
Lonergan On Again
One great story from the Jürgen Klopp era is how Andy Lonergan somehow ended up a Liverpool player at the age of 35, to fill the position of third choice goalkeeper. After spells at Preston, Darlington, Blackpool, Wycombe, Swindon, Leeds United (twice), Bolton, Fulham, Wolves, Middlesbrough and Rochdale he joined Liverpool to provide back up on the pre-season tour of America, before injury to Alisson – after Kamil Grabara had just gone out on a season-long loan to Huddersfield Town – turned it into a permanent move. Unlikely to ever actually play any meaningful games for the club, he still provided an insight into just how good the attitude is in training.
"I don't want to say just being among this group is enough because if I don't train well I am disappointed and I want the next day to come around so I can put that right," Lonergan told Paul Joyce of The Times in February 2020. "A 'well done' from the lads, a 'you're on fire today' shout … that's the reward for me.
"It could be from Mo or Millie [James Milner]. That is another motivation because if you are on their team, say Millie, Hendo [Jordan Henderson] or Virgil [van Dijk], you don't want to let them down. You have to perform because they are not shy of giving you a rollocking.
"That is just the standard. If Mo gives the ball away, they are going to be onto Mo. That is why they are doing as well as they are. The standards are ridiculous."
In terms of what Klopp insists on when signing players, Lonergan proves the point. "You get people and players at clubs who say: 'See him, he's not a trainer, he doesn't fancy it, he just plays on a Saturday.' Well, here, if you don't train [well], you don't play. Simple. The professionalism is unbelievable. I have been guilty in the past of thinking: 'They've got it easy those Premier League boys. They are not playing every midweek, they have the best travel etc.' But the schedule is absolutely relentless and add to that the training is never less than 100 per cent. The training pitch is where they make the Saturday easier. It is like the boxer who says hard work is the camp, the enjoyment is the fight. It is the same here.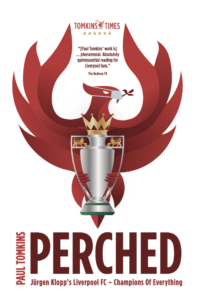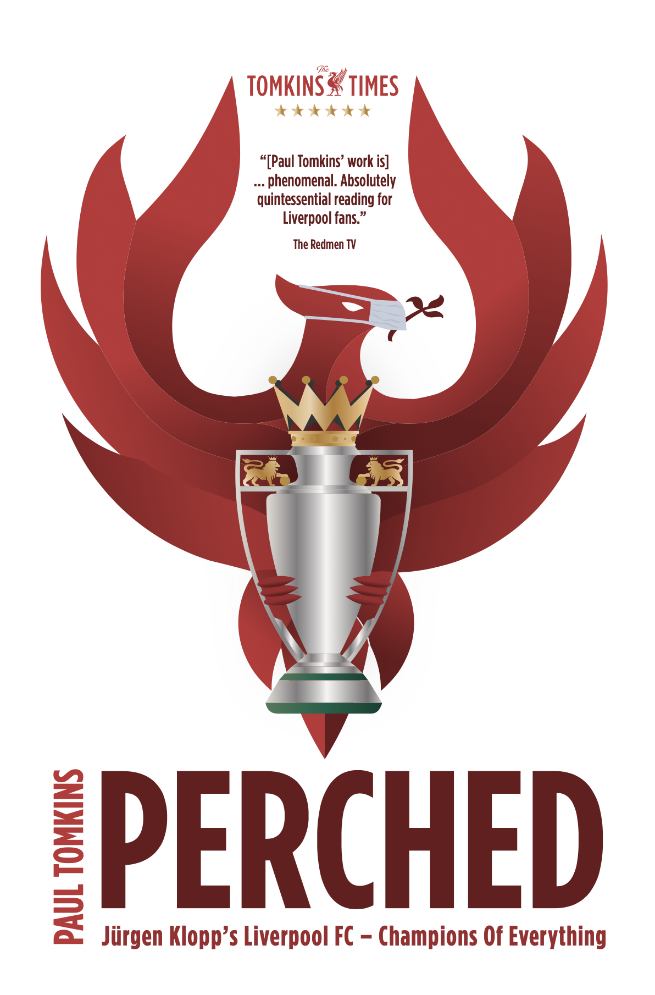 "My friends will say: 'Who is not the best person? Who is this or who is that?' I mean this: it is the most honest, down-to-earth squad that I have ever been in. People might find that hard to believe, but they are such genuine, good lads. There is just one goal for all of them." 
In other words, there are no dickheads, no assholes. Just English, European and world champions, everywhere you look.
"Perched: Jürgen Klopp's Liverpool FC – Champions Of Everything" is available NOW!:
The paperback should be available in all major Amazon stores (UK, USA and a few others that provide the service), and the Kindle version on most Kindle stores (but not all of them, strangely). If you can't get the paperback on your local Amazon store then use the UK or US ones.