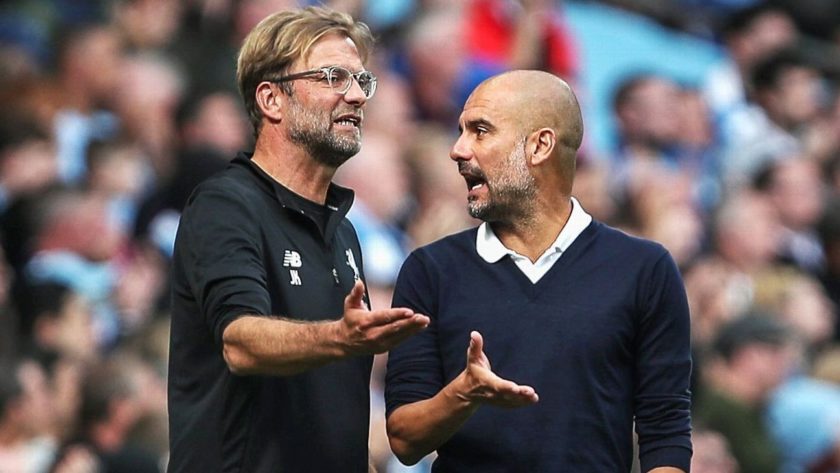 It's been said that one thing Liverpool's fans and Man Utd's had in common is we both sang about Liverpool all the time! Well the same could now be said of City, as their obsession with Liverpool FC has reached the point where it threatens to even surpass that of their neighbours (even one of their main songs is to the tune of a certain Liverpool band's 'Hey Jude'!).
Rivalries between fans of football clubs is hardly a new phenomenon, of course. Liverpool and Everton have been rivals forever. Well since 1892 anyway. To Reds residing within the Merseyside area, it's the only rivalry. They might see the Manchester lots four times a season when they play them, but they see Evertonians every day, in their workplaces, on their buses and trains, in their pubs and cafes, on the radio, the paper. It never goes away.
The further away the geography spreads from Merseyside, however, the likelier it is that Manchester United would probably take over as top rival. They're the ones with support everywhere, beloved by the media (as well as by referees and VAR this past season), a long period of sustained success just as Liverpool's came to an end – success, wealth, glamour, attitude, cockiness – what's not to dislike?
In the past, several other clubs have risen to become rivals in chief to Liverpool – Leeds United, Nottingham Forest and Arsenal have all also had their moments, though on a different level to Everton and Utd. Chelsea surged to the forefront more recently, the Mourinho/Abramovich era heralding a coarse loadsamoney culture that was and still is as far removed from Liverpool's DNA as any other club in the land.
And then came City.
But a City unlike any we'd ever known before.
City have never been serious rivals of Liverpool  before. They had never really been important enough. They'd even been down to the third tier since. As their neighbours became all-consuming, a money-making trophy-winning bloated behemoth, City were almost defined by not being them. Remember the book 'Man Utd ruined my life'? Written by a City fan. In the days when City's only rivals were that shower across town.
The City of then were the product of their Maine Road environment, down-to-earth, unglamorous, unsuccessful but sort of real, at least compared to their showbiz neighbours, hemmed in by the Coronation Street terraced rows of Rusholme and the flat-roofed graffiti strewn badlands of Moss Side. I remember me and a mate going to a League Cup semi-final 1st leg there in 1981. Tucked ourselves into a pub called the Beehive, right opposite the Kippax where their 'boys' went. The Beehive had a fair percentage of them in it. We stood in the corner drinking Hydes Bitter and not saying much. Then someone burst in and shouted 'Specials are in!" The place almost emptied. Liverpool's football special trains – remember those days? – had arrived at Piccadilly, and they were all off for the fight. Scousers and mancs. This was all part of matchday ritual back then. And City was by no means the most dangerous place to go. You'd have been more apprehensive going to Leeds, Birmingham City, West Ham, Chelsea, Utd or Spurs. We just stayed where we were, drinking.
City's fans then were known for their lugubrious, self-deprecatory black humour, borne out of a seemingly endless succession of failure and ridicule and false hope, of being locally second best and nationally irrelevant. If success didn't really suit them, it was perhaps just as well. Apart from a brief flurry in the late 60s/early 70s, Francis Lee, Colin Bell, Mike Summerbee et al, when they won a title, an FA Cup and a European Cup Winners' Cup,  in the old adage, they were modest and had a lot to be modest about. I remember after we'd beaten them 4-0 and 6-0 in the space of four days at Anfield in the League Cup and League in 1995, their fans inside the ground singing 'Alan Ball's a football genius' about their manager.
There's not much self-deprecation about any more.
First they moved out of Maine Road, and acquired themselves a new stadium for free, the Commonwealth Games stadium in East Manchester. A sheikh bought in, and the cash gushed in. City struck gold – or rather oil. Player after marquee player started arriving. They started competing at the top end, and winning things. Eventually, as the cash just kept coming, so did the trophies. The Premier League trophy in 2012, the first of four in eight seasons. After no title for 44 years, suddenly there was a glut, as well as any number of domestic cups of varying degrees of insignificance. Hell they were even counting Community Shields to help with the statistics to prove how great they were and how scared people were of them.
Just as significantly, a new breed of fans and a new attitude took root, drowning out the old school in a log flume of entitlement and expectation that came cascading down from the newly titled Etihad Stadium. The role of the media and pundits was to lavish praise on them, and the role of every other club and their fans was to be subordinate and know their place.
Upstairs, downstairs. They got used to having the run of the place, a strutting cockerel, going where and doing what it pleased.
Their 2017/18 title win saw them hit the 100 point mark for the first time in history. 32 wins, 106 goals, a 19 point gap to 2nd placed Manchester United, with Liverpool a distant 4th, 25 points behind. All that power complex and sense of entitlement just cranked up a notch.
You might think they would see Liverpool as nothing to worry about.
But something happened that season to change our relationship with City, possibly forever.
The rest of this article is for The Tomkins Times subscribers only.
[ttt-subscribe-article]